The following statement is from the latest interest rate policy announcement from the RBA (in which they maintained rates at 1.5%) [emphasis added]:
The global economic expansion is continuing and unemployment rates in most advanced economies are low. There are, however, some signs of a slowdown in global trade, partly stemming from ongoing trade tensions. Growth in China has slowed a little, with the authorities easing policy while continuing to pay close attention to the risks in the financial sector. Globally, inflation remains low, although it has increased due to the earlier lift in oil prices and faster wages growth. A further pick-up in core inflation is expected given the tight labour markets and, in the United States, the sizeable fiscal stimulus.

Financial conditions in the advanced economies remain expansionary but have tightened somewhat. Equity prices have declined and credit spreads have moved a little higher. There has also been a broad-based appreciation of the US dollar this year. In Australia, money-market interest rates have declined, after increasing earlier in the year. Standard variable mortgage rates are a little higher than a few months ago and the rates charged to new borrowers for housing are generally lower than for outstanding loans.
Central banks are very conservative in their policy language - they don't want to encourage panic or exuberance. When they include a bearish observation, it's because there is ample evidence it exists. This makes the sentence focusing on slowing global trade noteworthy. The RBA also discusses modestly higher interest rate spreads which I also noted in last week's Turning Points Newsletter. Heightened credit market spreads usually occur before a recession, which is probably why the RBA also included this observation in their policy announcement.
Speaking of credit market issues, let's turn to some tweets from Bloomberg's Lisa Abramowicz: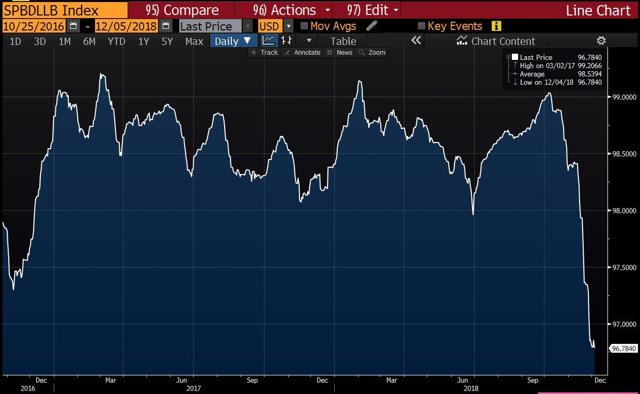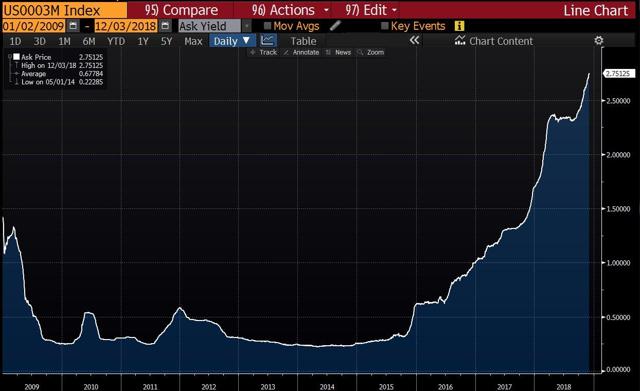 The top chart shows the price of leveraged loans while the bottom shows 3-month USD LIBOR. Both indicate there is increased stress in the fixed income market. It has ramped up over the last few months. It can be a precursor to other financial problems.
Fed President Kashkari makes a really interesting observation in his latest WSJ interview: [emphasis added]
Inflation is at 2 percent or even a little bit below it. The latest core number was 1.8. Inflation expectations are at 2 percent or slightly lower than 2 percent, drifting down a little bit. And then the job market is continuing to create 200,000 jobs a month. If the job market is creating 200,000 jobs a month, month after month after month, we cannot be at maximum employment. So when I look at that suite of – those suite of indicators, that tells me let's err on the side of allowing this to continue.
This chart supports his point: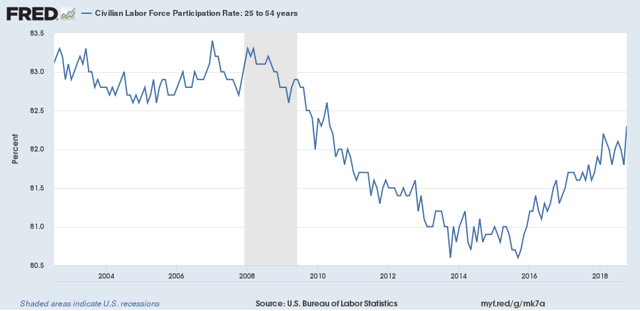 The prime age labor force participation rate is still a bit below the lowest levels of the last expansion, which implies there is more room for the labor market to grow. Prime age participation weakness would also partially explain why wage growth is so muted this expansion: if new employees continue to come into the labor market, companies will feel less pressure to increase wages.
Let's turn to the performance tables, starting with the major indexes:

Considering the potential damage that could have happened today, this really wasn't that bad. Overall performance was mixed; QQQ was the strongest performer; it was the only equity index with a solid performance. Once again, the Treasury market caught a bid. The SPYs were modestly off; smaller companies were the worst performers. However, a .55% drop for the IJH isn't that bad.
Next, let's take a look at the industries:

Real estate is benefitting from the belief that the Fed is now more dovish. The winners were mixed between defensive (the XLP) and offensive (XLY, XLK) sectors. Industrials and basic materials were off on trade concerns while the energy sector was down thanks to oil's weakness.
Next, let's take a look at the Finviz.com company heatmap: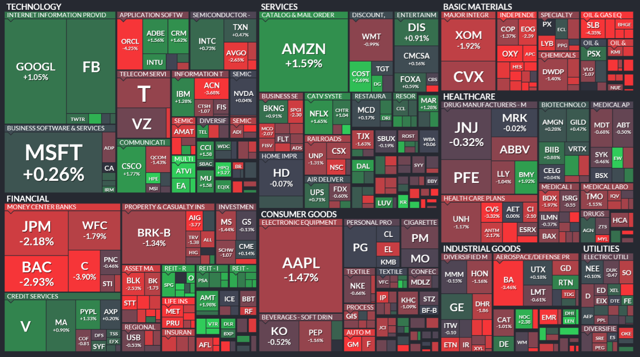 Basic materials were uniformly off; we see a touch of green in healthcare and some of the larger industrial goods. Big tech was the clear winner. Notice that Visa (NYSE:V) and Mastercard (NYSE:MA) were up, probably due to it being the holiday season.
Finally, let's look at the charts: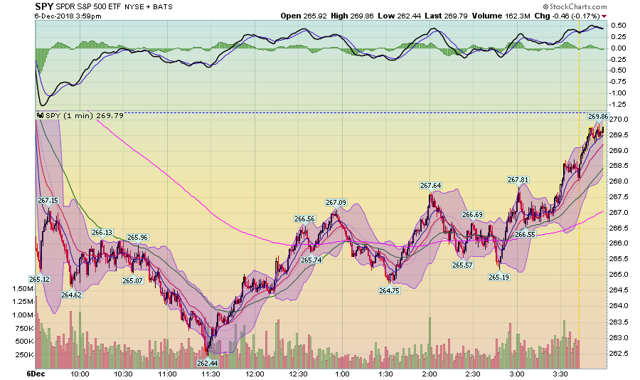 The 1-day chart shows a pretty solid rally. Prices bottomed in the late AM at 252.44. The rallied until a little after lunch and then consolidated sideways before resuming the rally during the last 30 minutes of trading. That's a pretty impressive move considering the strength of the sell-off and the bearishness of the news.
Next up, let's look at the 5-day IEF chart: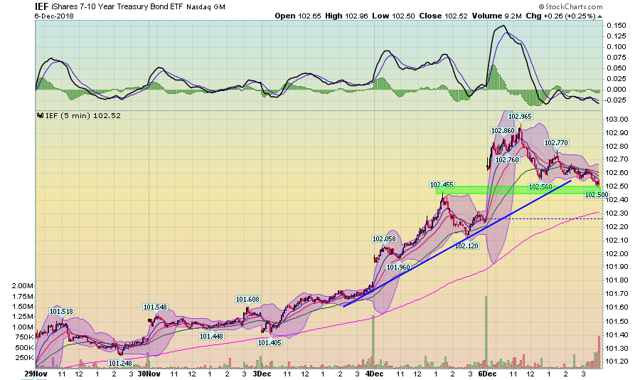 The Treasury market has been strong as of late, but that might be changing. Prices broke a short about 2-day trend line towards the close of trading and found support at highs from Wednesday.
Let's put the SPYs price action into a longer-term perspective: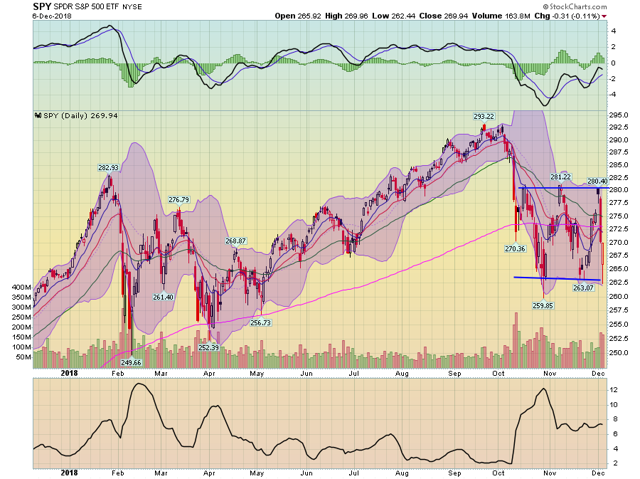 Basically, prices are trading between 262 and 280, using the 200-day EMA as the mid-way point for this consolidating trend. Notice that the Bollinger Band width is still pretty wide, indicating we're still in a heightened period of volatility. Finally, volume has been a bit elevated these last few days.
Right as I was finishing, I caught this alert from the WSJ:
Federal Reserve officials are considering whether to signal a new wait-and-see mentality after a likely interest-rate increase at their meeting in December, which could slow down the pace of rate increases next year.
That would be very big news and would support a strong rally tomorrow.
Disclosure: I/we have no positions in any stocks mentioned, and no plans to initiate any positions within the next 72 hours. I wrote this article myself, and it expresses my own opinions. I am not receiving compensation for it (other than from Seeking Alpha). I have no business relationship with any company whose stock is mentioned in this article.