Quick Take
Tabula Rasa (TRHC) has agreed to acquire DoseMe for up to $30 million in cash, stock and contingent consideration.
DoseMe has developed decision support software to guide healthcare practitioners to predict the optimal dose of drugs.
TRHC is making its first acquisition as a public company, to fill a gap so it can pursue the hospital dosing decision support market.
Target Company
Brisbane, Australia-based DoseMe was founded in 2014 to create a real-time precision dosing software system to provide targeted, individualized dosing guidance.
Management is headed by CEO Charles Cornish, who has been with the firm since December 2015 and was previously Managing Director of Ontex Australia, a producer of disposable hygiene products for babies.
Below is an overview video of DoseMeRx:
Source: DoseMe
The DoseMeRx system can operate in a standalone mode via any Internet-connected device or can be integrated into the clinician's EHR (Electronic Health Record) system workflows.
The firm has raised a disclosed $3.1 million from individual investors Stephen Baxter, Gregory Spurgin, and Gary Cunningham.
Market & Competition
According to a 2018 Grand View Research market research report, dosing systems are part of a much larger clinical decision support systems [CDSS] market, which was valued at $472 million in 2016.
In recent years, the industry has seen the 'emergence of collaborations among CDSS providers and hospitals...to develop and provide software update with the latest information.'
Government initiatives are believed to be driving adoption to reduce medical errors, cut costs, and improve patient outcomes.
Major competitive vendors that provide CDSS systems include:
Agfa Healthcare
McKesson (MCK)
NextGen Healthcare Information Systems (NXGN)
Carestream Health
AthenaHealth (ATHN)
Philips Healthcare (PHG)
Cerner (CERN)
Siemens Healthineers (OTC:SEMHF)
Acquisition Terms and Rationale
TRHC disclosed the acquisition price and terms in an 8-K filing as follows:
At the closing, which is expected to take place in January 2019, TRHC will (i) pay the Sellers $10.0 million in cash consideration, subject to adjustments set forth in the Purchase Agreement, and (ii) issue 149,053 shares of TRHC common stock (valued at $67.09 per share)...

Following the closing of the transaction, the Sellers will also be eligible to earn additional consideration, payable one-half in cash consideration and one-half in shares of TRHC common stock, with an aggregate value of up to a total of $10.0 million (the "Contingent Consideration") based on the financial results of the Company...
TRHC management did not provide a change in financial guidance, so the deal appears to be financially non-material in the near-term.
A review of the firm's most recent 10-Q filing indicates that as of September 30, 2018, TRHC had $13.9 million in cash and $136.9 million in total liabilities, of which $73.8 million was 'acquisition-related contingent consideration.'
Free cash flow during the nine months ended September 30, 2018, was $5.8 million.
As TRHC Chairman and CEO Calvin Knowlton stated in the deal announcement,
With DoseMe's state-of-the-art decision support tool combined with our ability to predict and prevent harmful drug interactions through tools such as the MRM Matrix®, we are now able to offer hospitals a broader range of protection against adverse drug events, the fourth leading cause of death in the US. Together, we can power the shift to precision prescribing, tailoring medication to meet individual needs and tolerances, which will have a profound impact on safety, quality, and costs, such as medication-related increased hospital length-of-stay.
In the past 12 months, TRHC's stock price has risen 161.25% vs. the S&P 500 Index 1.63%, as the chart below indicates: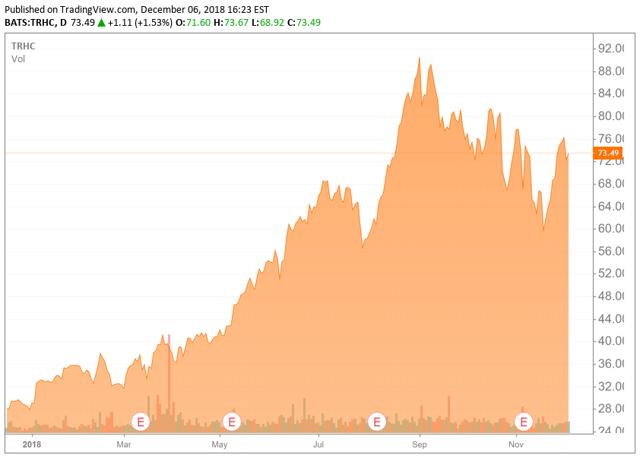 Source: Seeking Alpha
Tabula Rasa is acquiring DoseMe to add precision dosing capabilities for IV-delivered medications as part of its initiative to enter the hospital market.
Management will combine DoseMeRx with its MedWise oral solids dosing system to provide a more complete approach for hospital environments.
Analyst ratings of TRHC continue to support the stock price, as the graphic below shows,

Source: Seeking Alpha
The consensus price target exceeds $86 per share vs. a current price of $73.59, as of press time. Eight of ten ratings are either Strong Buy or Buy, indicating a continued positive outlook for TRHC in the near future.
While the stock may have gotten ahead of itself in September and backed off since then, management continues to execute according to its focus on expanding markets and acquire technologies it needs to fill in gaps, without overpaying in the process.
Thank you for reading. I write about IPOs and M&A deals, though I focus most of my time on IPOs. If you're interested in investing smarter in IPOs, you should check out IPO Edge.
Disclosure: I/we have no positions in any stocks mentioned, and no plans to initiate any positions within the next 72 hours. I wrote this article myself, and it expresses my own opinions. I am not receiving compensation for it (other than from Seeking Alpha). I have no business relationship with any company whose stock is mentioned in this article.