The pattern that has repeated throughout the year did so again this week. Just when it looked like the market was ready to put its trade war concerns to rest, fear raised its ugly head again. After the latest big plunge in the major indices, investors are questioning once again if the U.S. stock market is strong enough to withstand a China-led slowdown in global economic growth. We'll address this question in today's report as I make the case that the stock market will take these fears in its stride without entering bear market territory.
The 3.24% decline in the benchmark S&P 500 Index (SPX) on Tuesday was definitely an eye-opening experience for the bulls. After a constructive rally in late November, the SPX and other major indices fell sharply. Traders were also spooked by the inability of the SPX to remain above its widely watched 200-day moving average (below) after rallying above it at the start of December. Participants - and especially the bulls - were certainly given a lot to think about during Wednesday's market closure.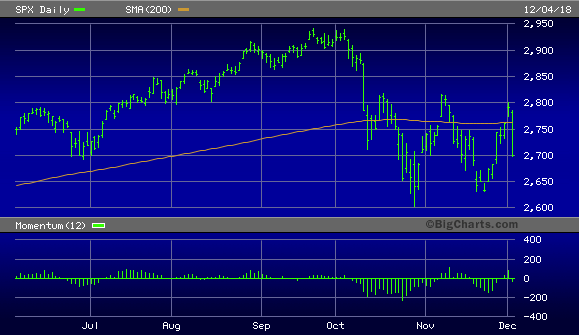 (Source: BigCharts)
Since October, the U.S. equity market has lost nearly $2.5 trillion in value as investors have allowed trade tensions between the U.S. and China to upset their equanimity. Tuesday's big sell-off was a case in point. Traders showed optimism on Monday over the putative G-20 summit agreement between the U.S. and China to hold off on new trade tariff increases while trade negotiations continue. Yet, that ebullient sentiment quickly faded and was replaced by angst after President Trump tweeted, "I am a Tariff Man." This message prompted investors to reconsider their optimism over a trade war truce, and they promptly dumped equities.
Among the industries which were most heavily hit by selling pressure were transportation stocks, as investors worried that a failure to resolve the trade war could result in a U.S. economic recession. Reflecting this concern was the sharp drop in the Dow Jones Transportation Average (DJTA), which had only just succeeded in overcoming its 200-day moving average on December 3. Notable weakness was visible in key economically sensitive transport stocks like United Parcel Service (UPS) and FedEx (FDX).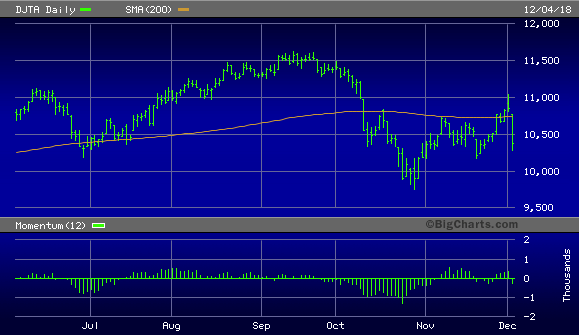 (Source: BigCharts)
Are investors right to be worried over the President's threat to maintain his tough stance against China if he doesn't get his way? This is a debatable question, and it will likely be several more weeks before we can obtain greater clarity on the issue. Regardless of the final outcome of the tariff dispute, I believe that Tuesday's sell-off was an emotionally driven overreaction on the part of traders. Further, there is reason to believe that the decline will be retraced, since it had a specific news-related catalyst. As I've argued in past reports, market declines which can be traced to news headline are typically reversed in short order. More often than not, bear markets begin without any specific reason for the stock market's declines. The fact that the latest decline was solely a fear-driven affair based on a particular headline is reason enough to assume the market's action was based on emotion, not fundamentals.
Speaking of fundamentals, the slowdown in the global economy has caused industry analysts to pull back somewhat in their optimism for the coming year. Analysts foresee a decrease in S&P 500 revenue per share growth next year to 5.5%, from this year's 8.5%. Corporate revenues have seen strong increases in 2018, thanks in part to last year's tax cuts. While the consensus estimates call for lower revenues next year, it's nonetheless encouraging that the upward trajectory is forecast to continue despite the potential headwinds created by the trade war.
It's also worth repeating that bear markets don't usually begin until the forward 12-month earnings per share (EPS) trend for the S&P 500 is trending sideways-to-lower. Currently, the 12-month forward EPS is trending higher, with earnings growth in Q3 reportedly at its highest levels since 2010. This is another reason that argues against the commencement of a new bear market.
From a technical perspective, it must be admitted that sellers have an advantage in the immediate term. For weeks on end, there has been a relentless drive to unload income-type securities on the market. Much of this selling pressure has lately been seen in the energy sector, thanks to the recent sharp drop in fuel prices. However, a substantial amount of the daily new 52-week lows on the NYSE have been rate-sensitive securities which aren't energy-related. This is perplexing given that Treasury bond yields have been falling in recent weeks. Regardless, the internal trend must be respected, and that trend is currently down. This can be clearly seen in the NYSE cumulative 52-week highs and lows chart shown below.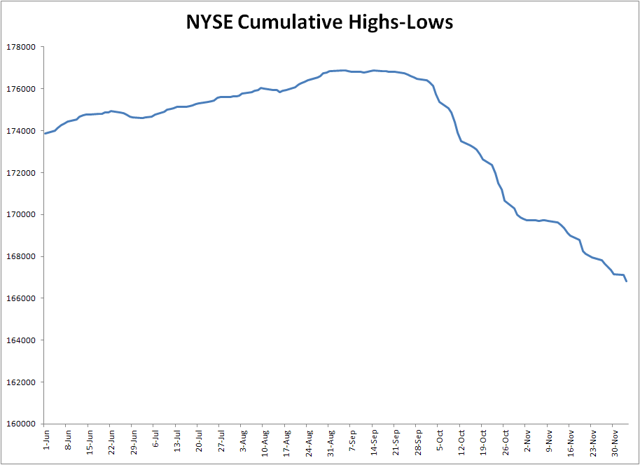 (Source: WSJ)
Keep in mind that a declining new highs-lows trend points to a declining incremental demand for equities. The implication of the above graph is that since more NYSE-listed stocks have made new lows than new highs lately, there is enough residual internal weakness in the stock market to make it easy for the sellers to gain temporary control of the market. The emphasis here is on temporary, though, since corporate fundamentals and liquidity factors are still very much in the bulls' favor.
Another factor which favors the bulls regaining control over the market fairly soon is the following indicator. This is the 4-week rate of change (momentum) of the NYSE new 52-week highs and lows. It reflects the near-term path of least resistance for equities. While the actual new highs-new lows trend is declining, the short-term rate of change in the daily new highs-lows has been rising in the past few weeks. This was what made the late November rally in the major averages possible. As long as this indicator remains above its trend line (below), the bulls can still regain control over the stock market's near-term trend and reverse the damage done by Tuesday's sell-off.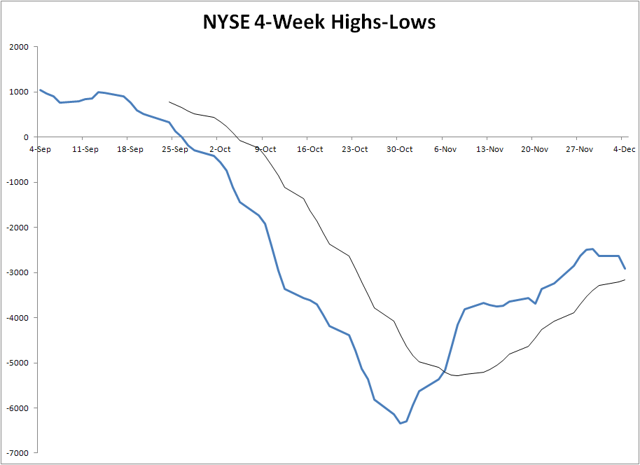 (Source: WSJ)
Market sentiment among retail investors is also decidedly negative, which provides a potential stimulus for a short-covering rally at some point in the next few days. It also argues against a bear market starting here, since the bear typically comes when investors are giddy on the prospect of higher stock prices. Today the opposite condition prevails, as the Rydex Funds Nova/Ursa Ratio Sentiment Indicator shows. This indicator tells us that mutual fund traders are currently embracing a heavily bearish posture. Retail fund traders have a long-term track record of being wrong when they're this bearish.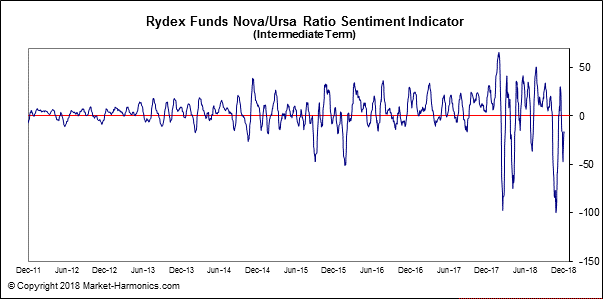 (Source: Market Harmonics)
While the market definitely remains sensitive to news-driven volatility in the immediate term, the major trend is still up based on solid corporate fundamentals, abundant liquidity, and constructive investor sentiment. A bear market from this point would be surprising indeed given the constructive backdrop mentioned here. While I remain alert to the potential for the worst-case-scenario to unfold, my expectation remains unchanged that December will witness a recovery effort at some point this month, with a positive ending for the year in the S&P 500 Index. Accordingly, I continue to lean bullish, although I continue to hold off on initiating new long positions until the NYSE new 52-week lows substantially shrink.
Investors can also maintain longer-term investment positions to the stock market via ETFs and outperforming individual stocks in strong sectors. This includes, in particular, the consumer staples and healthcare sectors, which have shown relative strength versus the S&P 500 Index in recent months. With earnings growth still on a positive trajectory, the probability is strong that the large-cap major averages will continue to trend higher in the coming six months.
Disclosure: I am/we are long XLP. I wrote this article myself, and it expresses my own opinions. I am not receiving compensation for it (other than from Seeking Alpha). I have no business relationship with any company whose stock is mentioned in this article.