In the December distribution announcements, we had 27 funds decrease their distributions and 7 increase them. Of the 27 that cut, the largest was the DoubleLine Opportunistic Credit (DBL) which chopped the distribution by a massive 34%. We will discuss this cut more in detail in a bit. Of the cutters, 15 were muni funds, and 8 were the MFS funds which have variable distribution policies.
The announcements compare to November which had only eight distribution decreases and seven increases. The announcements this month were widespread across the fund sponsors, though PIMCO was again spared from any cuts.
Discounts are coming off their bottom set a couple of weeks ago as volatility in the equity markets, spread widening in the bond market, and tax loss harvesting scared people out of the markets. Discounts are off the lows to 8.4% after hitting 9% last week. But that is still much wider than where they were a few weeks ago in early September when the average discount was below 6%.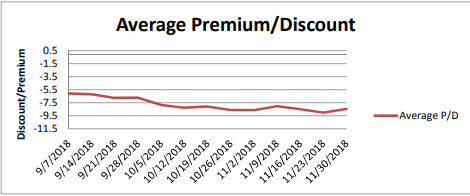 On tax loss harvesting, BlackRock put out a piece on it a few months ago (before the recent bout of volatility). We do believe that tax loss harvesting was pulled forward due to the declines in the markets in October which investors used as an opportunity to cut losses and capture tax losses. The September through November period is typically the weakest months for discount widening on closed-end funds. December is close to flat, but January, we see the "January Effect" where discounts tighten dramatically on average. The chart below is a great visual of that dynamic that has occurred over the last 2 decades.

(Source: BlackRock)
Distribution Increases (over 3%)
Royce Value Trust (RVL): Quarterly distribution increased by 23.3% to $0.37 from $0.30.
Templeton Global Income (GIM): Monthly distribution increased by 21.94% to $0.0378 from $0.031
JH Income Sec (JHS): Quarterly distribution increased by 21.9% to $0.2085 from $0.1711.
JH Investors Trust (JHI): Quarterly distribution increased by 17.8% to $0.3186 from $0.2689.
THL Credit Senior Loan (TSLF): Monthly distribution increased by 5.21% to $0.101 from $0.096.
Distribution Decreases
DoubleLine Opportunistic Credit: Monthly distribution decreased by 34.1% to $0.11 from $0.167.
BlackRock VA Muni Bond (BHV): Monthly distribution decreased by 15.1% to $0.0535 from $0.063.
BlackRock MuniYield AZ (MZA): Monthly distribution decreased by 9.62% to $0.047 from $0.052.
Eaton Vance Hi Income 2021 (EHT): Monthly distribution decreased by 13.7% to $0.041 from $0.0475.
BlackRock MuniYield Investor Trust (MYF): Monthly distribution decreased 10.8% to $0.062 from $0.0695.
EV NJ Muni Bond (EMJ): Monthly distribution decreased by 10.2% to $0.0441 from $0.0491.
EV Muni Bond II (EIV): Monthly distribution decreased by 9.4% to $0.0405 from $0.0447.
BlackRock MuniHoldings Quality Fund II (MUE): Monthly distribution decreased by 9.3% to $0.049 from $0.054.
BlackRock Long-Term Muni (BTA): Monthly distribution decreased by 7.34% to $0.0505 from $0.0545.
Nuveen Hi Income Dec. 2019 (JHD): Monthly distribution decreased by 7.14% to $0.0325 from $0.035.
Nuveen CA Select Tax-Free Income (NXC): Monthly distribution decreased by 6.82% to $0.041 from $0.044.
BlackRock MuniVest Fund (MVF): Monthly distribution decreased by 6.1% to $0.0385 from $0.041.
Nuveen AZ Quality Muni Income (NAZ): Monthly distribution decreased by 5.68% to $0.0415 from $0.044.
BlackRock CA Muni Income (BFZ): Monthly distribution decreased by 5.32% to $0.0445 from $0.047.
BlackRock MuniYield Income (MPA): Monthly distribution decreased by 4.5% to $0.053 from $0.0555.
BlackRock Muni Income Inv (BBF): Monthly distribution decreased by 4.13% to $0.058 from $0.0605.
BlackRock MuniHolding (MHD): Monthly distribution decreased by 3.6% to $0.0675 from $0.07.
BlackRock MuniYield (MYD): Monthly distribution decreased by 3.28% to $0.059 from $0.061.
DoubleLine Opportunistic Credit
This is a well-known closed-end fund for many, given the management by Jeffrey Gundlach, a high-profile market maven. DoubleLine has two CEFs: one geared towards interest rate risk, DBL, and the other DoubleLine Income Solutions (NYSE:DSL) towards credit risk.
DBL is a hodgepodge of different slices from the mortgage market, including agency MBS (Fannie and Freddie securitized mortgages), non-agency MBS, government debt, CLOs, and commercial MBS. The duration of the fund is very high at 9.73 years. Given that the last two-plus years have seen significant increases in interest rates, it is no surprise that the fund has struggled.

(Source: DoubleLine.com)
The total return over the last 3 years is just above 3% (zero on price) and is now down nearly 10% YTD when rates have jumped. The distribution cut to the fund was not unexpected. It had been paying out ROC for well over a year.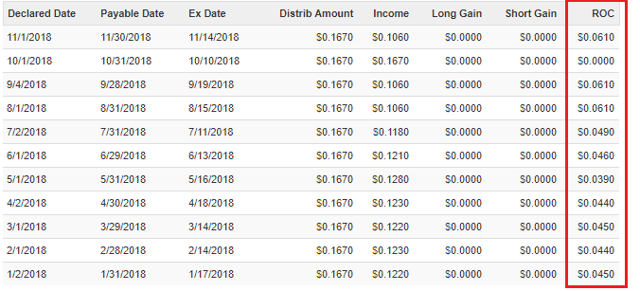 (Source: DoubleLine.com)
The fund has been issuing a Form 19a, which is information that they must file with the SEC on the sources of the distribution paid. In the November 19a, just 66% of the distribution came from net investment income ("NII"). On December 3rd, they announced the December distribution which implied a cut of 34%. If you look at the 19a, which showed 34% of the distribution coming from ROC, the massive cut is not a surprise.
Just a few days ago, the annual report was issued. Net investment income, essentially what the fund produced in income from the underlying bond portfolio, fell to $21M from $24.3M in year ago period. The 13.5% decline in NII is among the worst we have reviewed this year. Coverage was down to 72.4% prior to the cut with UNII at +0.25 (and increasing over the prior six-month period).
From the NAV data table (*page 22). The fund earned $1.41 per share during the fiscal year ending September 30th. It paid out $2.00 in distributions over the year. Reducing the distribution to $0.11 ($1.32 per year) puts it more in line with the NII production over the last year. But remember that $1.41 is a blended average over twelve months. Given the increase in leverage costs over the period, it is highly likely that NII on a forward basis is much closer to that $1.32 rate.

(Source: DoubleLine.com)
The distribution cut was readily apparent over the last year though Gundlach on calls stated explicitly that he didn't want to make a cut. Despite his calls for a 6% ten-year yield, he refuses to use derivatives like interest rate swaps in order to hedge either leverage costs or the long-end of the curve. Especially given the fact that the fund carries a significant amount of duration.
If you believe the ten-year yield is going to 6%, and your fund has a duration of 9.7 years, that would imply a 40%+ loss on principal from the post-Brexit lows in rates. It's inexplicable why he wouldn't hedge. The only rationale is to leave the fund a high duration hedge opportunity for those that want long-duration tools in their portfolio that do well in a falling interest rate environment.
For those that want a duration hedge vehicle, DBL is a solid choice, but getting in too early can be harmful. The fund's 34% cut to the distribution may not be the last if the trends of the last couple of years continue for two more. We wouldn't be surprised to see the discount widen out significantly more, given the volatility in the markets and the size of the cut.
The fund will pay $1.32 per year, which at the current trading price of $18.49 equates to a yield of 7.14%. That is a far cry to the 10.60% distribution yield it paid prior to the cut. For the fund to yield 10.60% again, the price would need to fall all the way to $12.45. Of course, we do not forecast that given that 34% of the distribution was ROC. If you adjust for the NII yield, the shares paid 7.07%. So, at the current 7.14%, we are very close to those levels.
The shares were still trading around $19.40 when the announcement was made. The price was still around there an hour later before the market realized that the distribution had been cut, which cratered the shares. By 11:00 AM, the shares traded at $19.37, but 30 minutes later, the price fell to $18.84.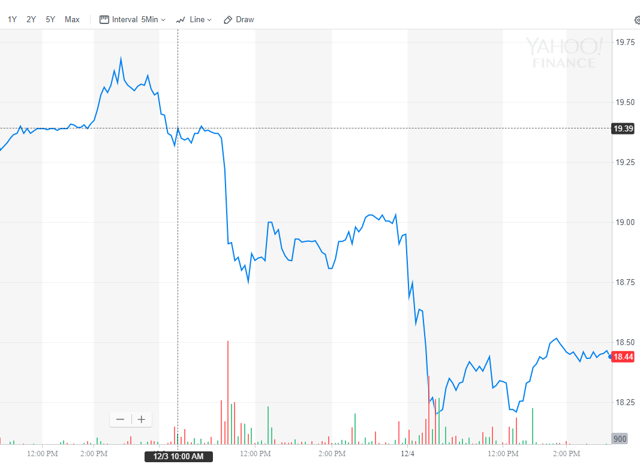 (Source: Yahoo Finance)
Concluding Thoughts
Being aware of distribution cuts can be highly beneficial in an inefficient market like the CEF space. Investing today is significantly harder than it was two decades ago. Buy and hold is largely dead for those that want to earn decent returns.
DBL is a good example of why fundamental analysis is a MUST when analyzing CEFs. The shares were trading at a small discount prior to the distribution cut which created the appearance of a "cheap" fund. At the time, the one-year z-score was -2.00 indicating a value. Then, they cut the distribution and the discount has blown out to over 6%, a level that the fund has NEVER traded.
At the current levels, the fund is more of a neutral hold. If rates continue lower, we would expect the NAV to stabilize and start trending higher again. The new yield around 7.10% is a good and fairly sustainable level for the fund. We do not foresee the discount to widen much more from here given that the fund eliminated their ROC with the cut.
A comprehensive service for income investors and retirees intended as the core of your fixed income approach, aiming to produce a safer 8%+ yield. We are the preeminent researchers of closed-end funds. Our goal is guiding members through markets and identifying income opportunities.
Our Core Portfolio is an easy-to-follow model with clear Buy/Sell/Hold indications, updated real-time. We augment that with 'peripheral' income ideas including closed-end funds, babybonds, preferreds, REITs, and other dividend equity payers. Almost half the service centers on properly planning/structuring your portfolio for retirement.

Disclosure: I/we have no positions in any stocks mentioned, and no plans to initiate any positions within the next 72 hours. I wrote this article myself, and it expresses my own opinions. I am not receiving compensation for it (other than from Seeking Alpha). I have no business relationship with any company whose stock is mentioned in this article.