Main Thesis
The purpose of this article is to articulate why I believe Mid-America Apartment Communities Inc (MAA) is an attractive investment option at its current market price. The company reported solid earnings in Q3, and recently announced a dividend increase, pushing its yield to just over 3.8%. Furthermore, rental demand remains strong across the country, and especially in the southwest and southeast where MAA predominately operates. Also, while the weakness in the housing market could be negative for some real estate funds, MAA's rental portfolio could benefit. Home affordability, especially among younger buyers, will remain challenging, as mortgage rates are increasing and home prices continue to increase in major markets. In fact, the top three cities for MAA, in terms of generating net operating income, are seeing consistent gains to home prices and above-average population growth. Those factors bode well for a competitive rental market. Finally, MAA saw increased revenue year-over-year at a faster rate than expenses, which shows me they are exposed to the right markets and are exercising expense control.
Background
First, a little about MAA. The company is a "real estate investment trust that focuses on the acquisition, selective development, redevelopment and management of multifamily homes throughout the Southeast, Southwest and Mid-Atlantic regions of the United States". MAA has ownership interests in over 100,000 operating apartment homes in 17 states and Washington DC. The stock is trading at $101/share and its forward yield is 3.80%, after recently declaring a $.96/share dividend. This is my first review of MAA, and is the beginning of a serious of articles where I will examine companies with above-average yields that also have strong financials and bullish long-term stories. I am undertaking this exercise because I am looking to shift capital out of broad market funds and in to individual stocks as a way to generate a higher level of income. Given MAA's current yield, reasonable valuation, and strong Q3 results, I believe MAA is poised to move higher, and I will explain why in detail below.
Home Buying Is Down - Good News For Apartments
A key reason why I am currently optimistic on MAA, and the rental market in particular, is that the housing market is seeing a slowdown. This may sound counter-intuitive - why recommend a real estate company when housing is slowing? The answer is that, while home buyers seem to be phased by rising prices and rising interest rates, they have to live somewhere. As home-ownership among Millennials and Generation-zers remains low, that bodes well for the rental market. Consider that, as interest rates have risen three times already this year (pushing up mortgage rates), new home sales have noticeably declined, as illustrated by the graph below: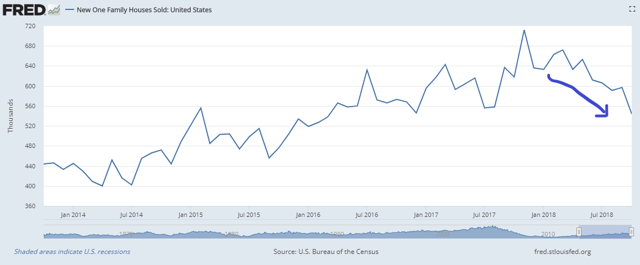 Source: St. Louis Fed
Considering that the Federal Reserve is widely expected to raise rates again later this month, I expect mortgage rates to continue a slow trend upwards, which will continue to pressure affordability, especially for first-time buyers.
As buyers, especially younger buyers, sit on the sidelines, they will continue to rent and keep occupancy levels high. In fact, MAA is sitting at a high, and slightly growing occupancy rate already, and declining home sales are likely to keep this trend in-tact. According to a recent presentation by MAA in November, their 2018 occupancy rate sits at 96.1%, which is up just slightly year-over-year, as illustrated in the chart below: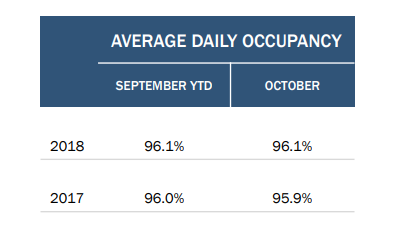 Source: MAA Presentation
My takeaway here is fairly positive. MAA is clearly doing a solid job at filling up its apartment units. Looking ahead, I see developments in the market that suggest rental demand will remain high. In fact, according to a report last week from Reuters, the drop in new home sales last month brought sales to their lowest level since March 2016, which is quite a discouraging sign for the housing market. Furthermore, almost two-thirds of the houses sold last month were either still under construction or not yet built. Therefore, even some home buyers seem poised to continue to rent, at least for the short-term.
Home Prices Still Increasing, Albeit More Slowly
As I mentioned above, home sales are slowing, but this has not translated in to lower prices yet. In fact, a continuance of rising prices is a primary reason why home sales are sluggish. Buyers are facing a double whammy of rising home values and rising mortgage costs. To see how this is impacting MAA, let us take a look at its biggest markets, as measured by net operating income generated for the company, which are Atlanta, Dallas, and Charlotte:

Source: MAA Presentation
In all of these markets, the trend of rising home values has been consistent, especially over the past seven years, as illustrated by the graph below: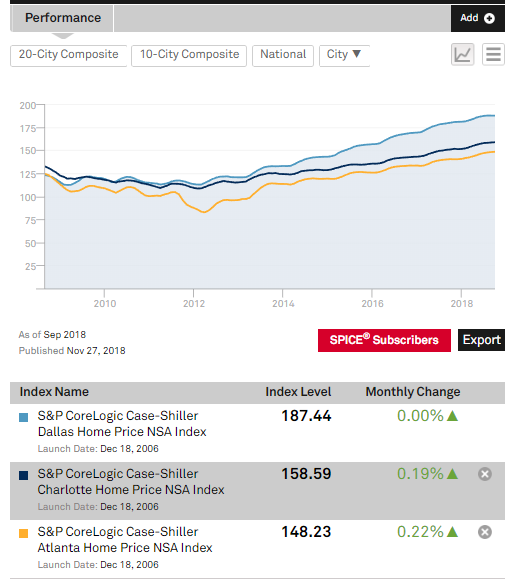 Source: S&P Global
As you can see, both Charlotte and Atlanta saw month over month gains to home values in October, and Dallas has risen fast over the past two years. My takeaway here is that this bodes well for a continued strong rental market, which is a positive for MAA. As long as home prices remain high, expect apartments to see high occupancy rates and to enjoy moderate pricing power.
Of course, home prices are only one part of the equation when considering the attractiveness of the rental market. Another important point is the population, specifically, if it is growing at a rate robust enough to support strong rental demand. Fortunately for MAA, its top three markets are also some of the fastest growing U.S. cities, as illustrated by a study by the Census Bureau: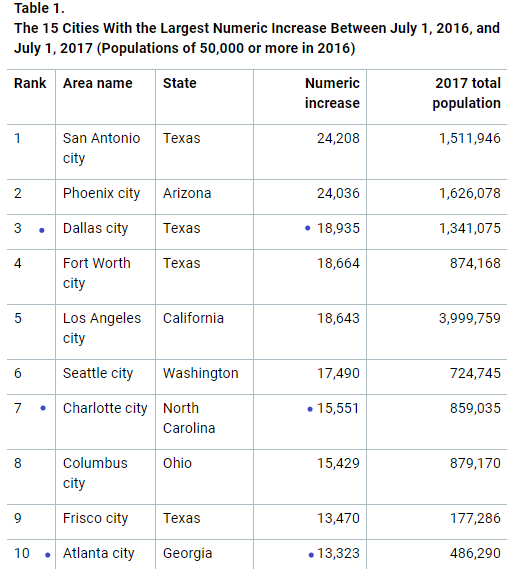 Source: US Census Bureau
My point here is MAA is exposed to the right markets. The populations are growing and home prices are rising, both of which are conditions for strong rental demand. Seeing as how these are markets are generating a large portion of MAA's profit, it seems they are capitalizing on these trends indeed.
Solid Financials And Positive Long-Term Story
Now I want to turn to MAA specifically, to see why I like this particular investment. I reviewed the company's Q3 earnings statement, and compiled some important takeaways in the chart below:
| | | | |
| --- | --- | --- | --- |
| Metric (in thousands) | Q3 2018 | Q3 2017 | YOY Gain |
| Revenue | $397,108 | $384,550 | 3.27% |
| Expenses | $97,703 | $96,582 | 1.17% |
| Net Operating Income | $242,368 | $235,371 | 2.97% |
Source: Seeking Alpha Financial Disclosures
As you can see, MAA is performing fairly well. Importantly, the company has increased both revenue and operating income at a faster rate than its expenses, which is always a positive sign. Given the housing trends I have mentioned in the preceding paragraphs, I expect this performance to continue in to 2019, and likely beyond.
On that note, looking ahead, I believe the rental market in America will remain robust for years to come. While there are signs that Millennials are finally beginning to purchase homes, Generation Z is following right behind to keep rental demand high. While there are predictions that Generation Z will adapt to home ownership quicker than Millennials, I am not so sure. To see why, consider the results of a survey of rentals conducted by real estate website Property Shark, which was reported by CNBC. This study was done to find what different generations considered to be their biggest obstacle to buying a home, which are illustrated in the chart below: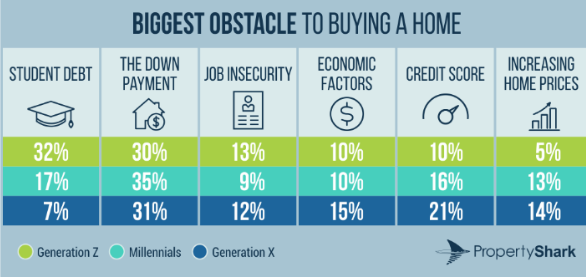 Source: CNBC
As you can see, student debt and the down payment rank high among both Generation Z and Millennials. This is interesting because these are two obstacles that are not going away. With home prices continuing to rise, saving up for the down payment will remain challenging. Similarly, as student loan balances have recently eclipsed $1.5 trillion, that will likely remain an obstacle for years to come. Therefore, even if these generations desire to purchase a home, it may take some time for that desire to turn in to action.
Bottom-line
While rising interest rates and weak housing demand could cause the real estate sector to soften, investors should focus on the rental market for value. MAA will capitalize on growing rental demand in major U.S. cities that are seeing surging populations, but simultaneously facing a housing affordability challenge. The company has performed well in 2018 on this backdrop, and I would expect similar performance next year. Couple this with a rising dividend yield and a below-average valuation (compared to the S&P 500), with a forward P/E of 17, and MAA looks attractive. Therefore, I am considering initiating positions at this time, and would encourage investors to evaluate this investment option.
Disclosure: I/we have no positions in any stocks mentioned, but may initiate a long position in MAA over the next 72 hours. I wrote this article myself, and it expresses my own opinions. I am not receiving compensation for it (other than from Seeking Alpha). I have no business relationship with any company whose stock is mentioned in this article.