Shares of Clovis Oncology (CLVS) have lost nearly two-thirds of their value since my Reader Inquiry piece from April asked whether label expansion for Rubraca made the stock a buy (answer obvious in hindsight). However, the stock has risen by nearly 40% from recent lows after competitor Tesaro (TSRO) was acquired by GlaxoSmithKline for $75 per share or $5.1 billion in an all-cash deal. Interestingly enough, the acquisition price represented nearly a 150% gain from recent lows (great case study in market cycles of optimism in 2017 followed by extreme pessimism recently creating an opportunity for the risk-tolerant).
As new life has been breathed into the PARP inhibitor niche, I figure it´s an ideal time to revisit Clovis and see what we can look forward to in 2019.
Chart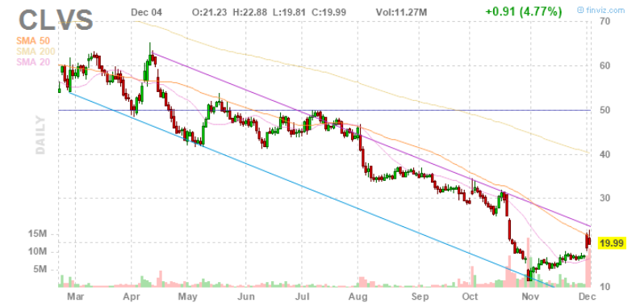 Figure 1: CLVS daily advanced chart (Source: Finviz)

Figure 2: CLVS 15-minute chart (Source: Finviz)
When looking at charts, clarity often comes from taking a look at distinct time frames in order to determine important technical levels to get a feel for what's going on. In the first chart (daily advanced), we can observe a sickening decline in shares that only accelerated as the year progressed (hitting its point of maximum pessimism in November). In the second chart (15-minute), we can see the stock ¨wake up¨ after news broke on the acquisition of its larger competitor (remains to be seen whether current levels can be held).
Overview
In my Reader Inquiry piece, I touched on the following aspects of Clovis´ story:
The company had recently received label expansion for Rubraca into second-line or later maintenance treatment in patients with ovarian cancer (estimated to have a patient population four times greater than the prior approved third-line setting) where competition continues to be fierce with Tesaro's (TSRO) Zejula and AstraZeneca's (AZN) Lynparza. If the estimated peak sales opportunity in the United States for the PARP inhibitor market in ovarian cancer is $2 billion (conservative measure), Clovis had its work cut out to grab a slice. I also pointed out that efficacy is considered to be mostly similar between these three competitors´ drugs, but there is significant differentiation that could come into play regarding their adverse event profiles (Zejula label carries warning due to higher rates of thrombocytopenia).
Progess continued in Europe, as the company received a positive opinion from the European Medicines Agency's Committee for Medicinal Products for Human Use (CHMP) recommending conditional approval for the treatment of adult patients with platinum sensitive, relapsed or progressive, BRCA mutated (germline and/or somatic), high-grade epithelial ovarian, fallopian tube, or primary peritoneal cancer, who have been treated with two or more prior lines of platinum based chemotherapy, and who are unable to tolerate further platinum based chemotherapy. Approval was expected to follow in the second quarter and following that event the company would submit a separate Marketing Authorization filing for Rubraca in the maintenance treatment setting
Cash position was decent ($563.7 million) while a considerable amount was used in operations in 2017 ($260.9 million). The company had chosen to do secondary offerings in January and June of last year, so I speculated that they´d continue to tap capital markets in the medium term.
Lastly, I noted that the valuation at the time was due in part to potential in multiple tumor settings, taking into account that data from the TRITON2 phase 2 study was not far off and formed part of a comprehensive strategy in prostate cancer that includes the TRITON 3 phase 3 study initiated back in the beginning of 2017. In a collaboration inked the previous year with Bristol-Myers Squibb (BMS) to explore combination treatment with Opdivo in ovarian cancer, triple-negative breast cancer and metastatic castration-resistant prostate cancer, Clovis retained all rights to its drug candidate and so any promise seen here was thought to add to the company´s takeover appeal (most likely by its current partner). I also pointed out that for IP the company alluded to patent exclusivity through at least 2031 but I noted that the original composition of matter patent expired in 2020 (Hatch-Waxman patent term extension to Q4 2023 in the United States with extension in Europe potentially to 2025 under supplementary protection certificate). However, in March they announced a significant development took place when the USPTO issued a Notice of Allowance for Patent Application No. 14/828,065 for claims to high-dose formulations of rucaparib (protects all commercial doses until 2035).
My conclusion the last time we looked at Clovis was that the stock did not fit my personal criteria due to lack of a significant advantage and my concerns on competition in the space. However, I also stated I wouldn´t have been surprised to see a run up into prostate cancer data and I was certainly wrong in that regard.
Now that a larger competitor (Tesaro) has been acquired, perhaps a floor has been put in the stock price and it´s an ideal time to determine the outlook for 2019.
Recent Developments
In September the SEC disclosed that the company, its CEO and former CFO had to pay more than $20 million in penalties to settle charges of misleading investors about the prospects of experimental lung cancer drug rociletinib (specific complaint was that presentations stated drug was effective 60% of the time, a rate that was higher than internally available results and the later disclosed figure of 28%). In the meantime (before the stock price collapsed) the company was able to raise almost $300 million of cash (keep in mind this was back in 2015). Couple this with the resignation in October of SVP and Chief Commercial Officer Corwin Hooks and it certainly doesn´t give the most flattering view of operations.
On October 2nd the company announced the FDA had granted Breakthrough Therapy designation to Rubraca ¨as a monotherapy treatment of adult patients with BRCA1/2-mutated mCRPC who have received at least one prior androgen receptor-directed therapy and taxane-based chemotherapy¨. This was based on early data from the TRITON2 study evaluating Rubraca in men with advanced prostate cancer with BRCA 1/2 mutations (germline or somatic) and deleterious mutations of other homologous recombination repair genes in the metastatic castration-resistant setting.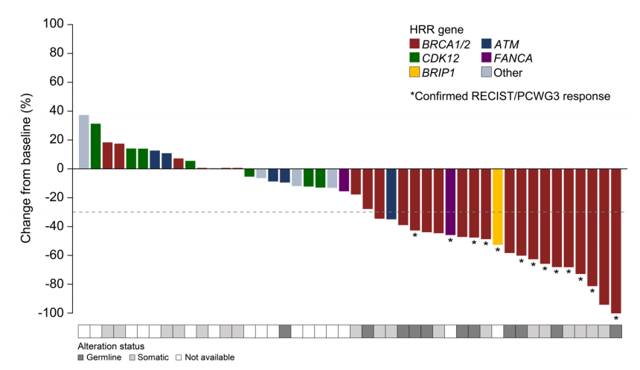 Figure 3: Best change from baseline in sum of target lesions in TRITON2 study (Source: ESMO slides)
In mid-October the company presented initial data from the TRITON2 study at the European Soceity for Medical Oncology annual meeting, highlighting a 44% confirmed objective response rate with median duration of response not yet being reached. In 45 prostate specific antigen (NYSE:PSA) evaluable patients 51% had confirmed PSA response rate. The safety and tolerability profile appeared decent, with most common treatment-emergent adverse events (Grades 1-4) including asthenia/fatigue (44.7%), nausea (42.4%) anemia (22.4%) and constipation (28.2%). Just five patients (5.9%) discontinued treatment due to a treatment-emergent adverse event not related to disease progression.
Also in October Pfizer announced that the FDA had approved its own PARP inhibitor Talzenna (talazoparib), adding even more competition to an already cutthroat market.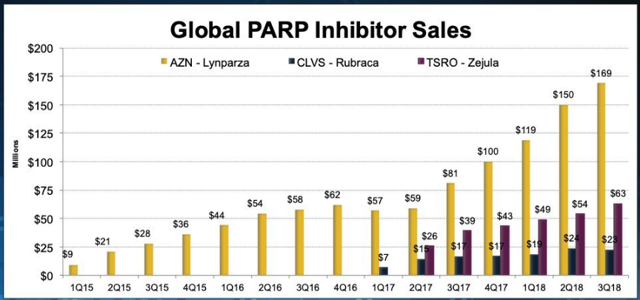 Figure 4: Snapshot of global sales for PARP inhibtors reflects Lynparza´s continued dominance (Source: BioTwitter´s own BradLoncar)
Lastly, just recently Clovis announced a positive development in the form of a favorable EU ruling, as the European Patent Office upheld claims of European Patent 2534153 in amended form covering the crystalline form in Rubraca (patent protection to last through at least 2031). With a key overhang removed, perhaps coupled with upcoming regulatory catalyst this is a sign of better days ahead.
Other Information
For the third quarter of 2018, the company reported cash and equivalents of $604.4 million as compared to net loss of $89.9 million. Research and development expenses totaled $63.9 million while SG&A came in at $42.5 million. Product revenue rose from $16.8 million for the same quarter in 2017 to $22.8 million. While we can expect 2019 guidance in early January, in the meantime the company guided for fourth quarter revenue to come in close to Q3 revenue. Wall Street was obviously disappointed with these numbers, as management struggles to aggresively grow Rubraca sales (and even more so with the flat Q4 guidance).
As for future catalysts of note, we can expect an opinion regarding EU approval in the ovarian cancer maintenance indication from the EMA's Committee for Medicinal Products for Human Use (NASDAQ:CHMP) by the end of this year and potentially approval in early 2019. While we already received initial data from the TRITON2 study, the estimated primary completion date is October of 2019. The ATLAS trial (single-arm phase 2 open-label monotherapy study of Rubraca in recurrent, metastatic bladder cancer) also has a primary completion date in December of next year (data in late 2019 or early 2020 per management commentary). Additional trials are expected to get underway in the near to medium term (including Rubraca/Opdivo combination study in patients with relapsed ovarian cancer and those with locally advanced or metastatic bladder carcinoma). Lucitanib (inhibitor of VEGFR 1-3, PDGFRα/β and FGFR 1-3) combination studies will get underway in 2019 as well.
Readers interested in this story should check out the recent presentation at Credit Suisse Healthcare Conference. Here are a few nuggets that stuck out to me:
CEO Patrick Mahaffy, when asked how the company will deal with the highly competitive PARPi market, responds that compelling data should help. He calls results in 2nd line maintenance in all-comers population the best that´s been shown (caveat for cross trial comparison) and states that Rubraca is the only PARP inhibitor to show progression-free survival of over a year (in all-comers population). He also notes that in this maintenance population they were able to not only maintain response but also show response rate (further shrinkage of tumors including a few complete responders).
Efforts to develop Rubraca as a monotherapy in a number of indications not to mention combination studies with Opdivo and other agents are also highlighted. The study accepting all comers in bladder cancer completes enrollment in summer of 2019 and has the potential to lead to accelerated approval.
When the analyst plays devil´s advocate and notes that some doctors say all PARP inhibitors are essentially the same, Mahaffy responds the perception is efficacy is similar while side effect profiles are different (concludes that Rubraca is one of the easier drugs to take). As for differentiated labels and indications, these will take time as different monotherapy and combination trials progress (comparison is made to the PD-1 class and how that landscape has evolved).
As for the regulatory strategy in prostate cancer, Mahaffy states that response rates observed so far have crossed any bar required for accelerated approval and that the main question is how many patients the FDA will require for pursuing that approval. In regards to diagnostic strategy, the collaboration with Foundation Medicine has lead to both tissue and plasma based assays with the latter showing good consistency (simple blood test could eliminate one barrier to PARPi use). In regards to the competitive landscape in prostate cancer for PARP inhibitors, Mahaffy admits other PARP inhibitors will be approved but the company has a first mover advantage (or tied for first).
As for institutional investors of note, Armistice Capital just recently disclosed a 9.8% stake in the company. Back in October Camber Capital disclosed a 6.65% stake. Palo Alto Investors and Orbimed Advisors also own significant stakes.
Final Thoughts
To conclude, I´ve outlined multiple potential value drivers (both clinical and regulatory) that could lead to upside in 2019. At the same time, risk factors identified the first time around (namely competition) remain a valid cause of concern. Consider that now the company is not only competing against the resources and marketing might of AstraZeneca but also GlaxoSmithKline (after acquiring Tesaro) and Pfizer now that Talzenna (talazoparib) has been approved.
For readers who are interested in the story and wish to establish a position here, the rationale is based on upcoming EU approval decision, 2019 data readouts and a potential floor being established in the stock now that Tesaro has been acquired. For bears or skeptics, keys for concern include flat sales growth and increased competition (essentially a David versus Goliath battle where the former truly has little chance of winning).
Additional dilution is likely in 2019 considering the current rate of cash burn and operational runway at this point in time. Disappointing data in ongoing monotherapy and combination studies, setbacks in the clinic including delayed timelines and most importantly competition (company needs to find and emphasize points of differentiation for Rubraca) are also causes for concern. As I prefer companies with unique assets addressing opportunities with no or limited competition, I continue to feel that Clovis doesn´t fit my personal criteria for taking a position.
Author's Note: I greatly appreciate you taking the time out of your day to read my material and hope you found it to be helpful in some form or fashion. If you´re willing, I look forward to interacting with you in the Comments Section. Whether bull, bear or simply a skeptic, we all typically have something worth saying and feedback (plus community-driven due diligence) is one of the reasons I enjoy writing. Have a good one!
About 'ROTY or Runners of the Year'
ROTY is a 500+ member community which provides a welcoming atmosphere where due diligence and knowledge are generously shared. Subscription includes access to our 10 stock model account, exclusive write-ups on my favorite setups, Idea Lab, Catalyst Tracker, a very active & focused Live Chat and much more at an affordable price point ($25/month or $200 annually).
Disclosure: I/we have no positions in any stocks mentioned, and no plans to initiate any positions within the next 72 hours. I wrote this article myself, and it expresses my own opinions. I am not receiving compensation for it (other than from Seeking Alpha). I have no business relationship with any company whose stock is mentioned in this article.
Additional disclosure: Disclaimer: Commentary presented is NOT individualized investment advice. Opinions offered here are NOT personalized recommendations. Readers are expected to do their own due diligence or consult an investment professional if needed prior to making trades. Strategies discussed should not be mistaken for recommendations, and past performance may not be indicative of future results. Although I do my best to present factual research, I do not in any way guarantee the accuracy of the information I post. I reserve the right to make investment decisions on behalf of myself and affiliates regarding any security without notification except where it is required by law. Keep in mind that any opinion or position disclosed on this platform is subject to change at any moment as the thesis evolves. Investing in common stock can result in partial or total loss of capital. In other words, readers are expected to form their own trading plan, do their own research and take responsibility for their own actions. If they are not able or willing to do so, better to buy index funds or find a thoroughly vetted fee-only financial advisor to handle your account.