Background
Monday, in Part 1 of an open-ended series, I discussed the rationale to buy depressed shares of strong companies, then went on to discuss East West Bancorp (EWBC). With exquisitely bad timing, EWBC went on to crash 7% Tuesday, setting a 12-month low intraday. This was even worse than the horrible performance of a major regional bank ETF (KRE), which was pounded for a 5.5% drop. I attribute the worse performance of EWBC versus its peers to its China exposure, as worries about the China tariff issue flared anew.
In any case, EWBC may be simply a better buy now than it was at Friday's and Monday's closing prices.
Today's article reviews two domestic retailers, one of which I have discussed before and is the only retailer I did not sell completely out of after the sector (XRT) ran very high this past summer and early fall. This company, Dollar General (DG), took a big tumble Tuesday. The other, Ross Stores (ROST), is one I have mentioned briefly but is the only retailer that I have traded frequently going back to the '90s.
Here are the 5-year performances of the two names, DG, ROST, XRT and the S&P 500 (SPY):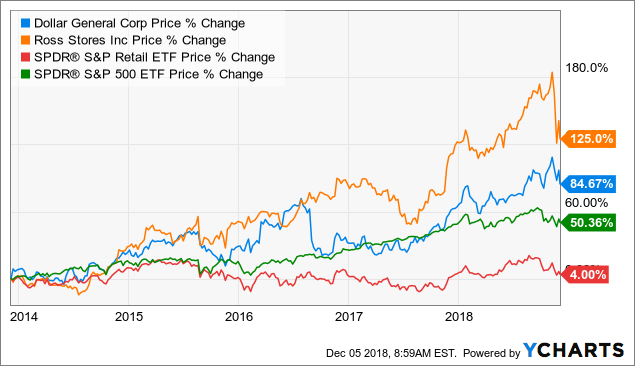 Both DG and ROST have been bull market stars this cycle. Their valuations got ahead of themselves at their recent peaks in my real-time opinion. Thus I sold completely out of ROST (as well as TJX (TJX)) and some others I wrote about in 2017, primarily Target (TGT) and Walmart (WMT).
I'll begin with DG, which I do not see as a buy-the-dip candidate around Tuesday's close near $104. Here's the story in brief.
Dollar General executes its growth plan
I covered DG on June 24, reviewing a bit of its history and growth plans. DG is an expanding discount general merchandise chain with a small store format. The company came public for the second time in late 2009 around $23, for a CAGR on price over these 9 years of 18%, far above the 12.% CAGR for the SPY based on price. DG pays a small dividend but favors buybacks for its capital return program.
I see DG as having a commendable focus on building out its game plan. In contrast, Dollar Tree (DLTR) made an unforced error when it bought DG's close competitor Family Dollar in what has proven to be a big mistake.
DG has a strong record of same store sales gains, foot traffic gains, solid margins, and store growth. DG's store growth involves building out a group of stores in towns and cities that can support several of them, as well as opening a store on a main thoroughfare in very small communities that can only support one DG. Drivers passing through town help make these stores viable. This strategy reminds me of the old Home Depot (HD) strategy of cannibalizing existing stores by opening another one fairly close to it, though of course HD's stores are super-sized. In either case, the competition gets frozen out as much as DG or HD can do that. Over time, assuming local population growth, the stores are then in place to grow sales as well, possibly supporting yet another store.
This strategy continued to play out successfully in Q3, which was reported Tuesday morning and which set off the now-familiar sharp sell-off in a retailer due to weak guidance.
Comments on Q3
The very early report by Seeking Alpha is interesting to look at now:
Dollar General (NYSE:DG): Q3 Non-GAAP EPS of $1.31 beats by $0.04; GAAP EPS of $1.26 misses by $0.01.
Revenue of $6.42B (+8.8% Y/Y) beats by $40M.
Shares +2.44% PM.
Initially this got a knee-jerk bullish reaction, then the market caught on to the Q4 guidance.
A deeper look at the pretax numbers shows some of the issues, in association with the lowered guidance:
pretax income, current quarter: $417.6 MM
pretax income, Q3 2017: $393.4 MM.
pretax income as a % of net sales, 6.51 versus 6.66, down 15 bps yoy.
So, margins were down a little (gross margin down more than that partly offset by lower SG&A), and operating income was up 6.15%.
Also relevant:
diluted shares outstanding down 2.7%
a much lower tax rate courtesy of last December's legislation allowed EPS to soar 35.5%.
So far, not too bad. Now for the bad news.
Guidance was weak, lowered as follows (midpoint of ranges where appropriate):
full-year sales to 9% from 9.15%
operating margin down a little yoy
full-year EPS down from $6.05 to $5.95
EPS projected lower despite a 0.5% or greater reduction in the anticipated tax rate.
The company pointed to headwinds of about $0.09 per share spread almost equally between Q3 and Q4 from damage from Hurricane Florence, Hurricane Michael, and other disasters such as fire and flood. The way I see DG's analysis, Q3 would have shown a beat were it not for the disasters, but aside from the disasters, margins are seeing more pressure this quarter than DG expected.
Summary thoughts on DG: strong but maybe not timely
As I think through the company's explanations of its unanticipated costs in Q3 and Q4, I'm not thrilled with what's going on in Q4 and thus would not buy this dip. That comment is largely also based on price; DG has held up surprising well relative to many other discounters.
In addition to natural disasters, higher wages and higher merchandise transportation costs are universal complaints these days amongst retailers. The hint of weaker sales than expected in Q4 is consistent with a slightly weaker economy or greater competition, consistent with what we've been hearing across the board from discount retailers.
I'm concerned that FY 2019 consensus EPS could be at more risk than DG longs would like. Consensus was around $6.74 before Tuesday's guidance.
Longer term, I think the company makes a number of good points that speak well for the quality of its management.
For example,DG:
is bringing shrink down steadily
has an in-store app that is gaining traction
is retaining managers at a healthy rate
continues to refreshing and often upgrade its stores at a healthy rate
is beginning to introduce a 1/2-sized store format for more urbanized customers
is growing its store brands and its "Better-for-You" food sales
is going to handle about 10% of its freight needs in-house
is growing its distribution center count, which should help margins
thus foresees steady, rapid growth for a number of years under the current business plan.
Thinking of a more conservative, lowered EPS for next year (FY 2019 ending January 2020) of $6.50, then DG would be trading around 17X forward earnings. That's not compelling for a dollar store, with DLTR committed to moving forward with the Family Dollar banner.
But I like the case that DG management makes for its future profitability and would like to think that very patient long term holders will do well.
I thus have not decided what to do with my remaining DG shares. It simply may have help up too well for short term performance to be good.
Moving on to one where I did buy the bear move Tuesday just before the close...
Ross Stores (ROST) - is it getting near at least a trading bottom?
ROST had a strong Q3, which it reported November 20, a dismal day for retailers. Long term, look how it has performed relative to the SPY since the SPY was introduced, along with core competitor TJX and Apple (AAPL):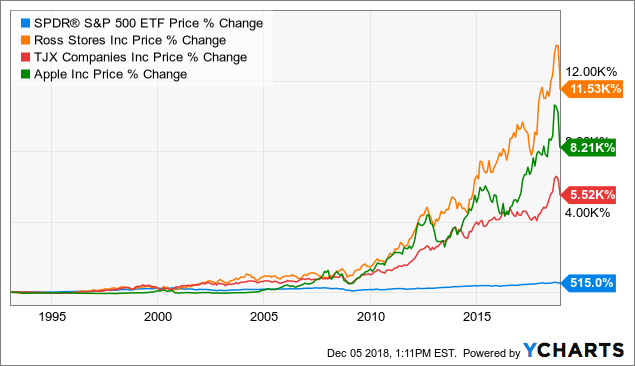 Whoa! ROST has left the SPY in the dust, doubled the price return of TJX and even outperformed AAPL. This is just about the quietest mega-superstar stock performance I can recall. The ROST formula involves expanding the store base and shrinking the share count relentlessly. Somehow, ROST has taken a seemingly simple, undifferentiated business concept - to sell apparel and goods for the home at very low prices - and achieved net profit margins above 10%. ROST has beaten consensus on EPS each of the last 10 quarters; the most recent one was the only one that only involved a penny a share beat.
I mentioned that I was long ROST in a May 24 article on TJX, titled TJX: Not On A Special Sale, But A Retailer For The Long Run. As it turned out, both stocks rose too far, too fast for my comfort. ROST surged from $82 on May 24 to $104 in early November. Given the carnage in so many other names, I was out of it before the top. TJX, in May already up nicely at a split-adjusted $44, surged to and just above $55. Same reasoning there to sell out of TJX. TJX has held up a bit better than ROST despite a worse downside surprise, so I'm not buying its dip.
The only downside surprise at ROST I see is for next year's consensus EPS, which have dropped a bit from $4.55 to $4.51.
Takeaway: ROST typically lowballs guidance.
Using $4.50 for EPS for ROS for FY 2019 (one year and one quarter forward), when ROST dropped to and through $82 very late Tuesday, I saw it at 18X forward EPS as reasonably valued again - not cheap though - and technically oversold in a market that may be groping for a bottom.
ROST has now gone virtually nowhere all year, yet it has beaten then-consensus. Its newer concept, dd's, is doing well. ROST has now dropped about 21%, which is a rarity for it. It dropped a similar amount early in 2017, and a bit more than that during the boom period of late 2013 into 2014. Those sell-offs were during periods of perceived accelerating economic growth and rising interest rates. That's when Wall Street sees some people trading up from Ross Dress for Less or dd's while also finding ROST unable to purchase as much excess inventory.
ROST's earnings report and conference call are in the realm of old news at this point, I want to conclude this discussion of ROST by laying out the three things I'm thinking about regarding my renewed holding of the stock. My basic thinking on almost all retailers is that they are primarily trades, because of the great difficulty in becoming even a little moaty. So I'll begin with the first possibility:
1. Maybe hope for a dead-cat bounce, then not hang around a troubled sector.
2. Maybe the pendulum is beginning to swing ROST's way: There now is ample evidence that the Fed's actions have helped put the economy in a decelerating mode. If so, but with no recession, that's when ROST often surges. An example is the period of deceleration between August 2011 and August 2012. ROST doubled in that one year. Then QE 3 was announced, after which ROST went nowhere for the next two years while the SPY went to all-time highs. Maybe this is the time when ROST will again deliver a lot of alpha.
3. Then there is the big picture question. For whatever reason, ROST is the only retailer I have traded actively over the past quarter century. That's because it has posted one strong year after another and screened well. That it turn raises a question. What is it with ROST and TJX that has allowed them not just to survive and even thrive, but perform so very well over many economic and market cycles? Are they simply better run than most companies, whatever fields those other companies are in? Do they both have special business methods? In the May 24 article, I headed one of the sections on TJX this way:
TJX has a secret sauce - and it's a secret.
Perhaps that's true for ROST as well. Maybe it has sources of inventory that it does not announce. In researching TJX, I learned that industry sources believe that many manufacturers quietly produce first-run inventory for discounted sale to TJX. If so, could that be true for ROST? Could that be one reason why it recently increased its aggregate store count goal for the US? That's an interesting question in my mind.
Now it's time to sum up.
Risks of buying dips and buying retailers; concluding comments
All market tactics have uncertain futures. Buying momentum stocks leaves the risk of being the sucker to whom the smart money is distributing stock. Buying dips runs the risk of being the unlucky one who buys damaged goods that the smart money is dumping. In the case of buying ROST once again at $82, or holding DG, there is minimal dividend income and minimal tangible asset value to prop up either stock price if business turns down. Please see each company's risk disclosures in its 10-Q and 10-K for further details.
My basic risk to remember is that retail is an easy-entry sector for competitors.
In this ongoing period of market weakness, while mostly sitting tight with great names such as HD and large cap leaders in several other sectors, I'm also going deeper into the market by choosing amongst strong names I have gotten to know over the years that have sold down to reasonable fundamental levels.
I want to know that if there is no seasonal rally and instead a recession is coming soon, I'm choosing financially strong companies that should 'be there' when the recession ends. ROST always gets hit in a recession, but its business tends to be counter-cyclical, so it's not the worst name to own if one has to own any non-utility stock if the economy really heads south. And as mentioned above, ROST often performs very well when the economy decelerates without entering recession.
In summary: DG's guidance for the current quarter did not thrill me. I have done very well with this name and may move on, thinking it has downside risk. ROST was an opportunistic repurchase. I have been lucky with it over the years - though not smart enough to hold it forever - and hope to get things more right than wrong with it going forward. I plan to report on these companies as events warrant.
Addendum
The article was submitted Wednesday night, but did not run during regular trading hours Thursday. On Thursday, I continued to buy the dip in ROST below $80 and when TJX dropped below $46, I went long TJX. As DG held up very well, I traded out of it. DG has been extremely good to me, and I'm going to track its progress.
Thanks for reading and sharing any thoughts you wish to contribute.
Disclosure: I am/we are long ROST, TJX, HD,EWBC. I wrote this article myself, and it expresses my own opinions. I am not receiving compensation for it (other than from Seeking Alpha). I have no business relationship with any company whose stock is mentioned in this article.
Additional disclosure: Not investment advice. I am not an investment adviser.