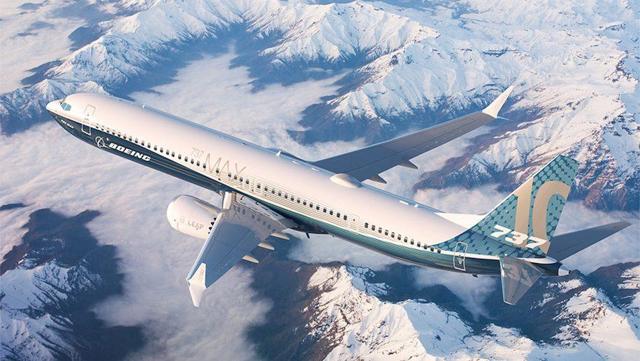 Source: Boeing
Following the crash of Lion Air's Boeing (NYSE:BA) 737 MAX 8, the Indonesian airline has threatened to cancel its orders with Boeing. In this first report, AeroAnalysis International wants to have a quick look at what this would mean for Boeing and why we are not overly concerned about Lion Air's threat.
Fleet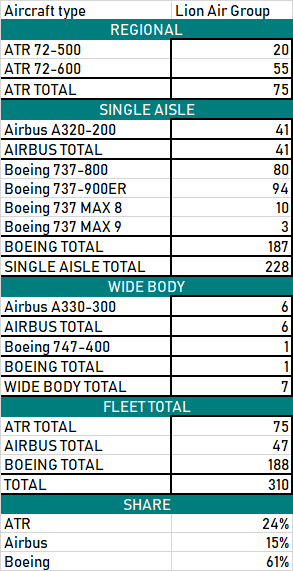 The first reason why not to be concerned is the current fleet composition. Boeing has a dominant share of 61% in the fleet of the Lion Air Group and 82% of the single aisle jet share. That means that Lion Air will see significant challenges ahead and cost growth if it wants to transition to an Airbus (OTCPK:EADSF) fleet and will see additional cost growth if it will start operating older aircraft. None of this will benefit the low-cost model that the airline is pursuing. Additionally, there is no guarantee at all that Boeing competitors can assist Lion Air in a fast fleet transition and cater growth.
Orders with Boeing
According to Boeing's data, Lion Air has 188 unfilled orders for the Boeing 737 MAX and 2 unfilled orders for the Boeing 737-900ER. Boeing's data does not yet include November deliveries of 1 Boeing 737 MAX 9 and 1 Boeing 737-900ER. So, it is expected that the number of unfilled orders is 188 aircraft, 187 Boeing 737 MAX aircraft and 1 Boeing 737-900ER. At list prices, these aircraft are valued $23B. After standard discounts these aircraft can be valued $10B, though given the size of the order placed by Lion Air for the Boeing 737 MAX it is highly likely that additional discounts have been obtained.
Lion Air currently operates a young Boeing 737-800 fleet and a fleet of Boeing 737-900ER that is a mix of younger aircraft and aircraft that likely are approaching the end of their lease, making them fit for replacement with the Boeing 737 MAX. AeroAnalysis' International's [AAI] view on orders placed in the past years is that that Lion Air has significantly overcommitted to accepting aircraft in the coming years and AAI expects that a third of the order had previously been allocated to cater for growth. But with Lion Air also ordering aircraft from Airbus, the airline likely needs to evaluate and adapt its delivery schedule.
Earlier this year there were rumors that Lion Air would also be adding the Boeing 787 to the fleet, but in the meantime, the Thai arm of Lion Air also reached an agreement to lease the Airbus A330neo, which seems like a better fit given the existing A330ceo operations. Boeing and Lion Air also confirmed an order for 50 Boeing 737 MAX 10 aircraft, although AAI couldn't find any order of 50 units in Boeing's overview. It is highly likely that this has been a swap that has been presented as a new order for more exposure for the Boeing 737 MAX 10. Additionally, AAI expects that the order for the Boeing 737 MAX 10 gave Lion Air some much-needed deferral of deliveries, but it would mean that out of the >500 orders and commitments for the MAX 10 Lion Air would have a 10% weight. The Boeing 737 MAX 10 was launched by Boeing as a response to the Airbus A321neo, which Lion Air also has ordered.
So in terms of value, growth potential and backlog presence, the order from Lion Air is important. Losing the MAX 10 order would be painful since Lion Air accounts for roughly 10% of the backlog for the Boeing 737 MAX 10 and likely also has a significant number of Boeing 737 MAX 9 aircraft on order. Both of these aircraft are not fast sellers.
Lion Air is using the current circumstances to defer part of its order. We don't think it fits its strategy or is its goal to cancel the order and believe that it hasn't been doing a lot of pre-payments when ordering the aircraft, meaning that Boeing might be a bit harsher in negotiations for deferral. Additionally, the Lion Air Group also has significant presence in the Airbus order book, so there is no reason to assume that Boeing under normal circumstances would be very flexible in facilitating deferrals. You could even say Boeing already did its part when converting part of the order to the MAX 10 variant, which should be a mutual beneficial conversion.
Conclusion
The threat to cancel the whole Boeing 737 MAX order is more of a thoughtless burst of rage from Lion Air rather than a prudent consideration. Lion Air accuses Boeing of trying to deflect attention from design changes on the 737 MAX and blame Lion Air for the crash. The claim of deflection is a pretty ridiculous assertion since Boeing is having a very rational approach to the matter and it will implement required changes to the design where needed. The company is required to do so. This, however, does not mean that the crew did everything correctly either or that Lion Air did things correctly. So, in a similar fashion, you could say that Lion Air is drawing attention away from possible shortcomings on its side.
Realistically, Lion Air is leveraging the current circumstances to alter its delivery schedules as it has overordered significantly and it is using the MAX crash to achieve favourable terms to cancel or defer part of the order… something that was long due. It's a very questionable practice from Lion Air and one could get the impression that this will backfire. Headlines after a crash are never positive, but Lion Air seems to make things worse and that could affect the carrier's growth aspirations. For Lion Air, deferring makes sense since it ordered way too many aircraft, but by threatening to cancel the order in the media almost feels like the carrier is shooting in its own foot. So if the crash wouldn't already dent confidence in the airline and subsequently slow its growth trajectory, the media fight it engaged in would.
For Boeing, losing Lion Air as a customer would be painful but the small positive would be that early slots would become available. AAI thinks Boeing would be able to sell those slots to new customers, possibly at higher prices. We haven't put any expectations on a wide body order from Lion Air for Boeing since the carrier already engaged in a future transaction with Airbus via BOC Aviation for the lease of 3 Airbus A330neo.
Good to keep in mind is that neither Boeing nor Airbus depends on orders from a single customer. You could say that the Airbus A380 program and Boeing 777X are exceptions, but in general Boeing and Airbus have a diversified pool of customers for their key programs and the Boeing 737 MAX and Boeing 787 are no exception. Any deferral that will follow from a Lion Air decision to cancel or defer orders can likely be filled by other carriers, possibly further improving the diversified pool of customers.