Back in the summer of 2017, I was one of the few Macy's Inc. (M) bulls, at least here on Seeking Alpha. As it turns out, that contrarian viewpoint played out nicely. However, in the summer of 2018, I sold all of my Macy's shares at $39.25 apiece, as I felt a lot of the good news was then priced. I remained on the sidelines, patiently waiting to see the company's Q3 2018 results. After reviewing Macy's Q3 2018 earnings results and guidance and closely reading the Q3 2018 conference call, I bought back some shares in my Tactical Value portfolio at just under $33 per share (this is my diversified and more conservative portfolio, and as of December 5th, this portfolio is 590 bps ahead of the S&P 500 in 2018).
Quite frankly, I am really surprised that I was able to buy back some shares under $33. Despite really good Q3 numbers and full-year guidance, most likely related to weakness in the overall market, Macy's stock has traded surprisingly weak.
Enough about stock prices, let's discuss the company's Q3 2018 results.
Same-store sales were very healthy at 3.3% (owned plus licensed), and net income was up over 50% despite assets sales coming in $23 million lower than Q2 2017.
Asset sale gains for the third quarter of 2018 totaled $42 million pre-tax, or $31 million after-tax and $0.10 per diluted share attributable to Macy's, Inc. This compares to the third quarter of 2017 when asset sale gains totaled $65 million pre-tax, or $40 million after-tax and $0.13 per diluted share attributable to Macy's, Inc.

Source: Macy's Q3 2018 earnings release
Q3 2018 EBITDA was healthy, and year-to-date EBITDA was a solid $1.478 billion.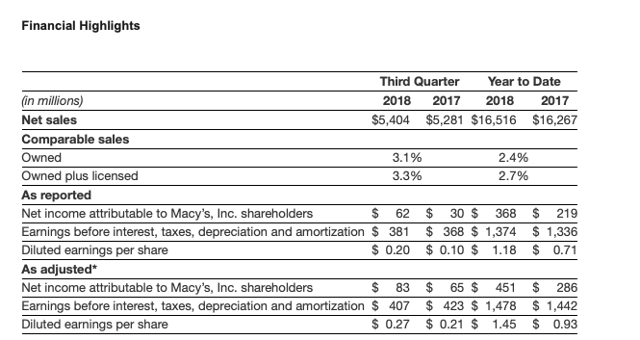 (Source: Macy's Q3 2018 earnings release)
Based on solid Q3 2018 results and positive momentum, Macy's lifted its full-year revenue and earnings guidance.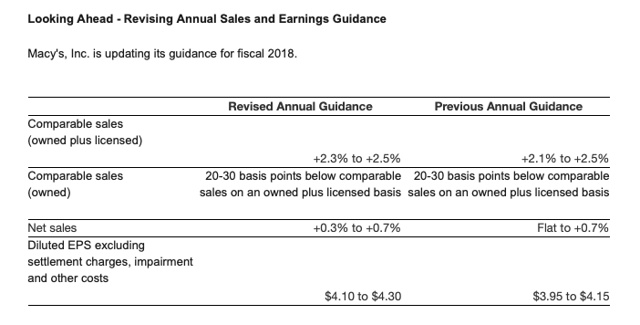 (Source: Macy's Q3 2018 earnings release)
Coming in at 40.3%, Q3 2018 gross margins were fine. This stability was partly driven by the strong rewards program, and credit card income was up nicely.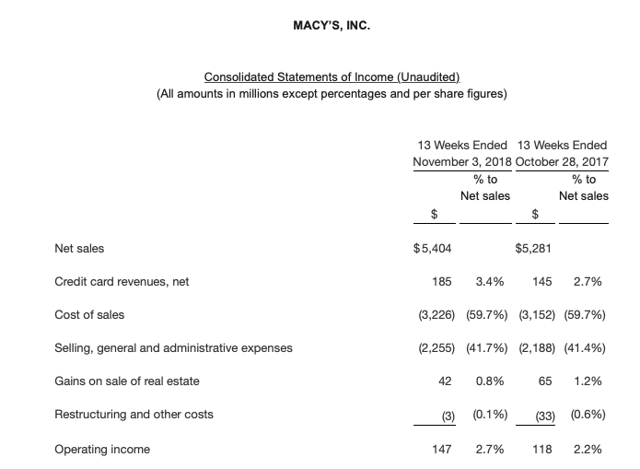 (Source: Macy's Q3 2018 earnings release)
Turning to the balance sheet, net working capital is positive $2.223 billion. Long-term debt is $5.47 billion, and cash and cash equivalents were $736 million. So, net long-term debt is $4.734 billion.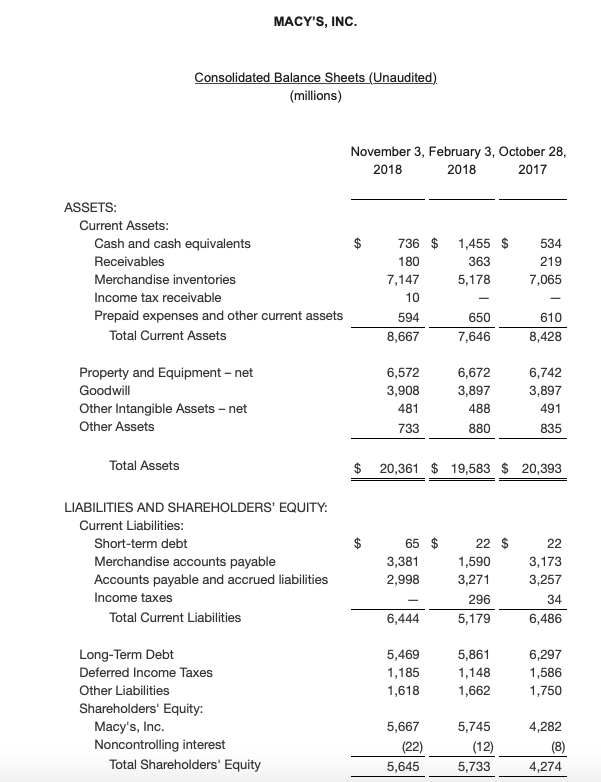 (Source: Macy's Q3 2018 earnings release)
Valuation
In terms of valuation, in FY 2017, Macy's Adjusted EBITDA was $3.089 billion.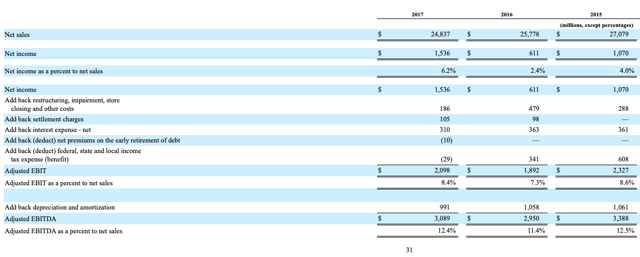 (Source: Macy's FY 2017 10-K, pg. 31)
We also know above that the company's Adjusted EBITDA for the first three quarters of FY 2017 was $1.442 billion, so that means it (and this type of seasonality is well-known) generated $1.647 billion of Adjusted EBITDA in Q4 2017 alone.
So to be conservative, let's say Macy's FY 2018 Adjusted EBITDA is $3.1 billion (and it probably will be higher), and with 310 million diluted shares x $33 per share, we are looking at a market capitalization of $10.23 billion. With $4.7 billion of net debt, we are looking at an enterprise value (EV) of about $15 billion. So, Macy's Adjusted EBITDA / EV is a 20.7% cash flow yield. And with the extra capital, it can further de-leverage the balance sheet. This further de-risks the story.
And on November 28th, the company announced a $600 million debt tender offer.
If you are guardedly optimistic about consumer spending during the 2018 Holiday period and into 2019, then Macy's looks really attractive at $33 per share.
Turning to the conference call Q3 2018 Conference Call
Please note, all quoted material is from the Q3 2018 conference call.
At the end of the day, Macy's has done a great job innovating and reinventing itself in a brutally competitive retail landscape. The company owns great real estate, and its existing business has continued to generate strong cash flow. Given the strong cash flow profile, the management team was smart enough to reinvest in its businesses. Those investments and higher CAPEX spending were - and are - a competitive advantage and have been bearing fruit.
Turning to the Q3 2018 call, CEO Jeff Gennette focused on five topics. And during the call, he sounded upbeat about the company's progress and the consumer spending backdrop.
Specifically, Jeff focused on five key topics:
The loyalty program is doing well.
166 Backstage in-store locations (this is going well and driving traffic and overall sales).
Vendor Direct (lots of online selection and double the number of available SKUs).
BOSS (buy online ship to store) and BOPS (buy online and pick up in store) are working well.
The Growth 50 initiative has yielded a strong response.
A very important subtext of the call was that the brick-and-mortar business led by a successful loyalty program and the BOSS and BOPS, the Growth 50 investments, and Backstage investments are helping.
I want to isolate how Jeff and Paula shared a favorable outlook for the in-store results and trajectory.
Here are some excerpts:
Exhibit A: CEO, Jeff Gennette
The growth of our digital business goes hand-in-hand with the growth of our brick-and-mortar business. We have seen the trend improvement in our stores beginning a year ago and we have seen steady quarter-to-quarter progress throughout the year.

This is important, because healthy brick-and-mortar - healthy brick-and-mortar business is part of our strategy to build lifetime value with our existing customers and to bring new customers into the brand.
Exhibit B: CEO, Jeff Gennette
Three, our stores are in good shape for the holiday and have momentum. Four, our strategic initiatives are up and running and we will feel their full weight in the quarter.
Exhibit C: CFO, Paula Price
Total transactions were up 3.8% in the quarter, reflecting strong customer demand, both online and in stores.
Exhibit D: CEO, Jeff Gennette (Success of BOPS and BOSS)
So within the market, strong brick-and-mortar I think everybody knows really amplifies our online sales and conversely when we close stores, our online sales in that market decrease. So increasingly our stores serve as fulfillment centers for shopping that is done online and we see that in the popularity of our pickup options, which I mentioned is part of my BOPS and BOSS update.
Exhibit E: Analyst Q&A: Jeff Gennette's response to JPM's Analyst, Matthew Boss
I'd say the second piece of it is that our stores, all stores are improving in their trend from where they have been and it's sequential improvement quarter-to-quarter and now that all the investments has really touched all stores be it At Your Service or Mobile Checkout and certainly what you have done with the Growth 50 initiatives, we are ready for all the gift traffic that we are going to get in the fourth quarter. So we are bringing a store fleet that has momentum into it with us.
Exhibit F: Analyst Q&A: Jeff Gennette's response to Morgan Stanley Analyst, Kim Greenberger
So I am going to address the first one Kimberly, which is the sequential improvement in stores. So all the stores are performing better in this year versus last year and it's gotten progressively better. When you look at some of the stores, they definitely are - have positive comps and some of them are getting quite healthy.

So let's just talk about some of the individual parts, when you look at the Growth 50 stores, that's a very positive comp story when you look at those and some of those stores were negative comps in previous quarters before we put in the investment.

When you look at what Backstage is doing, so Backstage is a separate part. For those stores where Backstage has been open more than a year. The whole portfolio of those stores have high single-digit comps. So that's good news, obviously, we have got certain businesses that are positive comps in stores.

But the aggregate store be it with Backstage is a subset or the full store that doesn't have Backstage, we have got a number of stores or stores in our portfolio now that were demonstrably better than they were in the beginning of the year they get better each quarter. We believe the trend is going to continue across all store types as we get into 2019.
I am going to stop at Exhibits A-F, but I think you get the idea that the company is seeing broad strength both in stores and online. Speaking of e-commerce, it has continued to grow at double digits:
Our e-commerce business just completed another consecutive quarter of double-digit growth, driven by continued improvement to our online offering and experience.

We invested early in mobile and our mobile app just keeps getting better. We view the Macy's app as our customer's indispensable shopping companion and increasingly it's becoming a channel for transactions as well. This year we will hit $1 billion in mobile sales.
Takeaway
I don't want to belabor the point - if you are guardedly optimistic about 2018 Christmas/Holiday spending, then Macy's shares look very attractive at $33. As I said, the Q3 2018 numbers, guidance, and conference call were strong. I couldn't find any kinks in the company's amour. Also, as of November 15, 2018, Macy's short interest remains elevated at 39.2 million shares.
As a full-time investor, I look for new ideas for my portfolio every day and I always eat my own cooking. I manage three portfolios (Tactical Value, High Octane, and Buy and Hold). Tactical Value is a very diversified portfolio and focused on more conservative ideas. High Octane and Buy and Hold are value based, but target pure capital appreciation.
Disclosure: I am/we are long M. I wrote this article myself, and it expresses my own opinions. I am not receiving compensation for it (other than from Seeking Alpha). I have no business relationship with any company whose stock is mentioned in this article.