The stock of electronics manufacturer Jabil (NYSE:JBL) has been hovering near its 52-week lows since Q4 FY2018 Earnings Report back in September. (JBL's fiscal year is staggered three months from the calendar year).
Investment firm Needham & Co. issued a note immediately after the stock began falling urging investors to buy the dip based on the expected continuation of current "momentum in the business" as well as attractive valuation. I concur with this analysis as the post-earnings decline appears to be undeserved.
Gaining 'Momentum'
Most would consider 2018 to be a strong year for Jabil as the following growth figures were accomplished:
| | |
| --- | --- |
| Metric | Y-o-Y growth |
| Net Revenue | 16% |
| Non-GAAP op income | 15% |
| Non-GAAP diluted EPS | 24% |
Another encouraging characteristic of JBL's growth is that both of its business segments, Electronics Manufacturing Services (EMS) and Diversified Manufacturing Services, contributed to overall company success as DMS revenue grew 23% and EMS revenue grew 11%. The image below shows the segment performance for only the fourth quarter, which interestingly was inversely related to the revenue trend seen over the entire year with EMS revenue outgrowing DMS.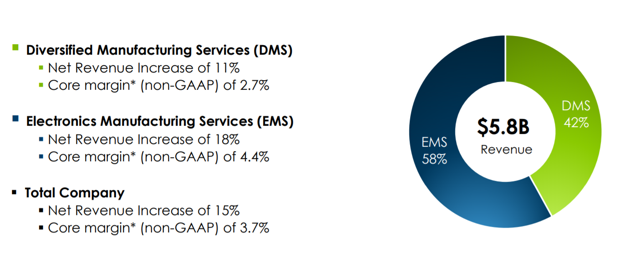 Source: Jabil 2018 Fiscal Year Earnings Presentation
Jabil also experienced a strong year from a cash flow perspective with $934 million generated in operating cash flow. Net capital expenditures (capital expenditures - depreciation) totaled $114 million but more notably Jabil has been earning an impressive 19.3% return on invested capital, a 380 basis point improvement year-over-year. In Q4, JBL entered into a $350 million term loan facility and $150 million revolving credit facility in order to increase its liquidity -- with the aforementioned rate of return that Jabil is earning on its capital, additional liquidity bodes well for the future. JBL ended the fiscal year with a debt-to-EBITDA multiple of 2x and $1.3B in cash.
Shareholder Returns
In addition to the strong cash flow generated by JBL, the company also is committed to consistently return capital to shareholders. In 2018, JBL returned the entire $450 million authorized by its board in the form of share repurchases as part of its "capital return framework". On the Q4 FY2018 Earnings Conference Call, CFO Michael Dastoor noted that since the inception of this framework, JBL has 33.3 million shares at an average cost of $25/share. While simple arithmetic can tell you that totals ~$833 million spent on share repurchases, my focus is more on the average repurchase price. Keeping in mind the stated belief that the post-earnings selloff was a temporary pullback, that volume of shares purchased at only $25/share offers a great potential return for management and should only enhance future stock appreciation as the amount of shares outstanding has been gradually declining going all the way back to 2012.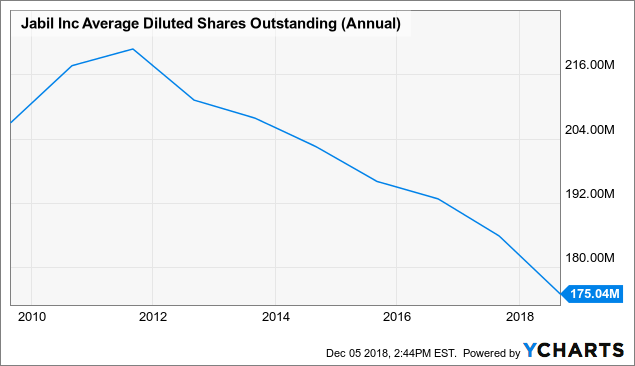 On the Conference Call, Mr. Dastoor mentioned JBL's desire to once more fully utilize its approved 2019 share repurchase cap of $350 million. The company also offers a a quarterly dividend of $0.08/share, good for a dividend yield of 1.3% at current levels.
Outlook
With Jabil's 1Q 2019 Earnings Report expected to be released on December 13th, now may be the time to get long on the stock. As mentioned the stock has been beaten down and recent market turmoil certainly hasn't helped. Jabil has only issued guidance for the first quarter of fiscal 2019 as shown below: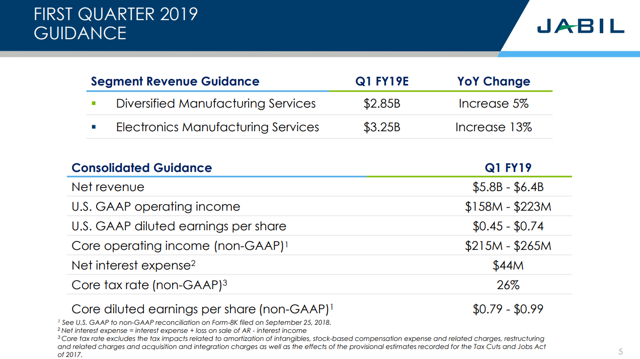 JBL issues guidance only one quarter out but has beat only both EPS and revenue for each of the last seven quarters. That is an incredible record that indicates a tendency to solicit the "underpromise and overperform" strategy from management.
Valuation
The upward revenue trend seen in 2018 is expected to continue if EPS estimates among Wall Street analysts are anything to go by. The table below contains earnings estimates for Jabil out until FY2021. Tuesday's closing price of $24.46/share was used for P/E calculation.
| | | |
| --- | --- | --- |
| Fiscal Year | EPS | P/E |
| FY18 | $ 2.60 | 9.4 |
| FY19 | $ 2.97 | 8.2 |
| FY20 | $ 3.34 | 7.3 |
| FY21 | $ 3.51 | 7.0 |
These price-to-earnings multiples are almost never seen in this market, only reinforcing that this will be a temporary pullback. Per WSJ, there are 12 analysts covering the stock, five of which rate the stock as a buy, six have a hold rating and there is one sell rating. Analyst price targets also paint a bullish picture with the average price target of $32.33 and a high price target of $40 which would yield a return of 32% and 65% from Tuesday's closing price, respectively.
Conclusion
Jabil's stock is one that should appeal to investors for several different reasons, especially right now. The company has generated consistent revenue growth, strong cash flow and continues to return capital to shareholders. The stock's recent pullback has created an eye-catching 8.2x forward price-to-earnings multiple, something the investment community needs to take advantage of before JBL's Q1 FY2019 Earnings Report. Long JBL.
Disclosure: I am/we are long JBL.
I wrote this article myself, and it expresses my own opinions. I am not receiving compensation for it (other than from Seeking Alpha). I have no business relationship with any company whose stock is mentioned in this article.