Applied Materials Inc (AMAT) operates in the semiconductor equipment business with four key segments: foundry, logic, NAND and DRAM. AMAT is a market leader in its space with one of its key selling points being its globally diverse business. Despite the recent selloff, we believe it prudent for investors to adopt a wait-and-see approach as the cycle plays itself out. In the near term, we see sluggish end demand growth, particularly in foundry, as a key reason to remain on the sidelines.
Macroeconomics and Tweaks
Since the cycle turn, AMAT investors have been forced to realize the significant influence semi cycles have on AMAT's bottom line. This is driven mainly by the fact that their industry is based on international trade – which is currently being influenced by global trade wars. The January-ending quarter was expected to decline over that quarter due to the ban on export equipment from the Fujian Jinhua Integrated Circuit by the United States. This ban from the US Commerce Department has led the firm to avoid the guide up of over $60 million which was expected over the recent quarter. This trend coupled with the decline in expenditure in silicon has led the firm to suffer headwinds in their top line.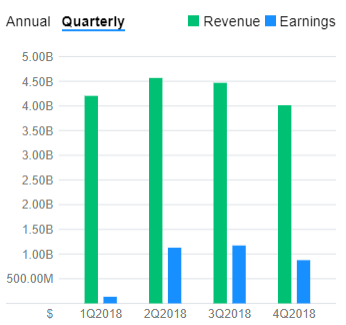 Source: Yahoo Finance
Despite this, the firm announced somewhat stable financials in their quarterly earnings call. Their revenue base fell to US $4.01 billion, which was a 10% quarter over quarter (QoQ) decline but a 1% year over year (YoY) growth. This growth was further bifurcated into the different segments in which the firm operates as Semi Systems, Services and Display. In the respective segments, there was a significant decline in revenues for the semi systems and display segments which declined by (-16% QoQ, -5% YoY) and (-5% QoQ, +4% YoY) respectively which revenues of $2.31 billion and $702 million respectively recorded. The above was largely in line with estimates as they were 1% below and 2% above estimates respectively. However, the services segment was the only growing segment as it grew to $977 million representing a +2% QoQ and +18% YoY growth.
While the service segment has grown by 2% over the past quarter, semiconductor and display segments suffered a decline due to the slowdown in the mobile phone space, particularly for high-end models. According to management, the slowdown in the sales of smartphones was the primary driver for the negative decline in revenues over the last quarter for the two segments (-16% QoQ and -5% QoQ for semi and display systems respectively). Similarly, the share prices of some of Applied Material's top customers – Intel (NASDAQ:INTC) and Micron (NASDAQ:MU) – fell over the last quarter, adversely influencing the overall sector.
Their profit margins did take a turn for the better over 3Q18 as they rose to 45.5% - which was in line with management's guide – and 26.6% for gross and operating margins respectively. The operating margin was, however, a decline by 2.6% from the previous quarter and a sequential 2.04% YoY decline. Finally, their EPS closed higher at US $0.97. However, this was US $0.13 lower than consensus estimates driven primarily by the decline in the revenue of the company.
For the coming quarter, management has raised a red flag to their investors regarding the numbers expected over the coming quarter. In their view, the trends being seen in the macroeconomic environment especially with the trade wars between the United States and China are playing a key role in influencing the decline in their performance. Investor will especially be keen to analyze the current ban and its implications on the over $60 million guide up. Furthermore, they will also be keen to evaluate movements in the firm's inventory which rose to US $3.72 billion from US $3.68 billion over the past quarter, a factor that supports the premise of international trade having an impact on the firm's sales.
The firm expects foundry and logic spending to rise over the coming year while spending on memory is expected to decline. As a result, NAND and DRAM are expected to have a continued decline in growth numbers as has been the case till now - DRAM and NAND are currently down 35% and 25% YoY respectively. This has led to both AMAT and its competitors to revise forecasts as the expected sectoral decline is expected to affect them all.
Valuation and Prospects
Changes in the economic outlook over the past quarter have seen Applied Materials soften their 2018/19 WFE spend outlook to US $100 billion down from over US $100 billion with 2019 spending expected to be lower than that of 2018. Moreover, while memory has been a major contributor to their portfolio, its continued decline in performance – 35% and 25% YoY for DRAM and NAND respectively – has seen them change their outlook and overweight foundry and logic which are expected to rise over the coming period. Finally, further pullbacks are expected from their display business which analysts' estimate will decline by a further 20% YoY over 2019.
The above pullbacks have been critical to Applied Material's revised downward valuation. According to analysts, the current decline in the industry will continue to affect firms operating within this sector over the coming year in a period which has been referred to as a cyclical downturn for the sector. The overall pessimism has led to a sell-off in semi stocks although AMAT has suffered disproportionately vs the overall semi index (SOXL).

View on the Stock
It can be said and rightly so, that the industry is undergoing cyclical changes, and is currently at the downturn. Given managements' softened positions as well as grim estimates on their segments, it comes as no surprise that Applied Materials Inc suffered a downward revision to their valuation. Over the coming period, it will be important for investors to take up a wait and see approach as they evaluate the on goings in this sector. For now, however, we think the share price decline is justified given the underlying industry and company-specific fundamentals.
Disclosure: I/we have no positions in any stocks mentioned, and no plans to initiate any positions within the next 72 hours. I wrote this article myself, and it expresses my own opinions. I am not receiving compensation for it (other than from Seeking Alpha). I have no business relationship with any company whose stock is mentioned in this article.