Abraxas Petroleum Corp. (AXAS) is a small exploration and production company operating primarily in the oil-prone Bakken (North Dakota) and Permian (West Texas) basins. While its low stock price is initially attractive as an easy entry point, investors may want to wait to see more execution, larger scale, more equity in the capital structure to provide flexibility, and even a dividend return.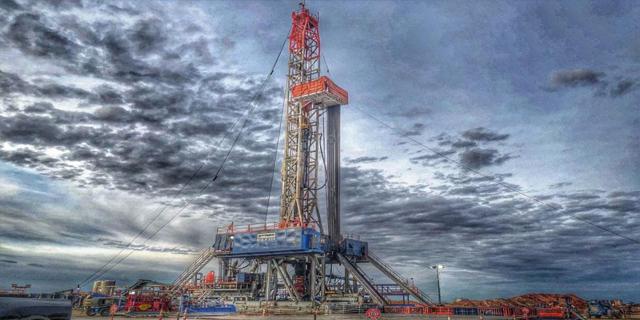 Ward County, Texas; Image Credit: Abraxas Petroleum
Company Summary
Abraxas Petroleum is a small oil and gas producing company headquartered in San Antonio, Texas, with operations in two oil-prone areas: Bakken/Three Forks (North Dakota) and the Delaware sub-basin of the Permian (West Texas). It is looking for buyers for its 14,000 south Texas Eagle Ford acres, a third area.
The company has just over 110 full-time employees, a market capitalization of $280 million and third-quarter production of 10,070 barrels of oil equivalent (BOE) per day. Recall that the BOE measurement includes lower-valued natural gas liquids and natural gas as well as oil.
Oil Prices, West Texas Intermediate, $/barrel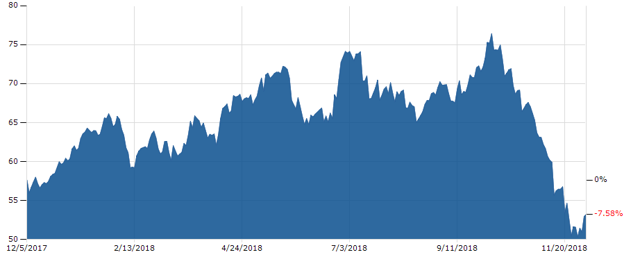 (Chart Source: Business Insider)
The December 5, 2018, closing price for West Texas Intermediate (WTI) was $52.92/barrel. The chart above shows the substantial price drop during the last few months.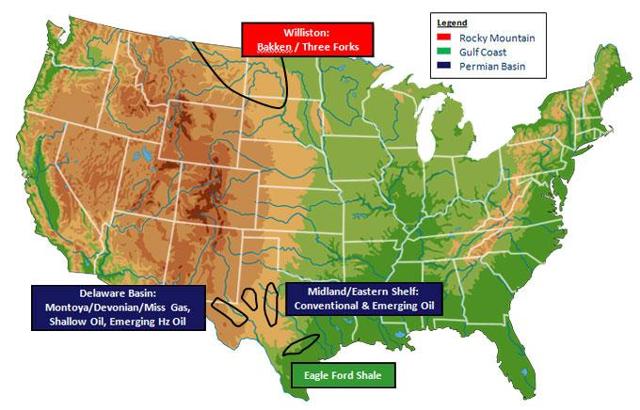 Abraxas Petroleum's Operations and Upstream Environment
A November 5th Wall Street Journal article noted investors' impatience with poor returns from upstream companies, as well as citing Permian breakeven costs of $35-53/barrel and Bakken breakeven costs of $45-55/barrel. This is the environment in which Abraxas is competing with many larger, better-capitalized companies.
For the third quarter, it reported production of 10,070 BOE/D. Of this, 65% was oil, 14% was natural gas liquids, and the rest, 21%, was natural gas. The company's third-quarter realized average price, net of hedging, for its hydrocarbon production was $37.66/BOE.
Competitors
Abraxas Petroleum has many competitors in its operational areas and a relatively small market capitalization by comparison. In the Delaware sub-basin, public company competitors include those such as Anadarko Petroleum (APC), Carrizo Oil & Gas (CRZO), Matador Resources (MTDR), PDC Energy (PDCE), and WPX Energy (WPX). Companies such as Diamondback Energy (FANG), Jagged Peak Energy (JAG), and Callon Petroleum Co. (CPE) own leasehold near Abraxas' leasehold in Winkler, Ward, Reeves, and Pecos counties.
In the Bakken, the company's competitors comprise Continental Resources (CLR), ConocoPhillips (COP), Marathon Oil Corp. (MRO), and Whiting Petroleum Corp. (WLL), among others.
Significant competition from non-public companies, especially those backed by private equity, also abounds. This competition extends throughout its business, from hiring executives and expert professionals to competing for service contractors and supplies, to transporting and selling oil and gas.
Strategy, Capital Expenditures and Growth Prospects
The company's small level of production and market capitalization of $280 million would seem to make it a potential takeover target. However, it has been in business as an independent since 1977 under the same founder: he has obviously chosen not to sell.
Abraxas Petroleum's planned 2019 capital budget is $108 million. Its 2018 capital budget was $140 million, allocated half to the Permian, a quarter to the Bakken, and a quarter to acquisitions/facilities/other.
Third-quarter 2018 lease operating costs were $7.26/BOE, higher than the third-quarter 2017 costs of $5.08/BOE. Production taxes at 8.6% were higher than had originally been estimated, but administrative costs were lower by $3.00/BOE.
Governance
While Abraxas' founder, Robert Watson, has run the company since starting it 41 years ago, both its chief financial officer and vice president of operations are new to their jobs, having joined within the last 1 and 3 months, respectively. In September 2018, the company's regional operations manager, Kenneth Johnson, took over as vice president of operations after the prior VP resigned to pursue other interests. Similarly, its chief financial officer, Steven Harris, assumed the job just last month, after the prior CFO left in June 2018 to pursue other interests.
Institutional Shareholder Services ranks Abraxas Petroleum a 6 overall, indicating an above-average level of governance risk. Its sub-scores are Audit 1, Board 6, Shareholder Rights 7, and Compensation 6.
Insiders hold 2.7% of shares, institutions hold 59% of shares, and retail investors own the remainder.
Abraxas Petroleum's Financial and Stock Highlights
Abraxas' enterprise value is $435 million and its market capitalization is $280 million at the December 4th closing price of $1.69/share. Its ratio of enterprise value-to-EBITDA is less than 10, suggesting a bargain.
At the end of June 2018, the company estimated proved reserves of 61.6 million BOE with a PV-10 value of $557.6 million. This PV-10 equates to $9.05/BOE, using a price of $57.50/barrel for oil and $2.90/thousand cubic feet for gas.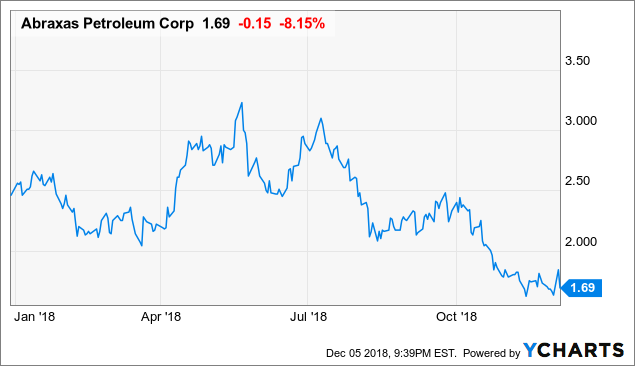 The company's December 4, 2018, closing stock price was $1.69. Its 52-week price range is $1.58 to $3.27 per share, so the December 4th closing price is only 52% of its 1-year high. As well, the December 4th share price is a mere 43% of the 1-year target price of $3.93.
Investors should note that, like Matador Resources, Abraxas Petroleum uses full-cost accounting.
The company's third-quarter net income was $1.78 million, or $0.01/share, compared to breakeven ($0.0/share) in the third quarter of 2017. More worrisome, its nine months' net income is also $0.01/share in 2018, compared to $0.12/share in the first nine months of 2017.
Analysts' average estimate of 2019 earnings per share is $0.39, yielding a forward price-to-earnings multiple of 4.33.
Abraxas pays no dividend. Its beta is - surprisingly - 1.01, i.e., its volatility matches the overall market.
Earnings before interest, taxes, depreciation, and amortization (EBITDA) for the third quarter of 2018 came at $22.2 million, compared to EBITDA of $15.7 million in the third quarter of 2017. The biggest factors in the difference between EBITDA and net income in the third quarter of 2018 are $6.8 million of unrealized loss on derivatives contracts and $11.0 million of non-cash depreciation, depletion, and amortization.
On its third-quarter statements, the company actually shows no cash in its balance sheet. It has a $200 million borrowing base from which it had drawn $146 million at September 30, 2018.
As of September 30, 2018, Abraxas' liability-to-asset ratio is a steep 71% with liabilities of $271 million (including $150 million of long-term debt) and assets of $381 million.
The company's book value is $0.67/share and its market price is more than double that level, indicating investor optimism.
Overall, the company's mean analyst rating is 1.6 - between a "Strong Buy" and a "Buy" - from the eight analysts who follow it. However, it appears their ratings have not changed for over fifteen months.
The five largest institutional holders are BlackRock (7.1%), Vanguard (5.1%), Mangrove Partners (3.6%), Dimensional Fund Advisors (3.2%), and State Street (3.1%).
Positive and Negative Risk
Abraxas Petroleum has no scale advantage either for transportation or for well drilling and appears to lack the financial flexibility for a protracted downturn in prices. However, with some of its acreage and drilling in the Bakken, it is not completely affected by the lack of transportation in the Permian.
Some of the other risks the company cites in a recent 10-Q are its indebtedness, the significant amount of cash required for debt service, and the limits imposed by its bank credit facility.
Recommendation
I recommend Abraxas only to investors who want to take a risky flier on oil in which a small investment gives a nontrivial number of shares. The company has a considerable amount of debt in its capital structure. Its operations and returns to investors could thus be hamstrung by debt obligations.
Then, there's the governance barbell: a 40-year chairman, chief executive, and president, yet a very new chief financial officer and vice president of operations gives pause, in accord with the company's below-average governance ranking. While for some companies the possibility of an acquisition might lift share price, the 40-year tenure of Abraxas' CEO - in which he has likely turned down many such offers - suggests a buyout is unlikely.

Earnings before interest, taxes, depreciation, and amortization (EBITDA) for the third quarter of 2018 was at $22.2 million, compared to EBITDA of $15.7 million in the third quarter of 2017.
While you're here, consider subscribing to Econ-Based Energy Investing, a Seeking Alpha Marketplace platform by a veteran energy investor that draws from a group of more than 400 public companies. Weekly in-depth articles (three company-specific analyses and two stock-by-stock portfolio reviews) provide you with recommendations for long energy investments. Service is discounted at 20% to all current and new subscribers. After January 15, 2019, the price will increase for subscribers joining later, but will remain the same for all who join before January 15, 2019.
Disclosure: I am/we are long WPX, CPE, FANG. I wrote this article myself, and it expresses my own opinions. I am not receiving compensation for it (other than from Seeking Alpha). I have no business relationship with any company whose stock is mentioned in this article.