After falling sharply alongside other growth stocks in October and November, and briefly dipping into bear market territory, machine learning company Splunk (SPLK) has buoyed sharply upward on the back of its third-quarter earnings release.
Splunk already had a big quarter in Q2, showing accelerating revenue growth and a greater than 10-percentage point beat to Wall Street's top-line estimates. Many investors, myself included, thought Q2's print may have been a fluke - perhaps Splunk pulled in a deal here or there (after all, as a company that relies primarily on big license deals, its revenue pattern is slightly more lumpy than SaaS companies). At the time, I had argued that Splunk's valuation had reached chart-topping levels, and that it was overdue for a correction.
That correction happened across the board for software stocks, and now, Splunk is racing back to its all-time highs: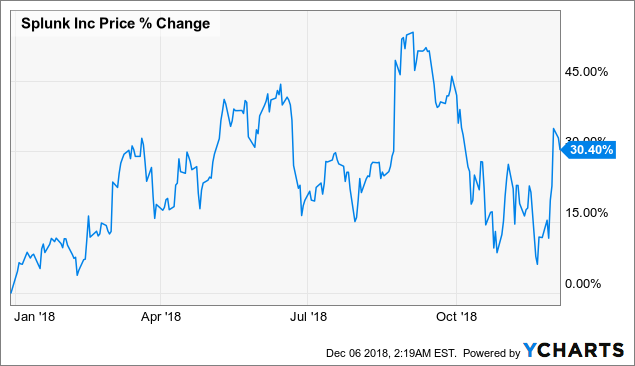 Q2's earnings strength turned out not to be a fluke, however, as Splunk showed accelerating growth yet again and produced a similarly large beat to consensus estimates. As such, my view on Splunk has shifted: the October/November volatility has already tested Splunk's resilience, and it appears that the stock is prepared for a fresh rally. The most important catalyst here is a lift in next year's guidance, which we'll discuss shortly.
Buy Splunk on the rebound - this is a stock that has clearly differentiated IP, and one that can be applied across a plethora of use cases. Many of Splunk's current use cases involve security, but the opportunity in business analytics and intelligence is similarly large. Rare is the company at a ~$2 billion revenue that is still able to grow the top line at 40% y/y, and there is still a long runway for growth ahead that investors can benefit tremendously from.
Robust guidance lift for FY20
As Splunk barrels toward the end of its fiscal 2019, the company has already boosted its guidance for fiscal 2020, one quarter earlier than most companies give guidance for the following year (most companies offer forward-year guidance in Q4).
Splunk's latest forecast for FY20 revenue is "approximately $2.15 billion":
Figure 1. Splunk guidance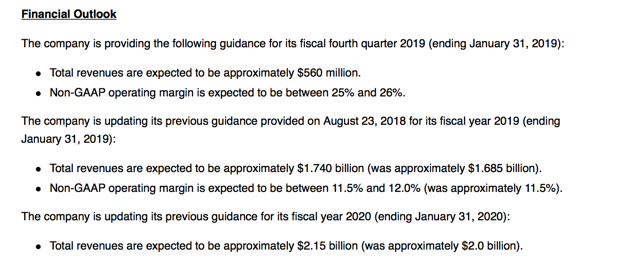 Source: Splunk earnings release
This represents a 7.5% lift relative to the company's prior guidance view of $2.0 million. Note that Splunk's growth rate is incredible compared to other companies of its scale. Take Workday (WDAY), for example - one of the closest software companies to Splunk in scale. Workday is slightly larger than Splunk - it's at a ~$2.7 billion revenue scale - but its growth has fallen to the ~30% range. Splunk's ability to continue growing at a breakneck pace is yet another indication of the massive market opportunity ahead of it, applying its machine learning technology across a broad scope of possibilities.
Splunk's guidance lift also has the effect of making its revenue-based valuation more reasonable. At its current price of ~$108, Splunk carries a market cap of $15.6 billion. If we net out $2.79 billion of cash and $1.61 billion of convertible debt on its balance sheet, the company has an enterprise value of $14.4 billion.
Against Splunk's FY20 revenue forecast of "approximately $2.15 billion," this represents a valuation multiple of 6.7x EV/FY20 revenues - which isn't exactly a bargain-basement valuation, but certainly isn't expensive for a 40% grower either.
Continued public sector progress
Another quick observation on Splunk's progress: one of the marks of a truly dominant software company is when it begins to strike major wins in the public sector, particularly with the federal government. These types of deals are not only large sources of recurring billings, but also a stamp of legitimacy on the value of the underlying technology.
Last quarter, Splunk brought home two so-called "whales" in closing two separate deals with the U.S. and UK Departments of Defense.
While this quarter's major wins are slightly lower in profile, we note that Splunk closed the Chicago Public Schools System (the fourth-largest public school system in the U.S., with enrollment of just shy of half a million students) this quarter, as well as the city of Austin, Texas and the Australian Department of Home Affairs.
The variety of these wins across multiple levels of government shows how versatile Splunk's platform can be. Public sector wins can often produce a domino effect: one department or municipality adopting a certain technology can induce many others to follow suit.
Q3 download: in spite of headwinds from ratable cloud deals, revenue growth is rampant
Here's a look at Splunk's most recent quarterly results:
Figure 2. Splunk 3Q19 results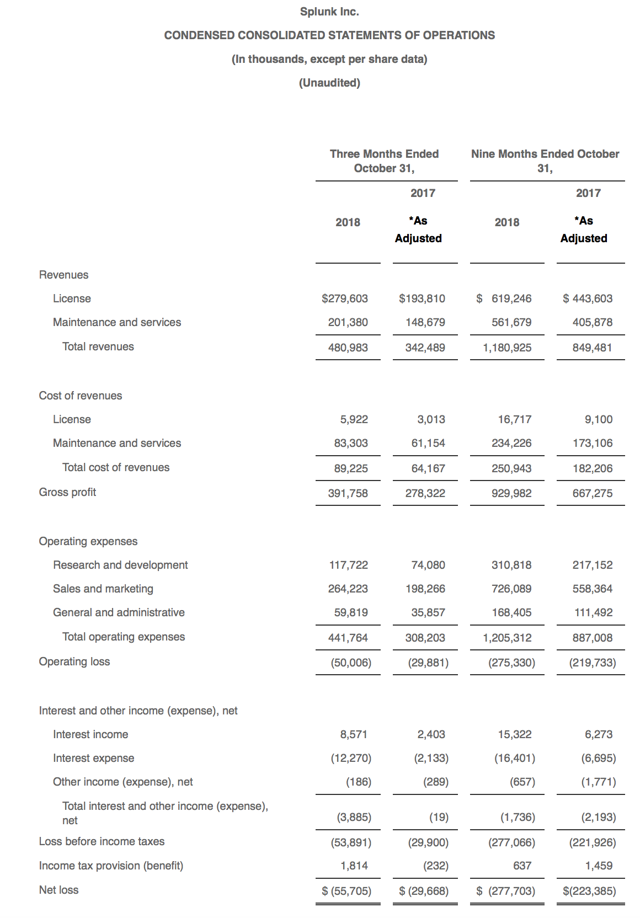 Source: Splunk earnings release
Total revenues grew 40% y/y to $481.0 million, accelerating one point over last quarter's 39% y/y growth (which, in turn, accelerated two points from 37% y/y growth in Q1) and smashing Wall Street's expectations of $433.4 million (+26% y/y) by a huge fourteen-point margin. Note that this is an even bigger beat than last quarter's ten-point beat. For a company of this scale to produce such a large earnings surprise is truly incredible. Note also that cloud-based revenues (at $45 million, still a small contributor to overall revenues) grew 87% y/y.
Splunk's outgoing CFO, David Conte, also noted that Splunk remains committed to transforming its revenue base from perpetual license to recurring and subscription-based revenues. Per his remarks on the Q3 earnings call (key points highlighted):
Remember that almost two years ago, I set several important and material expectations for our multiyear business transformation from primarily a perpetual company to one that is mostly renewable, shifting our go-to-market strategy to drive 75% of our software sales to renewable by next year.

I can tell you that our execution towards this goal has significantly exceeded the expectations we set in January of 2017. And my confidence in delivering the $2 billion revenue milestone in fiscal 2020 has never been higher."
Splunk's ongoing conversion into recurring and subscription revenues are likely to drive richer valuation multiples for its stock. Companies that have undergone similar transitions, like Adobe (ADBE) and Autodesk (ADSK), have also seen their stocks soar. Splunk's cloud-only ARR hit $200 million as of the end of this quarter, more than double the ARR in 3Q18.
The other major observation to note regarding this cloud shift is that it presents a headwind to revenue growth. Conte noted that so far in FY19, the company's shift to cloud has occurred faster than expected, and estimated that shift produced a $43 million headwind to revenue growth. In spite of this huge headwind, Splunk has still been able to generate 40% revenue growth.
On the profit side, Splunk saw a small contraction in operating margins to 13.6% on a pro forma basis, down 190bps relative to 15.5% in 3Q18. Sales and marketing expenses continue to remain high, rising 33% y/y to $263.2 million as Splunk continues to chase growth (as a percentage of revenues, however, sales and marketing costs pared down slightly).
Despite the small margin shrinkage, pro forma operating income still rose to $65.4 million, up 23% y/y. Splunk's pro forma EPS of $0.38 also beat Wall Street's estimates of $0.31 with 23% upside.
In addition, Splunk managed to continue growing its operating cash flows, up 45% y/y in the quarter to $33.5 million. Year-to-date, the company has grown OCF by a startling 67% y/y.
Figure 3. Splunk operating cash flow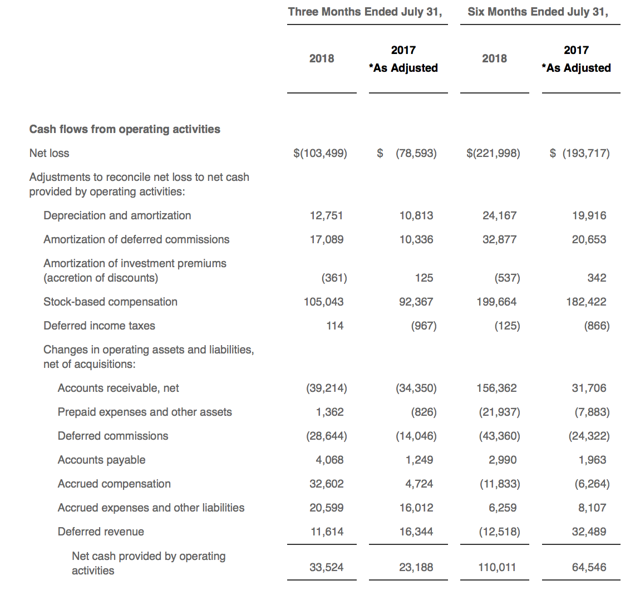 Source: Splunk earnings release
Key takeaways and cautions
Splunk has just given investors a fresh bullish catalyst to lift the stock in 2019. Despite its already-bullish outlook for FY20, Splunk has a deep-seated track record for consistently surpassing its own guidance ranges. Continued strength in cloud and an aggressive conversion to subscription revenues also provide clear upside catalysts for Splunk in 2019.
The biggest risk to the bullish thesis for Splunk, of course, is if its trend of outperformance suddenly slows down. Investors have more or less gotten accustomed to Splunk's big earnings beats. The slightest whiff of revenue deceleration - especially amid volatile markets, where investors are looking for any and every reason to dump growth names - could spur a sharp selloff. This is not unprecedented this year: growth SaaS names like Cloudera (CLDR), Instructure (INST), and Talend (TLND) have all suffered massive declines on deceleration fears and haven't recovered since.
That being said, against Splunk's freshly lifted guidance forecast and tremendous performance over the past two quarters, its valuation at just over 7x 2019 revenues seems reasonable, with the risk/reward profile heavily tilted in favor of bulls. Stay long on this name.
Disclosure: I/we have no positions in any stocks mentioned, but may initiate a long position in SPLK over the next 72 hours.
I wrote this article myself, and it expresses my own opinions. I am not receiving compensation for it (other than from Seeking Alpha). I have no business relationship with any company whose stock is mentioned in this article.