3M (MMM) has lost 22% since it peaked early this year. Consequently, it has underperformed the market by a wide margin, as the S&P has remained essentially flat over the same period. While the recent performance of the stock has disappointed its shareholders, investors should realize that the stock is likely to offer double-digit annual returns in the next five years while it will probably continue to raise its dividend at a double-digit rate.
Business overview
3M was founded in 1902 as a simple mineral company but, thanks to its innovation, it has become a unique gigantic company. It operates in 70 countries and sells more than 60,000 products to homes, businesses, schools, hospitals and other industries in more than 200 countries. Despite the numerous products that comprise its portfolio, 3M generates a third of its total sales from products invented within the last five years. This is an exceptional achievement, which confirms the highly innovative character of the company.
Dividend record
3M belongs to the best-of-breed group of dividend kings. It has paid a dividend for more than 100 consecutive years and has raised its dividend for 60 consecutive years. This is a very rare record, as only 7 other companies have achieved such long dividend growth streaks. The impressive consistency is a testament to the strength of the business model of 3M and its exemplary execution.
Even better, the company has been raising its dividend at a fast pace. To be sure, it has grown its dividend at a 16.5% average annual rate in the last five years.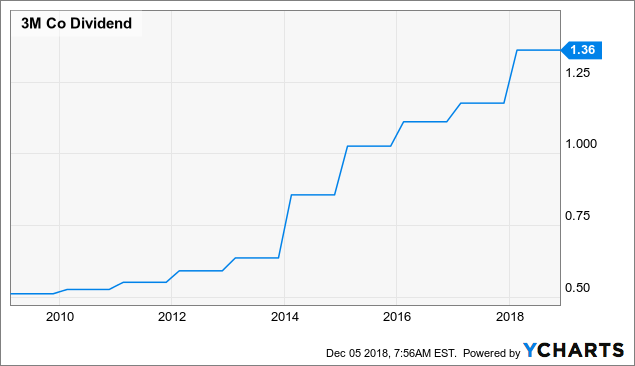 The company raised its dividend at a 16.2% rate in January and is expected to announce a similar raise next month. As the current yield is 2.7%, the upcoming dividend hike will boost the dividend yield to more than 3.0% at the current stock price. Such a high dividend growth rate is really rare for a company that has already raised its dividend for 60 consecutive years and proves that the company is in a solid growth trajectory.
Competitive advantage
3M spends significant amounts on research and development (R&D) every year. It has set a goal to spend approximately 6% of its revenues on R&D so it has spent approximately $1.8 B per year on R&D in each of the last five years. Thanks to this strategy, the company has easily maintained its pioneering character and has secured more than 100,000 patents. Therefore, it has built a sustainable competitive advantage in its business, which has helped the company achieve its exceptional growth record.
Despite its R&D expenses, 3M has consistently enjoyed excessive free cash flows. In other words, its business model is so strong that it produces much more cash flows than required on research efforts and capital expenses. More precisely, during the last decade, 3M has generated free cash flows between $3.8 B and $5.3 B in every single year. In each of the last five years, the company has achieved free cash flows around $5.0 B or $8.30 per share. Therefore, despite its elevated research expenses, the company highly rewards its shareholders via rising dividends and share repurchases thanks to its excessive free cash flows.
Growth
While 3M has managed to find new growth avenues for its products on a regular basis, it has also grown via acquisitions. Since 2012, the company has performed 12 acquisitions for a total amount of $7.7 B. Thanks to management integration and other synergies, these acquisitions have enhanced shareholder value. Management recently stated that it was actively exploring new takeover opportunities across all the segments.
In the last five years, 3M has grown its revenues at an average annual rate of only 1.2%. However, the company has managed to grow its earnings per share by 48% over the same period thanks to its cost-cutting initiatives, which have enhanced its operating margin from 21.6% to 23.6%. In addition, the earnings per share have been assisted by a 13% decrease in the share count. Overall, 3M has proved its ability to significantly grow its earnings per share even amid tepid revenue growth thanks to margin expansion and share repurchases. This is particularly important, as its shareholders do not have to worry about lackluster revenue growth. When a company grows its bottom line so fast without spectacular results, its shareholders can rest assured that the earnings per share and the dividend will continue to rise significantly for the foreseeable future.
In its latest presentation, management provided a bright 5-year outlook. It expects single-digit annual revenue growth in all the segments of the company and annual earnings-per-share growth between 8% and 11%.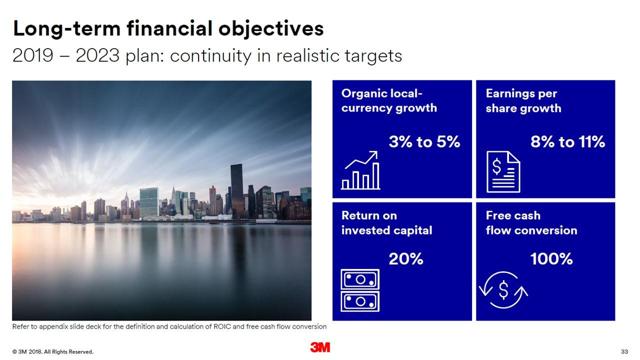 Given the exceptional record of management, it is safe to expect at least 10% annual earnings-per-share growth. Moreover, management stated that it will raise the dividend at a pace similar to the earnings-per-share growth in the next five years. Given the low payout ratio (55%) and the promising growth prospects, investors should expect at least 10% annual dividend growth over the next five years. Therefore, those who purchase the stock at its current price will enjoy a yield on cost higher than 4.3% in five years from now.
Valuation
3M is currently trading at a price-to-earnings ratio of 20.3. While this is not a cheap valuation, it is reasonable for a company that is poised to grow its earnings per share by at least 10% per year over the next five years. If this growth materializes and the stock price remains flat, the price-to-earnings ratio of the stock will fall to 12.6 in five years. As that would be an extremely cheap valuation for such a premium stock, the most likely scenario is that the stock will rise roughly in tandem with its earnings-per-share growth rate.
The bottom line
3M is poised to grow its earnings per share at a double-digit rate while it will soon be offering at least a 3.0% dividend yield, when it raises its dividend next month. Therefore, those who purchase it at its current price are likely to enjoy at least 13% average annual returns over the next five years while they will also receive double-digit dividend hikes. Overall, while the stock is not particularly cheap, it is attractively valued. As Warren Buffett has said, it is better to buy a great stock at a fair price than a fair stock at a great price.
Disclosure: I/we have no positions in any stocks mentioned, and no plans to initiate any positions within the next 72 hours. I wrote this article myself, and it expresses my own opinions. I am not receiving compensation for it (other than from Seeking Alpha). I have no business relationship with any company whose stock is mentioned in this article.