Timeline
Price Target
Relevant Events
4Q 2019
$75

Regulatory updates (NDA meeting with FDA in Q1 '19)
Possible M&A
Likely chance of dilution within one year
Preface
Within my exclusive marketplace, The Formula, I look for assets that provide therapeutic differentiation (have superior efficacy and safety, serve unmet needs, have limited competition, etc.). I have one model portfolio of my top biotech stocks focused on conviction ideas with intermediate/long-term time frames and another focused solely on long-term ideas.
Global Blood Therapeutics (NASDAQ:GBT) is developing voxelotor for sickle cell anemia. Voxelotor appears to possess qualities that continue to suggest it can become a disease-modifying therapeutic for a serious disease with limited options. Within The Formula, GBT is attractive within all time frames, as I believe the stock is likely to see significant appreciation in the intermediate and long term. The article below posits my thoughts on the company announcing the FDA is willing to go forward with accelerated approval and the path ahead.
The Good News
Long-awaited, but alas!
Global Blood Therapeutics, Inc. (GBT) (Nasdaq: GBT) today announced that the U.S. Food and Drug Administration (FDA) has informed GBT through discussions and written correspondence that the agency agrees with the Company's proposal relating to use of an accelerated approval pathway for voxelotor for the treatment of sickle cell disease [SCD]. GBT plans to submit an NDA for voxelotor for the treatment of SCD under this pathway. GBT proposed that by raising hemoglobin, voxelotor is reasonably likely to reduce strokes in SCD patients. As part of these discussions, the FDA agreed that transcranial doppler (TCD) flow velocity would be an acceptable primary endpoint in a post-approval confirmatory study to demonstrate stroke risk reduction.

GBT plans to request a pre-NDA meeting for the first quarter of 2019 and intends to provide further details regarding its plans and timing for an NDA submission as well as additional specifics on the TCD confirmatory study following this meeting.

Source: Company PR
Monday, Global Blood Therapeutics delivered the good news to investors regarding voxelotor's accelerated path to the market. According to the company, the FDA is willing to support a voxelotor accelerated approval filing. GBT will then need to go forward with a confirmatory trial, confirming clinical benefits of voxelotor (in this case: improved TCD flow).
FDA Willingness A Key
The writing was "on the wall" for voxelotor after the FDA clearly expressed a willingness to open up to endpoints other than VOC for sickle cell disease. Improving TCD flow velocity would directly reduce the risk for stroke, particularly important for patients with sickle cell disease (30%+ of which have a "silent" stroke by age 18).
Voxelotor's MOA Makes All The Difference
We've already seen the ability of voxelotor to improve TCD velocity in the young (KIDS trial). So, securing the post-approval endpoint should not be all that difficult. Voxelotor's ability to improve TCD velocity (via improving blood viscosity) is possible because the drug is, truly, disease-modifying. This is in contrast with a drug like senicapoc (which many people used to cast doubt on voxelotor) which was able to increase hemoglobin, but resulted in a significant rise in adverse events/vasoocclusive crises. This was because senicapoc was only addressing a byproduct of sickle cell disease (dehydrated RBCs). Voxelotor addresses the pathophysiology of sickle cell disease by safely delaying/preventing polymerization, which all the symptoms associated with the disease stem from (including RBC dehydration/malformation).
Voxelotor Is Safe And Well-Tolerated
At ASH, GBT shed specifics on voxelotor's ability to reduce VOC:

Source: ASH IR Event Presentation Slides
This is, understandably, a major concern for any SCD drug that is increasing hemoglobin. Voxelotor doesn't need to prove "statistically significant" reductions in VOC to be successful in the clinic or the market. It just needs numerical reductions. (I do, however, believe with enough time + events, voxelotor would prove statistically significant in VOC.)
Other safety issues some have proposed as potential complications, like tissue hypoxia, continue to be mute. In response to tissue hypoxia, the body will release erythropoietin [EPO] to reverse it. This continues not to be the case with voxelotor: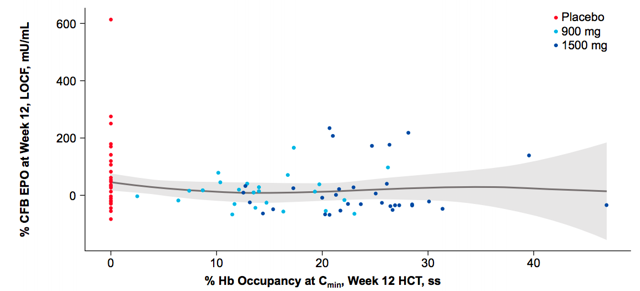 Source: ASH IR Event Presentation Slides
As we've discussed before, the FDA mentioned they would strongly consider mechanism of action when deciding whether or not a new therapeutic will be approved in an accelerated fashion. If voxelotor was too "oxygen hungry" and held onto the oxygen instead of releasing it to the tissues, we would, theoretically, see increases in EPO.
And what of other side effects/adverse events?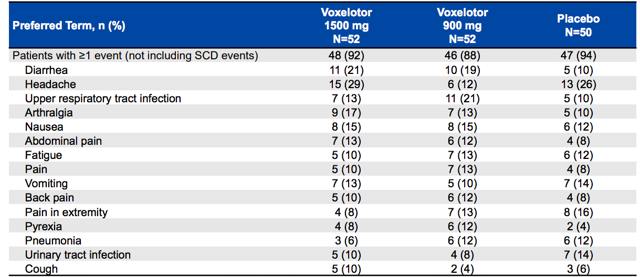 Source: ASH IR Event Presentation Slides
Again, voxelotor is well-tolerated with the exception of some diarrhea that is typically dose-limited.
Going Forward
FDA NDA meeting in 1Q '19
We will get an idea on the specifics for the confirmatory trial.
Accelerated approval slated for 3Q '19
GBT will need to do a good job marketing this product going forward, until the confirmatory trial[s] is/are able to support voxelotor as standard-of-care (they'll look at other endpoints/clinical benefits besides TCD velocity/stroke reduction). For now, doctors would likely prescribe voxelotor to only a small subset of patients (the likely new "bear case").
Lots Of Resistance Up There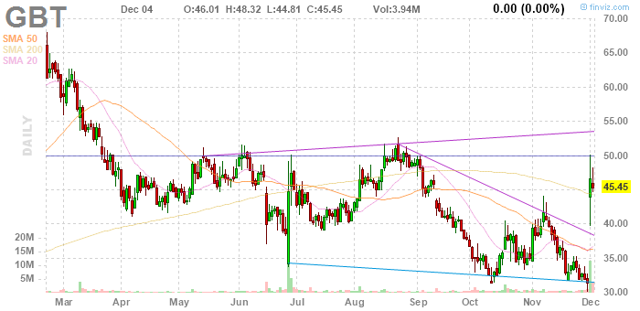 Short-term, I envision GBT trading between $55 and $65 (that's around the fair price). GBT remains cheap, in my eyes, despite the 50% jump (from 52-week lows). Most analysts project voxelotor will pull in $1-2B in peak annual sales. GBT wholly-owns the asset, has great patent life, and little relevant competition. Right now, GBT is valued ~2x peak annual sales, only with chances of accelerated approval and subsequent full approval being quite high.
Again, much of GBT's future relies on the company's ability to market voxelotor in a way that is attractive to the average SCD patient and the drug's ability to prove itself worthy as the next standard-of-care in sickle cell disease. I think the road towards these two goals will be reasonably smooth.
Risks
There is no guarantee the FDA will end up granting accelerated approval to voxelotor.
There is no guarantee voxelotor will continue to procure data supportive of approval (e.g., the vasoocclusive trend may turn on its head).
To reach a broader market of sickle cell disease patients, voxelotor will have to prove its ability to provide clinical benefits across a spectrum of symptoms.
Even if/when approved, voxelotor's market may be initially very limited to patients with severe anemia.
Despite securing accelerated approval, voxelotor may not produce the data required to secure full approval and may be, subsequently, pulled off the market.
Notes
Below are my notes from GBT's conference call the day the company announced the "good news":
Source: The Formula
Author's note: I present and update my best ideas only to subscribers of my exclusive marketplace, The Formula. Try a free 2-week trial today by clicking the pictured flask below!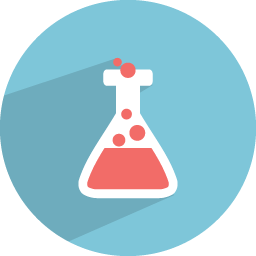 Disclaimer: The intention of this article is to provide insight, not investment advice. While the information provided in this article is intended to be factual, there is no guarantee and prospective investors are encouraged to do their own fact-checking and research before investing in a company. One must also consider one's own financial standings, risk tolerance, portfolio diversification, etc. before making a decision to buy shares in a company. Many of my articles detail biotechnology companies with little or no revenue. These stocks are, therefore, speculative and volatile. Even when prospects seem promising, there is no predicting the future. Losses incurred may be significant.
Disclosure: I am/we are long GBT. I wrote this article myself, and it expresses my own opinions. I am not receiving compensation for it (other than from Seeking Alpha). I have no business relationship with any company whose stock is mentioned in this article.