When an investor or trader looks at press releases of the typical gold mining company, things appear to go very well - the gold miner enjoys solid quarters followed by strong quarters, exceeds guidance, etc. The reality is much more sobering: gold miners as a group, measured by the performance of the VanEck Vectors Gold Miners ETF (GDX), are down about 16% year to date. Junior gold miners, measured by the performance of the VanEck Vectors Junior Gold Miners ETF (GDXJ), have shown similar results, down about 20% year to date.
Recently, the difference between the gold price performance and the performance of some gold miners' shares was especially visible. Gold found material support in the area of $1200 per ounce and is currently trying to establish an upside trend on the back of various geopolitical and economic worries, while many miners' stocks trade as if nothing positive is happening on the gold price front.
I'll name some of such companies on my watchlist: Alamos Gold (AGI), Asanko Gold (AKG), Yamana Gold (AUY), Coeur Mining (CDE), Eldorado Gold (EGO), Goldcorp (GG), Hecla Mining (HL), IAMGOLD Corp. (IAG), Harmony Gold Mining (HMY), and New Gold (NGD). These are very different companies (and some with substantial silver operations), but the fate of their stocks is similar - they have mostly fallen in the last few months. However, the rising gold price together with favorable outside developments (uncertainty in the U.S.-China trade war, especially after the Huawei CFO's arrest, uncertainty over the Fed rate hike path, worries about recession after yield curve inversion) will likely provoke some interest towards the gold mining sector.
The disappointing performance of many gold miners' shares have provoked investors' anger and distrust in the sector. I have even come across an opinion that established gold miners are uninvestable and that the only chance lies in the area of OTC-traded junior miners that can substantially rise in price. I disagree with this view. In my opinion, the established gold miners provide sufficient financial transparency and ample liquidity for trading.
Even with sub-par management (this has become a hot topic recently after a study found correlation between stock returns and management's ownership - hardly a big surprise to anyone following the industry), a company can be a decent place for money - at the right price in the right time. The cyclicality of the resource industry is well-known, and gold miners are not an exception. The sector is hardly suitable for buy and hold investing but always presents interesting opportunities for shorter time frames.
In this light, I believe that searching for a potential rebound among the various lagging gold mining stocks right now can lead to an interesting short-to-medium (if gold price permits) term. I'll start with Yamana Gold.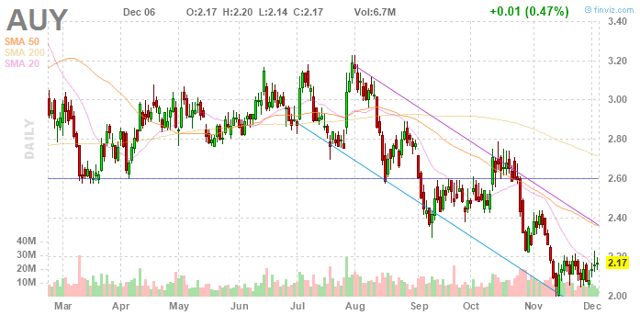 Yamana Gold, which is down 30% year to date, is a perfect example of the difference between the press release language and reality of which I talked in the first paragraph of this article. Just a couple of examples from the second half of this year: "Yamana Gold Delivers Strong Second Quarter Operational and Financial Results, Well Positioned to Exceed Production Guidance", "Yamana Gold Announces Solid Quarter From Cerro Moro & Overall Portfolio, Increases Guidance for Gold and Copper Production While Lowering Guidance for Operating Costs". Meanwhile, the stock price clearly shows that the market does not see the company's results as "strong" or "solid".
Yamana's problem is that something is always spoiling the results. In the third quarter of 2018, this something was a $89 million impairment. However, even without the impairment, the company's mine operating earnings were barely sufficient enough to cover G&A expenditure and interest costs: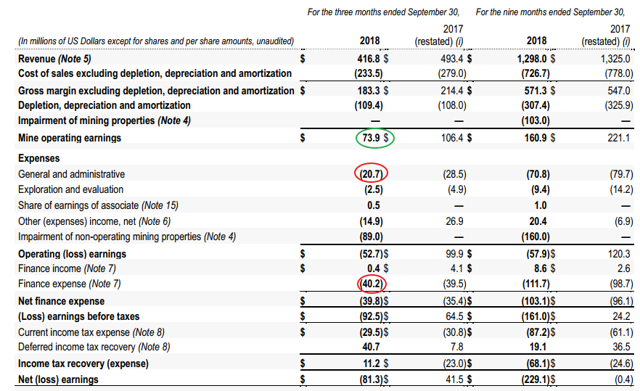 Source: Yamana Gold Q3 financial statements
Yamana Gold's value proposition is that it will enjoy higher cash flows in the following years as the capex falls and production grows:

Source: Yamana Gold December 2018 presentation
In my view, the main problem here is the market's lack of trust in the management team. In case Yamana Gold does not make any moves in 2019 other than doing everything according to the previously announced plans, it will indeed profit from lower capex and higher production. Capex is expected to drop from an estimated $179 million in 2018 to a run rate of $50-75 million - that's savings of at least $100 million compared to the present situation: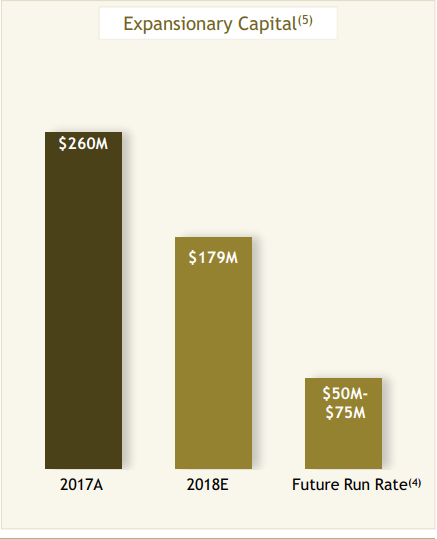 Source: Yamana Gold December 2018 presentation
However, the market cannot be certain that no moves are made, as struggling gold miners are notorious for such "endeavors", buying new assets or expanding existing ones, which often end in de facto burying money underground. Put simply, due to past results, the market is not sure whether the company will be able to live up to current earnings expectations, which at $2.20/share mean that the stock is trading at less than 12 forward P/E (with potential upside if gold price keeps rising):

Source: Yahoo Finance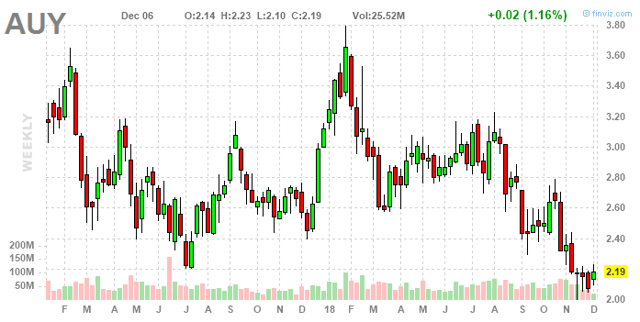 I'd expect Yamana Gold shares to return back into their "mainstream" range of $2.40-3.20 as higher production and lower capex increase the company's cash flow. I'm also rather optimistic on gold coming back to $1300 per ounce on the back of the numerous geopolitical and economic worries. At the same time, I do not see how Yamana Gold shares may develop a substantial upside trend and break out of the range with the current "trust deficit" in the company's actions due to numerous disappointments of the past. The exact timing of the potential return to the previous range is unclear, as the year-end selling may still be playing a role, but I believe that a "Santa Claus rebound" is still possible for the company's stock.
If you like my work, don't forget to click on the big orange "Follow" button at the top of the screen and hit the "Like" button at the bottom of this article.
Disclosure: I am/we are long EGO, HMY. I wrote this article myself, and it expresses my own opinions. I am not receiving compensation for it (other than from Seeking Alpha). I have no business relationship with any company whose stock is mentioned in this article.
Additional disclosure: I may trade any of the above-mentioned stocks.