Encana Corporation (NYSE:ECA) is sitting on a large acreage position in the Duvernay shale play up in Canada. The formation stretches across 20% of Alberta and is home to vast amounts of natural gas, natural gas liquids, and condensate. Recently, management has made some misleading comments in regards to why the joint venture developing the play isn't ramping up production. Let's dig in.
Overview
Canada's National Energy Board, using data from the Alberta Geological Survey, estimates that the Duvernay shale formation is home to 3.4 billion barrels of crude oil, 6.3 billion barrels of natural gas liquids, 76.6 trillion cubic feet of natural gas that is considered marketable/recoverable. Keep in mind that not all of these hydrocarbon resources will be recovered.
Duvernay is seen as a "wet gas" play because the primary targets are well locations that yield high amounts of natural gas and natural gas liquids. Encana is specifically targeting the condensate window within the play, but note that the firm is primarily producing plant condensates not lease condensates (the differences according to the EIA).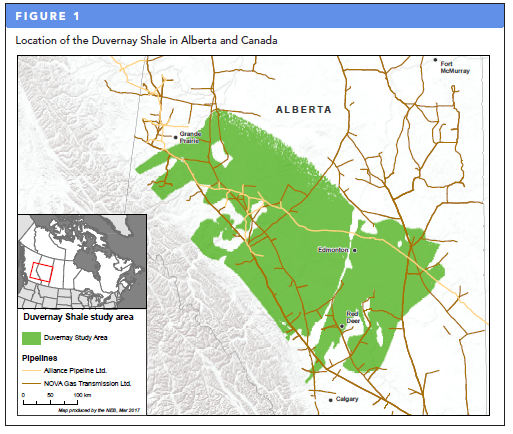 Source: Canada's National Energy Board
Condensate is used as a diluent for the heavy crude that is produced in Alberta's oil sands region. Heavy crude is very viscous and runs like molasses at colder temperatures. By adding condensate to heavy oil volumes, those barrels are better able to travel along pipelines to refineries. Largely for that reason, Encana notes that its condensate realizations in Alberta are on par with the West Texas Intermediate benchmark, sometimes even better.
Encana utilizes Pembina Pipeline Corporation's (NYSE:PBA) Peace Pipeline to route condensate from the Duvernay play down to Edmonton, Alberta. Natural gas exits the play via the Alliance Pipeline, which is a joint venture between Pembina and Enbridge Inc. (NYSE:ENB). The Alliance Pipeline gives Encana's Duvernay gas production access to markets in the American Midwest, including Chicago. It is possible that the venture that operates the Alliance Pipeline may expand the system's capacity, which I covered in this article here.
It is important to keep in mind Encana has secured access to out-basin markets for its natural gas production and great prices for its condensate production. In theory, Encana has access to everything it needs to ramp up output at its Duvernay asset. The company also operates three natural gas processing plants in the area with a 50.1% economic interest in those facilities.
Encana has a partner
PetroChina Company Limited (NYSE:PTR) teamed up with Encana back in 2012 by forming a joint venture to develop these resources. The Chinese energy giant's wholly-owned subsidiary, Phoenix Duvernay Gas, purchased a non-operated 49.9% working interest in Encana's Duvernay asset for $1.18 billion CAD in cash upfront and a drilling carry of $1 billion CAD to be paid over the course of four years. In February 2018, Encana had received the last portion of that drilling carry.
At the end of 2017, Encana's Duvernay position included 105,000 gross (44,000 net) developed acres and 541,000 gross (330,000 net) undeveloped acres. Some of that acreage overlaps the Montney shale play. The joint venture is sitting on thousands of Duvernay well locations, enough to sustain elevated drilling levels for over a decade.
Encana produced ~20,000 BOE/d net out of Duvernay last year (200 bpd of oil, 8,300 bpd of plant condensate, 1,300 bpd of NGLs, and 64 MMcf/d of natural gas), up modestly from 2016 levels. It would only take a couple of dedicated rigs and a completion crew to move that production base higher, but the joint venture is intentionally developing the asset at a slow pace for a reason.
Sidestepping the truth
Here is where things get a tad confusing. During Encana's Q3 2018 conference call management gave this response to a question from an analyst who critiqued the firm for not meeting its previous expectations in Duvernay (emphasis added);
I wouldn't characterize it about disappointment. I mean, if you look at that asset, it's very efficient. The returns are good. Margins are about $30 a barrel oil equivalent today. Our team continues to drive efficiency and performance. It's just got more limited scale. And for us, partly, that's due to the fact that it's a 50% owned asset. We have a partner there in PetroChina.

But if you look at the history over the last four years or so, we've radically reduced costs. We've improved well performance. Our program this year – the wells we've drilled this year have been coming on over the last month or two are performing very well. This is a quality asset. It's a – the play is more active today than it's ever been in the history of the play. There are more rigs running now than ever before. One of the issues for us is just scale. It just can't grow to the same size as some of these others."
It is hard to see how Encana doesn't have scale in the region, considering it was sitting on 541,000 gross/330,000 net undeveloped acres in the Duvernay play at the end of last year. After doing some digging a couple of potential answers came to light.
In Encana's 2017 10-K filing, the company states that its Duvernay acreage "extends across the Simonette, Pinto, Edson and Willesden Green properties." However, the filing went on further to state "Encana is currently targeting the development of condensate rich locations in the north and south Simonette areas of the formation using multiwell pad horizontal drilling technology." That right there is the answer.
The Encana-led JV has plenty of Duvernay well locations to develop, but the venture is only developing parts of the play with a high liquids (particular plant condensate) yield. Duvernay wells that have a high natural gas yield and a relatively low liquids yield aren't worth developing in the current environment due to North American natural gas prices being quite low (until recently, but the futures curve indicates that Henry Hub will fall below $3/MMBtu by April 2019 as of this writing).
What this indicates is that the amount of the JV's acreage that is prospective for economical Duvernay well locations represents just a fraction of its total position. The actual size of that drilling inventory isn't made publicly available and depends on expectations on future energy prices.
It is important to keep in mind that Encana and PetroChina have the ability to ramp up their JV's Duvernay production (the JV has access to midstream infrastructure, pricing close or on par with major benchmarks, financial firepower, vast swathes of undeveloped acreage) but are intentionally choosing not to do so. While the specifics on Encana's Duvernay position are lumped together with its Eagle Ford division, it appears the company is at best targeting marginal production growth in the play.
Final thoughts
There is a big difference between recoverable resources and resources that are economically competitive with other parts of an upstream player's portfolio. While there is an enormous amount of oil & gas resources in the Duvernay shale formation, wells tapping into the play aren't earning a strong enough return in the current environment to compete against opportunities elsewhere. Encana Corporation and PetroChina Company Limited are signalling that this clearly is a Tier 2 opportunity at best until natural gas realizations firm up. Thanks for reading.