Oil production in the Permian Basin has surged from less than 1 million barrels per day in 2009 to over 3.5 million barrels per day by the Fall of 2018. To put that number into perspective, Iran produced 2.98 million bpd and Iraq pumped out 4.57 million bpd in November, according to a Platts survey. By itself, the Permian Basin is equivalent to a large OPEC member as things stand today. Looking ahead, IHS Markit predicts the Permian Basin will pump out 5.4 million bpd by 2023. Now, long-term forecasts need to be taken with a grain of salt due to the outsized influence volatile oil prices can have on that trajectory, but it is clear the Permian boom has room to run.
What makes the Permian growth story so different from other unconventional plays is that Tier 1 well locations are widespread. The core of the Permian stretches across counties, not acres, and that is what makes it stand out above the rest. Wood Mackenzie notes 90% of the well locations in the Delaware Basin and 65% of the locations in the Midland Basin, two of the most prolific sub-basins within the Permian Basin, require oil realizations below $45/barrel to break even. GlobalData notes some Permian wells can break even, on an incremental basis, at oil realizations below $30/barrel. This changes when including corporate-level costs, particularly interest and G&A expenses, but is useful in determining where upstream capital is going to be allocated.
In order to get oil realizations that are close to West Texas Intermediate prices, crude produced in the Permian Basin needs access to pipeline takeaway capacity. Barrels sold at Midland WTI prices are expected to fetch $6-9/barrel below WTI through the middle of 2019. As additional pipeline capacity comes on-line, the Midland-WTI differential is expected to start climbing down around June 2019. By 2020, the differential is expected to become negligible if the futures markets can be believed.
As an aside, light sweet oil deliveries to the US Gulf Coast region can fetch a nice premium to WTI by realizing Louisiana Light Sweet pricing. While that will likely change over time, for now the futures market expects LLS to trade at least $4/barrel above WTI through December 2020.
Solving the problem
Three midstream companies and a downstream firm are teaming up to help solve the Permian pipeline problem. Energy Transfer LP (NYSE:ET), Magellan Midstream Partners LP (NYSE:MMP), MPLX LP (NYSE:MPLX), and Delek US Holdings Inc (NYSE:DK) are proposing to build a 600-mile long crude oil pipeline from West Texas to the Gulf Coast that will have the capacity to transport hundreds of thousands of barrels per day. The exact capacity of this pipeline will depend in part on interest from potential shippers.
The development is known as the Permian Gulf Coast Pipeline, which will have origin points in the Texas cities of Midland, Crane, and Wink. Having multiple origin points means the consortium will be able to receive crude supplies from all parts of the Permian Basin, namely the Midland and Delaware basins. Energy Transfer expects the project to be operational by the middle of 2020.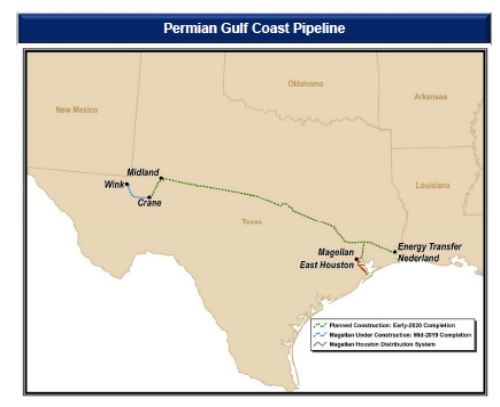 Source: Energy Transfer LP
During Energy Transfer's Q3 2018 conference call, management stated:
"Moving on to the 30-inch Permian Gulf Coast pipeline, which we announced during the quarter... A 600-mile pipeline will provide unprecedented tractability from the Permian Basin for deliveries to... Energy Transfer's [Nederland terminal], which is the largest above ground single on the crude oil storage facility in United States...

Additionally, it will provide shipper capacity to our storage facilities and pipeline header system at [Nederland]. During the third quarter, we commenced 60-day open season to solicit binding commitments. The open season ended on Tuesday, and we have sufficient commitments to move forward. However, we intend to launch a supplemental open season to accommodate request from multiple shippers who have asked for more time to finalize the TFA negotiations, and to obtain data management's approval. The pipeline is expected to be in service in mid-2020."
Ownership might change
Marathon Petroleum Corporation (NYSE:MPC), which has a major controlling economic interest in MPLX LP, is contemplating working with Plains All American Pipeline LP (NYSE:PAA), and Exxon Mobil Corporation (NYSE:XOM) on their quest to bring a Permian oil pipeline online by late 2020 or 2021. This particular development envisions building a pipeline that will have 1 million bpd of takeaway capacity. If this deal were to happen, Marathon Petroleum would reportedly encourage MPLX to exit the Permian Gulf Coast pipeline project.
If that were to happen, the remaining three players have the financial firepower and operational know-how to keep moving the Permian Gulf Coast pipeline project forward. Energy Transfer already operates an extensive crude oil pipeline network that caters to the Permian Basin, and has indicating that demand from potential shippers is very strong. It is possible Energy Transfer, Magellan Midstream, and Delek US Holdings decide to each take a third of the project in order to capture a larger portion of the endeavor's upside.
Final thoughts
Some analysts are worried that there will be an overbuild in the Permian Basin, that too much pipeline capacity will come on-line over the next five years, and that oil production won't meet lofty expectations. That being said, the only thing holding Permian crude production down is a lack of takeaway capacity. Every time a new pipeline comes on-line, Permian production moves higher as a result. Hard to see these takeaway options becoming irrelevant - or worse, a waste of capital - anytime soon. Thanks for reading.