Dividend Update - November 2018
November was a busy month. Lots of family events to go to. It has been nice to relax and unwind a bit before everything gets hectic in December. Free capital has been tight, so I have been unable to purchase any new shares. Lots of expenses coming up at year end or the beginning of next year that I need to save up for. However, even if no new purchases are made, my portfolio was working for me by collecting and reinvesting dividends.
Let's see how many dividends were generated in November.
Dividends
T - $52.87
HCP - $20.26
NNN - $15.39
GIS - $12.99
HRL - $5.80
O - $6.73
LTC - $3.45
ABBV - $30.08
November dividends add up to $147.57, which represents an 82.9% increase from last year, where I made $80.68. Below are some charts from my portfolio page to better visualize the results.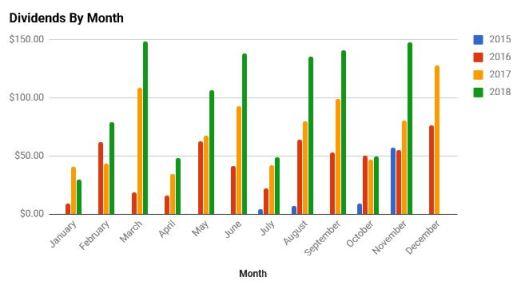 There were a lot of factors that went into this big growth number. Mainly, new capital being added. Last year, I did not own ABBV. You can see I started a position with them early in the year and have added to it a few times since then. This equates to about 37% of the growth in itself.
Second, I added to my position in T. It has not been performing the best this year. There have been many dips in share price, but that just means more opportunity to buy and lower cost basis. There was a lot of uncertainty earlier this year that was surrounding the acquisition of TWX, I took the opportunity on the dips to purchase more. Most of my smaller purchases throughout the year I did not note. You can see my positions in T and O have doubled since last year, adding about 40% to my dividend growth.
Lastly, the rest came from good, old-fashioned dividend reinvesting and dividend increases over the year. It doesn't seem like much, but it adds up quick. It will only get bigger as the portfolio grows over time.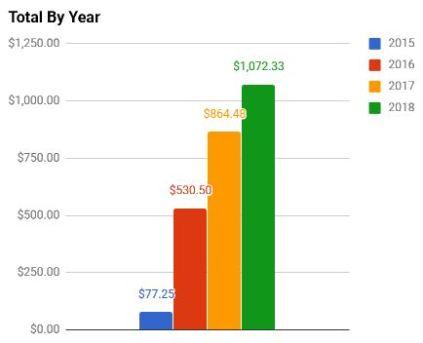 While I just missed the monthly dividend record, I finally was able to achieve one of my goals. The graph above shows I finally surpassed the one thousand dollar dividend mark for this year! It feels great to have finally broken four digits of passive income. One month left to go as well to set the benchmark for next year.
How did your portfolio perform in November? Has anyone hit any milestones this month/ year? What are your predictions for the end of the year? Comments are always welcome below.
This article was written by
Dividend growth investing and the pursuit to achieve financial freedom through the power of passive income. Buy and hold quality companies for the long term.