This article is a continuation of a series of articles on Brookfield Property Partners (NASDAQ:BPY) that started with one about the Core Retail segment. The related REIT, Brookfield Property REIT (BPR), is a subsidiary of BPY, and despite the fact that it only holds some of the assets of the former GGP (thus no office properties), it is designed to have economic results equivalent to that of BPY. Hence, this discussion is very relevant for its shareholders, too. The same holds for Brookfield Asset Management (BAM), which is committed to keep a large stake in BPY (about 53% at present, roughly half of BAM's invested capital).
Core Office

The Core Office segment brought more varied performance. Between 2013 and 2016, there was a strong headwind provided by currency exchange rates. BPY has about one-third of its office properties located in Canada, Australia and the UK, and the US dollar appreciated against all the relevant currencies in that period. Currency headwinds decreased same-property NOI growth by about 2%, 3%, 7%, 3% in '13, '14, '15', '16, respectively. Brookfield tends to partially hedge its cash flows into USD in the short term if it is cheap, but otherwise, it is currency-agnostic and more or less believes that over time, currency fluctuations balance out. (While this is not true for every country, Brookfield is very selective in choosing to invest only in those with little political and currency risks, and only in times when prospective returns far outweigh those risks.)
Same-store NOI growth
When we look at same-property NOI growth at constant currency, there is 6.6% for 2016 and 3.7% in 2015, which I find satisfactory. More disturbing are the declines that occurred in 2014 and 2013. The reason for these declines was the expiration of a large lease in 4Q2013, which increased vacancy in former World Financial Center to 41%. Despite very skeptical media coverage, Brookfield redeveloped the space into Brookfield Place New York with a big success: occupancy was at 95% in 4Q2014. The story is quite an example of Brookfield's placemaking expertise; you can read more about it in a newspaper article and on the following slide from BPY's Investor Day 2015 presentation. If we excluded the effect of this redevelopment on same-property NOI, the growth would be positive at 2.5%.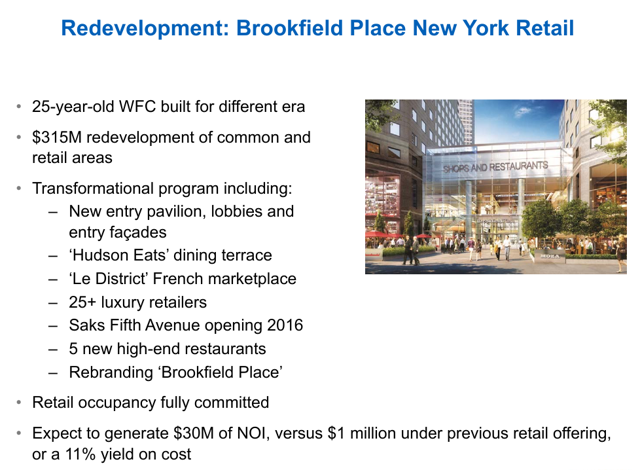 The same-property office growth was not great in 2017, just 2%. Judging from the supplemental data and what was said during the earnings calls, there is no particular reason for this, and management is content with the result. It just seems that not every day is Sunday, even if you are Brookfield. The growth resumed in 2018; in the first three quarters, there was about a 6% increase versus the same period of the previous year.
Overall, the average growth of same-store NOI in the core segments was about 4% during the first 5 years of BPY's existence. As mentioned several times during its Investor Days, the 15-year average is above 2.5%.
We've had a long history, both through our office platform and our retail platform, of achieving anywhere from 2.5 to 4.5% same store growth. Achieving that same store growth is a combination of occupancy and capturing mark-to-market rents. ... That ultimately translates to about a 3% same store growth, which is something that we feel pretty comfortable about being able to execute on in both of our core platforms.
Since this period includes the great financial and real estate crisis of 2008/9, I consider it a fairly solid proof of Brookfield's capabilities over the full real estate cycle.
It is also supported by the fact that rents currently in place are lower than average market rents (see more on that in the next section). With mark-to-market opportunity of about 10% and leases outstanding on average for 7 years, one can capture 1-2% of NOI growth a year, with further upside to NOI coming from inflationary escalators on the existing leases.
I tried to compare the results with peers, but I have to admit that the numbers do not say much, if anything at all, for a couple of reasons. First, meaningful comparisons should be done market by market, but REITs tend to be diversified, and thus, each has a unique regional blend of assets. Performance is also location-specific; some REITs go for highest-quality properties, some for suburban ones, others, like BPY, are rather agnostic and buy anything of sufficient quality if it is cheap enough and can be improved. And there is the ever-present asset recycling, causing "same properties" to significantly change even over a 5-year time span. Anyway, I have chosen Boston Properties Inc. (BXP) and SL Green Realty Corporation (SLG) for this comparison.

Apart from the Brookfield Place New York affair discussed above, BPY is doing well in this comparison, and the recent share price underperformance seems unrelated to the performance of the office segment.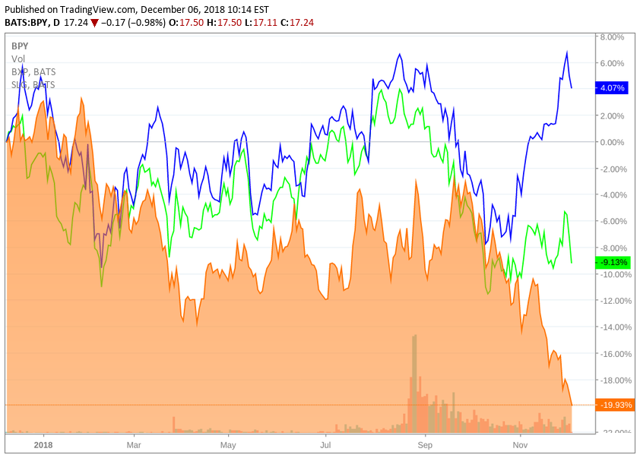 Below-market rents and occupancy gains
A key topic highlighted again and again during investor days is the fact that rents for assets in the Core Office segment are lower than the prevailing average market rates. This was also true for Core Retail, which started with a discount of 15%, similar to Core Office, but the disclosure was discontinued for retail in 2Q14 and it has not been mentioned much since. A portion of the malls (Rouse Properties and some Brazilian assets) is now reported under the "LP investments" segment, with much less granular disclosure.
Several projections of NOI growth have been based on the mark-to-market opportunity. The summary of in-place and average market rents, together with the size of the opportunity, is given in the following chart (data taken from supplemental info).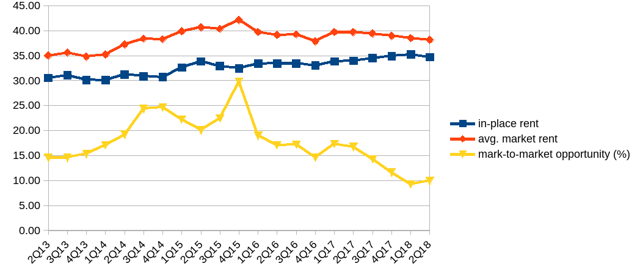 There is an obvious obstacle to rent increases: the leases are long term, more than 8 years on average. For instance, the leases expiring between 2013 and 2018 amounted to just 5-10% of the total space a year, and thus, the incremental NOI arising from lease renewals could only have been rather small in any given year. The line depicting mark-to-market opportunity size contains some spikes: the change in 2Q14 is caused by BPO acquisition, the one in 4Q15 is caused mostly by a random spike in average market rents (it might have been also influenced by currency exchange rates, but since it is a one-time event, we will ignore it). Since the BPO acquisition, the rents have slowly but consistently increased and the size of the opportunity has declined fairly steadily; from the initial size of 15%, it went down to 10%.
A crucial factor we have to take into account is asset recycling: it makes the most sense to sell an asset only after the pending lease renewals are accomplished and incremental NOI is thus generated. This constant selling of mature assets works against any anticipated closing of the mark-to-market opportunity. It also makes tracking progress quite hard, sometimes exceedingly so, since data are not reported for individual assets but only for groups of them.
The same factor works against any gains achieved by leasing vacant space. The management is well aware of it and not concerned, as discussed during the 4Q17 conference call:
I'd say on any individual properties, the objective is to get the occupancy into the mid-90s. But the challenge with having that on an overall portfolio basis is that as soon as those properties do get into the mid-90s or 100% occupied, we sell them and buy something with 30% vacancy in it. And so I think it's - you sort of got that working as an offset as we're investing new capital in things with lower occupancy or shorter lease duration and selling things with longer, it somewhat offsets the benefit as we get it leased up. So I think individually, business plans on a same-store basis, absolutely, we can - we'll continue to get that leasing toward the 95%. But I think realistically, just based on how we've been actively recycling capital when they do get up there, you've got that natural headwind against it. And so we're not overly concerned about where the overall portfolio gets.
Projections vs. actual results
One of the goals of this article series is to investigate how actual results compare to anticipated ones. I went through the 2013-2015 Investor Day presentations and identified the following management goals related to operations. (The list is not exhaustive, since I did not include projections which were not clear enough to me, measurable enough, or those for which I was sure I will not be able to get enough data from public disclosure, e.g., targets for development of new assets. I also tried to avoid redundancy.)
(ID 2014) We expect to increase occupancy in the office portfolio to 95%. PARTIALLY SUCCEEDED. The occupancy has increased from ~91% to ~93%, but less than expected, see "Below-market rents and occupancy gains" above.
(ID 2014) Incremental NOI of $312 million achieved by mark-to-market of leasing through 2018 (25 million sq. ft.) leading to incremental value $5 in office, $2.3 in retail. PARTIALLY SUCCEEDED. In Core Office, $806 million NOI in 2013; $1408 million annualized NOI in 2Q18. In Core Retail, $628 million NOI in 2013; $768 million of annualized NOI at 2Q18. I did not manage to find out how much of the increase in NOI came from mark-to-market efforts, but some progress has been done (see "Below-market rents" above).
(ID 2013) We expect to add $7 of value by rent increases and occupancy gains over the next 5 years. FAILED. They achieved operational improvements in these directions (see the two points above). The total of added IFRS value is about $6 despite including the effects of developments and asset recycling; when we consider unit price, it went down from $21 to $18.
(ID 2015) Core Office: +$180 million NOI by 3Q16 from leases not yet generating rent. UNCLEAR. There is $1077.5 million YTD in 3Q15, $1088.7 million YTD in 3Q16; 2.7% same-property NOI growth over the year in between those two points. Something does not add up (and taking individual quarters only worsens it) - the positive effect of leases might be masked by high asset dispositions and FX changes. There is no trace of clients defaulting on their rent payments, thus the increase must have happened, but it is not visible in the overall numbers. This is useful to keep in mind in the future.
(ID 2016) Over the next 5 years, 2-3% same-store growth is expected, leading to $220 million of incremental NOI. TOO SOON to judge, but it seems to be they are on track: Core Office +2.2% in 2017 and 5% in 2018 YTD; Core Retail +1.6% in 2017 and +1.6% in 2018 YTD.
(ID 2017) NOI growth from 2017 to 2018 of 100 million same-store and 100 million from developments. SUCCEEDED. Between 3Q17 and 3Q18, proportionate NOI has grown by $244 million. The judgement might depend on the exact starting point and could change over the next month (2018 is not yet finished), but they definitely did not exaggerate. 6% same-store YTD NOI growth in the Core Office segment also supports this conclusion.
I have learned a couple of things during this exercise.
The company discloses lots of useful data. Perhaps too much for the needs of a small individual investor.
Despite all the data, it is hard to find answers to many simple questions because certain important numbers are not split into components and there is very high asset turnover.
It is especially hard - basically impossible for me - to judge the success of their development efforts. A part of the problem is that signed leases do not produce rent in the initial phase, so NOI will grow only with a delay, and during that time, acquisitions and disposals will distort NOI numbers.
The company's track record of turning plans into actual results over the last five years is mixed.
Operationally, the company does what it says it does, but it tends to succeed only partially over the projected time frame.
The promised value creation is not visible from the financial figures (more on that in the following article) despite meaningful operational improvements.
There is a significant difference between the potential highlighted in investor presentations and actual results. For instance, the mark-to-market leasing opportunity is presented without the caveat that it will take 8 years to fully exploit it (and it might disappear during that time).
Conclusion
It seems to me that the poor financial results were not caused by poor operational performance. Management had a sound and reasonably flexible plan, stuck to it and made progress. Most of its projections were on the high end, however, so one has to be careful. (It seems to have learned, though - estimates used from 2016 onward appear much more conservative to me, especially those concerning future unit price.)
The year 2018 has not been a great one for U.S. REIT stock prices, but it was especially poor for BPY. Despite its operational performance in line with peers (from the respective segment), the unit price declined more than prices of both office (e.g., BXP, SLG) and retail competitors (e.g., Simon Property Group (SPG)). And since BPY was not overvalued compared to others at the beginning of the year (some have argued it was undervalued already), it now presents an even better relative opportunity. (The distribution yield of BPY has crossed 7.2% today, and might get even better in the coming days, or in next February, when the company is expected to announce another distribution increase.)