Zuora (NYSE:ZUO) had a fantastic start to their life as a public company, however, they now trade below the initial $14 IPO price. After reaching ~$35, ZUO has slowly contracted down to ~$18 after their most recent Q3 earnings. At face value, the earnings report was relatively strong and there were no major areas of concern. However, it appears investors expected strong growth from the company who grew their Q3 revenue 33% y/y to $61.6 million, which was already ahead of consensus expectations for ~27% y/y growth.
ZUO remains down ~45% from their late August highs and have been one of the biggest losers in the recent stock market correction. They currently trade ~10% below their post-IPO pop. Admittedly, their shares were very expensive when they were trading above $30 and were even expensive when they were above $25.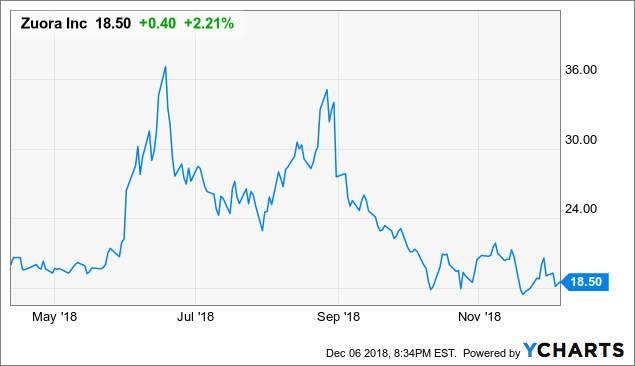 Despite the ~45% contraction over the past few months, I believe investors have priced in more realistic expectations for the company and the stock is rather compelling at current prices. Over the long term, ZUO should be able to continue growing revenue 20-30% and see the margins expand as they scale.
General Overview
ZUO competes in the Enterprise Resource Planning (ERP) software market, which has historically been dominated by legacy players SAP (SAP) and Oracle (ORCL). These subscription-based companies are highly focused on managing the highly-visible recurring revenue streams which drive a large part of their valuation.
ZUO is a bit differentiated as they are a subscription software company that assists other subscription businesses by helping them manage their recurring revenue streams. So far, ZUO has been able to demonstrate their growth power, winning contracts with large enterprises such as Hitachi and Fidelity Investments.
Since going public earlier this year, ZUO has consistently traded at near the high end of the spectrum in terms of revenue multiples. Granted, they should trade at a premium valuation due to their mid-30s revenue growth, SaaS-based model and market opportunity, ZUO was bound to go through a valuation-based correction.
ZUO has a high concentration to the professional services industry, which is not necessarily a bad thing, but they could use a bit of revenue diversification. In addition, ZUO's gross margins remain healthy, though below other SaaS companies trading at lower valuations.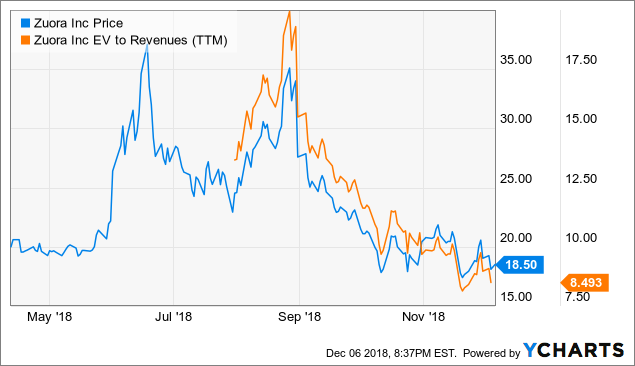 Currently, ZUO has a market cap ~$1.90 billion and $161.5 million of net cash, giving us an enterprise value of $1.74 billion. Using management's revenue guidance of $233.4-234.4 million, this represents a revenue multiple of 7.5x FY19 revenue.
Q3 Earnings And Guidance
ZUO reported Q3 revenue of $61.6 million, a 33% y/y growth. This was ahead of consensus estimates for $59.0 million, or 27% y/y growth, however, was well below Q2 revenue growth of 47% y/y and 60% y/y in Q1. Subscription revenue of $44.5 million (~72% of total revenue) was the driving force behind the outperformance, growing 43% y/y. As enterprises continue to shift towards the subscription revenue-based model, we should continue to see these revenues for ZUO grow and represent a greater portion of overall revenue.
In addition, total billings grew 30% y/y to $68.9 million, which was well ahead of consensus estimates for 19% y/y growth.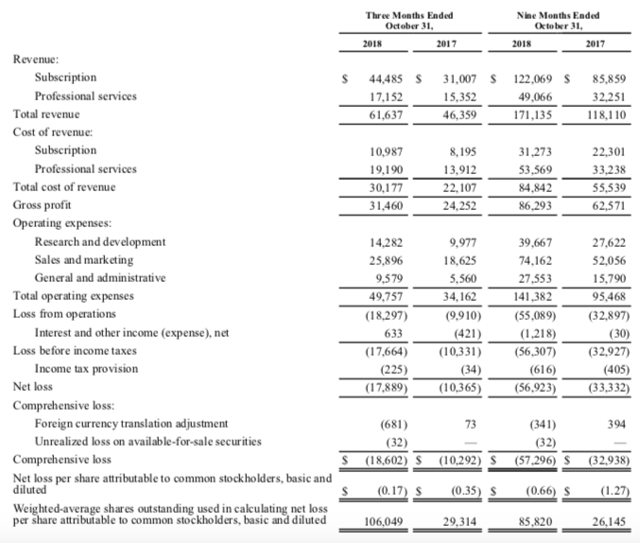 Source: Company Presentation
Professional services revenues grew at a more slower pace, however, they still represent ~28% of total revenues, a figure that is way too large for a software company to succeed. Other SaaS companies typically have professional services represent ~10-15% of total revenues with subscription revenues being the overwhelming majority of the revenue stream.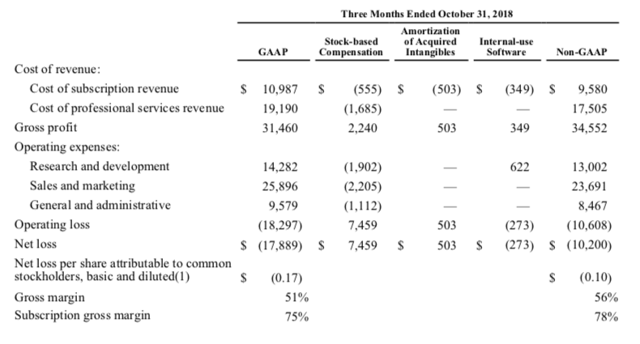 Source: Company Presentation
Overall gross margin was 56% for the quarter remaining flat compared to Q3 of last year. However, subscription gross margin remains very strong, at 78%, which improved ~100bps from 77% in the year-ago period. Subscription gross margin will continue to remain strong as this is where the heart of the company's software revenue is generated. As the company continues to scale and increase their subscription revenue, their overall gross margin should expand as well.
Non-GAAP operating loss of $10.6 million was slightly better than consensus estimates for a loss of $12.9 million with operating cash flow loss of $6.4 million coming in much better than consensus estimates for ~$11 million loss. The better than expected operating margins led to EPS loss of $0.10 compared to consensus estimates for a loss of $0.13.

Source: Company Presentation
Management also raised their FY19 revenue guidance to $233.4-234.4 million, a $5.4 million raise compared to the previous guidance. The raise was greater in magnitude compared to the $2.8 million revenue beat in Q3, meaning management is very confident in the revenue guidance for Q4.
Net dollar retention remained very strong at 115%, a significant improvement from 112% in Q2 as customer churn declined and the company noticed an increase in upsells. Investors will begin to place a larger focus on net dollar retention metrics, especially as the company's revenue growth rate has decelerated to 33% y/y compared to 60% y/y in Q1.
Valuation
Valuation has come down dramatically over the past few months for two main reasons. First, ZUO's revenue growth, the main base for valuation, has decelerated from 60% y/y growth in Q1 to 33% y/y growth in Q3. Investors had been overly aggressive with valuation earlier in the year and the stock disappointed. The second main reason is the overall market correction. ZUO has been hit especially hard by the double-whammy over the past few months, sending shares down ~45% since their August high.
With forward revenue now near 7.5x FY19 guidance at the midpoint, it is plausible we have found a floor for the stock. Investors seem to be more comfortable with valuation around these levels, which makes sense given the company's 33% Q3 revenue growth and lower than average margins compared to other SaaS companies.
Over time, ZUO has the potential to re-rate higher, however, it will take a few quarters to regain the confidence of their investor base. The next few weeks will be very crucial for the stock as we will see how investors absorb the company's post earnings valuation and if they become comfortable holding the stock at these levels.
For now, although valuation does seem a bit more tempting, I remain on the sidelines waiting for another quarterly report or two in order to determine the more appropriate long-term revenue growth rate. Management will look to guide FY20 revenue in the next few months, at which point the stock may re-rate again.