Since beginning of the year, the gaming community received a number of hints from Sony (NYSE:SNE) regarding PlayStation 4 successor. Considering the current state of affairs inside the gaming industry, it is expected that the next generation of consoles will be released somewhere in 2020. With that in mind, I think that investors who follow the gaming business should take a closer look at Sony in the next few quarters in order to find out if Sony will continue to have a competitive advantage or whether the competition will have a greater chance to fight with the Japanese company for its own place under the sun.
PlayStation 4 in Numbers
Earnings for the first-half of FY18 showed that gaming continues to play one of the biggest roles in Sony's business model. Its gaming division accounts for nearly one-fourth of sales of the whole company. This is mostly thanks to the successful performance of PlayStation 4 and PlayStation 4 Pro. Since the initial launch in November 2013, Sony managed to sell more than 80 million of its latest consoles and each year the number of users that are part of PlayStation ecosystem increases. In the first half of the current fiscal year, sales and operating income of the gaming division increased by ~30% and ~40%, respectively.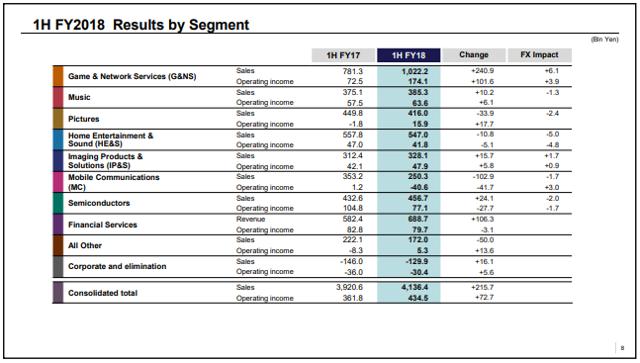 Source: Sony
When PlayStation 4 launched in November 2013, everyone familiar with the industry knew that it would beat Xbox One in terms of sales. First of all, the console was released a week before Microsoft's (NASDAQ:MSFT) launch and its price of $399 was cheaper to Microsoft's $499. In addition, both companies had different vision regarding the future of console gaming. Microsoft took an unorthodox approach and decided to make Xbox One a multi-media device. Instead of focusing on its core audience, the company looked for opportunities outside of gaming community and marketed its console for a wide range of people. Such a decision backfired, as Microsoft received a lot of hate from gamers and sales for Xbox One were poor at launch.
Sony, on the other hand, focused on expanding its library of games, increasing its core audience and promoting additional gaming services that in the long run made PlayStation 4 the best platform of the eight generation of consoles. The chart below shows that Sony is enjoying its dominance on the market, as sales of PlayStation 4 are much higher in comparison to Xbox One: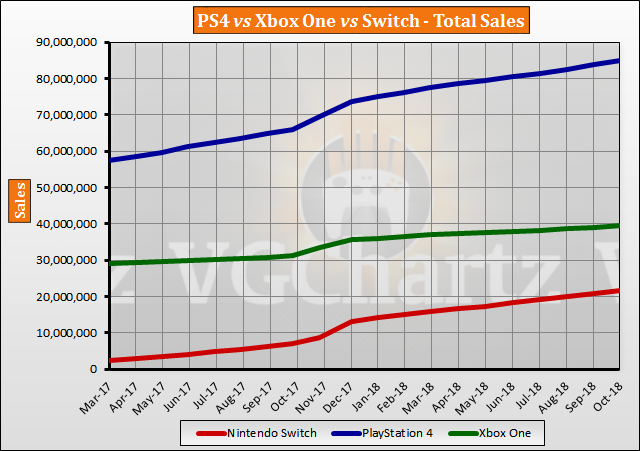 Source: VGChartz
Currently, Sony continues to execute its gaming strategy by focusing on the release of an additional content for PlayStation 4, as its first-party development studios still make AAA titles exclusively for PlayStation 4. Recently, Time named God of War 4 and Spider-Man 3, both of which are exclusives for PlayStation 4, the best games of the current year, surpassing popular and well-known titles like Red Dead Redemption 2 (NASDAQ:TTWO) and Assassin's Creed Odyssey (OTC:UBSFY)(OTC:UBSFF). However, there's every reason to believe that PlayStation 4 successor is already in development and more announcements will come in 2019.
PlayStation 5 And The Future Of Gaming
There are a number of reasons to believe that Sony is working on PlayStation 5. First of all, we are nearing the end of the cycle, as modern console hardware is already considered to be old and it restricts developers from creating larger projects. Last month, Sony announced that it will not attend E3 2019, which is a sign that the company is busy working on some big project and it doesn't plan to announce it in the first half of 2019. In addition, AMD (NASDAQ:AMD) CEO Lisa Su in September said that the company is closely working with Sony and Microsoft on some 'secret' features.
Rumor has it that PlayStation 5 will have an eight core processor from the AMD Ryzen series and it will support 4k resolution. In addition, thanks to the success of PlayStation VR, a new virtual reality device will be launched along with the console, as Sony tries to break-in into the VR sector and establish a stronger presence in the industry. There is also a rumor that developer kits are already in the hands of gaming studios, but at this time it's hard to prove whether it's true.
As for the evidence, during Autumn, Sony was granted few patents from the US patent office (USPTO). The first patent is about the Vsync feature that synchronizes game's frame-rate with the refresh rate of the screen, which results in improved stability of the image and less screen tearing. The second patent outlines a process by which textures from old games are remastered 'on the fly' for higher-resolution displays. This means that PlayStation 5 will probably have a backward compatibility support, giving players an ability to play games from the previous generation of consoles on PlayStation 5. Microsoft added backward compatibility back in 2013 to Xbox One, but it is probably the only advantage that the console has right now against PlayStation 4.
Also, thanks to the recent success of Nintendo Switch, the industry giants are eager to make their own consoles more flexible and consumer-friendly. In May, Sony's PlayStation executive said that the next console could be closely integrated with portable devices, as Switch itself is a hybrid console that gives gamers the ability to play games either on a big TV or on a 6.2-inch screen that is integrated into the console itself. Later in October, Sony was granted another patent, which describes the addition of a full-fledged touch screen to a DualShock controller, which has been the official controller for PlayStation consoles for the last 20 years. This shows that PlayStation 5 might have some portable features included at launch, but only time will tell whether that statement is true.
All of these patents, rumors and announcements are only part of the bigger vision that Sony has in mind. In the last few years, Sony acquired two Netflix-like gaming streaming services OnLive and Gaikai and rebranded them under the name PlayStation Now. Currently, PlayStation Now is a $19.99 per month subscription service that gives players the ability to play games without downloading them. However, considering the slow broadband speed in some places on Earth and the complex structure of video games, players are often required to download some part of the game in order to avoid crashes, lags and screen freezes. Sony clearly realizes that the future of gaming is centered around gamers and not consoles. However, as gaming streaming services are still a novice thing in the industry, hardware will continue to play an important role in the gaming business in the foreseeable future. That's why I believe that PlayStation 5 has all the chances to become the next big thing in gaming and create a path for a console-free world in which Sony will be the biggest winner thanks to its services, loyal user base and diversified portfolio of IPs.
Without a doubt, Microsoft will present a much greater threat to Sony when the next generation of consoles will be released. Unlike the current 8 th generation, where Sony is without a question a clear winner, Microsoft has redefined its gaming strategy and will poses a bigger risk to Sony's dominance on the market in the future. During the latest E3 in June, Microsoft announced that it acquired five new development studios that are already working on new projects for the company's ecosystem.
Microsoft also understands that games should be centered around consumers rather than around hardware and it has big plans to establish a stronger presence in the industry in the long run. Microsoft's Vice-President of Gaming Phil Spencer in his interview to Guardian in June defined Microsoft's goal as follows:
Bring high-quality games to every device possible on the planet.
It will take time to reach this goal, but Microsoft has already started to prepare for the future. In October, the company announced Project xCloud, which aims to give users power to choose on which device to play their favorite titles by streaming them from the cloud. The project is currently in beta, but it is expected that it will play a much bigger role in the upcoming 9 th generation Xbox.
In a more longer-term, the frequent update of console hardware is going to be irrelevant, as technology progresses and gaming streaming services will be able to deliver high-resolution image without lags and screen freezes. There's a great interview with Michael Packer from Wedbush that was conducted during the latest E3 conference and I encourage everyone who's interested in the future of gaming to spend some time to read it.
Outlook
Since the start of the reorganization known as " One Sony" in 2012, the company under the leadership of Kaz Hirai managed to successfully redefine its strategy, liquidate some assets and became a profitable enterprise in 2013 after serious headwinds that could've created fatal consequences, as Sony had a negative interest coverage ratio at the end of FY12. All these years gaming played an essential part of Sony's core strategy, constantly creating value and keeping the company afloat. During FY18 Q2, Sony made $4.88 billion in revenue, higher from the revenue of $3.84 billion a year before. As expected, gaming division had a 27% increase in sales and was one of the best performance among other Sony's businesses.
With P/E ratio of 11.3x and an operating margin of 9.69%, Sony's stock seems to be undervalued, as overall business continues to show record growth. I've already pointed before that Sony's products are in high demand amongst various groups of consumers, especially in the gaming sector. Because of it, I see no major risks that could make the company suddenly lose its competitive advantage in the industry. The only thing that could make Sony's stock depreciate in the short-term is the volatile market environment, as there is a possibility of an increased tensions between U.S. and China in the upcoming weeks. In the long-term, I'm confident in Sony's ability to create additional shareholder value and believe that PlayStation 5 will be the next big thing in gaming.
Disclosure: I/we have no positions in any stocks mentioned, and no plans to initiate any positions within the next 72 hours. I wrote this article myself, and it expresses my own opinions. I am not receiving compensation for it (other than from Seeking Alpha). I have no business relationship with any company whose stock is mentioned in this article.