Economic data released during the week confirmed that U.S. short-term economic outlook remains positive. The most positive indication came from the ISM manufacturing index for November. It rose from 57.3 to 59.3, ahead of market expectations for a decline to 57.5. At 57.5, the index is at a value in line with a 4.9% GDP growth on an annualized basis according to the past relationship between the ISM and the overall economy. A further positive indication was the increase of the new orders index from 57.4 to 62.1. It anticipates a strong reading for the index in December.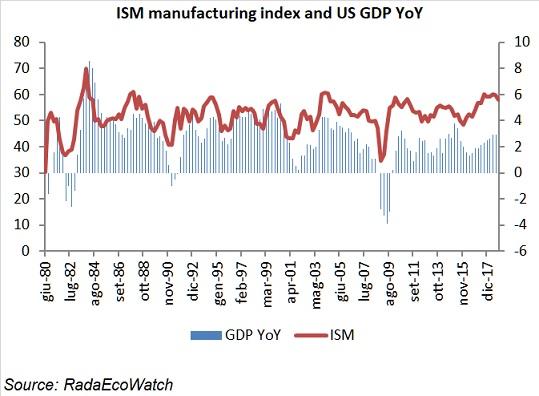 Despite the positive economic data, the most relevant event of the week has been the flattening of the yield curve. The highly scrutinized 2-10 year government bond yield spread fell from 26bp on November 7 to 12bp on December 4. The 2-5 year spread became negative.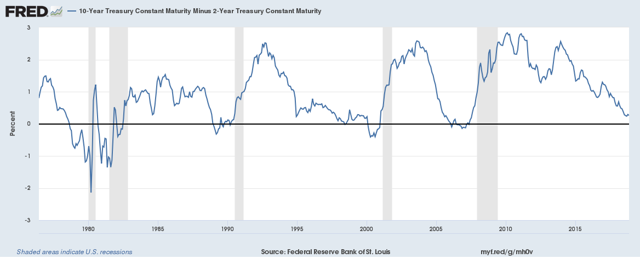 With an inversion of the yield curve anticipating the latest four recessions, even if with a different time-span, investors were worried about the government bond trend and sold-off stocks on Tuesday.
While there could be some technical reason behind the yields decline, we see two main economic reasons behind the government bond yields trend:
The possibility of an agreement between US and China on trade tariff (with the Trump administration suspending the increase of tariff from 10% to 25% on USD200bn of goods imported from China) reduced the concerns that higher tariffs on Chinese goods could lead to higher inflationary pressures in 2019;
The last week dovish speech of Fed Chairman Powell. Powell said that the Fed fund rate could be "just below" the neutral rate. In a previous speech on October 3, the Fed Chairman said that rates were a "long way from Neutral". The change of language increased the expectations that the Fed could be closer to an end of the tightening of monetary policy than previously thought.
In this scenario, investors lowered their expectation on the Fed tightening of monetary policy in 2019. While a 25bp rate hike at the end of the December 19 monetary policy meeting looks like a done deal, investors do not believe that the Fed will tighten monetary policy in 2019 in line with the its latest projections. In September, Fed members projected three more rate hikes in 2019 and another rate hike in 2021. According to Eurodollar futures, the Fed is likely to raise rates twice in 2019 to 3% and to maintain unchanged in 2020. This is in line with our estimates.
The week in preview
Economic data due for release next week should confirm that inflationary pressures are moderate, increasing the possibilities that the Fed could pause in its tightening of monetary policy by mid-2019.
In particular, the CPI data for November due on Wednesday 12 December, should confirm the downward trend started from the 2.9% - highest in 2018 – touched in August. Having risen by 0.3% m/m in October due to the increase of energy prices, the CPI should benefit from the decline of oil prices since mid-October. We expect a 0.2% m/m increase with the year-over-year change declining from 2.5% to 2.2%. CPI core should strengthen the view that inflationary pressures are well contained, with a 0.2% m/m and 2.2% y/y increase.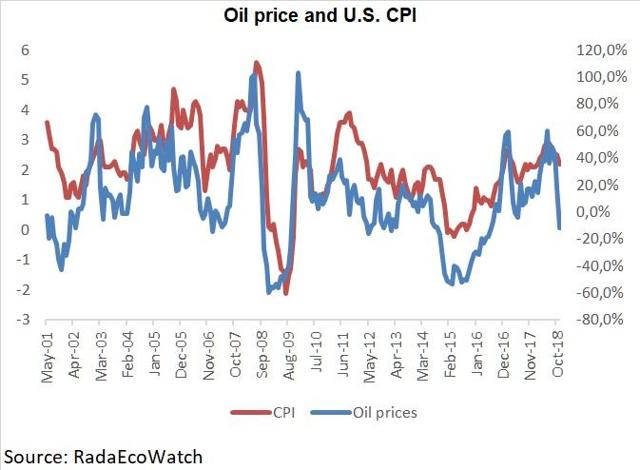 Industrial production is expected to rebound in November by 0.4% m/m after two weak readings in September (0.2% m/m) and October (0.1% m/m). The data should confirm that the economic outlook remain positive even if a deceleration of growth rate at year-end is a clear possibility. GDP growth could slow from 3.5% in Q3 to 2.8% according to latest Atlanta Fed GDPnow model estimate.
The capacity utilization is expected to rise from 78.4% to 78.6%. It is a value in line with lower inflationary pressures ahead.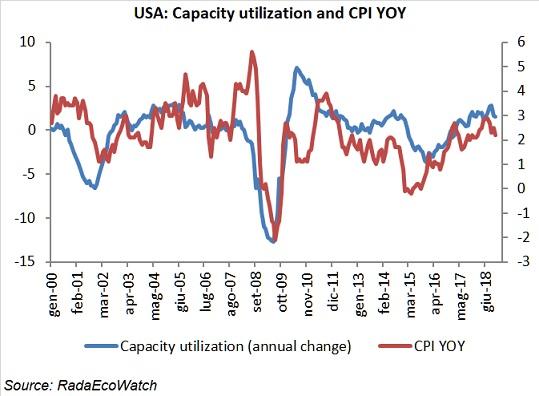 Finally, having risen by 0.8% m/m in October, retail sales growth rate is expected to moderate to 0.2% m/m in November. Ex-auto growth rate should decline from 0.7% m/m to 0.4% m/m. The data are in line with a moderate growth rate of consumer spending at year-end.
Impact on markets
We think that the confirmation of moderate inflationary pressures could strengthen the downward trend of government bond yields. In this scenario, we expect the yield curve to remain flat, favoring the purchases of government bonds (TLT). The flattening of the yield curve could also continue exerting downward pressure on the equity markets (SPY, DIA, QQQ). As it anticipates a weakening of economic activity, it could bring to a downward revision of analysts' earnings estimates. According to latest Factset consensus estimates, analysts expect an 8.6% increase of earnings in 2019. This looks optimistic considering that nominal GDP growth could be at around 4%, with higher cost of labor weighing on marginality, and that overseas earnings that will be impacted by weakening economic growth abroad and by the strength of the U.S. Dollar. For this reason, we think that only a stable return of the S&P500 above 2760 could be the signal to reinvest in the U.S. equity market.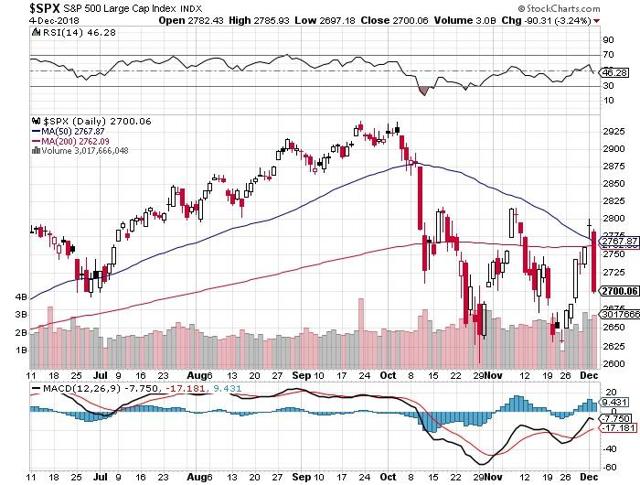 Source: stockcharts.com
Conclusion
The unexpected flattening of the yield curve during the week caused sell-off on Wall Street. Economic data due for release next week should confirm that inflationary pressures are contained and that the Fed tightening of monetary policy could come to a halt after the 25bp rate hike scheduled in December and two further rate hikes in 2019. This could put further downward pressure on government bond yields and on the equity markets. Only a stable return of the S&P500 above 2760 could be the signal to reinvest in the U.S. equity market.
If you enjoyed reading my analysis, click on the "Follow" button at the top of the page. You will get my articles as soon as they are published.
Disclosure: I/we have no positions in any stocks mentioned, and no plans to initiate any positions within the next 72 hours.
I wrote this article myself, and it expresses my own opinions. I am not receiving compensation for it (other than from Seeking Alpha). I have no business relationship with any company whose stock is mentioned in this article.