NB - Before you read, we want to make it very clear that ONTX is a nano-cap stock and therefore, inherently risky investment. These companies have poor execution capabilities, are often unable to own an investible pipeline, and are also often unable to bring their lead drug through a phase 3 trial.
Onconova Therapeutics (ONTX) is up 4% after publishing what appears to be positive data from a phase 2 study of rigosertib in combination with azacitidine in higher-risk (HR) myelodysplastic syndromes. We covered ONTX almost 2 years ago when we found the drug promising but the cash situation precarious. Today, the market cap, the cash balance at previous quarter, and the cash burn per year (2017 figure) are all around $23mn each; so, although the position is still precarious, it isn't as bad as what it was then. While we still would not recommend a $23mn market cap company, we think ONTX now deserves a bit more scrutiny.
Onconova has two trials ongoing for rigosertib. One is a single agent IV trial with just rigosertib in second-line HR-MDS called the INSPIRE trial, this is a phase 3 pivotal trial that will be completed by mid-2019. The other is a phase 2 trial of oral rigosertib in combination with hypomethylating agent azacitidine in first-line HR-MDS. This is the trial whose results were announced recently at ASH 2018.
The complete pipeline is as follows: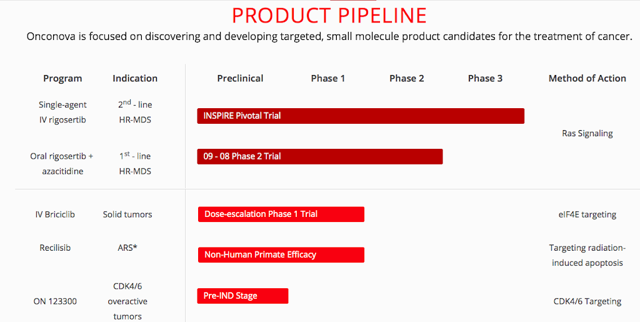 Now, here are the salient points from the results that were announced:
• Overall response rate (ORR) of 90% reported in this multi-institutional Phase 2 study in hypomethylating agent (HMA-naive patients, including complete remission (CR) rate of 34%)

• ORR of 54% and CR/partial response (PR) of 8% in HMA-failed patients

• Median duration of response for the HMA-naive patients was 12.2 months

• Median duration of response for the HMA-failed patients was 10.8 months
Let's understand the trial design a bit more closely here. Two different dosage strengths of oral rigo were given to patients, which included both HMA-naive and HMA-failed patients. HMA-naive meaning these patients received none of the two approved HMAs, azacitidine and decitabine. HMA-failed means patients received one of the HMAs, but either relapsed or did not respond to, HMA treatment.
Both dosage groups - which included both HMA-naive and HMA-failed patients - were then given azacitidine, an HMA. Here's this information in tabular format:
| | | | |
| --- | --- | --- | --- |
| | HMA-naive | HMA-failed | Total |
| 1120 mg | 13 | 16 | 29 (12 + 17) |
| 840 mg | 16 | 10 | 26 |
| Total | 29 | 26 | 55 |
| ORR | 90% | 54% | |
| CR/PR | 34% (CR)/10 patients | 8% (CR+PR)/2 patients | |
| median DOR (months) | 12.2 | 10.8 | |
Source: author, from here, page 7
We can immediately draw a quick conclusion from this table: higher dose was given in larger numbers to HMA-failed patients than to HMA-naive ones. That isn't necessarily a negative; it just goes to show that the ORR/CR/PR data we get from the HMA-failed population - the population of patients most interesting to us while studying rigosertib's efficacy - came after a higher proportion of patients getting a higher dose. As we will see, this will have some importance when we discuss dose-dependent safety and drug tolerability.
Now, we have to compare this data with historical data from HR-MDS trial using HMAs. This needs to be compared with HMA-naive patient data. The data, as provided in the source cited above, is as follows: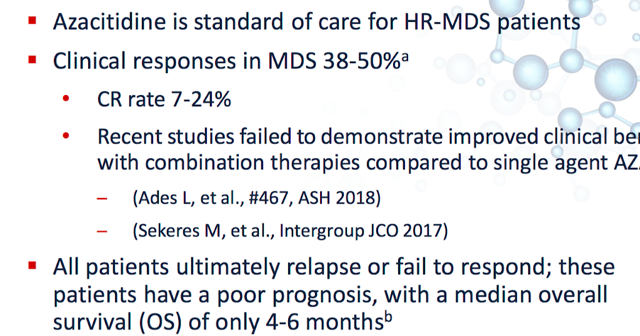 So, we have an ORR of 90% compared to a clinical response rate of only 38-50% and we have a CR of 34% (no PR data) against a CR rate of 7-24%. If you read that against the third bullet above, that other combination therapies have failed (you should read the two citations), you should immediately notice two things - one, rigo+AZ combo works and two, it works better than other combos with AZ. This is for HMA-naive patients.
Now, taking the HMA-failed patients, there's simply no comparison here. OS is only 4-6 months, while DOR is 10.8 months in HMA-failed patients; we have not even powered the trial for OS, which should be higher than DOR, logically speaking.
===>>>>So, we definitely have a drug that works====
There's a lot more data in pages 8-10 of the ASH presentation cited above if you are interested. We don't have time to go into the details here, but bottom line of all that is definitely impressive data. As the lead investigators said, "The high overall response rate reported today is impressive, as is the durability and rate of achieving complete remission."
So, how would we play ONTX?
We have the INSPIRE trial results upcoming in mid-2019, and given these trial results, we expect the results to be interesting. The comparable data here is from the HMA-failed population, which although not exactly similar with second-line HR-MDS, may be used to compare with. Also, an earlier study of IV rigosertib is here. The study said, in part, that rigosertib "induces mitotic arrest followed by apoptosis in malignant (PRE)leukemic cells while largely sparing normal bone marrow cells. In humans, IV rigosertib has a favorable safety profile and is clinically active against higher risk MDS previously treated with DNMT inhibitors, inducing early bone marrow blast responses or stabilization that appears to be predictive of prolonged survival. Thus, rigosertib appears to be active and well tolerated in a setting in which therapeutic options are limited."
Based on this background, we would take a position in ONTX at these all-time low prices and wait for the phase 3 data readout to decide whether to continue to hold or sell out. The company did guide for a slight delay in the trial, it said that enrolment will be completed by mid-2019, not topline data. However that may be, we will wait for this trial data to come out before taking a call.
Coming to risk factors, well, money is the principal risk here, and although they have just enough money to survive until the phase 3 data, there's almost certain dilution ahead before that happens because no company wants to get to the end of its tether before looking for funds. In the previous three quarters, they have burned through $17mn, so they are in line to burn through $23mn this year as well.
The other so-called risk would be the failure of the ONTIME trial 4 years ago, which was discussed in our earlier article as well as in a strong recent article here. However, that trial, as we said, was in a broad population of MDS patients, and if you have followed this write-up so far, you can probably see why single agent IV rigosertib did well in a subpopulation of HMA-failed HR-MDS patients, as was shown on a post hoc analysis. So, we would completely discount this as a risk factor.
In our previous article, we made a bullish-case scenario valuation of the stock at $29. The other article referred to above valued the stock at $25. Well and good, but the stock has fallen, and kept on falling, for a long time. It may indeed be a case of the chronic bad luck, as many ONTX bulls seem to think. However it may be, these results do make a strong case for taking an interest in ONTX.
This idea was discussed in more in-depth with our subscribers. What does that mean, exactly? It means that long before the catalyst became news, I told Total Pharma Tracker members why they should buy or sell it. I:
discussed the catalyst,
ran the stock through our IOMachine,
gave them price targets, and
generally guided our members as the stock went through its pre-catalyst phase.
What you are getting now is after the story is done.
To get these ideas before everybody else you have to subscribe to Total Pharma Tracker. That may mean the difference between making 5% by buying today or making 50% by buying early.
Disclosure: I am/we are long ONTX. I wrote this article myself, and it expresses my own opinions. I am not receiving compensation for it (other than from Seeking Alpha). I have no business relationship with any company whose stock is mentioned in this article.