SiteOne Landscape Supply (SITE) continues to grow their nationwide distribution network of fertilizer, nursery products, tools, and lawn and garden care products. The stock is trading for $59.41 per share at a market capitalization of $2.43B and price action has been bearish since their earnings report issued in August which noted a miss on the bottom line of 9 cents per share.
The company is working to grow organically and through acquisition of outlets specializing in landscape and hardscape products, which serve as service and distribution hubs to their consumer and professional customers. SITE works to create demand for their products through training programs to help landscapers and other contractors improve their businesses.
Based on what I have learned about the company I forecast the company will generate $120 million in owner earnings going into FY 2019 and I'm bullish on SITE, projecting a 4.3% annualized compound return over the next 5 years from today's share price of $59.41.
SITE's Operating Progress
The company is well on its way to setting new earnings records for themselves. Net income has soared from an annual $30M when they IPO'd in 2016 to the current trailing twelve months' figure of $80M: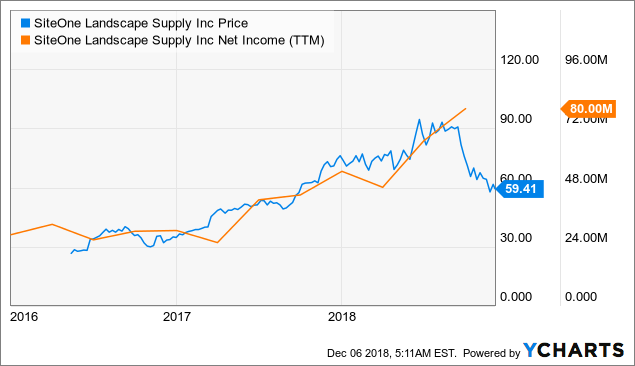 Acquisition is an important route for this business to grow and the slide from their recent earnings presentation gives details on the state of their target industry: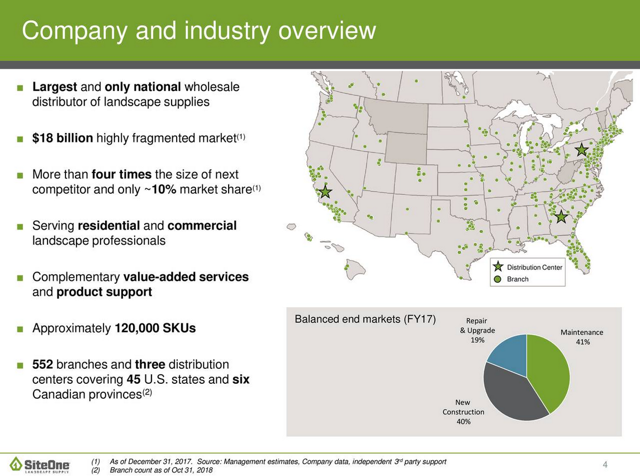 Q3 Earnings Slideshow
Their stated opportunity is the $18B landscape supply market of which they have a $2B share, so there is room for further market share growth.
Part of having an edge as the biggest player in the space is the ability to leverage their scale to cut middlemen out of their supply chain. The business recently completed the third of their three planned nationwide distribution centers. Since internally the company knows when, where, and how often they need to restock products across their businesses, they will enjoy savings on trucking costs to get their goods to where they need to be as a result of the new warehouses. During the most recent conference call management pointed out they're enjoying gross margin improvement of 1% year-over-year. I expect some of these savings are attributable to the newly improved distribution network.
Speaking of gross margins the business is being pressured by some cost inflation this year. Most of the increased costs have come through freight. The recent drop in crude oil from $70 to $50 may provide some relief on this front.
Getting the scale of their operations working to their benefit is critical to SITE and their shareholders because their net profit margins are very low. Operations generated just $70M of cash over the trailing twelve months on over $2B of sales, making for a sub-3.5% profit margin.
Growth Rates Are Promising
SITE accomplished organic sales growth of 5% year-over-year possibly in no small part thanks to the consultative approach they take to serving their customers. The company is modernizing the nursery business by putting more resources online through their homepage SiteOne.com. From the upgraded website's September release through SITE's report at the end of October, over 6,000 professionals have registered on the educational web portal and storefront.
This online component to the business will work to make customers more sticky because the firm can market to the site's users. The educational angle will increase the loyalty and production of their professional clients, thereby driving demand creation for the firm's products.
Stock Valuation For SITE
This custom model helped me pick $SYNT stock which flew from $23 to $41 over the next 9 months following Syntel: Blowout Quarter Crushes Bears.
The model is a variant of the classic discounted cash flow method for evaluating investment opportunities. The tool gives an idea of where the stock price is valued at today relative to my forecast for the company's owner earnings:

A fair value of $41.81 per share is the result for a projected $120M owners earnings. The estimate indicates fair value is 30% above the stock's market price of $59.41. So the model's fair value result is somewhat pessimistic relative to what the market is seeing.
As for my view, I am optimistic about the prospects of SITE due to their improvement in gross profit margins. By way of justifying the selected owner earnings figure of $120M compared to just $80M of reported net income, I point to the company's regular growth in book value. I applied an approximately 60% discount to their year's improvement in book value from $200M to $300M in order to reflect the increase in debt used to fund their expansion, as interest payments will weigh on the returns generated by their new assets.
Final Word
The company is priced at a lofty 33 times earnings. That is a really high price for any business. In this case the bet is the company will be able to continue growing their net earnings figure at a brisk pace as they have since their 2016 IPO. Net profit margin is up from 2% to 3.9% since 2016. Recent improvements in gross and net margins are promising and investors need to look for further gains to accrue on the bottom line.
I am projecting a target price of $73 per share making for a potential compound annual return through 2023 of 4.3%.
Disclaimer: This article represents the opinion of the author as of the date of this article. This article is based upon information reasonably available to the author and obtained from public sources that the author believes are reliable. However, the author does not guarantee the accuracy or completeness of this article. It is merely the author's interpretation of the information contained in the article. The author encourages all readers to do their own due diligence. This is not a recommendation to buy or sell any security.
Click or tap +Follow Faloh Investment for the latest articles and news as I scour the world's markets for investment opportunities.
Disclosure: I/we have no positions in any stocks mentioned, and no plans to initiate any positions within the next 72 hours. I wrote this article myself, and it expresses my own opinions. I am not receiving compensation for it (other than from Seeking Alpha). I have no business relationship with any company whose stock is mentioned in this article.