A reader asked me what I currently think of the DoubleLine Opportunistic Credit Fund (DBL) and the DoubleLine Income Solutions closed-end fund. It's a great time to revisit these funds.
Ultimately, the Fund's objective is to provide a high total return. DoubleLine invests across the credit spectrum but has a particular appetite for below investment-grade mortgage-backed securities. DoubleLine's trick is to try and select the securities that are actually of investment grade quality. Co-founder Gundlach is ultimately responsible for the fund but there is a team working on this fund.
The fund employs a little bit of leverage (19%). The reported total expense ratio is 2.17%, which is a tad below that of the other DoubleLine closed-end fund. Like the other, it currently trades at a discount to net asset value or NAV: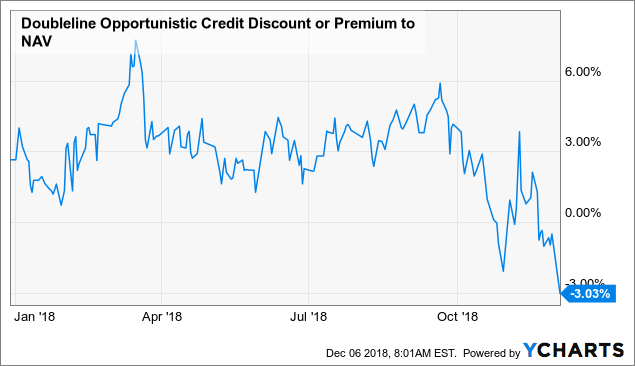 The discount is quite unusual because the fund has traded at an average premium of about 7% over the last few years.
The distribution yield on the share price is about 10.84%: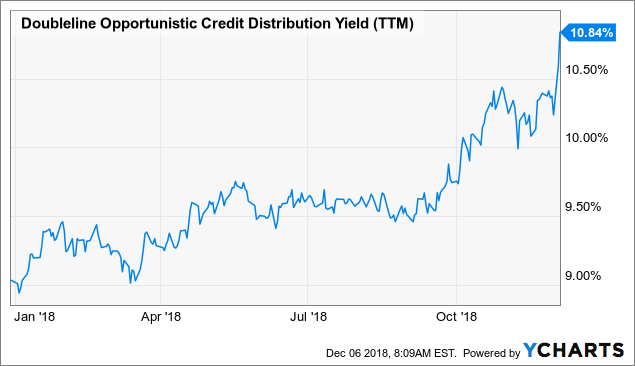 The fund pays distribution on a monthly basis but that's based on an opt-out dividend reinvestment plan.
The positioning is quite unusual and makes it somewhat unlikely the yield will be sustained: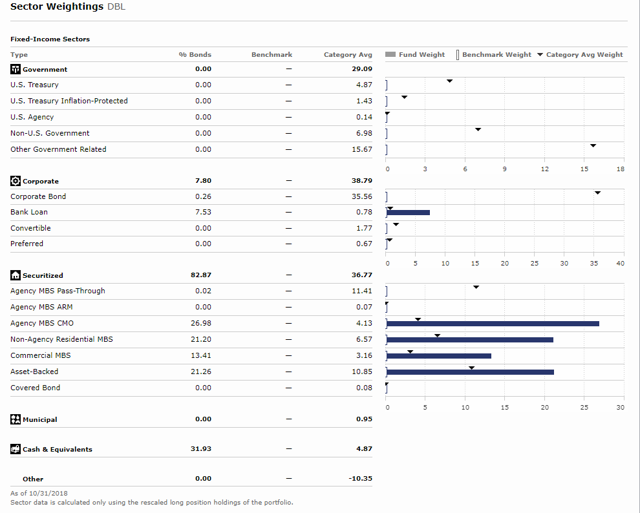 Data: Morningstar
There is nearly 30% in cash and cash equivalents. The fund is completely shunning the corporate bond sector although it has slight bank loan exposure. Most of the money is in mortgage-related securities.
Where is the fund looking for returns? Well, apparently not outside the U.S. 91% of the fund is allocated to U.S. securities. But we find our answer looking at the maturities. Apparently, the fund is taking quite some duration risk by loading up on 5 to 15-year maturities. The duration is a whopping 9.73. With the 19.74% leverage this adds up to a very aggressive fund.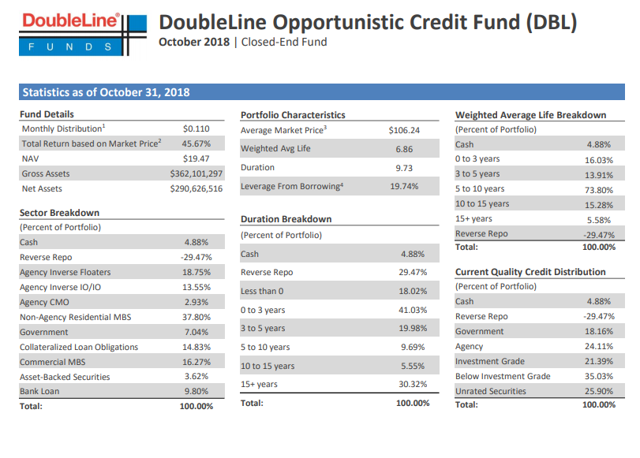 In addition there is a sizable allocation towards agency inverse floaters agency inverse IO's. These start paying less as interest rates rise. It looks like the fund is betting on the Fed reversing course or at least slowing down. Gundlach just recently told Reuters as much:
If the bond market trusts the Fed's latest words about 'data dependency' then the totally flat Treasury note curve is predicting softer future growth and will stay the Fed's hand,
Gundlach's Portfolio
There are quite a few similarities with the DSL fund I reviewed yesterday. There is again quite some exposure to financial institutions. These tend to issue higher-yielding securities, like the Chimera Investment Corporation (CIM) (mortgage credits), Citigroup (C) and JPMorgan (JPM) trusts. I think that is because financial institutions that tend to be black boxes with blow-up risk. But because we loaded up on regulation post-crisis, they may be relatively safe at this point in time. Maybe Gundlach is right to enjoy the situation while it lasts.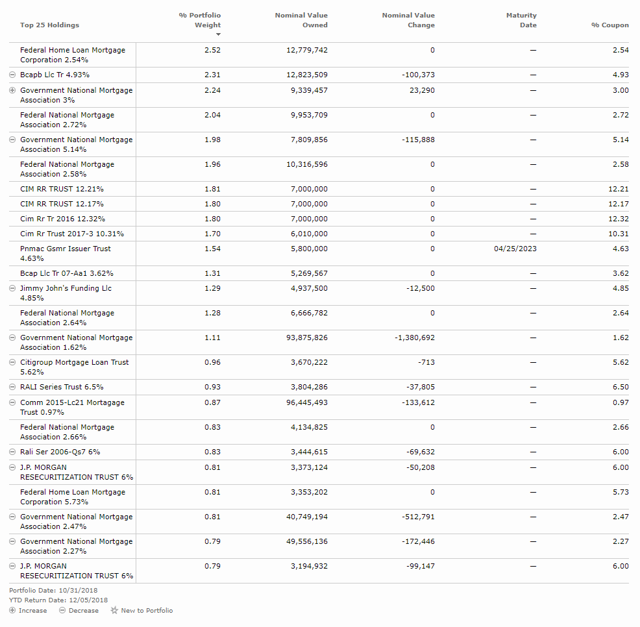 Data: Morningstar
There is a lot to like here. This fund is run by a great team with a lot of freedom. The portfolio illustrates they dare to be different and actively bet on their beliefs. However, these beliefs are also somewhat uncomfortable for me. It is hard to suspend that feeling and trust the judgement of the operators.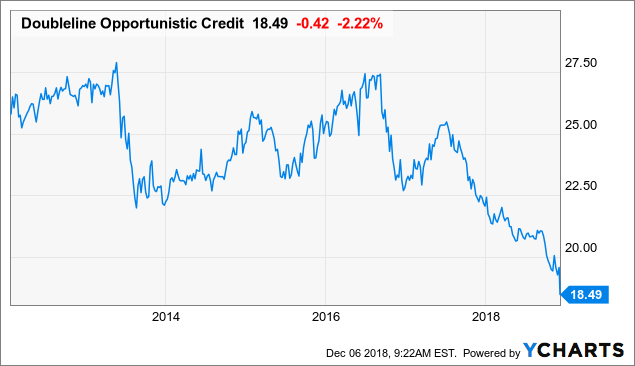 The fund is quite volatile and it has been in decline since mid 16'. Because of the distributions, it actually generated a positive total return since inception.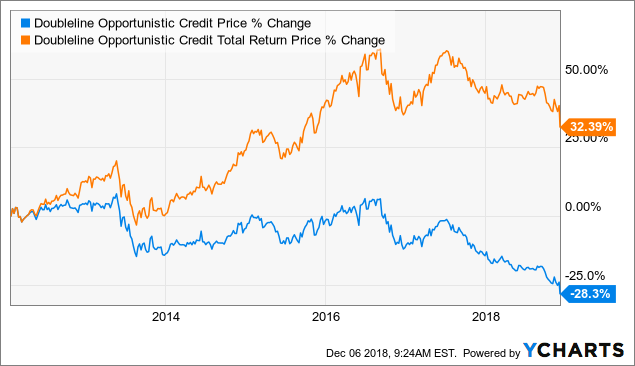 Given the great investment team which is clearly reflected in its differentiated portfolio, I continue to like this fund a lot. I'm not quite convinced it is positioned right but it is available at a small discount to NAV while it historically traded at a substantial premium. It's not a huge discount but let's not forget, this is a fund containing liquid credit managed by one of the premier firms. I like it slightly better compared to the DoubleLine Income Solutions and may pick up a few shares with the intent to sell them back to the market at a NAV premium in the future.
Check out the Special Situation Investing report if you are interested in uncorrelated returns. We look at special situations like spin-offs, share repurchases, rights offerings, M&A events, etc. But we also have a keen interest in the commodity space. Especially in the current late stages of the economic cycle.
Disclosure: I/we have no positions in any stocks mentioned, but may initiate a long position in DBL over the next 72 hours. I wrote this article myself, and it expresses my own opinions. I am not receiving compensation for it (other than from Seeking Alpha). I have no business relationship with any company whose stock is mentioned in this article.