Tesla (TSLA) short-sellers are a lot we haven't heard much from since the company released its Q3 earnings and the stock steadied some weeks back.
However, I wanted to tap back into that vein and see if short-sellers had as much conviction now as they once did in the company. I spoke to Mark Spiegel - possibly one of the world's most well-known Tesla short-sellers - on my podcast Wednesday of this week. He informed me that not only is he still short but also as of right now, his Tesla short comprises about 20% of his portfolio.
On the podcast, I wanted to speak to Mark about a litany of items, including what he thought about the company's most recent Q3. Mark continued to hammer home the theme he has been talking about for years: that he believes Tesla is going to be buried by competition, especially in overseas markets.
Regarding the company's Q3 earnings, Mark took exception to how a lot of the data was presented. For instance, he notes how the company disclosed its tax credits and how he believes that the company is under-reserving for warranties as a way to make its quarterly numbers appear better.
From there, I asked Mark how he has put his position on and what he thinks about short seller Citron Research going long Tesla.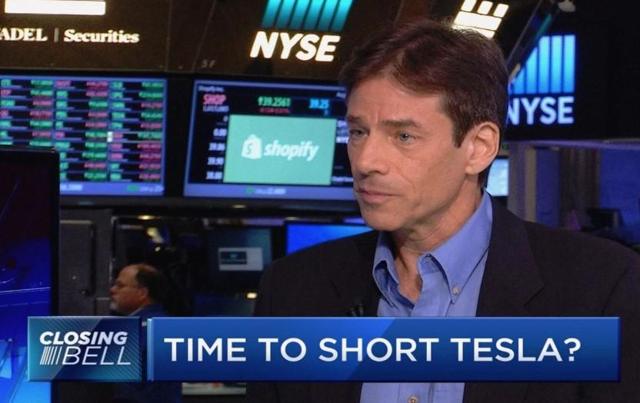 (Source: CNBC)
Our discussion about Tesla then dovetails nicely into a discussion about the macroeconomic environment, as Mark also explained to me why he believes there is "a 100% chance" of eventual hyperinflation in the United States. We also discussed the inverted yield curve and how it may affect Tesla and other equities as well as a couple of additional positions in his portfolio, including being short the yen and Russell 2000, and being long an agricultural ETF (DBA).
Mark B. Spiegel is the Managing Member & Portfolio Manager of Stanphyl Capital Partners and is a New York-based equity investor. Prior to founding Stanphyl in 2011, he spent six years as an investment banker (most recently as a Principal with Piper Jaffray & Co.) financing public companies. Prior to becoming an investment banker, Mark spent a year working for a micro-cap Nasdaq tech company and he began his career with 17 years in the commercial real estate industry where he experienced firsthand the opportunities and challenges faced by a wide array of client companies. Mark believes that all these experiences - banking public companies, working for a public company, and securing real estate for a wide variety of companies - combine to provide the kind of "real world" experience that's extremely useful for an investor.
(Warning: Very explicit language)
To subscribe to future podcasts, you can use this link to go through Podbean or this link to subscribe on the Apple iTunes store. You also can subscribe to them on YouTube.
Disclosure: I/we have no positions in any stocks mentioned, and no plans to initiate any positions within the next 72 hours. I wrote this article myself, and it expresses my own opinions. I am not receiving compensation for it (other than from Seeking Alpha). I have no business relationship with any company whose stock is mentioned in this article.