Introduction to Investment Thesis
The management at Planet Fitness (PLNT), the largest fitness center brand in the country, has really broken the market open for low priced gyms in the United States. They were largely able to accomplish this thanks to their asset light franchiser model, whereby they expand by issuing franchisee rights to third parties. While the number of gyms in the United States has grown 4%/year since 2010, Planet Fitness has grown their gym count by 20%/year in the same period of time.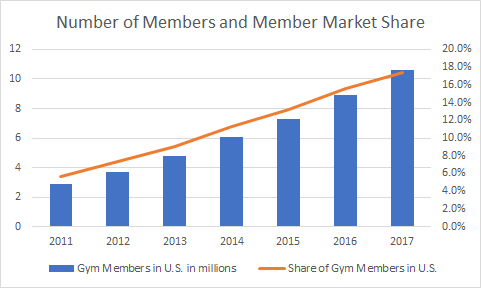 * Sources: IHRSA.org media center & Company reports
Since the company went public in 2015, the company's enterprise value to sales multiple has nearly doubled.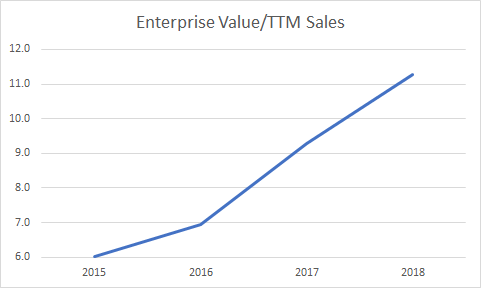 * Source: Company reports
With these two points in mind, the question is if the company's results will eventually be able to prove the high valuation correct.
Company Concerns
One thing to keep in mind is that the company's growth, in terms of both members and stores, has been declining.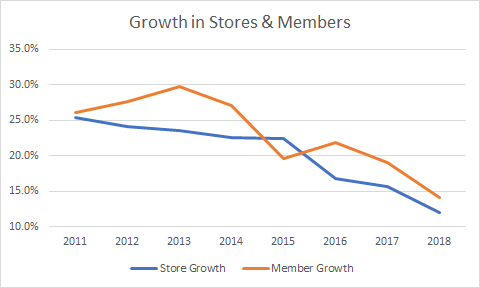 * Source: Company reports
As of the third quarter of 2018, the company had over 1,600 stores. In an investor presentation the company published in June, the company states that the total potential number of stores they could have open is over 4,000. However, it is safe to assume that the markets that the company is already operating in are the most attractive, and that growth from any additional stores they would open would be less than the previous ones, and perhaps at a lower margin as well.
Also, in April of 2017, the company increased the royalty rate that it receives from franchisees from 5% to 7%. This change happens gradually though, as franchisees have to agree to it upon their renewal. The company states that part of the increase in royalty fee is offset by reduced commissions and franchise fees, but this change in agreement has been boosting growth at least partially and will not be a perennial boost to sales growth. My estimate of netting out the reduced commissions, new stores, increased same store sales and franchise fees, is that the increased royalty rate has accounted for nearly 25% of the company's growth this year.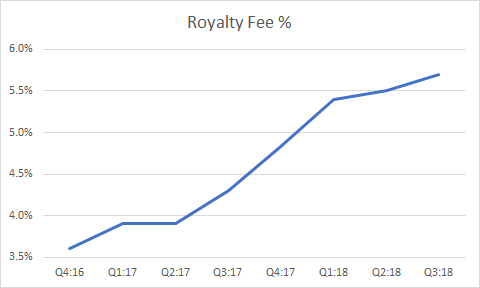 * Source: Company reports

*Source: Company conference call transcripts
The company's growth has also been boosted by increased penetration in black card membership, it's premium product. In the most recent quarter, it accounted for 30% of the increase in same store sales. Currently, 60.5% of members have this membership, this is up from 38% in 2010. 60% is a very high conversion rate. As a ballpark comparison, I found two very different comparisons. Spotify is at a 50% conversion rate to premium in 2018 and affordable care act plans have a 10% conversion rate to premium. The black card membership typically increases a members fee from $10 per month to $21.99. In return, the member can attend planet fitness locations away from their primary location, always come with a guest, use of tanning and automated massages, as well as discounts.
Turning to the company's balance sheet, the company has a double edged sword of a tax situation. On one hand, they are sitting on $2.7 billion of net operating losses that it can use to offset future income through 2037. The company believes that it is likely that they will be able to utilize all of these losses, so, the deferred tax asset is sitting on the balance sheet at a value of $417 million. On the other side of the ledger, the company has $405 million in tax liabilities that it will likely be making regular cash payments of $24 million per year on for what looks like the next 15 years.

*Source: Company 2017 10-K
The company has also spent over $45 million buying back franchises. It's curious that the company would do this, given that management frequently touts the merits of an asset light strategy. On conference calls, it doesn't seem that analysts can get a straight answer as to whether growing company owned stores will be a significant part of the overall strategy going forward or not. While the purchased and organically grown locations only increase their store owned rate 1.5%, these moves cost the company $60 million, which is significant considering the company's tangible net shareholders deficit is over $500 million.
Also, I thought that variable interest entities were largely a thing of the past, but in Planet Fitness' filings show upwards of $800 million in off balance sheet liabilities. It appears that this is largely made up of guarantees on behalf of it's franchises.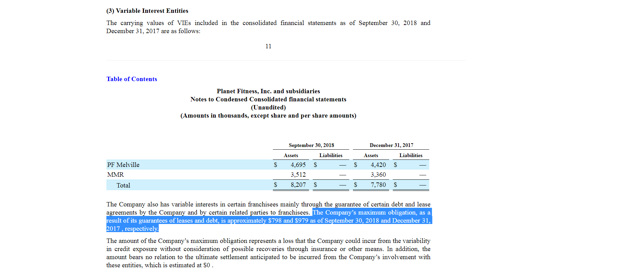 *Source: Company 3Q:18 10-Q
Something else to take note of is that the CEO has sold approximately 25% of his shares this year. It seems like odd timing considering that the company took on $1.2 billion of notes, $575 million which is due in four year and $625 million which is due in seven years. While $706 million of the proceeds were used to pay off existing debt, the company is spending at least another $300 million in order to buy back shares.
Economic Concerns
Another concern is that spending on gym memberships is a consumer discretionary item.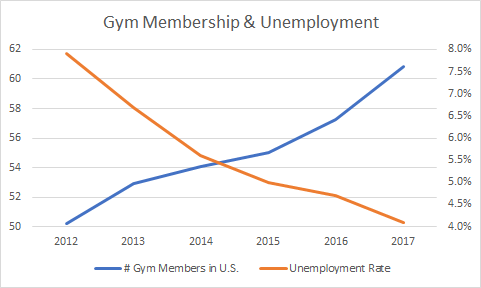 * Source: IHRSA media center
As can be seen in the chart above, as gym memberships have risen more than 20% since 2012, unemployment has steadily declined. At the current level of 3.7%, unemployment has not been at this level in 50 years, and back then, the U.S. Gross Debt to GDP was under 40% versus more than 100% today. The additional debt today could force some type of legislation to deal with it, or at least halt the rise in debt, which could put economic growth at risk. And as you can see from the chart below, it is not sustainable for unemployment to go much lower than it is now. This might limit an upside driver of member signups over the next couple of years.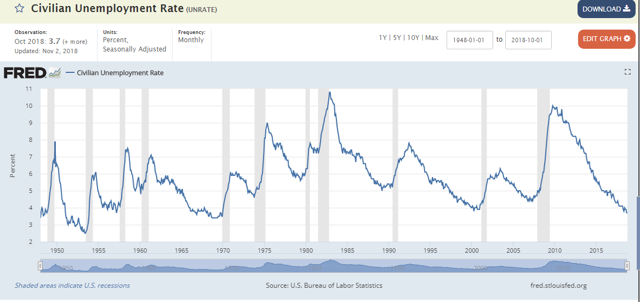 In the recession of 2009, overall gym memberships were down slightly. This might not seem like a horrible outcome, but in the face of a valuation that has moved up dramatically over the past few years, this poses a significant risk to the enterprise value of the company.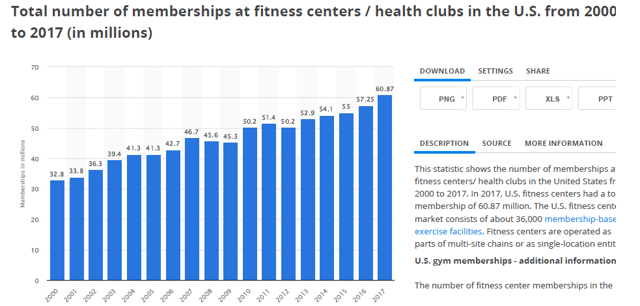 * Source: Statista
Bull Case/Upside Risks
The bull case for Planet Fitness is one that management lays out regularly: that while 62 million Americans belong to a fitness club, nearly 140 million Americans between the age of 18-64 do not. This is who the company sees as their target demographic, as opposed to taking share from competitors. I would argue that you have to take a substantial number of people out of the 140 million figure who live in areas which cannot economically sustain a gym, have their own exercise equipment, are at a residential building or school with a suitable gym, only exercise outdoors (running/jogging), are disabled, belong to crossfit and/or cycle bars and/or belong to more comprehensive fitness clubs.
Another surprise to the upside could be the margin profile of the company. In addition to the company increasing it's royalty rate from 5% to 7%, the more locations that the company has as franchises, the more recurring revenue they will have, without necessarily needing much additional overhead.
Downside Risks
As is mentioned earlier in the article, the economy turning down is the most significant downside risk because it would trigger many headwinds for the company including slower franchise expansion, lower royalties as a result of less memberships and less equipment purchases. Another risk is that after a period of significant growth, they are close to saturating the market. They have competitors in Curves (576 locations), LA Fitness (700 locations), 24 Hour Fitness (420 clubs), Crunch (265 locations), Blink Fitness (135 locations) and more. Especially in the face of the company's increase in royalty, potential franchisees may be tempted to open with a competing banner. According to Entrepreneur magazine, gyms including Retro Fitness, Crunch Fitness, Blink and Gold's are still at a 5% royalty rate.
Also, as I mentioned in upside risks, the company may be running into a wall with the number of geographies that can support a gym like planet Fitness. Their average membership is 7,000 per gym. As you can see from the chart below, most cities have populations below 10,000.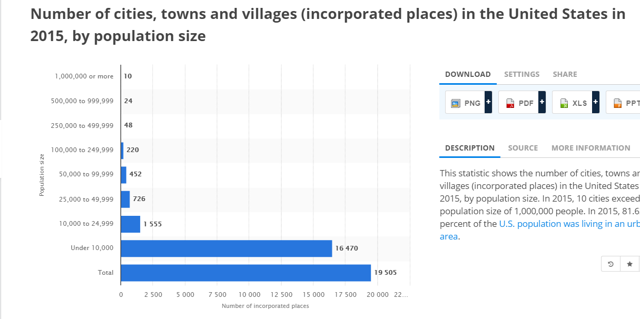 Valuation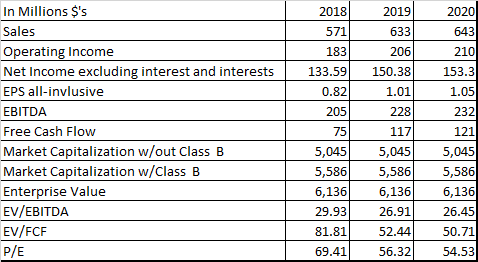 * Source: Company reports. Sales figures for 2018 & 2019 align with analyst consensus estimates.
The valuation is currently benefiting from economic tailwinds which are pushing up all segments of the company's business, including new locations and the equipment that goes in them. Once there is a true slowdown, these growth levers will reverse. As can be seen from the table above, the forward P/E ratio is 56x. The argument could be made that this valuation is justified if there was a moat to this business, but aside from having a national marketing presence, there is little that distinguishes Planet Fitness from other low cost gyms. Moreover, if we were in the early innings in the cycle, one might be able to argue that there is a significant amount of growth runway left that justifies the multiple, but that is not the case.
The only real comparison for valuation is when Life Time Fitness was purchased by private equity in 2015 for 24x Price/Earnings. It's fair to say that as a business, Lifetime has more moat due to the significant investment that is required for each of it's facilities. The average Lifetime Fitness costs over $20 million to build out compared to $1 million - $4 million for a Planet Fitness, depending on the particular location. Given that it's closest peer was taken out for significantly lower valuation multiples than it is trading at now at an earlier point in the cycle, it does not look like investors are properly pricing in risk for Planet Fitness.
How to Invest
My first recommendation is to avoid shares of Planet Fitness. At a P/E multiple of over 50x and growth prospects having topped out, it appears that the risks outweigh any potential continued appreciation of shares. Also, the company is currently on the Investors Business Daily 50 list, which is a list of the paper's most coveted names based on a number of quantitative factors. This may have brought a number of momentum investors in who are not paying particularly close attention to the fundamentals of the story.
I am personally short PLNT, and if you decide to follow me, the short cost is extremely minimal (less than 1%). I set a price target of $32 by applying a 30x P/E multiple to my 2020 EPS estimate. While I think that the market will re-price the stock once growth begins to slow, the high loyalty rate that it's customers have shown will likely lead to an above average (overall market @ 17x) P/E ratio. Since the company began converting franchises to it's new royalty model in 2Q:17, growth is likely to begin to slow in the first half of 2019, as these increases will have anniversaried. This could be a catalyst to send shares lower once the company provides 2019 guidance in February. Other factors that are likely to lead to a lower price for shares include higher unemployment, increased competition among already placed gyms, greater competition among franchises looking to open new gyms, market saturation (the number of gym members has increased by a third over the past ten years),
Disclosure: I am/we are short PLNT. I wrote this article myself, and it expresses my own opinions. I am not receiving compensation for it (other than from Seeking Alpha). I have no business relationship with any company whose stock is mentioned in this article.