Introduction
One year ago, I covered Silver Bear Resources (OTC:SVBRF) on Seeking Alpha as the company has one of the highest grade silver mines in the world with 1,083 g/t for the open pit. I was very skeptical about the company due to the location, owners, balance sheet, and constant delays in commissioning. After one year, the share price is up by almost 14% on the TSE, while silver prices have dropped by 10%. Has the company proven me wrong, and have I changed my view? No, not really, and my concerns remain pretty much the same.
Construction and commissioning
One of my key concerns last year was that completion of the Mangazeisky project was being constantly delayed. Back in November 2017, it was 87% complete and was supposed to move into production in the first quarter of 2018.
The reason for my skepticism was the company's failure to keep its deadlines. For example, as construction began in 2016, Silver Bear's July 2016 corporate presentation showed that Mangazeisky was expected to be commissioned by the end of the year, and full production was expected to start in the first quarter of 2017: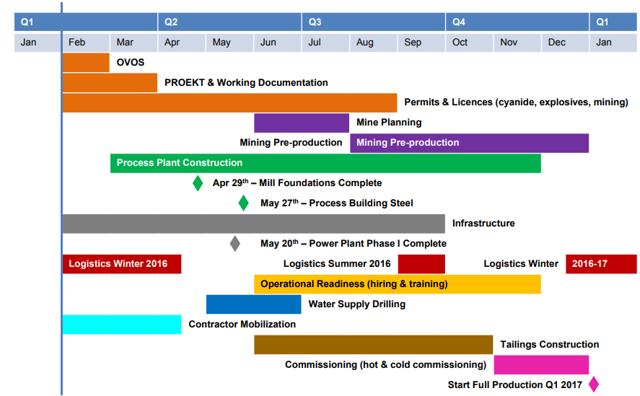 Source: Silver Bear
Well, in April 2017, Silver Bear did produce some silver powder product, but construction was still 94% complete. According the company's April update, first production was expected early in the second quarter of 2018.
Production was actually announced in the second part of the second quarter of the year, but the construction of the project was still incomplete. Commercial production was now expected in the latter half of 2018.
In August, this was pushed to the last quarter of 2018 and still hasn't been achieved as of time of writing. With four weeks to go before the end of the year, I wouldn't be surprised if Silver Bear missed yet another deadline.
Location
The Mangazeisky silver project is located in the middle of Siberia on the edge of the Arctic Circle some 400 km north of Yakutsk: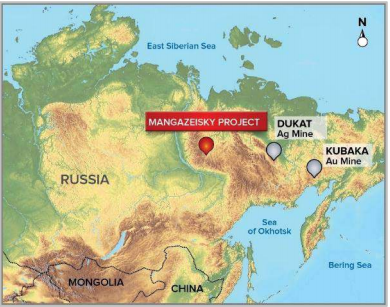 Source: Silver Bear
It's a very remote region and access to the project is very tricky. For example, you have to cross the Lena river to reach the project, and it's two or three kilometers wide without any bridges in that area. This means that you'd have to wait for the winter for the river to freeze, and then the Russian government declares it a winter road. Yes, you read that right – it's an official government road when frozen. And even during winter, the tonnage is limited to around 20 tons. Winter temperatures on site get to around minus 55 degrees celsius. Because of the cold, Silver Bear has to get water for the operations from below the permafrost in the river valleys. And the permafrost is 250 meters deep.
Silver produced will have to be flown offsite using an old biplane until the company builds a new runway, and that aircraft can only carry one tonne at a time.
Owners and balance sheet
Silver Bear's two largest shareholders are held by local businessmen Alexey Mordashov and Sergey Kolesnikov. Mordashov is currently the richest man in Russia with an estimated net worth of $17.2 billion. Companies of the two businessmen have lent a lot of money to Silver Bear, and although the interest rate on them was recently decreased from 15% to 10%, the interest payments are very substantial for a company of this size: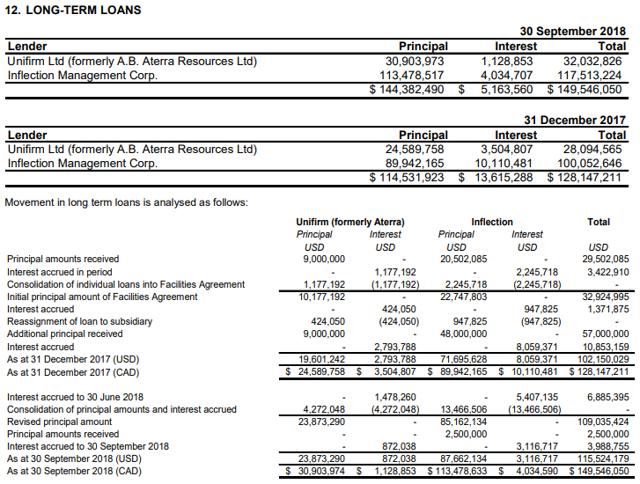 Source: Silver Bear
It's interesting that these interest expenses don't appear in the company's income statement: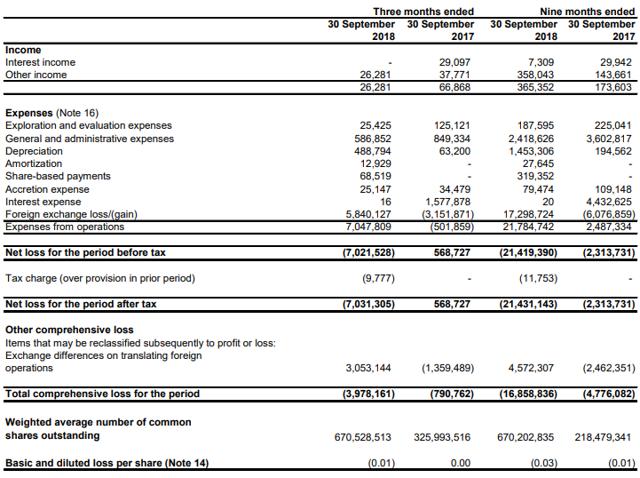 Source: Silver Bear
I'm guessing that the reason behind this is that all interest accrued before 1 July 2019 will be capitalized and added to the principal amount, but I'm not sure. Nevertheless, these loans will be devastating for shareholders: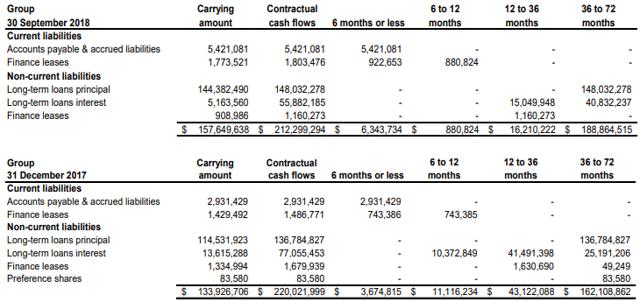 Source: Silver Bear
And the equity position is already significantly negative: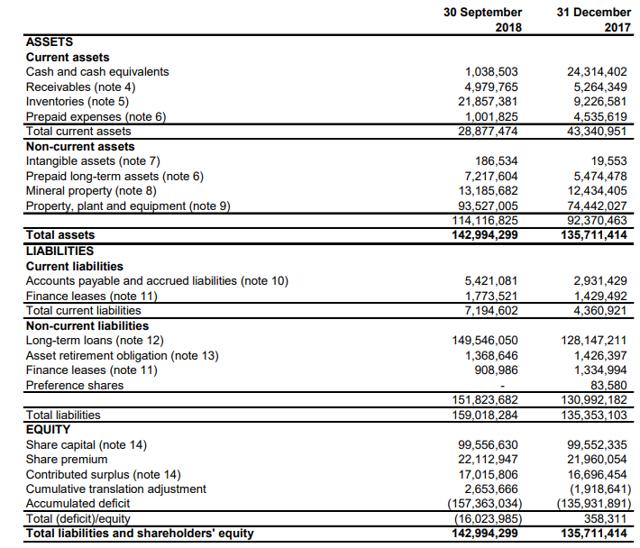 Source: Silver Bear
This comes after a loss of C$16.9 million since the beginning of 2018, mainly due to foreign exchange losses. What strikes me, however, is the amount of capital expenses. Initial capex for Mangazeisky was supposed to be only $65 million, and the project was 87% complete in November 2017. And yet, Silver Bear added over C$29 million of property, plant and equipment in the first nine months of 2018. It seems to me that Mangazeisky is coming well over budget.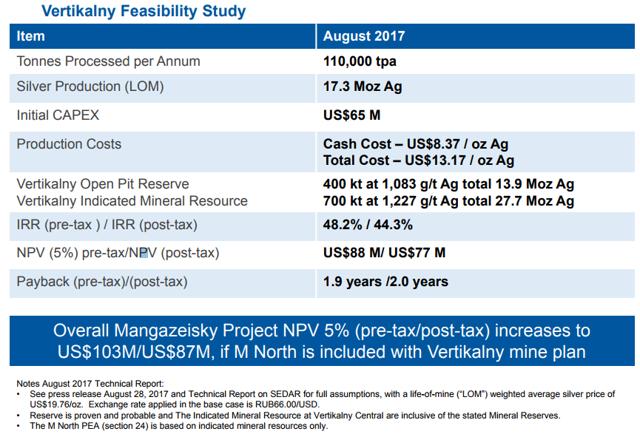 Source: Silver Bear
Conclusion
While I think that Mangazeisky has jaw-dropping grades as in the open pit they go up to 6,000g/t and deeper deposits reach well over 10,000g/t, I would avoid this company like the plague. The mine life is pretty decent with an estimated 11 to 12 years, but the reason for this is that the project will be operating at only 300 tpd and producing around 2.5 million ounces per silver annually. At these processing rates, even the grades will not be able to help Silver Bear make up for costs, and estimated total production costs stood at $13.17 per ounce, according to the 2017 feasibility study. This is by no means a low-cost operation.
I also have concerns about site access and water, but my largest concern is the balance sheet. Even if Silver Bear somehow manages to keep a deadline for once and start commercial production smoothly and in line with operating costs provided in the feasibility study, liabilities, including interest payments over the next few years, total over C$188 million.
I've just finished reading the Undoing Project by Michael Lewis, and one of the conclusions explored in the book was that humans are not rational. I view the increase in Silver Bear's share price as another example of this.
If you like this article, consider joining The Gold Commonwealth.
There's a two-week free trial and the service will focus on long ideas, takeover targets, turnarounds, exploration stories and under-followed gems in the mining space, particularly gold. Omnis Quis Coruscat Est Or!
Disclosure: I/we have no positions in any stocks mentioned, and no plans to initiate any positions within the next 72 hours.
I wrote this article myself, and it expresses my own opinions. I am not receiving compensation for it (other than from Seeking Alpha). I have no business relationship with any company whose stock is mentioned in this article.
Additional disclosure: I am not a financial adviser. All articles are my opinion - they are not suggestions to buy or sell any securities. Perform your own due diligence and consult a financial professional before trading.