Amarin Corporation PLC (NASDAQ:AMRN) is a small biotechnology company, based in Ireland. The Company's lead product, Vascepa (icosapent ethyl) capsule, is approved by the United States Food and Drug Administration (FDA) for use as an adjunct to diet to reduce triglyceride levels in adult patients with severe hypertriglyceridemia. Amarin is seeking label expansion approval from the FDA and plans to submit a sNDA early 2019.

(Source: S&P Capital IQ)
In the weeks following the AHA conference, there has been a lot of data for investors and healthcare professionals to digest. Amarin has also been busy hiring hundreds of additional sales reps and putting together their sNDA for the FDA.
Sales Force Expansion
This past weekend, I went through LinkedIn and see what I could find. I found Amarin has sales reps and managers in almost every major city in the US. Majority of the reps and manager's profiles I came across showed they were hired in either October or November, came from a different company in the same sector, and had a similar capacity at their previous employer. I believe this will immensely help with the learning curve new hires often face. In the near term, this will give Amarin the extra boost they need to raise awareness of Vascepa; however, once the sNDA is out of the way, Amarin needs to focus majority of its efforts on commercialization. I spoke with several professionals in pharmaceutical sales, they all agree that Amarin needs to at least double their sales force in order to make a significant presence in the global market.
Today, John Thero, President & CEO attended the 2018 Global Healthcare Conference at Citi. Thero spoke one-on-one with a Citi analyst and gave investors an idea of what the next year is going to look like (an archived file of the webcast of the chat can be found). When asked, "Will 400 sales reps be enough?" Thero answered...
There are roughly 600,000 physicians in the US that prescribe stain therapy, roughly 50,000 accounts for half of the statin prescriptions, we will be targeting the 50,000 that have the highest prescription history. We don't yet have the label expansion, we want to target the physicians that have the highest prescription history. We think the opportunity for the greatest payback is with these physicians. After we get approval, we will review if additional expansion makes sense, but we didn't want to be spending money unproductively early on.

(Source: Citi Fireside Chat)
Targeting the 50,000 physicians (an increase from the 20,000 mentioned in a previous interview) should not be too much of a feat for the current 400 reps. I agree with managements decision to strategically target these physicians prior to label expansion. Properly executing this strategy will provide Amarin with the capital needed to double their sales force post approval, putting any need for a capital raise in the future out of the question.
The 'Poison Pill'
Following the $200M capital raise early last week, Amarin filed a Form F-6, registering level 2 ADRs. Level 2 ADR programs establish a trading presence on a national securities exchange but may not be used to raise capital. The non-U.S. company is required to register and file annual reports on Form 20-F with the SEC. After consulting with some investors more familiar with ADRs than myself, I concluded this filing is a synthetic poison pill.

(Source: S&P Capital IQ)
In the United States, companies can defend themselves from takeovers in various ways. The most popular method is through a poison pill. Creating a poison pill is a defense tactic utilized by a target company to prevent or discourage attempts of a hostile takeover by an acquirer. For those not familiar with poison pills, you can find more information here.
With that being said, things get tricky when you start dealing with foreign companies. In Ireland (where Amarin is based out of), takeover defenses such as the poison pill are prohibited, therefore, companies must get creative.
Issuing depository receipts for shares is considered most protective. The shares are legally owned by a Trust Office Foundation who will issue depository receipts for shares. Although the status of a holder of depository receipts and a shareholder is basically the same, there is one crucial difference: in principle, a holder of depository receipts does not have a right to vote. This means that the Trust Office Foundation will retain a great extent of control - also during a potential takeover. Holders of depositary receipts do have the right to start inquiry proceedings before the Enterprise Chamber, though. This means that the policy of the board of the Trust Office can be subject to legal proceedings (provided enough holders of depositary receipts start inquiry proceedings).
(Source: Anti-takeover Measures)
While the poison pill is a well-established mainstay of a defense by a U.S. target against a hostile bid, serving primarily to force the bidder to engage with the board of the target, such a defense is not permitted in many jurisdictions, including the United Kingdom and Ireland (two of the primary destinations for inverting U.S. companies). In Canada, regulators generally will order a target board to "cease trade" (or lift) a poison pill after just a few months, based on the principle that the defensive measure is intended only as a short-term respite to allow the target board to quickly assess the availability of alternatives to the hostile bid. As a result, a hostile acquirer in these jurisdictions generally has the opportunity to take its offer directly to shareholders without the board of directors of the target being able to intercede or unduly delay the offer.
(Source: Harvard Law School Forum)
To simplify the above information, the underwriter (Citi Bank) is keeping the 200M shares locked up, but available at a moment's notice. Currently, including options and restricted shares, Amarin has roughly 380M total shares. You can find the F-6 filed for the 200M ADRs HERE.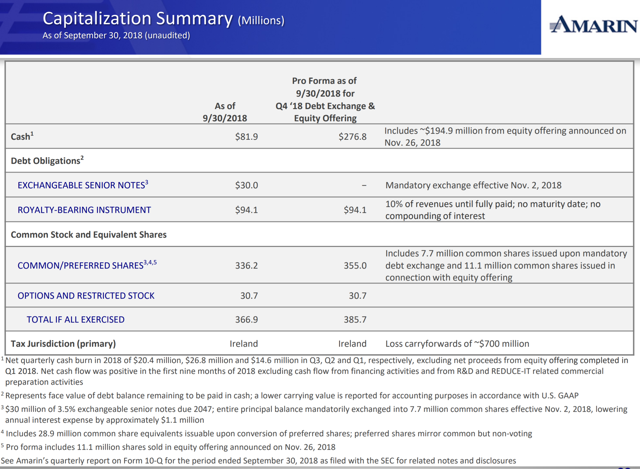 (Source: December Investor Presentation)
In 2013, an Irish company by the name of Elan found themselves in a similar situation. Elan was faced with the takeover restrictions as Amarin, but with the help of Citibank (C), they were able to create a 'synthetic poison pill' and resist the takeover. Coincidentally, Citi is also behind Amarin's synthetic poison pill.
(Source: Elan Finds Creative 'Poison Pill')

(Source: S&P Capital IQ)
Proactively creating this layer of defense attests that Amarin's management has the shareholders best interest in mind and they are thinking a step ahead. By creating this pill now, management has prevented precious time from being wasted on insulting offers and fighting hostile takeovers.
Only Amarin's management knows the reasoning behind this filing. Investors can look at this as a way of shutting down and possibilities of a buyout, or they can look at it as Amarin increasing their leverage at the negotiation table. You will have to decide for yourself.
Citi Fireside Chat
On Wednesday, John Thero sat with a Citi analyst and provided forward-looking statements for 2019.
The key topics he covered were:
sNDA submission and approval timeline
Reallocation of R&D spending
Partnering
Protection of Vascepa
Competition
Managed Care
Measuring the growth of Vascepa
Key events in 2019
Submission and Approval
I have had many people ask me, "Why do you think Amarin is taking so long to submit the sNDA, don't you think they would want to submit as soon as possible?" The answer to this question is, sNDA and NDA filings are hundreds and thousands of pages long. Once the company submits the filing to the FDA, the FDA must meticulously review these filings to make sure there are no issues to the best of their knowledge. Many investors complain about how long the review takes; however, if it was too fast, people would complain just as much because we would have dangerous approved drugs on the market hurting people.
Vascepa's favorable safety profile and amazing REDUCE-IT results lead me to believe there is a high probability of expedited approval. Thero said when they submit the sNDA, they are going to ask the FDA to expedite the approval process. Assuming a standard approval timeline and no expedited approval, I believe label expansion approval will be near the end of 2019. I have based my forecast off the statistical average of CDER.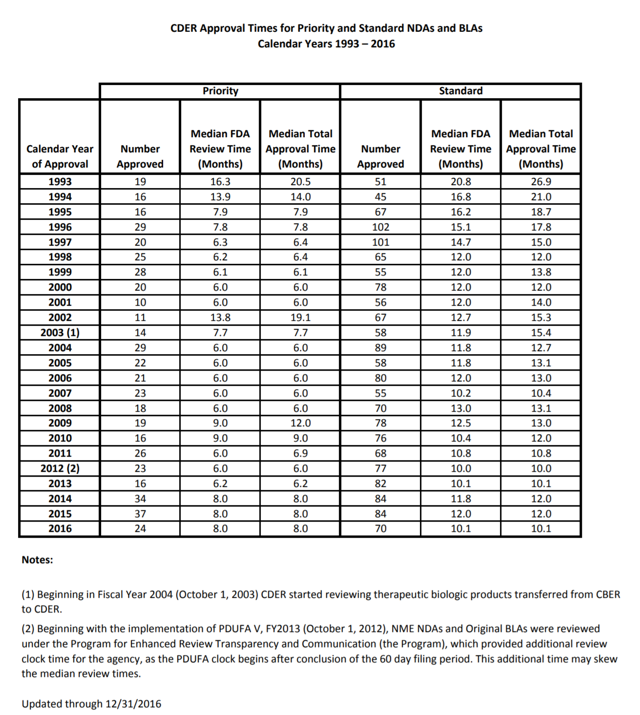 (Source: FDA Approval Timeline)
Reallocation of R&D spending
John Thero said, for now, Amarin is focusing on label expansion approval and commercialization of Vascepa. The $50M R&D budget previously allocated to the R-IT study is now going to be allocated towards commercialization. Assuming approval for the requested label expansion, Amarin is considering additional label expansion submissions in the future.
Partnering
Amarin's CEO mentioned that the majority of Amarin shareholders believe it would be in their best interest if Amarin postponed partnering until post-FDA approval. By waiting, they de-risk the potential partner and increase shareholder wealth. With that being said, if a good enough offer presents itself prior to approval, Thero said he will do what is in the best interest of the shareholders. Below, you will find a list of Amarin's reported customers and suppliers.


(Source: S&P Capital IQ)
Protection of Vascepa
Vascepa has 3 layers of protection. Vascepa is very hard and costly to produce, therefore Amarin has economies of scale. Regulatory exclusivity is effective into 2020, and currently, Amarin has over 60 patents filed on their product. After the R-IT results were published, additional patents were filed, and Amarin plans to file additional patents in the future.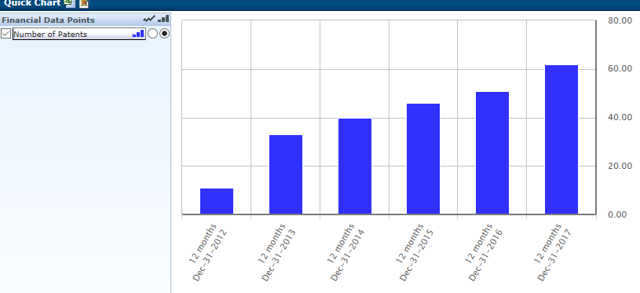 (Source: S&P Capital IQ)
Competition
Currently, Vascepa faces no competition. There is a study currently being conducted for a possible competing drug. This study is expected to wrap up in 2020. The major difference between Vascepa and the potential competition is that the competitor is using a very different patient population. There is also a possibility the competition will be infringing Amarin's patents. Thero mentioned in the Citi fireside chat that he welcomes the competition.
It is also important to understand prescription omega-3 fatty acid products and dietary supplements are not interchangeable.
Managed Care
Vascepa is affordably priced and over half of the scripts written have been off-label. Due to Vascepa's affordability and efficacy, 80% of the cost is being reimbursed already by managed care providers. Medicare part D is around 90%, tier 2 unrestricted, and as the pharmacoeconomics are assessed the coverage by managed care providers will continue to increase. Even without label expansion, only a minority of insurers refuse to cover Vascepa until it is approved.
Measuring Growth
The metric management will be watching to track growth is percent of existing patients' doctors are prescribing Vascepa. The market for existing patients is about 90M individuals. Amarin wants to find out what percent of these patients are being prescribed and track the growth over the next year. Vascepa is not a drug for hospital or acute use, therefore the patients being targeted are those that visit their doctor a few times a year. It may be a couple of months before we see script numbers really start to take off.
Key Events in 2019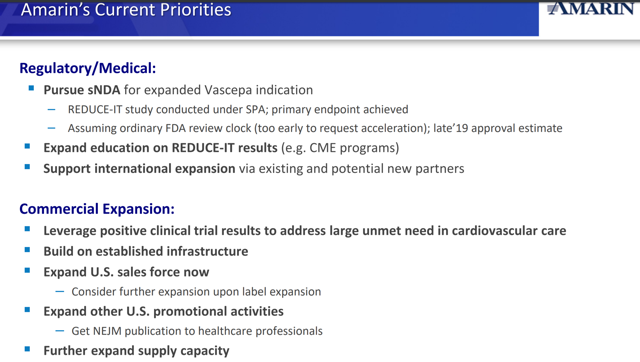 (Source: December Investor Presentation)
When asked what key events are in store for 2019, Thero responded saying,
We are submitting a sNDA and getting approval, this will allow up to expand commercialization. We will be deciding when we want to partner and where, and we plan to expand our sales force and have 400 reps on the ground starting January 2019.
(Source: Citi Fireside Chat)
Vascepa is one of the largest developments in treatment for cardiovascular risk. I believe if Amarin is able to continue the path they have been taking, they will not run into any issues until the end of 2019. By the end of 2019, if they have not doubled their sales force and they have approval from the FDA, they will be decreasing the leverage they have in negotiations.
Risks
When speculating in the biotech space, we must consider all the possible risks. Risks specific to the REDUCE-IT study can be found below.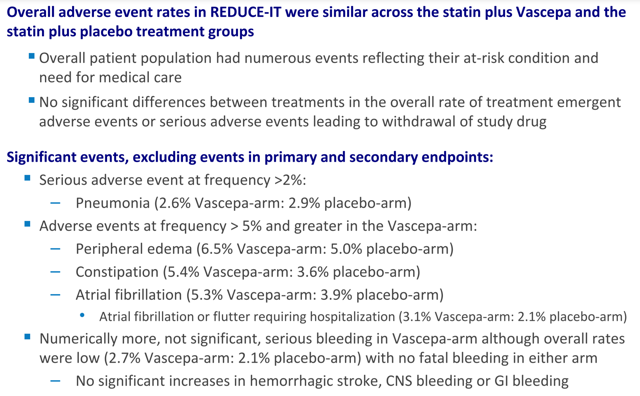 (Source: December Investor Presentation)
I have a high degree of certainty the above results will not have an impact on the FDA's decision to grant label expansion. I also believe the FDA will agree to prioritize the approval of Vascepa, seeing it meets the requirements for prioritization.
(Source: FDA Expedited Program Requirements)
Insider Ownership (1/14/2018-12/06/2018)
Lastly, I would like to address the concern regarding recent insider sales. I fully support management's decision to take some well-deserved profits and will not be concerned if we continue to see some profit-taking over the next couple of months. Since January, insider positions have increased by 175%.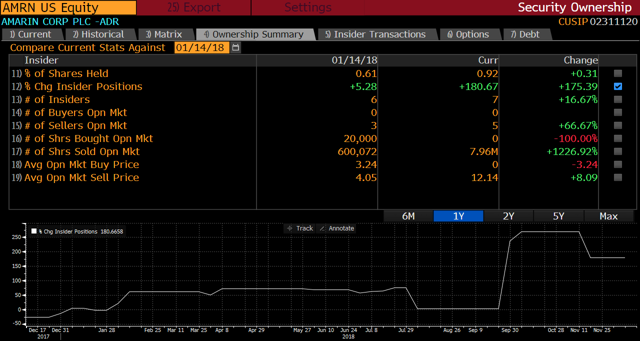 (Source: Bloomberg Terminal)
Over the next couple months, it will important to watch the growth of the sales force and submission of sNDA. Script numbers are available, and the numbers reported will be more significant near the end of January. That will give us about 3 months between the AHA conference and the data. Conservatively, assuming 3-4 doctor visits per year for a CV patient, we should be able to get an accurate picture of forecasted growth in February.