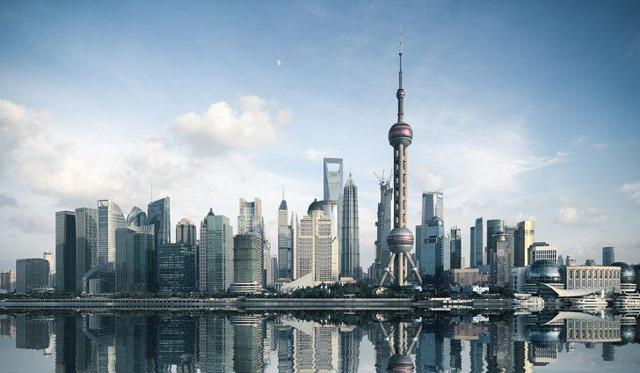 Source: WorldAtlas.com
3 Chinese Stocks to Bank on
I've been a proponent of several Chinese companies for some time now. Most notably, my long positions have been in Baidu (BIDU) and Alibaba (BABA), which have both earned stellar results in recent years. However, despite their outperformance in recent years, Chinese stocks have been out of favor lately.
Due to the China slowdown and the continuous worries about trade wars, some of China's best companies have gotten hammered relentlessly this year. Remarkably, the countries' three giant internet conglomerates Alibaba, Baidu, and Tencent (OTCPK:TCEHY) are down by 38-48% (from peak to trough) over the last several months.
It has been a stormy time to own Chinese stocks in general. However, the clouds appear to be fading as trade tension breakthroughs appear on the horizon. Moreover, the technical image surrounding Chinese equities appears to be improving, and China's "slowdown" should still achieve relatively robust growth.
Perhaps, most importantly, the three underlying companies are essentially responsible for driving substantial segments of China's massive internet and technology markets. As China's economy continues to expand Alibaba's, Baidu's, and Tencent's market share, revenues, profits, and share prices should continue to appreciate over the long term. Therefore, the recent selloff has created a meaningful long-term buying opportunity in the underlying companies.
Why Focus on this Segment
China has an incredibly vibrant economy, is still a developing market, and is likely to remain a dominant force on the world stage for many years going forward. Their people's standards of living should continue to rise, the country's GDP should continue to expand at a 5-6% annual rate or higher, and corporate revenues and profits should continue to improve. Therefore, China likely represents better future potential for investors than Western markets, including the U.S.
China is a powerhouse, and it is not only the manufacturing capital of the world, it is becoming one of the most essential centers for innovation, as well as forward-thinking. China's massive 1.4 billion population, coupled with the country's social structure and political system, should enable the country to rise to an economic level worthy of rivaling the West relatively soon and, possibly, even surpass it going forward.
Thus, certain Chinese companies are good places to invest, and possibly, some of the best Chinese companies to invest in are the countries undisputed internet and technology leaders, predominantly Tencent, Alibaba, and Baidu. The technology/internet segment should offer plenty of future growth opportunities, and these three underlying companies are the best positioned firms destined to benefit from China's continued expansion going forward.
Alibaba: An E-commerce Giant
Alibaba, some refer to it as the Amazon (AMZN) of Asia, some simply say it is a remarkable company, I tend to agree with both. Possibly one major difference is that Alibaba is still relatively early in its development process, Amazon appears to be further along.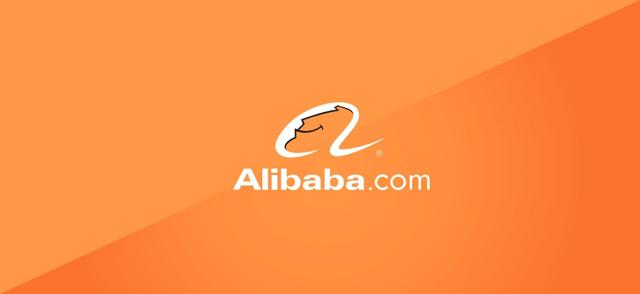 Source: BigCommerce.com
The bottom line is that Alibaba is incredibly dominant in its core industry and is expanding its portfolio of businesses very aggressively. Additionally, growth is very well alive and is extremely strong at Alibaba.
Here are a few highlights from the company's fiscal 2018 results:
Quarterly revenue increased by 61% YoY.
Full year 2018 revenue increased by 58% YoY.
The company beat on both top and bottom line.
Full year 2019 revenue growth guidance above 60%.
2018 Q4 core commerce revenue up 62% YoY.
Quarterly profit $2.7 billion.
Mobile MAUs over 600 million.
Annual active consumers over 550 million.
Cloud revenue surged by 103% YoY.
Youku video's daily average subscribers grew by 160% YoY.
Digital media and entertainment revenues grew by 34% YoY.
2018 full year revenues $40 billion, up 58% YoY.
Non-GAAP free cash flow $15.8 billion, up 44% YoY.
Full year GMV $768 billion.
Alibaba's Valuation Perspective
For fiscal 2018, Alibaba earned $4.74, which puts its past year P/E ratio at about 34. However, Alibaba is expected to earn $5.14 this year (fiscal 2109) and $6.67 next year. This puts the company's current year's P/E ratio at about 32 and its forward P/E multiple at just 25. Also, these are consensus estimate figures. Higher-end estimates point to earnings of as high as $8.80 next year. If the company can achieve higher-end EPS figures, it is likely trading at a 20 forward P/E or lower right now.
Additionally, Alibaba's revenues are expected to be between about $71 and $83 billion next year. So, essentially, we have a massive market leading company trading at just 20-25 times next year's earnings (possibly lower), projected to grow revenues between 78% and 107% over a 2-year period. Moreover, there should be plenty of growth left beyond 2020, and the company's secondary businesses like cloud, gaming, video and entertainment, etc. should start to bring in significantly more profits in future years.
Alibaba: 2-Year Chart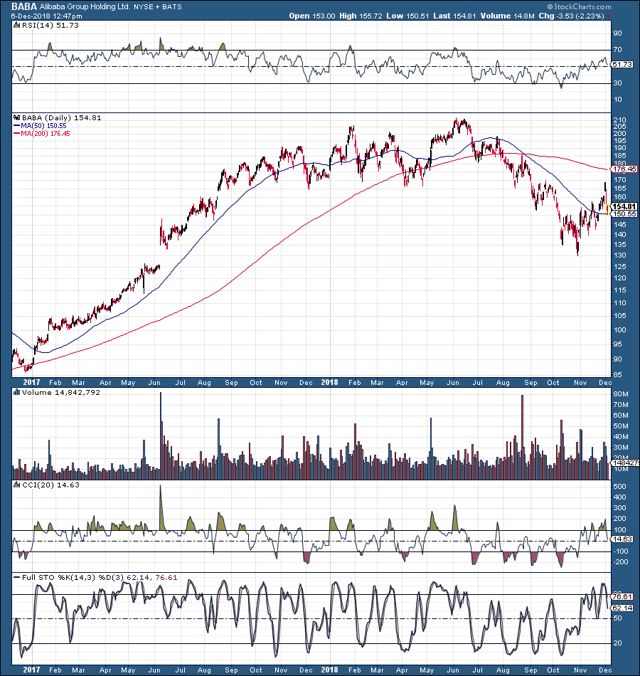 Source: StockCharts.com - We see that the recent downtrend appears to be reversing.
Baidu: The Search Engine That Powers China
Another Chinese market leader is Baidu. In fact, if Alibaba is China's version of Amazon, then Baidu is the country's answer to Google/Alphabet (GOOG) (GOOGL). Aside from controlling about 70% of China's search market, Baidu is very active in numerous other industries, including streaming, AI, various applications, and much more. In fact, the company's iQiyi platform is similar to Netflix (NFLX) in some respects and already enjoys a massive following of over 500 million MAUs.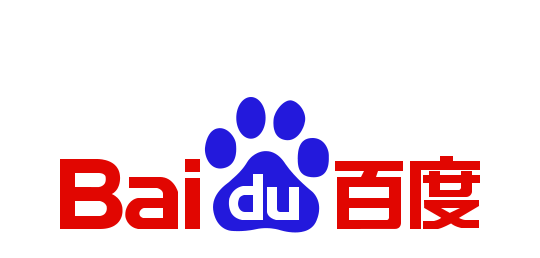 Source: Baidu.com
Baidu's most recent quarter also delivered extremely solid results:
Revenues RMB 28.2 billion ($4.11 billion), 27% YoY increase. Core revenue $3.15 billion, 25% YoY growth.
Operating income RMB 4.4 billion ($645 million), 6.6% YoY decline, and 16% operating margin, decline from 21% YoY.
Core operating income $1.02 billion, 26% YoY increase; operating margin 32%, roughly the same as last year.
Non-GAAP income (CORE) $1.22 billion, 57% YoY increase; non-GAAP total net income $973 million.
Forward revenue guidance $3.71-3.89 billion, roughly 20% YoY increase.
Remarkably, Baidu trades at just 20 times this year's consensus EPS forecasts and 18 times next year's consensus figures. Like Alibaba, Baidu could earn substantially more next year than most analysts expect. Higher-end EPS estimates go up to around $14, which implies the company may be trading as low as 14 times next year's earnings.
Baidu: 2-Year Chart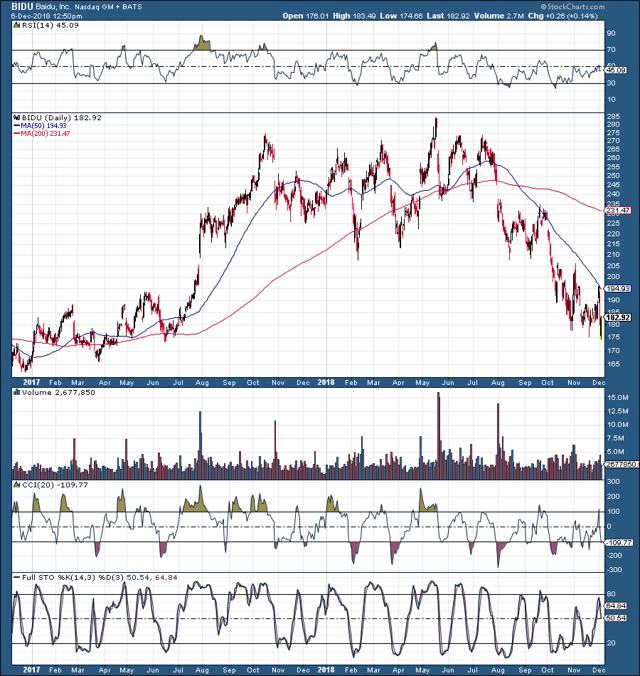 We see that the stock price appears to be stabilizing and the downtrend may reverse going forward.
Tencent: An Internet Conglomerate Like No Other
While Tencent may not be as well-known as Alibaba, of Baidu even, it is a massive Chinese internet conglomerate that operates across a wide array of markets including online advertising, cloud, software development, gaming, and much more. In fact, Tencent is huge, and with a market cap of $380 billion, it is nearly 6 times bigger than Baidu market cap-wise.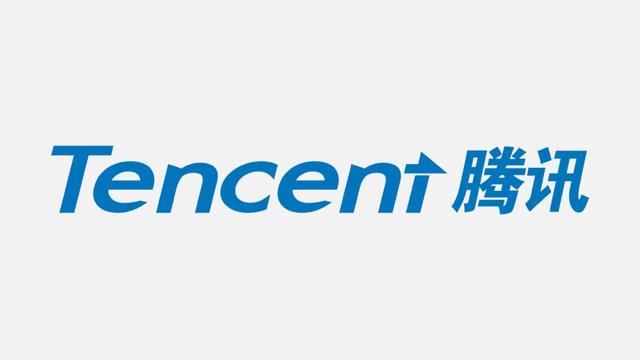 Source: Variety.com
The company also has massive revenues to support its market cap, roughly $45 billion this year, and about $60 billion next year, illustrating a likely YoY revenue growth rate of over 30%. The company's current P/E ratio is about 33, and relative to next year's projected earnings, it is just 28. Due to the nature of the company's businesses, Tencent is massively profitable and enjoys a profit margin of about 29%. This company is very likely to continue to expand, grow revenues, and deliver higher net income for shareholders going forward.
Tencent: 2-Year Chart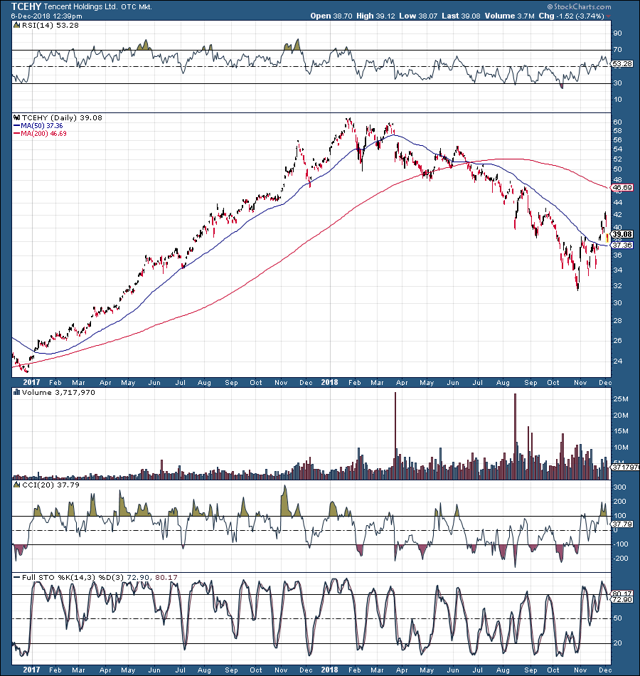 We see that Tencent's downtrend may have ended, and the stock appears to be reversing.
Overall Chinese Stock Market
The overall stock market in China was out of favor for much of the year, and this phenomenon was partially responsible for the substantial corrections in the underlying names. In fact, China's Large Cap ETF (FXI) indicates a peak to trough fall of nearly 30% since early 2018.
FXI: 2-Year Chart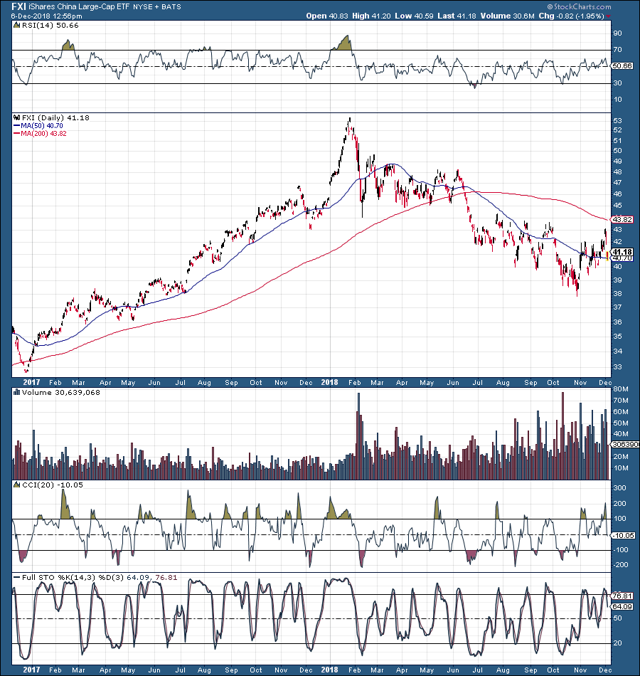 However, since the bottom in late October, FXI is up by about 10%. Furthermore, Chinese stocks in general are quite cheap, especially relative to their U.S. counterparts. Even despite the recent rebound Chinese stocks are trading at only about a 13 P/E ratio on average, compared with around 22 times earnings for the S&P 500.
Another favorable tailwind is the improving atmosphere surround the U.S./China trade relations. Trade tariffs have been halted, and now, Beijing is confident a comprehensive trade deal can get done within 90 days. This suggests that a thawing environment could lead to a reduction in tariffs down the line, which will likely benefit both economies, the U.S. as well as China.
China's Growth Story: Still Very Much Alive
Another factor to consider is that China's economy is still growing at a very robust rate. Estimates for future growth point to GDP growing at about 6% for several years going forward. This is much better than the sub 3% growth we've seen in the U.S. throughout the last decade. Nevertheless, numerous U.S. stocks appreciated substantially in this environment. China's robust growth should reflect very positively upon the earnings of many companies, and Alibaba, Baidu, and Tencent could benefit substantially in future years.
China's GDP Growth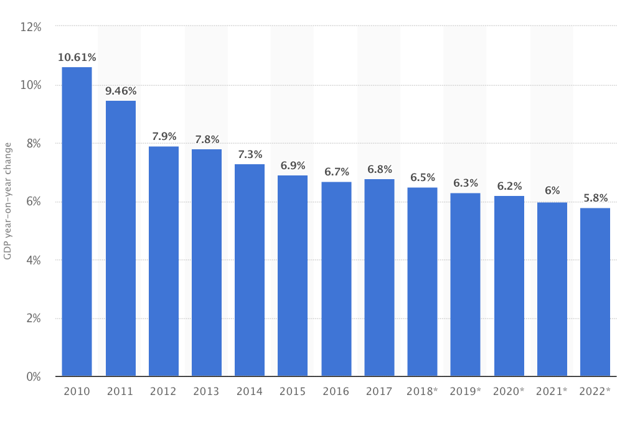 Source: Statista.com
In Case of a Bear Market
One major risk investors should consider is a bear market in U.S. equities, which could spill over and trigger or exacerbate a bear market in international equities, as well as China's stocks. In fact, with China's FXI index down by nearly 30%, and the companies discussed being down 38-48%, China's stock market is "technically" in a bear market already.
However, emerging markets are much more volatile than the U.S. and other developed stock markets. So, it is possible to see extreme corrections occur in China's market without necessarily entering a prolonged, deep bear market. Nevertheless, Chinese stocks could get cheaper going forward, and this is especially true if a U.S. bear market begins, and/or a recession materializes in the U.S.
The Bottom Line
Alibaba, Baidu, and Tencent are the three most dominant internet juggernauts powering China's rapidly growing technological economy. These companies have grown revenues and earnings substantially in recent years, and there should be plenty of growth left in China going forward.
Moreover, the underlying stocks have gotten cut by a third or more this year, bringing P/E levels down to relatively low levels. Furthermore, these companies are diversifying from their core businesses to secure and generate substantial growth going forward. In addition, a thawing of trade tensions and China's relatively robust growth provides a favorable backdrop for the underlying names.
Despite the threat of further short-term volatility, revenues, earnings, and share prices in Alibaba, Baidu, and Tencent should continue to appreciate in the long run, making these names compelling long-term buys at current levels.
Thank you for taking the time to read my article. If you enjoyed reading my work please hit the "Like" button, and if you'd like to be notified about my future ideas, hit that "Follow" link.
Disclaimer: This article expresses solely my opinions, is produced for informational purposes only, and is not a recommendation to buy or sell any securities. Investing comes with substantial risk to loss of principal. Please conduct your own research, consult a professional, and consider your investment decisions very carefully before putting any capital at risk.
Want more? Want full articles that include technical analyses, trade triggers, trading strategies, portfolio insight, option ideas, price targets, and much more? To learn how to best position yourself for a rally in SPY please consider joining Albright Investment Group.
Subscribe now and receive the best of both worlds, deep value insight coupled with top-performing growth strategies.
Enjoy access to AIG's top-performing portfolio that has outperformed the S&P 500 by 40% over the past year.
Take Advantage of the limited time 2-week free trial offer now and receive 20% off your introductory subscription pricing. Click here to learn more.
Disclosure: I am/we are long BABA, BIDU, TECHY, GOOG, NFLX. I wrote this article myself, and it expresses my own opinions. I am not receiving compensation for it (other than from Seeking Alpha). I have no business relationship with any company whose stock is mentioned in this article.