Editor's note: Seeking Alpha is proud to welcome Louis Stevens as a new contributor. It's easy to become a Seeking Alpha contributor and earn money for your best investment ideas. Active contributors also get free access to the SA PRO archive. Click here to find out more »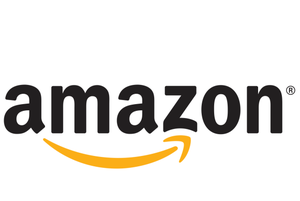 Amazon's Diversifying Revenue Streams
Recently, contributors have begun to sound the alarm for Amazon (AMZN) being overvalued. However, they may not be accounting for a new catalyst for growth. As I will demonstrate, Amazon has a sleeping giant that will contribute free cash flow on top of the contributions we have seen from AWS and Subscriptions Services.
Indeed, AWS and Subscription Services have been high-margin segments, although they alone may not provide enough substantial free cash flow to warrant current valuations. Presently, Amazon's strongest contributors to high margin growth are AWS and Subscription Services. However, in this article, I argue that advertising provides a massive runway for future growth, and as a result, Amazon is unequivocally a buy at present and lower levels.
Amazon's Current Sources of FCF and Those on the Horizon
As many of you know, Amazon presents its revenues in three defined segments: North America, International and AWS. Soon, I speculate that Amazon also will include an advertising segment as it becomes a more substantial and definitive component of their revenues. As for where Amazon has actually made money, Figure 1.1 below depicts the margins for each of the three aforementioned segments. For the sake of this analysis, I will create for Amazon a fourth segment, entitled "Advertising," and I will shed light on the margins advertising will generate later in this article.
In Q3 2018, AWS grew 46% year-over-year on the top line (source: Amazon's 10-Q), and as the graph below illustrates, this is high-margin growth, a phrase with which Amazon has not always been associated. In fact, the operating margins for AWS are actually expanding.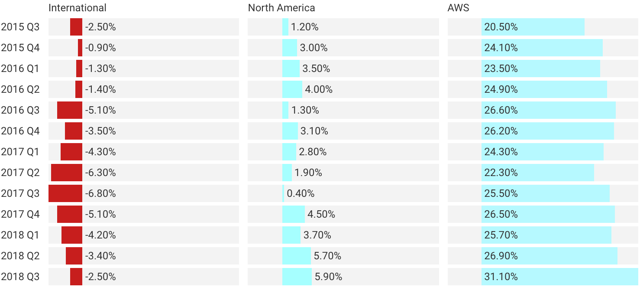 Figure 1.1 Source: Recode.net
Nevertheless, FCF remains an issue for the company, largely due to their massive capex, and AWS and Subscription Services may not be enough for investors to dive into a stock with a 93 P/E multiple. However, most recently, a new entrant, advertising, has entered into the conversation that, in my opinion, changes Amazon's outlook entirely.
Amazon's Sleeping Giant: Advertising
Figure 1.2 below breaks net sales into five different categories, one of which is significantly noteworthy and has caused me to begin buying the stock as the market declines further.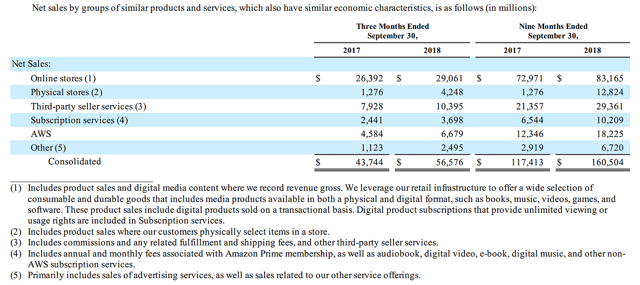 Figure 1.2 Source: SEC Filings
In Figure 1.2, footnote 5 states that "Other" primarily consists of "sales of advertising services…". In the first three quarters of 2018, "Other," or advertising as I will henceforth call it, grew 130% year over year. Some analysts believe that advertising revenues for Amazon could grow to $28.4B per year in the next five years, which at the current rate of growth does not seem unlikely. Figure 1.3 below depicts the growth of advertising in relation to the three current segments Amazon reports.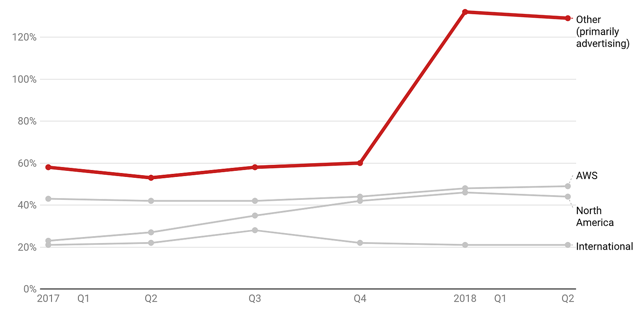 Figure 1.3 Source: Recode.net
What Amazon's Ad Margins Could Look Like
With Alphabet (NASDAQ:GOOG) (GOOGL) generating around $110B per year in ad revenue, $28.4B may be conservative if we look 7-10 years out. And if we extrapolate the costs Alphabet faces in driving ad revenues, we see that there's massive opportunity for a very high margin, cash printing segment of Amazon's revenues. The chart below, Figure 1.4, represents Alphabet's primary advertising cost, which I will use to derive a potential contribution advertising could have to FCF.

Figure 1.4 Source: Alphabet SEC Filings
Traffic Acquisition Costs, or TAC, only consume approximately 40% of Alphabet's revenues generated from the sale of online ads as the chart above illustrates. And although analysts criticize higher TAC costs, especially as of late, the fact remains that the business of online ads is still immensely profitable.
If we use Figure 1.4 (Alphabet's ad costs) as a guide for Amazon's advertising future, then it becomes apparent that there's significant potential for substantial increases to FCF as a result of ad revenues, thereby creating an argument for investment in Amazon even with a market cap of around $800B.
Ads Will Bolster Amazon's Free Cash Flow
In using Alphabet's ad costs as a reference, I calculate that, conservatively, in five years, Amazon's ads business will contribute approximately $12B in free cash flow per year. I calculate this assuming their ad business will have operating margins of approximately 40%. However, when one considers the TAC of only ~40% associated with Alphabet's ad business, this number is certainly conservative.
What Does Ad FCF Mean for Amazon's Valuation?
For the trailing 12 months ended Sept. 30, 2018, free cash flow was $5.384B, as seen in the clipping from their third quarter 10-Q below. Once the ad business matures to a greater degree in five years, it will, according to my estimates, be contributing approximately $12B in FCF. This number does not factor in contributions to FCF from AWS and Subscription Services, both of which will serve as primary contributors in the future.

Source: SEC Filings
In order for Amazon to trade at a P/FCF multiple of 20, the company needs to generate $40B in FCF. If, after five years, ads contributed $12B, AWS contributed approximately $20B due to its current CAGR of around 40% and operating margin of 31%, then, together AWS and Ads would generate around $32B in FCF, and this does not include Subscriptions Services, which currently grows at 51% YoY. Subscription Services represents an access fee any economics class will tell you generates large economic profits (read: free cash flow) for a firm, and its growth remains strong. For further information regarding the growth of these segments of the company, refer to the Figure 1.2 that I shared above.
Bottom Line: Buy Now and Backup the Truck if Amazon Falls Further
The bearish refrain for the past decade has been, "But what about the negligible FCF! The company's margins are razor thin and online retail is a race to the bottom (for prices) that will never be profitable." And even recently, another Seeking Alpha article was published in which the exact argument was made. Amazon has defied expectations through raising Subscription Services' prices and its enormous AWS play that has bolstered FCF via AWS' rapid growth and expanding margins. Now I believe advertising will be the next massive FCF accelerant.
In fact, the online retailer recently ascended to the No. 3 spot in the U.S. digital ad market behind the dominant players, Alphabet Inc.'s Google and Facebook (FB), reports The Wall Street Journal's Lara O'Reilly and Laura Stevens. The cash printing business of advertising will continue to galvanize FCF growth for Amazon, therefore, Amazon remains a buy on any overall market weakness or threats.
Disclosure: I am/we are long AMZN, FB, GOOGL. I wrote this article myself, and it expresses my own opinions. I am not receiving compensation for it (other than from Seeking Alpha). I have no business relationship with any company whose stock is mentioned in this article.