On Tuesday, December 4, troubled midstream master limited partnership American Midstream Partners (AMID) gave a presentation at the 2018 Bank of America Merrill Lynch Leveraged Finance Conference. As is the usual case in presentations like this, American Midstream devoted a significant portion of the presentation to making an investment case in itself. Unfortunately, as I discussed in a recent article, the company has been consistently failing to live up to its potential and has even been targeted by ArcLight for a takeover, which very well may be confirmation that the potential is indeed there.
As is the case with many midstream companies, American Midstream boasts substantial operations in Texas, particularly in the Permian and near the East Texas oil field. This makes sense as these are both among the richest resource basins in the United States. However, most interestingly, the partnership boasts substantial operations in the Gulf of Mexico.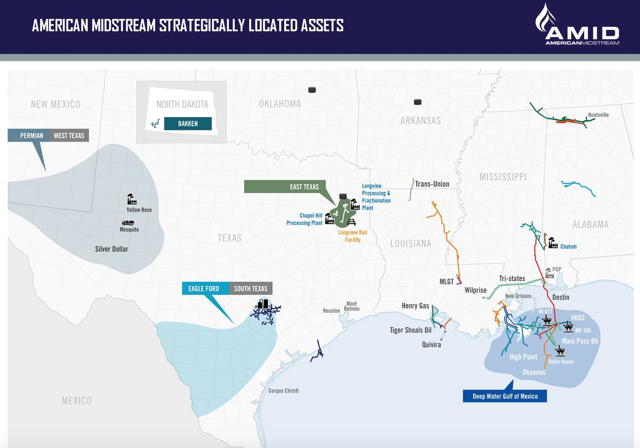 Source: American Midstream Partners
This presence in the Gulf of Mexico is not one that we see very often. There are very few midstream partnerships active in the deepwater environment, with American Midstream and BP Midstream (BPMP) being among the most prominent. However, there are several reasons to like the region. One of the biggest ones is that the deepwater Gulf of Mexico is the third largest resource basin in the United States with total reserves of approximately 4.7 barrels of oil equivalents. As might be expected, this has caused the nation's various exploration and production companies to show interest in the region. Since 2012, we have seen the region's production grow at a 5% compound annual growth rate, with growth expected to continue next year: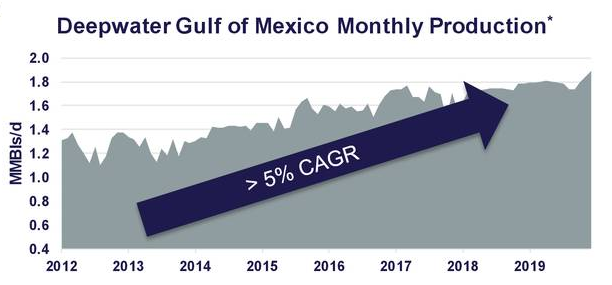 Source: American Midstream Partners
As I have discussed in numerous previous articles, production growth is quite good for midstream companies. This is because midstream companies make their money off of volume. Basically, they charge their customers a fee for each unit of resources that moves through their pipeline networks. Thus, the growing production in the basin should result in growing top-line revenues across the companies in the region's midstream space.
While this is certainly a good thing, it alone would not be sufficient to drive revenue growth for American Midstream. However, the company's commanding position in the Gulf of Mexico is. American Midstream currently gathers 52% of the gas, 25% of the oil, and 98% of the natural gas liquids produced in the Mississippi Canyon, one of the most actively producing canyons in the deepwater Gulf of Mexico. In addition, the company is the dominant midstream provider in several of the largest gas-producing fields in the region, including BP's (BP) enormous Thunder Horse field: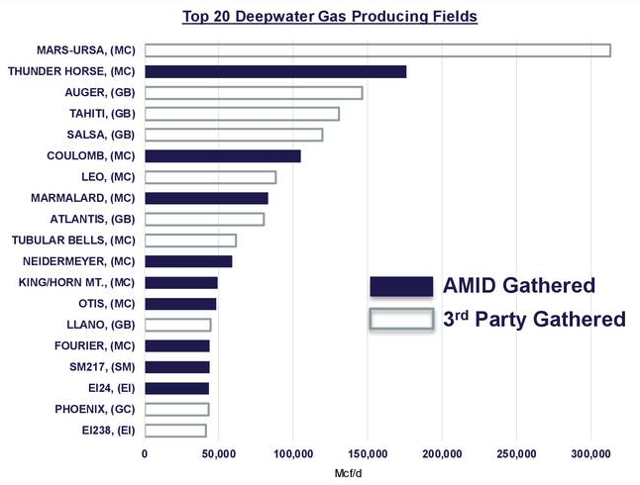 Source: American Midstream Partners
In order to facilitate the processing of natural gas in the Mississippi Canyon, American Midstream was one of the parties involved in the construction of the Delta House floating production system, a floating device that is capable of processing 80,000 barrels of oil and 200 million cubic feet of natural gas per day. Unfortunately, the facility has not produced that quantity over the past several quarters as a result of maintenance programs that took some of the facility's trains out of operation on a temporary basis. It is expected that production levels will soon return to normal though, which should prove beneficial to American Midstream, at least when compared to the disappointing performance that the partnership has delivered over the past two quarters.
Despite the potential of its deepwater Gulf of Mexico assets, American Midstream has been one of the worst performing midstream companies over the past year. As we can see here, the partnership units were trading at $11.85 a year ago and today trade at $4.83. This was a decline of 59.24%.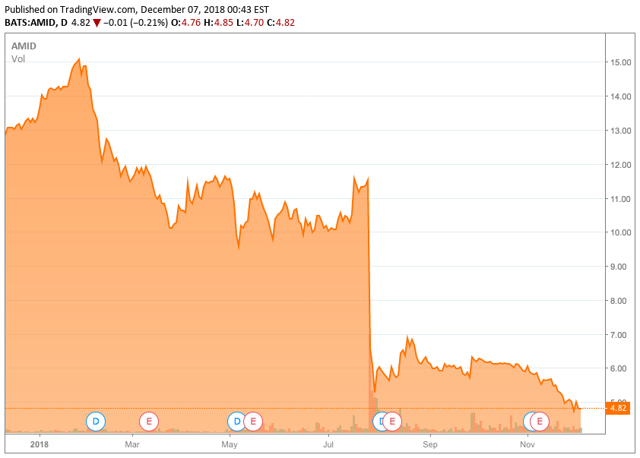 One very notable decline came in July when American Midstream slashed its distribution to focus on reducing its debt. While the market absolutely did not like this move, I personally do not think that it was necessarily a bad decision since one of the factors that was causing MLPs to run into problems a few years ago was their high debt loads. In its presentation, American Midstream presented a plan to bring its debt-to-adjusted EBITDA ratio down to 4.0x. This is usually the figure that I like to see these companies stay at since this is normally indicative of a company that can still carry its debt in the event of a period of industry weakness. American Midstream intends to bring this ratio down through a combination of selling off non-core assets and retaining cash flow that it otherwise would have paid out to investors through its distribution at the previous level. The company has done a few of these things as it has reduced the distribution and sold off $335 million of assets, but it still has a way to go as the ratio stood at 5.5x on September 30.
Unfortunately, even cutting its distribution has not proven enough to allow the company to retain any cash flow and thus bring down this ratio thus far. In the third quarter of 2018, American Midstream had a distribution coverage ratio of 0.8. This means that the company only generated 80% of the distributable cash flow that it needs to pay out its distribution at the current level. The hope thus seems to be that as Delta House volumes return to normal and as production volumes increase in the Gulf of Mexico that the company's distributable cash flow will increase by enough to cover its distribution and leave some left over for debt reduction. This is a reasonable assumption if it ultimately pans out.
One of the problems that many master limited partnerships have is a reliance on the capital markets. This does make some sense as these entities generally pay out all or nearly all of their cash flow to the limited partners, there is nothing left over to allow them to finance their own growth. Thus, the companies are either forced to issue new partnership units or take on debt in order to finance their growth. The problem to this strategy comes about when the markets are no longer friendly towards these entities like what we saw during the oil bear market. This can often leave MLPs starved for capital at times when it is needed most.
A few MLPs have changed their strategy to one of financing their growth initiatives internally, using retained capital. This is being accomplished as you might expect; basically, the company pays out less money to its investors and saves up the cash flow that it does not pay out in order to fund its projects. This is a much safer strategy since it does not leave the company dependent on the markets and thus exposed to the possibility of a capital crunch. American Midstream hinted during its proposal that it may adopt such a strategy due to its new goal of paying out less than it generates, but it seemed hesitant to commit to such a policy, preferring to leave it open as to what exactly it will do with its retained cash (pay off debt or fund growth). When we consider how unfriendly the market has been to this company as of late, such a move would undoubtedly be beneficial for it.
American Midstream Partners is currently the target of an acquisition attempt by ArcLight Partners Fund V, L.P., one of the company's largest holders. Interestingly, American Midstream made no mention of this in its presentation despite the fact that it is one of the biggest issues facing the company today. The private equity fund offered to buy the company for $6.10 per partnership unit. Thus far, the offer has not been accepted but considering that this price is substantially above the current market price, there is a good chance that it ultimately will be. There, thus, may be an arbitrage opportunity here for investors that are brave enough to take it.
In conclusion, American Midstream appears to have some significant potential as production in the Gulf of Mexico continues to improve. However, the company has failed to deliver on optimistic projections before and indeed it just recently failed to cover its distribution despite cutting it in order to retain cash flow. The company's goals are good, the question now is whether or not it can execute on its ambitions. If it can, then there could certainly be a lot to like here. Honestly, though, I am hesitant to recommend the company to anyone that does not have a stomach for this sort of thing. There are better opportunities in the midstream MLP space.
At Energy Profits in Dividends, we seek to generate a 7%+ income yield by investing in a portfolio of energy stocks while minimizing our risk of principal loss. By subscribing, you will get access to our best ideas earlier than they are released to the general public (and many of them are not released at all) as well as far more in-depth research than we make available to everybody. We are currently offering a two-week free trial for the service, so check us out!
Disclosure: I/we have no positions in any stocks mentioned, and no plans to initiate any positions within the next 72 hours. I wrote this article myself, and it expresses my own opinions. I am not receiving compensation for it (other than from Seeking Alpha). I have no business relationship with any company whose stock is mentioned in this article.