How are you feeling about the market lately? The turbulence over the past two months-plus certainly has many investors scratching their heads...but, no need to let the market get your goat.
Keep your eye on the prize and fight back with some Bear Market Busters and alternative strategies.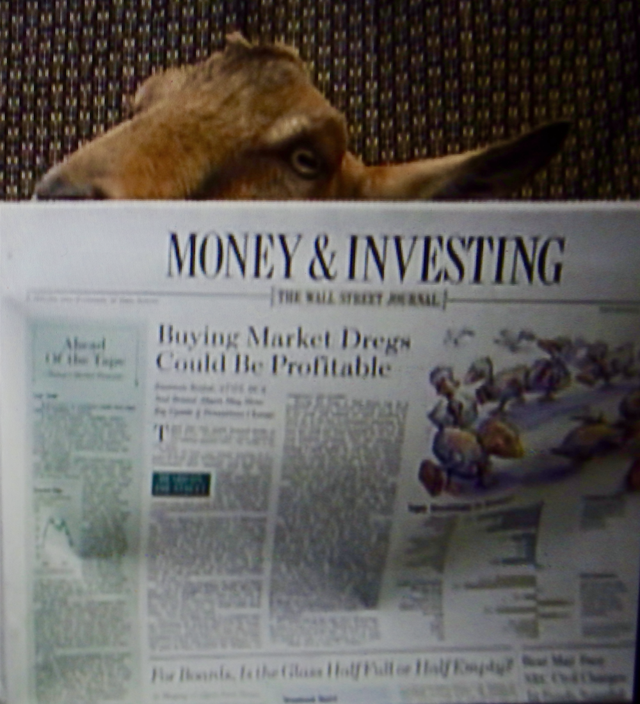 (Source: Private Collection - You wouldn't believe us if we told you)
With a bit of screening, you can actually find a few survivors, but it will take more than the traditional darts on a board strategy. In this case, we started screening for dividend-paying stocks with positive performance over the past month, quarter, and year to date, and then switched the quarter's period to begin at the market's high in September.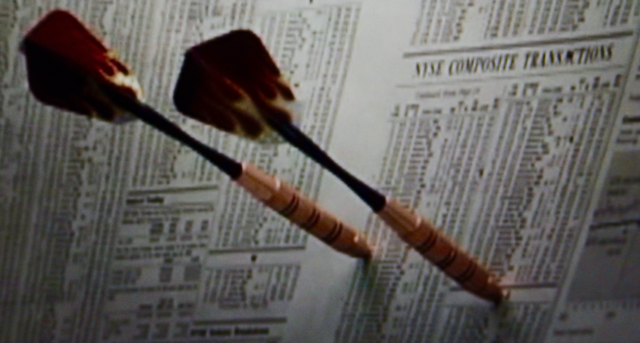 (Source: Private Collection)
There are a few stocks and vehicles which have actually gained since the market highs in September 2018.
We found this disparate group of dividend stocks, all of which have outperformed the S&P 500 since the mid-September market highs. They include an electric utility, a trading brokerage/market operator, and a diversified REIT.
While it's not surprising that a utility stock has outperformed the market during a pullback, we also noticed that certain REIT's have outperformed during this latest pullback. Many REIT's performance have been pressured in 2018 due to the uncertainty of rising interest rates, but recently, with a more dovish Fed tone and a possible end to rate hikes in sight, some REIT's have caught a bid.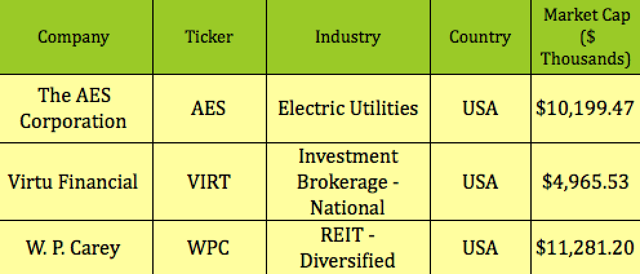 Profiles:
Virtu Financial (VIRT) actually makes money from volatility.
It provides market making and liquidity services through its proprietary, multi-asset, and multi-currency technology platform to the financial markets worldwide. Its Market Making segment principally consists of market making in the cash, futures, and options markets across equities, options, fixed income, currencies and commodities. Its Execution Services segment comprises agency-based trading and trading venues, which offer execution services in equities, ETFs, futures, and fixed income to institutions, banks, and broker dealers. It was founded in 2008, and is based in NY, NY.
We've used VIRT previously in times of high market volatility, with good results.
Aes Corp. (AES) operates as a power generation and utility company. It owns and/or operates power plants to generate and sell power to customers, such as utilities, industrial users, and other intermediaries. It also owns and/or operates utilities to generate or purchase, distribute, transmit and sell electricity to end-user customers in the residential, commercial, industrial, and governmental sectors, and generates and sells electricity on the wholesale market. It uses a range of fuels to generate electricity, including natural gas, coal, pet coke, diesel, and oil, as well as renewables, such as hydro, solar, wind, energy storage, biomass, and landfill gas.
W.P. Carey (WPC) is among the largest diversified net lease REITs with an enterprise value of approximately $17B and a portfolio of operationally-critical commercial real estate that includes 1,186 net lease properties covering approximately 133 million square feet. Founded in 1973, WPC has invested in high-quality single-tenant industrial, warehouse, office and retail properties subject to long-term leases with built-in rent escalators. Its portfolio is located primarily in the U.S. and Northern and Western Europe and is well-diversified by tenant, property type, geographic location and tenant industry.
Performance:
In addition to these three stocks, the 20+ Year Treasury Bond ETF (TLT) has also outperformed the market since the highs, spurred on by a typical flight to safety in volatile times and recent more dovish Fed speeches. TLT is actually down for the year, but has done well over the past month, rising 5.18%, while the S&P has fallen -2.16%.
However, TLT is most likely not a buy and hold vehicle - as you can see from this 10-year chart, it has had some multi-year downdrafts.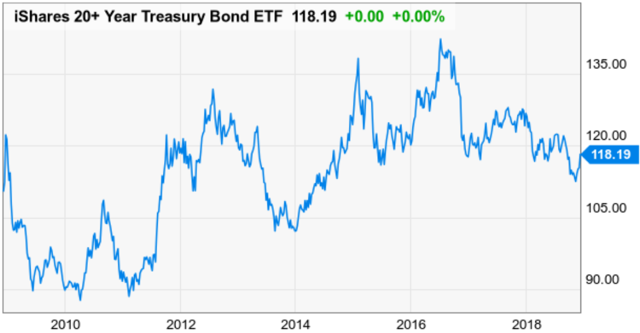 (Source: YCharts)
VIRT leads this trio of Bear Market Busters, with a 16.18% gain since the September high, followed by AES with a 13.69% gain, WPC with a 7.92% gain, and TLT with 1.35% gain.
VIRT and AES also are up substantially during 2018, 41.26% and 42.13%, respectively, while WPC is only up 1.6%. TLT is actually down in 2018, not surprising in a year of rate hikes, but it still can function as a "safe heaven" temporarily, in turbulent periods, such as this latest pullback.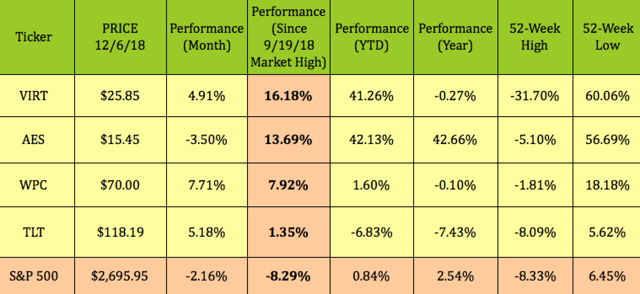 Technical and Trading Data:
TLT has the highest trading volume, wit 9M shares traded daily, followed by AES with 6.65M, whereas VIRT and WPC are much more thinly traded, with 1.12M and 1.32M shares, respectively.
VIRT has had the highest volatility over the past month, at 3.47%, while TLT has had the lowest, at .66%. However, TLT has the highest Relative Strength of this group over the past 14 days, at 77.78.
Their recent rise in price has put two of the three stocks at or above their consensus price targets - AES is just below its $15.78 price target, while WPC is actually 4.3% above its $67.13 target.
Only VIRT remains below the consensus price target - it's still 9.8% below its $28.38 target: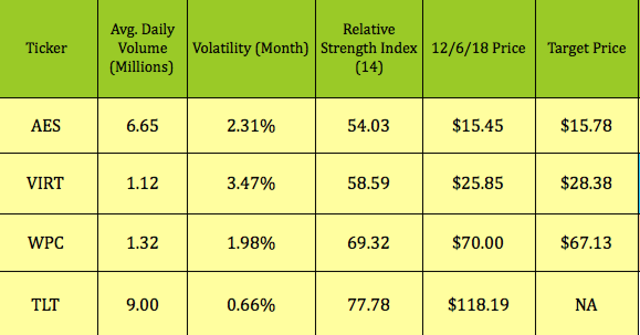 Valuations:
So, how do you compare three disparate stocks like these? For starters, try looking at their valuations vs. their individual industry averages in order to get a feel for where they sit currently.
While AES has a much higher trailing P/E than its broad industry averages, its forward P/E is much lower, which speaks well for its earnings in 2019. Its price/sales of .95 is much lower than industry averages, but its price/book is much higher.
VIRT has the lowest P/E of the group, at 11.14, which is also much lower than its industry averages, whereas its forward P/E of 15.70 is higher than its trailing P/E. The consensus 2018 EPS estimate is $1.71, vs. $1.65 for 2019.
VIRT looks cheaper than broad industry averages on a price/sales and price/book basis.
WPC has a slightly lower trailing P/E, at 26.57, than its industry average, but also has a higher forward P/E of 29.81 vs. its trailing figure. Its forward earnings consensus is $2.35 for 2019, vs. ~$2.65 for 2018.
AES has the lowest dividend payout ratio, at 24.07%, followed by VIRT, at 35.29%, and WPC, which, as a REIT, uses funds from operations - FFO, as its payout metric, which was 84.53%.
Dividends:
WPC leads by a wide margin, with a 5.86% yield, followed by VIRT, at 3.71%, AES, at 3.37%, and TLT, at 2.72%.
TLT pays monthly and usually goes ex-dividend on the first business day of the month. However, it pays two dividends in December, and skips January. The three dividend stocks all pay quarterly.
WPC has a string of 22 consecutive quarterly dividend hikes going and also has 20 straight years of increasing its dividends. It looks like they're aiming to be added to the Dividend Aristocrats list in the future.
VIRT has kept its payout steady at $.24 since Q3 '15, while AES has raised its quarterly payout by $0.01 in January of each year since 2016, so we'll probably see a $.14 Q1 '19 dividend announcement from them.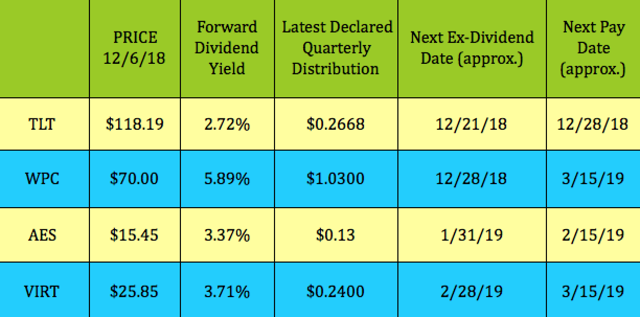 Financials:
AES has the highest debt/equity load of this group - that makes sense, since it's in a capital intensive industry, while VIRT has the lowest debt/equity load. All three companies have higher debt loads than their respective industry averages, while VIRT has the highest interest coverage ratio, which is also much better than its industry average.
VIRT and WPC have stronger ROE ratios than their industries' averages, while all three companies have lower than average operating margins.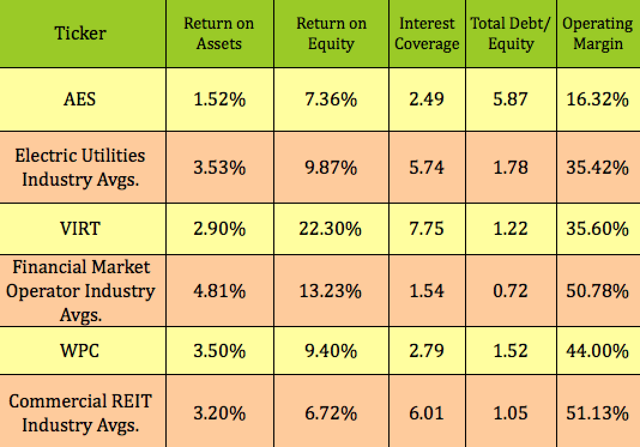 Options:
If you want to "hedge your hedge," here are some alternative strategies for these stocks.
VIRT's March 2019 $30.00 call strike pays $.70, nearly 3X its $.24 quarterly payout.

The addition of this $.70 option premium boosts your short-term yield from a skimpy .93% to a more respectable 3.64%, or 9.88% annualized, for the three-month plus term of this trade. The $30.00 call strike is out of the money, at $4.15 above VIRT's $25.85 price, so, if your shares did get assigned prior to the late February ex-dividend date, you'd earn $4.85 in price gains and option premium.
Our Covered Calls Table, which is updated throughout each trading day, can show you more details for this and over 25 other trades.

VIRT also has put-selling yields which are more attractive than its covered call yields. We've listed two here, as an illustration of how the relative payouts and yields vary between put strike prices.
Our Cash Secured Puts Table, which is also updated throughout each trading day, can show you more details for this and over 30 other trades.
VIRT's at the money $25.00 March put strike pays a very attractive premium of $1.70, which gives you a 24.82% annualized yield, and a $23.30 breakeven:

Its more conservative, $22.50 put strike is further below VIRT's $25.85 price/share, giving you a lower $.80 premium, but also a lower breakeven of $21.70.

You also can enhance your short-term yield for AES via this February $16.00 call strike, which pays $.30, over 2x AES's quarterly dividend.

The $16.00 strike is $.55 above AES's $15.45 price/share, and offers a static yield of 2.78%, or 14.51% annualized, over this two-month plus period. Your yield would be higher if your shares were to be assigned prior to the late January ex-dividend date. This would result in a 5.50% yield.

WPC has an April out of the money $75.00 call strike which pays $.60 that can add an extra $.60/share to the next two dividend payout total of $2.06.
Even though the $.60 call premium is 2X that of the AES February $.30 premium, this option payout has a lower annualized static yield, of 10.35%, due to its longer time period, of four months plus, vs. only two months plus for the AES February trade.

Summary:
As we've detailed in this article, these "Bear Market Busters" have been an effective way to fight the latest market pullback. Will they work every time? Probably not - it depends upon the circumstances, since market pullbacks can be caused by different events. However, they can serve as additional tools in your arsenal and help you defend your portfolio.
The intention of this article is to give you a starting point for your research on these vehicles. We'll be profiling more Bear Market Busters, as we discover them, in the upcoming installments of this series.
All tables furnished by DoubleDividendStocks.com, unless otherwise noted.
Disclaimer: This article was written for informational purposes only, and is not intended as personal investment advice. Please practice due diligence before investing in any investment vehicle mentioned in this article.
CLARIFICATION: We have two investing services. Our legacy service, DoubleDividendStocks.com, has focused on selling options on dividend stocks since 2009.
Our Marketplace service, Hidden Dividend Stocks Plus, focuses on undercovered, undervalued income vehicles, and special high yield situations.
We scour the US and world markets to find solid income opportunities with dividend yields ranging from 5% to 10%-plus, backed by strong earnings.
These stocks are often low beta equities that offer stronger price protection vs. market volatility.
We publish exclusive articles each week with investing ideas for the HDS+ site that you won't see anywhere else.
Disclosure: I am/we are long AES. I wrote this article myself, and it expresses my own opinions. I am not receiving compensation for it (other than from Seeking Alpha). I have no business relationship with any company whose stock is mentioned in this article.