Coupa (NASDAQ:COUP) reported another very strong Q3 earnings and the stock reacted quite the opposite, down ~10%. However, the stock has since pared most of the losses. Though still down ~25% from their all-time highs, Coupa's Q3 earnings reinforces their consistent revenue growth and earnings potential in light of a weak overall market.
Revenue growth accelerated to 42% y/y growth, reaching $67.5 million for the quarter. This was ~$5 million above consensus estimates. It seems like the company continues to grow at astonishing growth rates despite other growth tech names slowing down their pace of growth.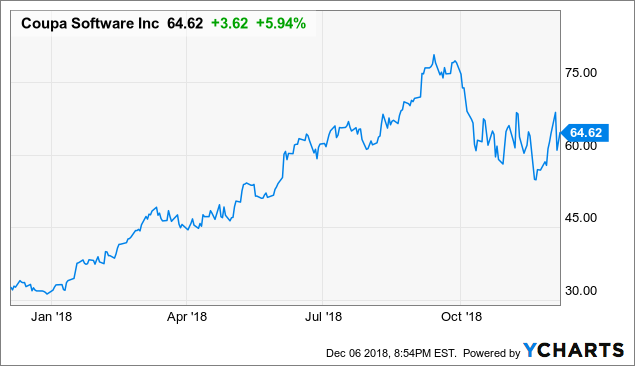 Though the stock is still down ~25% from recent highs, valuation appears to be more attractive now than a few months ago. Coming off a strong Q3 earnings report, Coupa is in a great position for investors to pile funds into a ~$250 million run-rate company growing 40%+. Not a bad name to put some money into during this challenging market where a lot of tech names have gone down post earnings.
Q3 Earnings and Guidance
Revenues grew 42% y/y to $67.5 million which was well ahead of consensus estimates for $62.6 million (+32% y/y). Their revenue actually accelerated ~400bps compared to Q2 revenue growth of 38% y/y. Coupa has a history of not only beating consensus estimates, but doing so in a very powerful way. The 10-percentage point this quarter was slightly lower than the 11-percentage point beat in Q2.
Either management does not have the best understanding of guidance or Coupa truly is one of the fastest growing software names in the market. I am a full believer in reason number 2 which is the main driver behind Coupa's premium valuation, albeit well deserved.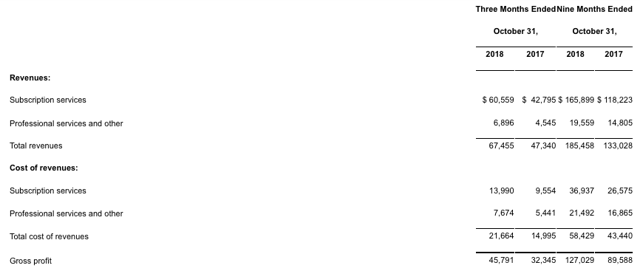 Source: Company Presentation
During Q3, management remained very confident on their ability to land new deals, announcing new wins such as the Golden State Warriors and American Airlines (AAL). The addition of large, well known enterprises helps the branding of Coupa, but not in the same sense as Target (TGT) or Walmart (WMT) need branding. Software sales tend to be very sticky, meaning once Coupa software is installed into these enterprises, they are not likely to switch providers without major cause.
In addition to their strong revenue growth, Coupa reported gross margins up 73.3%, which were up 70bps from 72.7% in the year ago period. Their strong subscription revenue is the main driver of margin expansion and will be the driving factor even as the company continues to scale. Typically, a software company's services revenue comes with near-breakeven gross margins, as these are ancillary revenue streams that enterprises need to have but have low margins (service/support).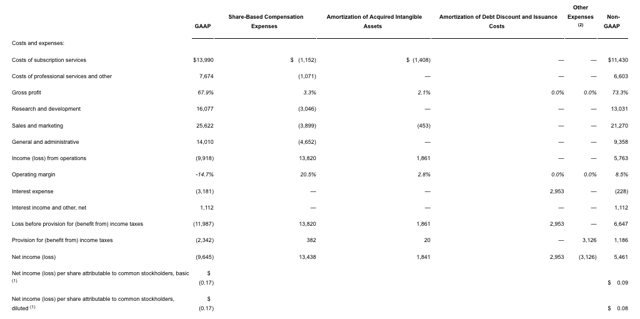 Source: Company Presentation
Moving further down the line, operating margins expanded to 8.5%, a significant improvement from the (5.0%) operating margin loss in the year ago period. As the company continues to expand, scale, and become more well-known, they have been able to spend less in S&M, one of their largest operating expense lines.
This led to Coupa reporting EPS of $0.08, which was $0.10 better than consensus estimates for a loss of $0.03. As Coupa's revenue growth remains very strong and margins slowly expand, we should continue to see profitability in upcoming quarters.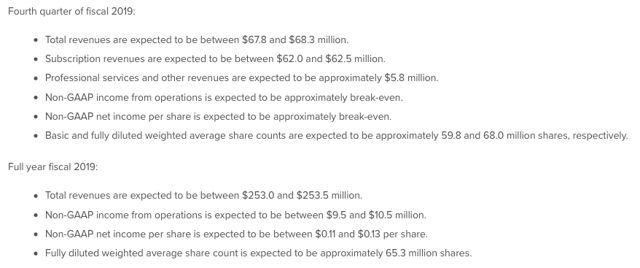 Source: Company Presentation
Management also provided guidance for Q4, with revenue expecting to grow 27% y/y, which would be a significant deceleration from the 42% y/y growth in Q3. I would imagine revenue ends up growing closer to 35% in Q4, and although would be a ~700bps deceleration from Q3, this would be closer to Q2's revenue growth of 38%. Management's Q4 revenue guide was well above consensus estimates for 19% y/y growth, which was very conservative.
Valuation
Coupa remains a technology leader and their revenue acceleration and margin expansion are testaments to this. Coupa demonstrated they are capable of generating positive earnings, despite consensus estimating a net loss. As the company continues to grow revenue at 30-35% and expand margins over time, investors will continue to pay a premium to own this name.
With a path to profitability now in sight, which is a similar story to another high-growth tech name in Zscaler (ZS), Coupa's current multiple seems to have priced in another strong year of growth ahead of them and possibly some implications that the company will become profitable next year.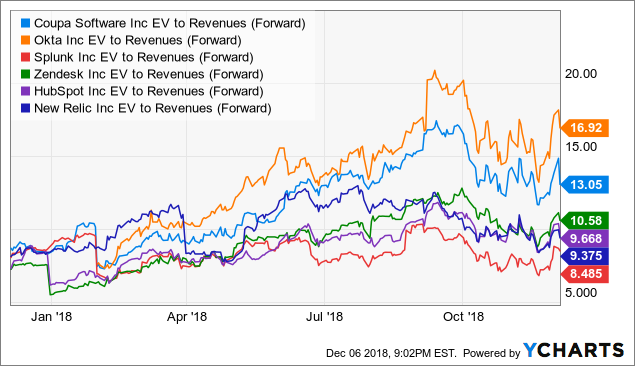 Coupa does remain one of the more expensive tech names to own, however, they have the revenue growth and margin profile to back up their valuation. Valuation has come down 3-4 turns from the recent highs and investors immediately jumped on the post-earnings weakness, driving the multiple back up closer to 13x.
Compared to other tech names, this is a more challenging stock to own on valuation. Though fundamentals remain strong, investors could see better growth opportunities with less downside risk from tech names whose valuations are closer to the median. For now, I remain on the sidelines, although I am a big believer in the long-term growth and earnings potential from this powerful name.
Investors who own this name should hold on to for the long-term and investors looking to build a position should look for any weakness or multiple contraction before jumping all in.