Co-produced with Jussi Askola and PendragonY for High Dividend Opportunities.
The Property REIT sector has been a defensive sector during the recent market volatility. In fact, in the past three months, the S&P 500 index has returned -6.2% at a time when the Property REIT sector has returned a positive 1% for the same period.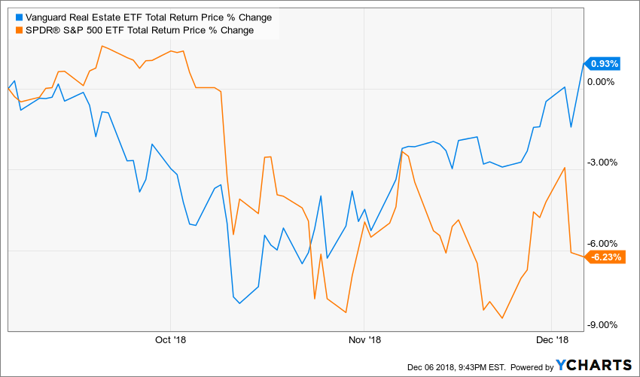 We recently made the case on why income investors and especially retirees should be invested in Property REITs in a report posted right here on Seeking Alpha entitled Why Property REITs Are A "Must Own" For Retirees And Income Investors.
We view that the Property REIT sector offers both deep value today, in addition to high yields, and is one of the best sectors to be invested in for the next two year at least.
UMH Properties (NYSE:UMH) is our top pick among "high growth" REITs because according to our analysis this REIT should be able to expand its portfolio NOI at a much faster pace than average.
In this sense, the latest earnings report (Q3 2018) proved to be very successful as our thesis continued to play out:
High NOI Growth: The community NOI saw a sharp 14% increase compared to last year, which is even more than we had anticipated. On a same-store basis, the NOI rose by 8%.
High Rent Growth: The company managed to hike rents by up to 11% on average during the quarter.
High FFO Growth: It resulted in strong FFO per share growth for the quarter. The FFO rose by a staggering 27% for the quarter as compared to last year.
When a REIT is able to target such high-growth rates while paying an attractive 5.7% dividend yield, you have a recipe for high total returns. Noting that, in March, we took a position in UMH claiming that there could be up to 35% upside in the near term. Fast forward by eight months, and we did reach that goal, and now, after the recent drop in share price, the same opportunity is offered to us once again: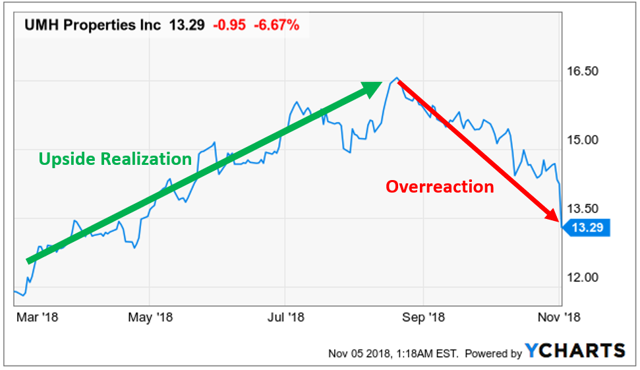 Interestingly, we believe that the drop was almost fully unwarranted – making the shares exceptionally opportunistic today. The market is overreacting to a "one-time" factor that has nothing to do with the main business of the company or with this company's very strong fundamentals. We will explain the reason for the recent selloff later in this report.
We are taking advantage of the sell-off to increase our position, and expect a strong rebound in the near term, here is why.
Manufactured Housing Is Poised for "High Growth"
Generally speaking, REITs are more geared toward high income generation and less so toward growth. Yet, there exists a few exceptions of seemingly "boring" real estate companies that are able to rival the growth rates of high-tech companies while paying high income to their shareholders at the same time.
As a leading landlord of manufactured housing (MH) communities, we believe that UMH is one of these few exceptions.

There are five main reasons why MH communities are able to target superior growth rates as compared to other properties:
High Barrier to Entry: While the demand for affordable housing continues to grow on a yearly basis, the supply of manufactured housing communities is very limited. Cities are reluctant to allow new communities to be built due to lack of space, and therefore, we are not seeing enough new supply to meet the demand.
Rents Remain Very Affordable: As compared to regular apartments or houses, the rents of MH communities remain very low – providing greater value for their residents. Rents and house prices are reaching very high levels today, causing the home ownership rate to drop to historically low levels. In this context, manufactured housing becomes an increasingly viable alternative with greater growth potential in future rents.
Occupancy Levels have Room for Expansion: With limited new supply, but ever-increasing demand, it's not surprising that occupancy levels are rising with less and less empty lots to be found.
Added Capacity to Current Communities: While most cities tend to be very strict on not allowing new communities to get built, they have shown greater flexibility in allowing the existing ones to expand their lot counts on neighboring land in certain cases. It's a big competitive advantage to current owners, as it allows to grow cash flow with minimal new investments.
High Margin Business: Unlike most real estate investments which include land and improvements, MH communities commonly only rent the piece of land (lot) on which the tenant brings their own improvements. As such, MH investors has very limited capex needs over time as he just needs to maintain the lot, utilities and other amenities in condition, but the expenses for the house itself are born by the occupant. Moreover, since it's difficult and costly to move the house to another community, the tenant turnover is minimum – leading to a high margin business.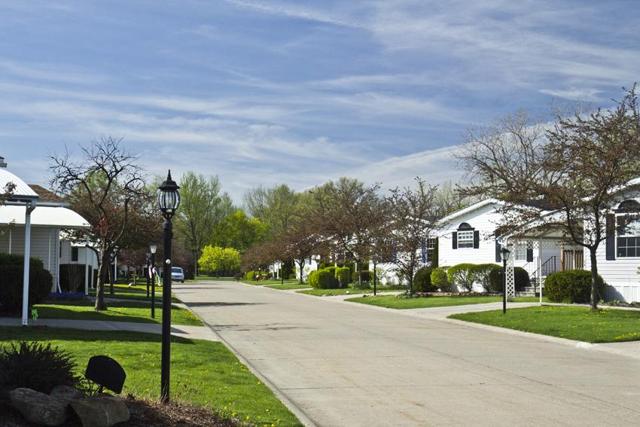 As one of the biggest Manufactured Housing landlords of the nation, we believe that UMH is poised to capture the high-growth of its sectors in the coming years.
UMH Properties Is Positioned to Profit
UMH is one of the largest MH investors with a market cap of over half a billion and it's structured as a REIT to enjoy tax advantages. The Portfolio consists of 115 communities containing up to 20,700 developed sites mostly located in the rust-belt region of the US. Here are the key markets ranked from the largest to the smallest:
Pennsylvania: 41.7% (of communities)
Ohio: 27.8%
Indiana: 12.2%
New York: 6.1%
Tennessee: 6.1%
New Jersey: 3.5%
Michigan: 1.7%
Maryland: 0.9%
Put on a map, it looks like this: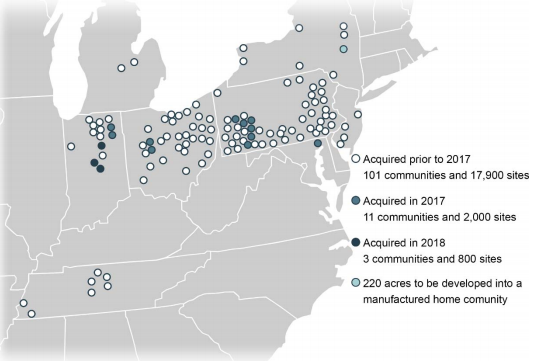 The portfolio is very well diversified, but nonetheless concentrated to one key region – allowing for efficient management of the assets. While the rust-belt region may be less glamorous than coastal markets for most investors, we have a particularly favorable near-term outlook for this region because rising energy prices along with the resurgence of manufacturing jobs are reviving the rust belt. It has led to low unemployment and growing household formations. UMH is catering to exactly this segment of low to middle class workers with a great need for affordable housing.
UMH has been aggressively expanding to take advantage of this opportunity and significantly outperformed the broader real estate markets in the last five years: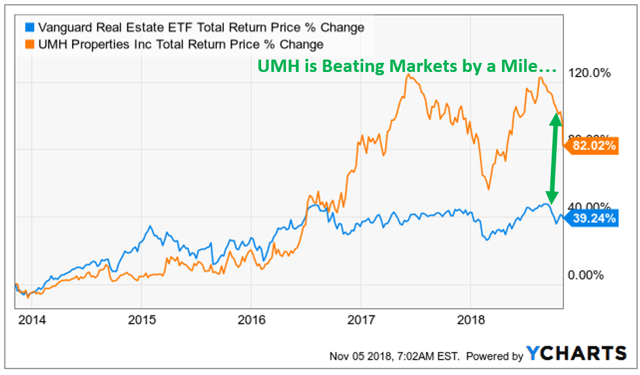 Today, we believe that the company is positioned for this outperformance to continue even stronger than before because very significant cash flow growth is just kicking in:
The existing portfolio is expanding NOI at a fast pace.
Recent value-add acquisitions are starting to bear fruit.
New lots are being developed and rented.
The rental homes business is expanding faster than ever before.
NOI Growth Is Very Healthy
NOI or "net operating income" is a function of rents, occupancy level, and operating expenses.
In the case of UMH, rents are rising at fast pace because the demand for affordable housing keeps on surpassing the new supply. UMH is currently charging a monthly rent of $424 which remains very affordable in comparison to other alternatives. Even at $500, it would be very difficult for tenants to find a cheaper alternative – leaving ample room for more rent increases in the future. Moreover, since moving a manufactured house from one site to another is very costly, it's preferable for most tenants to just accept the rent increase rather than pay potentially thousands of dollars to move to another lot.
In addition to rent increases, UMH is consistently achieving higher occupancy rates, resulting in even greater NOI growth. Since 2015, the average occupancy has kept on rising every single year: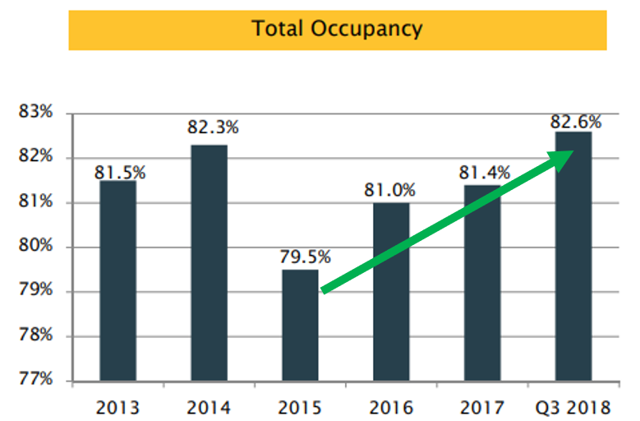 Every 100-basis point here adds tremendous NOI as it flows straight to the bottom line with minimal added expenses. We believe that in the light of the current market conditions, UMH is set to get closer and closer to 85% over the coming years – adding significant growth to the equation.
Last quarter was once again a good example of what UMH can achieve here with a hefty 14% increase in community NOI as compared to last year.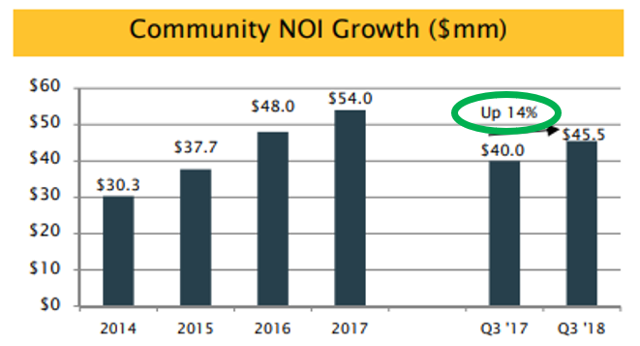 Value-Add Acquisition Profits Kicking In
UMH has an extensive track record of buying poorly managed MH communities and turning them around into high-quality properties with significantly higher cash flow and value.
The company has invested close to $100 million into such acquisitions since the start of 2017. This is very significant when you consider that the company has a market cap of just about $500 million today.
Initially when these properties are bought, they may underperform in the immediate term as UMH invests in improving them and incurs abnormally high expenses. However, once these improvements have been made, it's common for UMH to achieve much greater occupancy rates and rents. Here's a great case study to use as a master-piece example of how UMH can add value: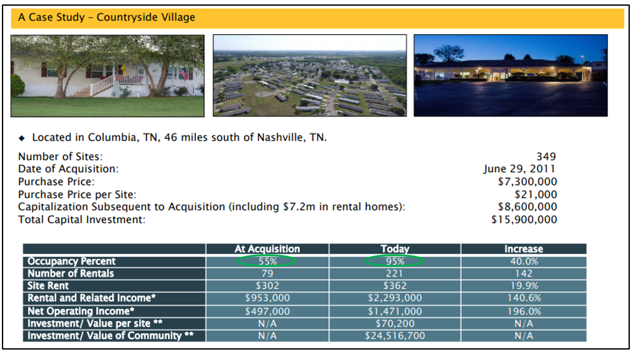 UMH bought the community with an occupancy at acquisition of 55% and a low $302 site rent. Today the same property is leased at 95% with a $362 site rent. The value creation is massive here. This case study is one example, but far from being an exception. After investing close to $100 million in such new projects in the past 2 years, we can soon expect significant organic growth to occur.
New Lot Developments Is a High-Margin Business
While we consider the NOI growth to be "organic," UMH also is targeting "external" growth by developing new lots for future homes on sites adjacent to its current properties.
UMH currently owns up to 1,635 undeveloped acres of land that could be converted into 6,540 new lots over time (four lots per acre). This won't get done overnight as getting permits and zoning isn't easy, but UMH is well positioned here to negotiate with local authorities because:
The sites are mostly connected to current MH communities so there's no need to create new ones.
There's a clear lack of affordable housing and occupancy rates keep creeping up along with rents.
Since 2016, UMH has added 2,700 new lots to its portfolio by developing its sites and buying new undermanaged communities: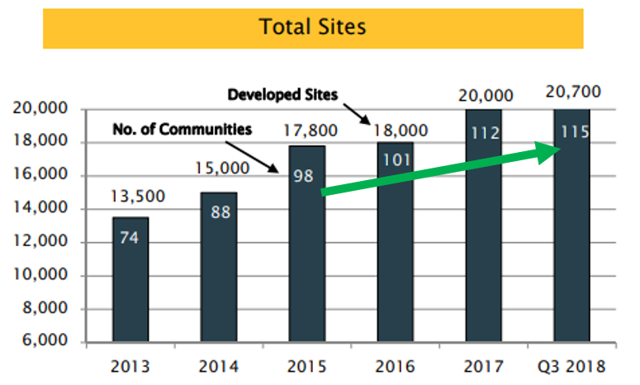 The best part here is that developing a new lot is relatively inexpensive since in many cases UMH just has to connect them to the already existing utilities and amenities. In other words, it's a high-margin and high-growth business.
Expansion of Rental Portfolio to Boost Cash flow
Not every MH community tenant can afford to buy their own home and lease the land beneath, so UMH has started to cater to a different clientele by adding a portfolio of wholly owned homes to its sites.

This has been exceptionally lucrative for the company because since it already owns the land, the only additional cost is to add the home on it. Moreover, since it can buy houses on bulk, it will generally get preferential pricing.
By renting these homes, UMH has been able to earn 20%-plus returns on equity thus far, and it plans to add up to 800 new units per year to its already massive 6,800-unit portfolio. With such exceptional results, we are happy to see so much capital redirected towards this business.
Significant Deleveraging Boosts Future Growth and Safety
One thing that appears to have gone almost unnoticed to the financial community is that UMH has significantly deleveraged its balance sheet in the past few years. Most investors are fixated on FFO per share growth and forget that real estate investing is much more than that. UMH has been actively reducing the risk of its balance sheet by issuing new shares and repaying down debt.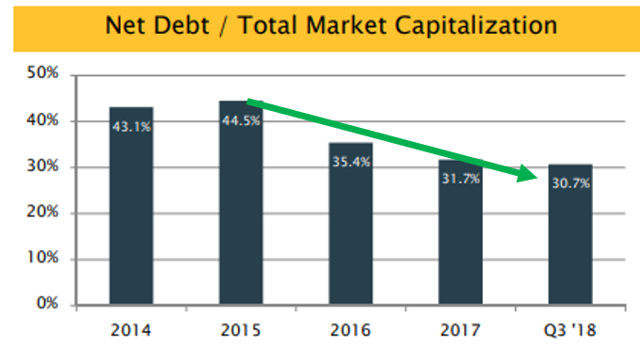 From close to 45%, the net debt is down to just about 30% today which is very conservative. This is especially true when you consider that this ratio is relative to the "market capitalization" which is today undervaluing the equity in our opinion.
The now reduced leverage puts UMH in an optimal situation to enjoy its future growth with lesser risk. It also leaves greater flexibility to boost growth with additional leverage in the coming years if desired.
The Third Quarter Results Create Opportunity
As we explain in the introduction of the article, the third quarter of this year was a great success. The company achieved significant growth in NOI, rents, and FFO per share. In other words, our thesis continued to play out, and yet the stock fell like a rock.
The reason for the drop? UMH has been required to adopt a new accounting rule to include the change in the fair value of their marketable securities (or in their current assets). At the end of the quarter, the company had a securities portfolio of $131 million with a net unrealized loss of $8.2 million. This represents a $10.5 million net decrease in fair value for the quarter.
We believe that the drop in the share price is an opportunity because:
These are only paper-losses resulting from the fluctuating value of a securities portfolio. One quarter it's up, one quarter it's down – not a reason to sell off in our opinion. The whole REIT market has been down recently, so this is not really a surprise.
The temporary paper losses are hiding the very strong performance of the main business which represents about 90% of the total market capitalization. This is where our focus should be. As the management points out:
UMH is on its way to an excellent 2018… We are very well positioned for the future. Our business plan of acquiring communities with vacancy has provided us with a runway to further improve upon our operating numbers. We have the ability to grow the company by filling our vacant sites, developing expansion sites and acquiring additional properties."
These are not just empty words. The management has been busy doing just that over the years, with fairly good success. The diversified portfolio of manufactured housing properties continues to deliver very solid results and has ample growth ahead of it.
Despite that, the shares are now trading at a very low valuation for a high-growth company following the recent sell off.
Deeply Discounted Valuation Post Sell-Off
We look at valuation on three fronts here to determine whether UMH is undervalued, fairly valued or overvalued:
1- FFO Multiple relative to peers
After the sell-off, the shares are currently priced at about ~$13, the FFO multiple of the company is just 16.4x, which is up to 25% less than the closest peers Equity Lifestyle (ELS) and Sun Communities (SUI).

UMH is therefore priced very cheaply relative to peers, and this is especially true when you consider that UMH is enjoying even stronger NOI growth.
2- Pricing relative to net asset value
While the shares appear undervalued from an FFO multiple perspective, they are even cheaper when looking at the price to NAV. This is because while multiple valuation metrics ignore the land bank, NAV takes into account the value of all its assets. According to management, the market is significantly undervaluing the portfolio at less than $40k per site compared to private market valuations in the range of $50k to $70k per site. Given the high cash flow growth, we expect the valuation range to keep getting closer to the higher end of $70k per site – making the upside case even stronger.
3- Dividend yield relative to growth potential
Higher growth REITs such as Digital Realty (DLR), Equinix (EQIX) and Prologis (PLD) commonly trade at very low dividend yields of around 3%.
This is because most of the return comes from the price appreciation that follows profitable growth. In the case of UMH, we have a high-growth company that yields an attractive 5.7% based on today's share price.
37% Upside to Fair Value
With a potential for over 10% FFO per share growth in the coming 2-3 years, we believe that a fair multiple for UMH would be closer to 22x FFO which would result in a 17.82$ share price – or about 37% upside.
| | | |
| --- | --- | --- |
| Implied FFO Multiple | Implied Share Price | Implied Upside |
| 22 | $17.82 | ~37% |
This also is in line with the average analyst expectations for the firm. Based on the latest data from the Wall Street Journal, there were four analysts who cover the stock with an average consensus price target of $17.5/share, suggesting a ~ 37% potential upside from the current price (source: wsj.com). Our price target is very reasonable and we believe it could be achieved within the next 12 months.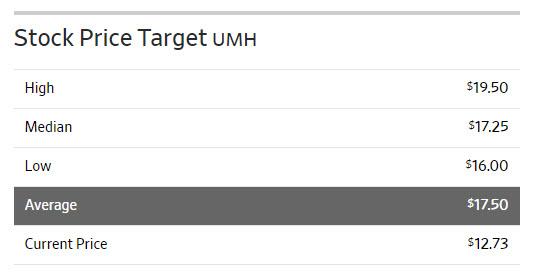 Assuming 2-3 consecutive years of 10%-plus FFO growth, in addition to the current dividend yield of 5.7%, we expect patient shareholders to do very well even without a repricing of the shares to a higher multiple.
High Insider Ownership
Finally to wrap it up, the management is one of the largest owners of the shares with a high insider ownership at 11%. It's very well aligned with shareholders and incentivized to keep on performing and attaining the high growth rates that we expect. By maximize your wealth, they are essentially maximizing their own.
Risks
We see three main risks to our thesis:
The new regulation forcing UMH to declare the profit/loss of its securities portfolio within its FFO could create added "headline risk" in the future despite not having really any fundamental impact on the company.
While UMH may have above average resilience to recessions as compared with the average business, it has a large exposure to the "rust-belt" location which we expect to do worse than the locations of its peers in a downturn.
The NOI growth rate could slow down for various reasons including a slowing economy, dropping energy prices, or increased property taxes. While we do not see this happening in the coming 2-3 years, it's a risk to monitor closely.
Bottom Line
The recent sell-off in UMH appears to be way overdone, and we are increasing our position to take advantage of the low prices. In the long run, as the company keeps posting solid NOI growth, we expect the shares to return to over $17 per share where they were last year.
UMH is a leader in MH investing with one of the nation's largest portfolios.
MH communities are enjoying rapid NOI growth and UMH is taking this growth one step further by developing new sites, adding value to poorly managed assets, and investing in rental homes.
The company has significantly deleveraged its balance sheet – positioning it for even greater growth and safety in the future.
Looking at the valuation from three different angles, we come to the conclusion that UMH is significantly undervalued relative to its growth potential.
A repricing to a higher FFO multiple could unlock 30%-plus upside in the near term, which is in-line with analysts' consensus expectation.
With a generous 5.7% dividend yield, over 10% annual FFO growth potential, and little leverage, UMH is an exceptional buy in today's market environment.
A note about diversification: To achieve an overall yield of 9%-10% and optimal level of diversification, at High Dividend Opportunities we recommend a maximum allocation of 2%-3% of the portfolio to individual high-yield stocks like UMH and a maximum of 5% allocation to high-yield exchange traded products (such as ETFs, ETNs and CEFs). For investors who depend on the income, diversification usually results in more stable dividends, mitigates downside risk, and reduces the overall volatility of your portfolio.