Vipshop (VIPS) is a Chinese e-commerce company and is the largest online discount retailer in terms of transaction value. The company specializes in apparel, footwear, and cosmetic products and generally targets female shoppers from mid to lower-tier cities. Vipshop's strategy revolves around utilizing flash sales in which they sell off-season products in limited quantities at deep discounts.
Despite Vipshop's recent beat and its valuation discount widening relative to peers, we remain wary on the stock given 1) competitive pressures from the likes of Alibaba (BABA) and Pinduoduo (PDD), 2) execution risk as VIPS shifts focus to margins vs growth, and 3) lower user spend from new users acquired through Tencent's WeChat (OTCPK:TCEHY) and JD.com (JD).
Earnings results mostly small beats across the board
Vipshop reported 3Q18 earnings results on 11/14/18 after the market close. Revenue came in as expected at RMB 17.8 b which was a 16% increase yoy but was a 14% drop qoq, 2% above estimates. Active customers came in at 26.5 m which was an 11% increase yoy but fell 11% qoq, 1% below estimates. Average revenue per user was RMB 673 which was a 5% increase but a 3% decline qoq, 2% above estimates. Order numbers were 95.7 m which was a 29% increase yoy but a 14% decrease qoq, 8% above estimates. Gross margins were 20.4% which was a 0.9% decrease yoy but a 0.9% increase qoq, 0.5% above estimates. Non-GAAP EPS was RMB 0.75 which was a 16% decrease yoy and a 11% decrease qoq, 17% better than estimates. 4Q18 revenue guidance came in at 8-13% yoy growth, which was in the range of analysts' 12% yoy estimates.
One thing to note is that for the 11% yoy growth in active users, 22% of them came from WeChat and JD via Vipshop's partnership with these Tencent and JD.com, although these new users were partially responsible for the decrease in average order size. Vipshop's existing customers, on the other hand, continued to be loyal and accounted for 85% of active customers and 96% of total orders. In addition, their paid Super VIP customers were 2.3 m this quarter which was a 21% qoq increase. These customers tend to have smaller but more frequent orders. Management has stated that they are focusing more on profitability over top line growth by phasing out lower margin categories and focusing on off-season and higher margin products, especially female apparel.
After Vipshop reported earnings, the stock closed up 5.8% from the previous day's close, although at one point it was trading as high as 14.2% above the previous day's close. Even with that, however, the stock is still down 54.3% YTD.
Growth Potential
Following Alibaba's Tmall and JD.com, Vipshop is one of the larger e-commerce sites in China. In terms of online discount retailers, however, Vipshop is number one, and controls 38.1% of the market share. According to Vipshop's own website VIP.com, over 20,000 brands have cooperated with Vipshop, of which over 2,200 brands have developed exclusive online cooperation with VIP.com. Vipshop has served over 300 million users in China, although only roughly 26.5 m are active users.
Vipshop has also received investments from Tencent and JD.com, who have 7% and 5.5% stakes in Vipshop, respectively. Tencent, which also is JD.com's largest stakeholder of 20% is hoping to compete with the leading Chinese e-commerce, Alibaba. Via this partnership, Vipshop can utilize Tencent's popular messaging service WeChat and the shopping conveniences it offers to drive up demand as well as Tencent's online payments system to improve its margins. This partnership with JD.com also allows both companies to reach a wider customer base, especially in the fashion business. Indeed, these partnerships have proven effective and have contributed to Vipshop's user base.
Furthermore, Vipshop's users tend to be very sticky and contributed 96% of total orders last quarter and account for 85% of active users. The main growth potential for Vipshop comes from if it can retain its existing users and Super VIP users and continue to utilize its partnerships with Tencent and JD to grow its user base and improve its margins.
Headwinds in a highly competitive industry
The Chinese e-commerce industry is very competitive, with Alibaba controlling roughly 58% of the market share and JD.com controlling around 16.3%. Vipshop, on the other hand, only has around 2% of the market share.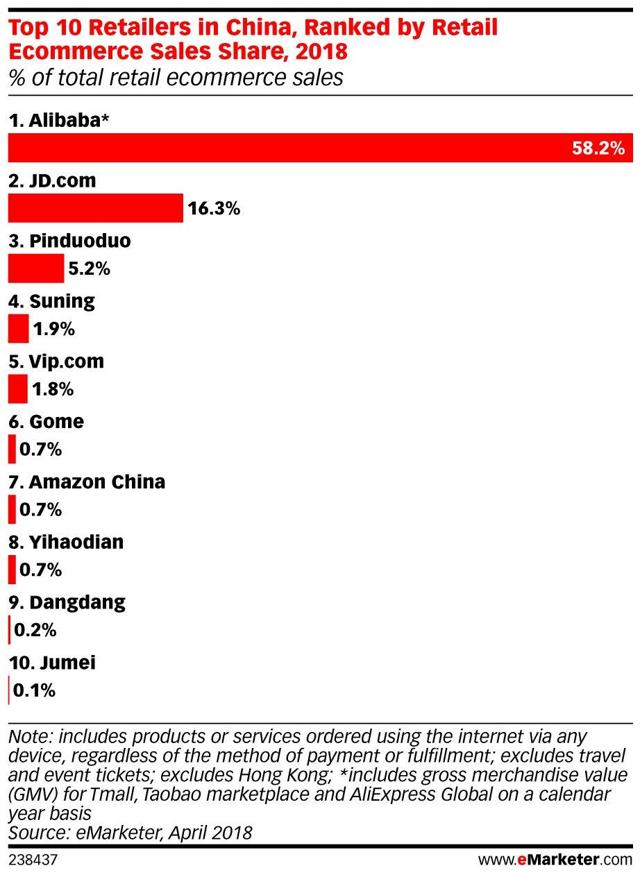 However, Vipshop faces a number of risks. One of them is if the customer stickiness starts to evaporate. This is a big potential risk as 96% of all the orders on the website come from existing users. Vipshop may no longer be able to retain some of its customers and the new users acquired through WeChat and JD tend to spend less on the website, so taken together this could cause a significant deceleration in revenue growth. Per management, round half of Vipshop's new customers are currently between 19-28 years old, and currently have low spending power, at least in the near term.
Vipshop also has to continue partnering with the latest popular brands in order to remain popular among its users, and if it gets outcompeted in securing partnerships with some of these brands, Vipshop could quickly lose popularity among users. Vipshop may also lose its competitive edge in the off-season discount retail business as competitors like Alibaba get more aggressive with its promotions and as Pinduoduo – another competitor – enter its market.
Taken as a whole, management's focus on profitability could potentially combat the slowdown in average revenue per user partially caused by the lower spending habits of its new users, but it comes at the cost of lower user growth, lower revenues, and potentially losing market share to competitors.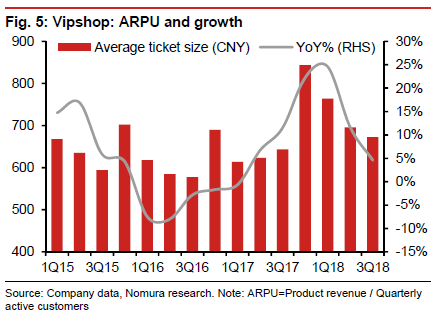 Conclusion
Although the stock is down around 54.3% YTD, in the first half of 2018 it was actually the best performing Chinese internet stock. Now, however, it is actually the worst performing in the second half of 2018. With that drawdown, the stock is currently trading at a P/E of 9x 2019 expected earnings. That is lower than the average of other Chinese e-commerce websites, which trade at a P/E of 57x 2019 expected earnings.

Vipshop is focusing on its high margin products, which is off-season women's apparel, in order to improve margins. However, this comes at the expense of focusing on revenue and user growth, which has decelerated in the last quarter. Vipshop continues to benefit from its partnerships with Tencent and JD, utilizing the two company's services to attract new customers and lower their costs. Although 22% of Vipshop's new users came as a result of these partnerships, these new customers often spend less on the website and bring down the company's average revenue per user. Roughly half of Vipshop's new users are between the ages of 19 and 28, and currently have limited spending power.
Vipshop partners with thousands of brands to offer branded products at deep discounts via flash sales, although it faces competition from Alibaba implementing promotions and Pinduoduo entering that space. Vipshop's earnings results beat most expectations this quarter, and Vipshop remains as one of the larger e-commerce companies and the number one company in the online discount retail space.
Despite Vipshop's recent beat and its valuation discount widening relative to peers, we remain wary on the stock given 1) competitive pressures, 2) execution risk as VIPS shifts focus to margins vs growth, and 3) lower user spend from new users acquired through WeChat and JD.
Disclosure: I/we have no positions in any stocks mentioned, and no plans to initiate any positions within the next 72 hours. I wrote this article myself, and it expresses my own opinions. I am not receiving compensation for it (other than from Seeking Alpha). I have no business relationship with any company whose stock is mentioned in this article.
Editor's Note: This article discusses one or more securities that do not trade on a major U.S. exchange. Please be aware of the risks associated with these stocks.