Introduction
Wall Street has given up on Activision Blizzard (ATVI) as share prices have fallen approximately 27% on the year due to a mix of disappointing quarterly results, declining monthly active users, underwhelming impressions from its latest game update, and the drag of the broader market weighing shares down further.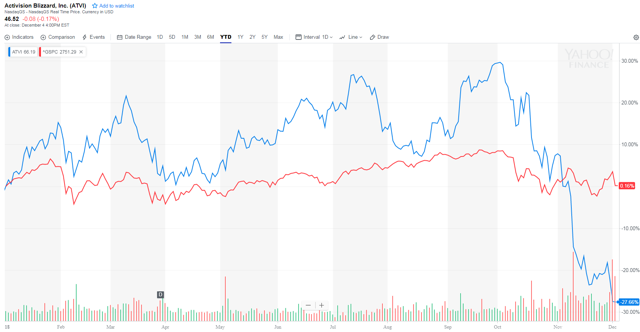 Source
These issues combined have led to the stock's selloff, but despite these short-term headwinds, the long-term outlook for gaming and eSports as a whole still looks strong and ATVI will overcome the issues above and rebound.
Recent Setbacks Have Suppressed Share Prices
The week of earnings shares of ATVI sank around 20% due to a declining sales and earnings which fell 12% and 10.6% respectively. In addition to its earnings and revenue woes, the company's monthly active users (MAUs) declined to 345 million, compared to 384 million in the same period of the prior year, and MAUs have now been on a downhill slide for three quarters straight.
MAUs have not been boosted by Destiny 2 as much as management had hoped, as COO Coddy Johnson stated: "We have not yet seen the full core reengage in Destiny, which has led to the underperformance against our expectations to-date." This is not necessarily a new problem for the Destiny franchise, as engagement before has been an issue due to micro transactions and developers effectively connecting and communicating with players.
Another issue was the company's recent update announcement of Diablo Immortal being poorly received due to it being a mobile-only offering. The game's lead developer was even booed at BlizzConn when presenting it to the crowd. Sentiment was so negative that ATVI stock dropped 7% on the news of the update.
Thesis - Setting up for Success
The selloff is presenting a favorable price point to purchase shares, which are trading near 18x forward earnings - a historically low multiple for the company. Additionally, analysts are expecting ATVI to grow earnings around 13% annually over the next five years due to opportunities in eSports and the growing access to Asian gaming markets. If ATVI meets analysts' projections, earnings will be up 84% from today's levels, making today's valuation attractive.
The growth trend of eSports is strong and by 2020 is expected to generate $1.5 billion of annual revenues – which would be more than double 2017's $655 million. 365 million people watch eSports events with YouTube gaming and Twitch seeing significant growth in 2017 of 343% and 197%, respectively.
Source
ATVI is benefiting from this growth in multiple ways; perhaps one of the biggest currently is Overwatch League, which has had a successful foray into eSports and management is looking to build on this experience to launch other eSports initiatives with other franchises such as Call of Duty.
Hearthstone is another game that has potential to contribute significantly to the company's bottom line in the future as while the game is free – there are more opportunities for in-game purchases via digital cards which are used in matches against other players. The more cards a player has, the better the odds of victory and it is very possible for diehard players to spend over $500 annually on card purchases. These are in-game purchases are obviously a high margin item and if Hearthstone is able to break onto the eSports scene, the incentive for players to purchase more cards to increase their odds of winning leagues and the prize monies associated with victory would be great. This may occur sooner than later as the game is constantly in the top 10 most watched games on Twitch and people spent more hours watching the Hearthstone World Championship than Overwatch Grand League Finals.
Expanding franchise to mobile will provide a pathway for future growth as not all players may have access to a console or a PC and even for those players who do – they too will have more access as they can take their games with them and access them more easily on their mobile devices. Most recently ATVI in conjunction with NetEase (NTES) announced the release of Diablo Immortal on mobile and while some hard-core fans were upset as the franchise has historically been a PC offering and now, the first refresh in years is a mobile-only offering. Further issues arose with gamers citing the game resembling many similarities to Endless of God, a game produced by NetEase. While gamers were frustrated, it represents the company's commitment to furthering mobile offerings which plays well into the large and growing Chinese market – which is massive and the most important in the world as projections 716 million mobile gamers and $33.7 billion in gaming revenue by 2022.
Risks
The most obvious concern and risk facing ATVI is its declining MAUs, a metric investors should keep a close eye on as it effectively measures demand for the company's offerings. If the downhill slide continues, it could be a leading indicator of trouble to come and the company's financials may suffer as a result. A large driver of future MAU growth will be mobile gaming, especially in China, and the company hopes to gain shares with its upcoming release of Diablo Immortal and have partnered with Tencent (OTCPK:TCEHY) to release a mobile version of Call of Duty. If the Asian market does not take to the company's mobile offerings, MAU growth will be stunted.
ATVI must also continue its push into eSports, not only with its Overwatch League, but with other franchises such as Hearthstone and continue to pursue additional opportunities in this arena of significant growth and opportunity. Lastly, franchise lifespan is a key component of profitability, and as of now the Destiny franchise is underperforming and has not drawn in the numbers management had hoped for.
Conclusion
While there are some short-term struggles for ATVI, the outlook for the videogame sector as a whole remains strong. The rise of eSports in both playing and watching them will provide a solid foundation for ATVI as it meets the need of the growing segment and with Overwatch League's success as a likely indicator of things to come with Hearthstone, ATVI should gain more market share in eSports.In conjunction, the company's shift to mobile is necessary, despite being controversial to some gaming purists, and will allow a broader base of players and create more opportunities for in-game transactions. ATVI at current prices is a no-brainer for long-term investors who can stomach volatility over the next 12 months as the company rebounds and redesigns its offerings to accommodate more gamers to increase engagement. ATVI is a BUY.
Disclosure: I am/we are long ATVI, TCEHY. I wrote this article myself, and it expresses my own opinions. I am not receiving compensation for it (other than from Seeking Alpha). I have no business relationship with any company whose stock is mentioned in this article.