The perfect storm is hitting American chicken producers Pilgrim's Pride (NASDAQ:PPC), Sanderson Farms (SAFM), and Tyson Foods (TSN). Seasonally low pricing, well below 5-year average pricing, increased competition from excess domestic supplies of beef and pork, and rising transportation costs all contributed to their worst quarter in 5 years. Quarterly earnings are down 87% YoY and Pilgrim's Pride missed earnings in Q3 by a shocking -61%. Shares would likely have dropped even lower if not for the CEO's comments about their $200 million buyback program sending shares up 18% the next day. Pilgrim's Pride is trading in the low end of both their 1- and 5-year range. Profitable trading opportunities are present and the option to go long is attractive. Share prices look tasty under $20/share, management agrees.
Easiest Capital Allocation Choice
Pilgrim's Pride can easily support the full $200 million buyback program over the next 12 months with their $401 million in cash, creation of free cash flow, and reduced long-term debt. Plant and capacity increases are poor options considering major producers have spare capacity and pricing is well below average. Buybacks from an allocation and ROI standpoint are the most sensible investment and have additional benefits.
Leveraged Buybacks
I think it's just we have confidence that the current share value that it's a great opportunity to buy something of great value, which is what we do and our view of the future." (CEO William Lovette, Q3 Conference Call)
That comment sent share surging up 18% the next day. The current share price ($17) is an attractive entry point. Since then, shares have been teasing the $20 mark only to get dragged back down to mid $17.
The buyback excludes JDS (78.5% of diluted shares) owned stock, making the float of shares available for repurchase only 53.6 million. With an average repurchase price of $20/share, Pilgrim's will retire 10 million shares or 18.67% of their public float. $20 repurchase price is very conservative, repurchases will be at a much lower average price.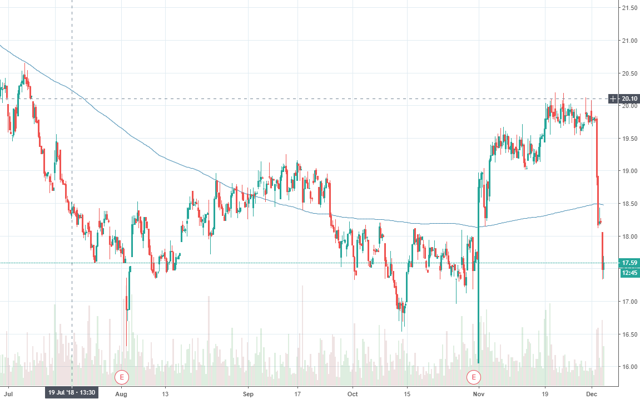 During the Q3 conference call, it was indicated by CFO Fabrio Sandri that Pilgrim's Pride would repurchase $200 million of stock in 12 months at 'current levels' which were $17 to $19 for the months prior to the conference call. Averaging the full repurchase program over all 252 trading days, Pilgrim's would be repurchasing nearly 4% of their average daily volume (3-month average). The reduced float magnifies the price support of the buybacks by 4.6 times putting a strong floor under the share price. Management effectively made themselves the market maker for their stock. With the exception of two very brief moments, PPC's share price has not traded above $20/share since buybacks started; this indicates management isn't purchasing shares above $20/share.
Ideal Timing
Pilgrim's Pride is down more than 50% in the past 52 weeks. The timing of the buyback couldn't be better. They have an opportunity to retire over 4% of their diluted share count at rock bottom levels due to an exceptionally poor Q3. Q4 is expected to markedly improve, but trade war sentiment still clouds the horizon and will continue to rain on the market for a while. In 2019, Pilgrim's Pride won't post record EPS like in 2017 but they still retain earnings potential and produce free cash flow. Q3 is much more likely to be abnormality than the new norm. Seasonal and trend pricing are exceptionally low, but improvement is already underway going into Q4.
Market Expectations For Q4
Pilgrim's Pride saw their three markets take major hits last quarter all due to different factors.

U.S. Market
In the U.S. market, domestic chicken is suffering from China's tariffs on beef and pork. Tariffs reduced export demand for beef and pork leading to domestic surpluses and strong promotions for those proteins to reduce the surplus. While tariffs remain on beef and pork, the U.S. domestic chicken market will experience increased competition from beef and pork. The good news, retail promotions are shifting away from beef and pork to chicken entering Q4 as retailers see value in chicken.
Increased volume, feed and transportation costs reduced margins to 5-year low in the U.S. segment. Volumes and capacity growth rates are expected to remain similar from 2018 to 2019 as producers have some unused capacity. Pilgrim's Pride will benefit from depressed feed input costs as soybean supplies hit record highs and the export market for soybeans remains weak. Transportation costs to increase as a strong U.S. economy continues to place pressure on transportation and shipping.
A stronger Q4 in the U.S. is expected as pricing seasonally improves, promotions shift to chicken, and costs moderate. Interestingly, management didn't speculate on the outcome of the U.S. China trade during the Q3 conference call. Look for QoQ revenue growth and improved margins in Q4.
U.K. and Europe
Gross profit was down 12.1% due to higher feed prices as European grain supply is low. The U.K. and Europe markets' relative performance was the best of the three segments in Q3. Wheat prices have pulled back slightly for their summer highs and the futures market indicated price declines are expected going into winter and spring which will help improve margins going forward.
Mexico
Our results and market prices in Mexico during Q3 were below expectations, and while Q3 is seasonally the weakest quarter of the year, industry supply and demand dynamics were even weaker than usual which weighed on pricing. Supply grew more than expected as a reaction to strong prices in the first half of the year and as a result of very good weather and outstanding growing conditions." (CEO William Lovette, Q3 Conference Call)
Supply's quick ability to react to pricing changes damaged market conditions which degraded quicker than expected. Mexican producers will attempt to carefully manage supply over the next few quarters to pressure prices higher and improve margins.
Sum of the Parts
Relief is expected soon, retailers shifting promotional content from pork and beef to chicken will drive retail sales as pricing seasonally improves. The market remains challenging for chicken producers with tariffs in place and no clear outcome of the trade war on the horizon. Chicken will have to remain competitive with export and weak pork and beef markets in the near term; thankfully trend pricing is seeing improvement. Input costs will remain beneficially low in the U.S. with marginal improvement expected in the U.K. and Europe. The Mexican market will manage supply after the recent imbalance to improve margins. Overall, Q4 is expected to show improvement over Q3 as Pilgrim's Pride exits their seasonally worst quarter. Take it with a grain of salt, the market was expecting poor performance since the summer. Pilgrim's buyback program is perfectly timed and provides confidence that management is competent after a challenging quarter. Buybacks and moderate operating improvements make Pilgrim's Pride an attractive buy under $18.
Entry Point
Pilgrim's Pride presents an asymmetrical opportunity, downside is limited as the chicken market reached a trough and buybacks provide price support. Improved market conditions and a trade war resolution present a large upside. Regardless, pricing and margins are expected to improve QoQ as beef and pork are marketing subsidies.
I see opportunities to quickly flip the stock for a profit buying below $17.5 and selling above $19 before the release of Q4 earnings and with the option to hold at current price levels.