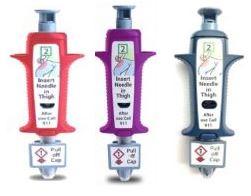 Sources
Investors finally received updates from Adamis (ADMP) and Sandoz about the planned launch of SYMJEPI. The Adamis press release was short, but provided some insight on the company's recent actions to support the launch. According to the press release,
"Manufacture of commercial batches has been completed and Adamis will begin shipping to Sandoz distribution centers during December to ensure the appropriate supply for launch."
Sandoz Inc., a Novartis division (NVS), sent out their own press release highlighting expected launch time and price. Sandoz announced a planned U.S. launch of SYMJEPI in "early Q1 2019." Moreover, Sandoz stated,
"Our planned wholesale acquisition cost (WAC) for a two-pack of SYMJEPI 0.3 mg Injection is $250, which is about 16.5 percent less than the WAC of Mylan's authorized generic EpiPen and Teva's generic EpiPen."
Together, these two press releases have provided investors plenty of evidence and figures about the launch of SYMJEPI. My two points of note, are the estimated launch date and the WAC price. These tell me that SYMJEPI is launching soon, and is competitively priced.
This should be welcomed by investors because revenue is coming sooner than later…and SYMJEPI is going to disrupt the market.
Pricing is Key
SYMJEPI was expected to cost less compared to generic auto-injectors, and was the primary reason for the hype around the pre-filled syringe. SYMJEPI's WAC is only 16.5% less than Mylan's and TEVA's generic EpiPen; however, that 16.5% can be a major implication for payors and patients. It has been documented that socioeconomic factors impact access to epinephrine injectors. In fact, children from high-income homes are 8.35 times more likely to be prescribed an epinephrine injector vs. children from low-income homes. In another report, Medicaid-enrolled children are less likely to be administered an epinephrine injection before arriving to an emergency department.
Previously, I have attempted to analyze the potential epinephrine market, and try to predict what the sales of SYMJEPI are going to be down the line. Regrettably, most of my focus has been on how much SYMJEPI will take away from EpiPen, and not on the potential market that has never had the ability to obtain EpiPen. The fact that high-income children are 8.35x times more likely to be prescribed an epinephrine injector tells me access is limited through Medicaid programs. Could costs be an issue?
Looking at Figures 1 and 2, we can see that Medicaid's spending on auto-injectors has steadily climbed between 2011 and 2015.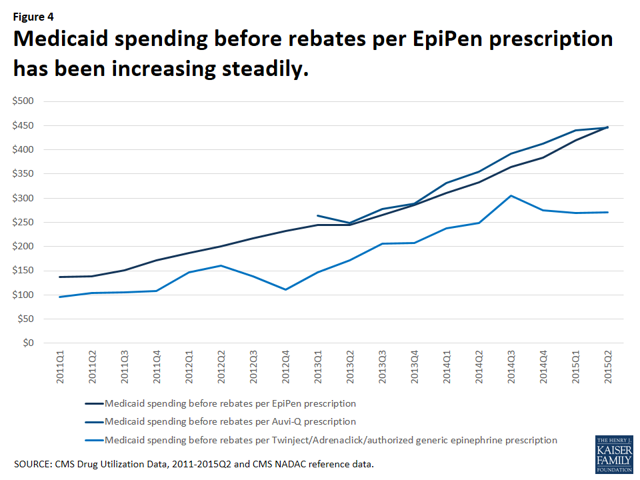 Figure 1: Medicaid Spending On EPI 2011-2015 (Source KFF)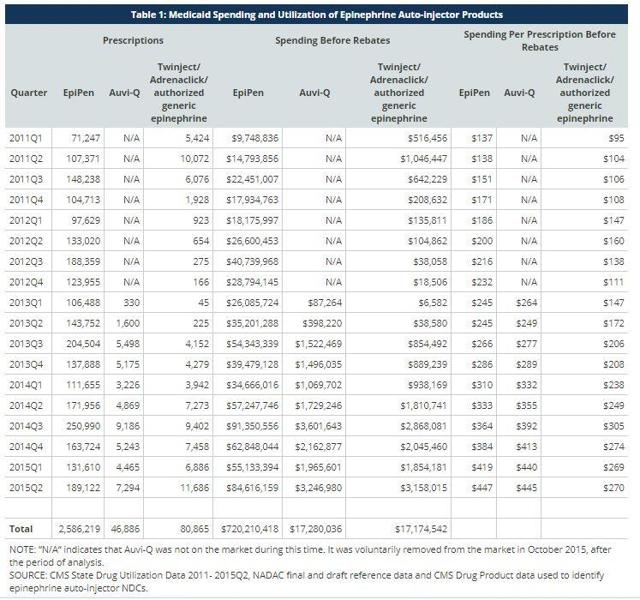 Figure 2: Medicaid Spending and Utilization Chart (Source KFF)
The surge in average price paid for epinephrine before rebates between 2014 and 2015 caused CIGNA to require their Medicaid customers to get prior authorization to get branded epinephrine. Medicaid payors want cheaper alternatives…especially when one out of five epinephrine prescriptions are from Medicaid patients. A $50 difference adds up over a patient's life-time.
Now one can argue over the pros of the epinephrine auto-injector design over a PFS, but it is the cost for the payors that ends up being the bottom line -- SYMJEPI just took the lead in that category. Being the affordable alternative was the company's goal for SYMJEPI. CEO Dr. Dennis J. Carlo reiterated this in the launch press release:
"We are confident that together with Sandoz, we are ready to take on the market challenges in this disease space and have the resources and capabilities in place to provide access to this important product. We believe SYMJEPI will be a value-add to the U.S. healthcare system, providing an affordable treatment option for those at risk of acute allergic reactions."
Currently, most insurance formulary charts don't have SYMJEPI listed as an option for 2019. Investors should start to look for SYMJEPI to be listed on these charts as we progress into 2019. With the $250 WAC price, I expect SYMJEPI to eventually be listed as Tier 2 drug, or a preferred brand name drug.
Upcoming Catalysts
Now with the SYMJEPI launch announcement out of the way, ADMP investors look for Carlo to finish his end of 2018 checklist.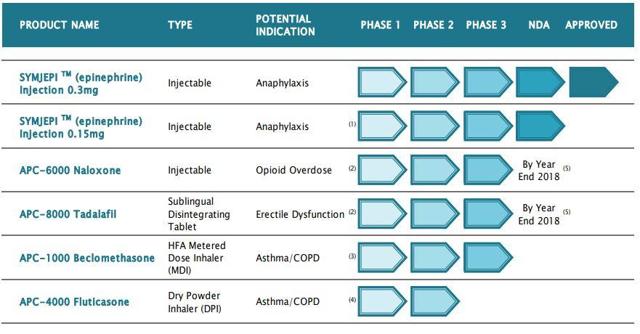 ADMP Pipeline Source
This includes:
Announcement of ex-US strategy for SYMJEPI
Filing of NDA for naloxone injection
Filing of NDA for sublingual tadalafil tablet
Commencement of Phase 3 studies for beclomethasone
In my previous article, I laid out the potential financial cost that these actions will require. Excluding the announcement of an ex-US strategy, all these actions are quite expensive…especially the Phase 3 study for beclomethasone. With the announcement of the upcoming SYMJEPI launch, investors can bit more welcoming to these actions anticipating some cash from SYMJEPI revenues to support these endeavors.
However, I honestly wouldn't mind a delay on tadalafil and beclomethasone. In my opinion, the NDA for APC-6000 (Naloxone SYMJECT) would most likely gather more attention to the company. With the upcoming FDA AdCom meeting to address the opioid crisis, I hope Adamis has submitted that Naloxone NDA. The FDA AdCom looks to address:
The need to improve access to naloxone.
Whether naloxone should be co-prescribed with all or some opioid prescriptions to reduce the risk of overdose death
The need for manufacturing volume growth for naloxone, and the risk of drug shortages of this product that could come from a sudden spike in prescribing.
The significant costs and burdens that may be associated with naloxone co-prescribing.
Adamis became a story stock of 2017 due to Mylan's (MYL) EpiPen price hikes, shortages, and Pfizer's (PFE) inspection failures/recall. Similar to epinephrine, Naloxone's availability is scarce, and is being ruled by ADAPT Pharma and Kaleo, Inc. Perhaps Carlo can learn from the lost opportunity of 2017, and execute on 2018's opportunity.
I am curious about what the ex-U.S. plan is for SYMJEPI. We have not heard any progress on this front since the SYMJEPI commercial partnership announcement. As of now, Sandoz/Novartis has the first shot at a deal, and would be a great partner. I don't expect an ex-U.S. announcement anytime soon with SYMJEPI still in the warehouse and not in stockrooms.
Chart Updates
The chart hasn't changed that much since my previous article, but that is a great sign considering the current market environment. In addition, I was expecting a large short attack following the announcement of the soft launch of Teva and Antares (ATRS) generic EpiPen.
Looking at the ADMP daily chart (Figure 3), we can see the stock is trending downward, but has started to climb towards a resistance trend line around $3.00.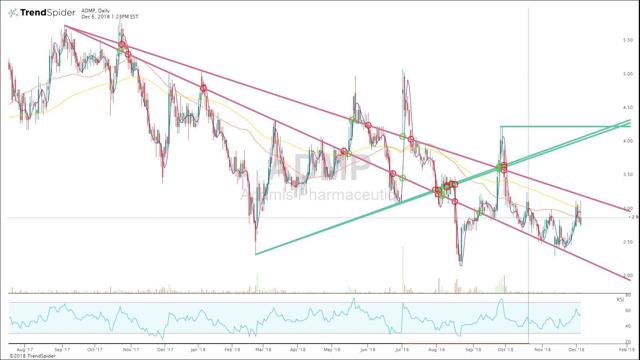 Figure 3: ADMP Daily (Source: Trendspider)
The ADMP hourly chart (Figure 4) also shows a $3.00 resistance line, and would be strong indicator the stock is breaking out of this long-term downward trend.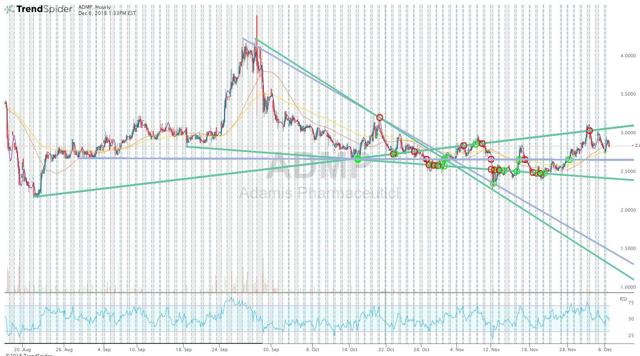 Figure 4: ADMP Hourly (Source: Trendspider)
CLICK ON LINKS TO SEE FULL SCREEN CHARTS
In view of the charts and the overall market conditions, I plan on adding to my position. The WAC price and the estimated launch time were within the parameters I set for a long term hold. However, I am not "all in" at the moment, because I am still waiting on Carlo to pull the trigger on his other stated actions. Until then, I will continue to add slowly based on technical indicators.
Conclusion
This day has been long overdue for all parties involved. One can speculate a variety of reasons for why it has taken so long to obtain a partner, and get SYMJEPI to market. However, the day has come and prices have been set. Although Adamis is still far from being de-risked, I am confident that substantial fundamental changes are on the horizon for the company. The potential upcoming SYMJEPI revenue will allow the company to push forward with their current pipeline, and possibly add a few more products to the portfolio.
I remain bullish with my current value of about $4.00 per share, and $10 price target set in my last ADMP article. I expect to see drastic changes in analyst price targets during the second half of 2019 as the first reports of SYMJEPI sales begin to create a forecast of sales. Until then, I expect ADMP to remain volatile and be subject to large changes in the share price.
Disclosure: I am/we are long ADMP. I wrote this article myself, and it expresses my own opinions. I am not receiving compensation for it (other than from Seeking Alpha). I have no business relationship with any company whose stock is mentioned in this article.