Co-produced with Jussi Askola and PendragonY for High Dividend Opportunities
The track record of a blue-chip… The price of a slowly dying business… This is the story of Iron Mountain (IRM), a storage REIT that is increasingly regarded as an endangered species due to the over-hype of new digital storage technologies.
Yet, despite the dropping share price, the company just reported solid results, hiked its dividend by another 4%, and everything points out to a striving business. Is this all just bluff right before an inevitable decline in business prospects?
Mr. Market is Getting it Wrong, We are Very Bullish
We firmly believe that the market is getting it wrong here because:
Storage is a much more defensive, sticky, and moated business than the market seems to understand.
While it is undeniable that new technologies will lead to less demand for storage, the timing of this transition is overblown, and its impact is misunderstood.
Less paper storage demand means less revenue from one segment, but more revenue from another for Iron Mountain.
Every quarter that passes puts Iron Mountain one step closer to becoming a well-diversified storage company with data centers and a global reach.
All in all, the company just hiked its dividend to new highs, so to argue that this is a dying business seems foolish to us. Priced at around $34 per share, Iron Mountain is a STRONG BUY among REITs heading into 2019, and we continue to build a larger position.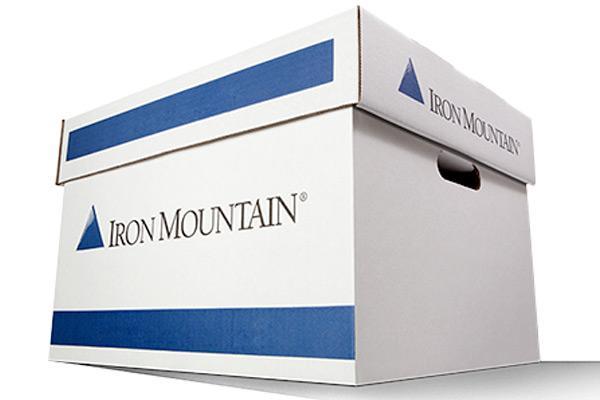 An Introduction to the Storage Business
When you hear "storage", you probably think of the typical self-storage facility that you find at every corner of the nation: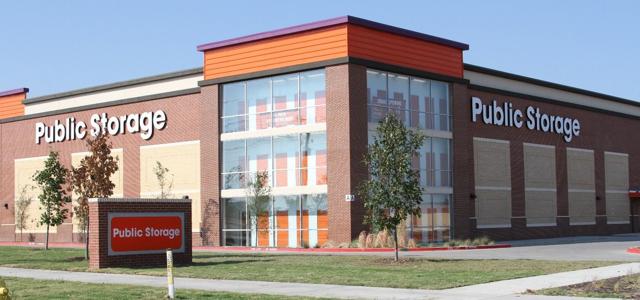 Sorry to disappoint here, but we are referring to a different sort of "storage", which looks more like this: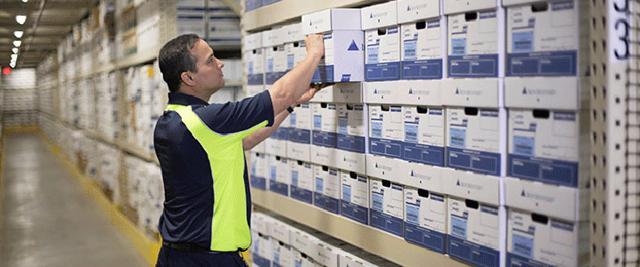 The first picture is a storage facility for consumers
The second picture is a storage facility for businesses.
We consider both to be solid businesses to invest in because of one common trait: they produce high and consistent cash flow through a full market cycle. Regardless of economic conditions, there is always a need for storage space, and this need is unlikely to go away even in the deepest state of economic depression. Therefore, storage owners tend to enjoy strong pricing power, consistent demand, and a defensive position to keep cashing in rent check after rent check.
Now, while "consumer" and "business" storage may seem like fairly identical businesses, there are some key differences to consider before making an investment decision:
(green plus = better; red minus = worse)

Source: Author's estimate
Each has their own positives and negatives, but overall, at this point in time, we are more excited about business storage, especially at the currently discounted price of Iron Mountain.
Consumer storage has become increasingly competitive in the last years with new developments occurring at every corner of the cities. Consumers give little value to the "brands" and rather tend to go for the cheapest and most convenient locations. They are also more prone to switch facilities and discontinue storage whenever possible.
Business clients, on the other hand, are much more sticky, long-term oriented, with a consistent need for storage. The market is not nearly as competitive, and Iron Mountain is enjoying a true market-leader positioning with enormous brand value and loyal clients.
The only negative here is the higher risk of technological disruption, but even that, we consider to be widely overblown and more than discounted in the currently low share price. With this in mind, we are today taking a pass on consumer storage investments, and rather investing in the business side, with no other than the market-leader: Iron Mountain.
Simple, Defensive, and Moated Business Model
Iron Mountain is by far the largest company there is for business-material storage. At present, Iron Mountain is catering to 95% of Fortune 1000 companies and it is the only company with a truly global reach: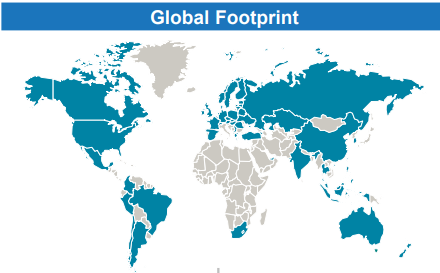 So, while you as a consumer may not have ever heard of Iron Mountain, almost every larger company knows about it and do business with them. The company has been serving this niche market since the 1950s and developed long-lasting relationships over 225,000 customers in 50+ countries on all 6 continents. The point is that this is BIG business, and the market cap of over $9 billion is a testament of that.
The company's business can be divided into 5 main operating segments:
Records Management (63%): By far the largest segment and is centered around physical copies.
Data Protection (12%): A high growth segment in which IRM is investing in massively and is centered around digital copies.
Shredding (10%): The smallest segment today and is targeted towards clients desiring to destroy files and perhaps switch from physical to digital storage.
Other (10%): includes fulfillment services, information governance and digital solutions, technology escrow services, consulting, fine art storage, consumer storage, and other ancillary services.
Data Center (5%): Another high growth segment in which IRM is massively investing to prepare for the transition from paper storage to digital storage.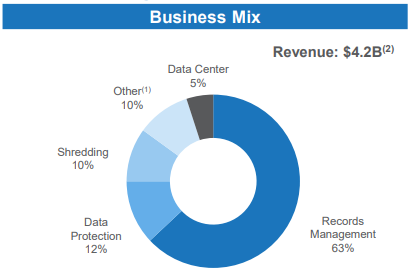 It results in a diversified, steady and defensive business with mission-critical services that are indispensable for most companies that need to store paper and digital records. It produces infrastructure-like cash flow that is highly consistent throughout the years.
Here are a few key accomplishments of the company to give you an idea of how reliant our society is on this company's infrastructure: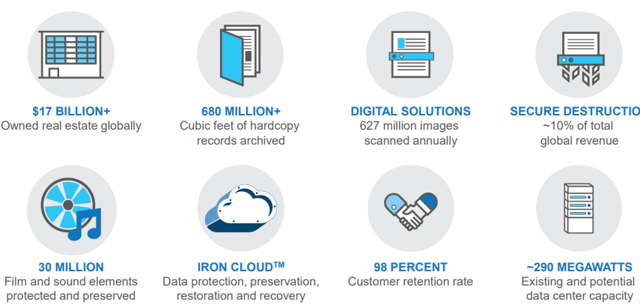 If your data is very important to you, you are unlikely to want to deal with anyone but the best, and Iron Mountain has built a perfect reputation as a trusted guardian over the years.
It is a valuable "competitive advantage" that reinforces the defensive positioning of the company even further. Large multi-national companies like to deal with a limited amount of service providers and as the only trusted and global service provider, IRM is the only viable choice for most companies.
Transition to Digital is Happening, But Iron Mountain is Set To Profit From it
Technology is changing the world, there is no denying of that.
DVDs replaced by streaming and Netflix (NASDAQ:NFLX)
CDs replaced by iTunes from Apple (AAPL)
Nokia (NOK) phones replaced by smartphones.
…(examples are countless)
So, our argument is NOT that paper storage is perfectly safe forever. Digital copies are gaining ground and will continue to do so in the future.
Our argument against the bears is however that this transition to digital copies will:
Take more time than most are expecting.
Result in profitable growth for Iron Mountain, rather than the opposite.
Investors tend to forget that Iron Mountain is a one-stop-shop for all data storage needs - ranging from hard copies, to scanning, shredding and even digital data security. Yes today, 63% of the revenue is still generated from paper records and it will take changes to adapt to an increasingly digitalized environment, but here are two reasons why this is not a problem:
Reason #1: Sticky customers, policies, and laws
Paper records may sound outdated and not needed, and yet it remains highly relevant in today's digitized world. Think this way: can you be 100% sure that your important documents will still be on the cloud in 10, 20 or 50 years from now? What if the data gets hacked or compromised one way or another? The truth is that if your data is important to you, in many cases, a physical back-up is not only necessary; but even required by law. Therefore, we do not expect companies to change their data policies anytime soon. It is a slow transition that will take time, and the exceptionally high retention rates are proof of that: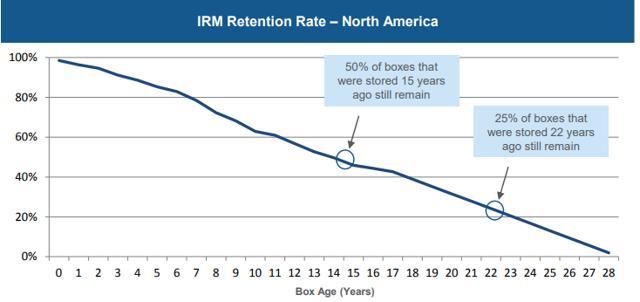 Up to 50% of the paper boxes stored 15 years ago are still in storage at IRM facilities. Moreover, every single year the company is adding more boxes - proving once again, that the demand for paper storage remains high and is even increasing, despite the already existing digital solutions.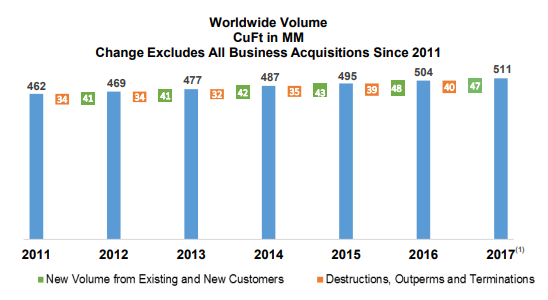 It is clear that paper storage is not a "growth market", but it does have a place in a highly digitalized world and has proven to be defensive with little changes in demand even during down cycles.
Reason #2: Iron Mountain can profit by upselling clients
While we expect a slow transitioning from paper records to digital records over time, this is not necessarily a bad thing for Iron Mountain. This is because it is a massive opportunity for IRM to leverage its long-lasting relationships to upsell different services.
As an example, when a client decides to discontinue the storage of its papers, it may need to first scan them, store them digitally, and finally shred them. All services that IRM provides. As the trusted longtime partner, it is not surprising that clients often end up sticking with IRM even after discontinuing their paper storage. Currently, IRM is enjoying a 98% customer retention rate just to give you an idea of how IRM could benefit from this trend.

Therefore, the slow transition to digital storage is not nearly such a big deal to Iron Mountain as the market seems to believe.
IRM is today investing massively into higher growth businesses with large investments being made in data centers to prepare for this future transitioning.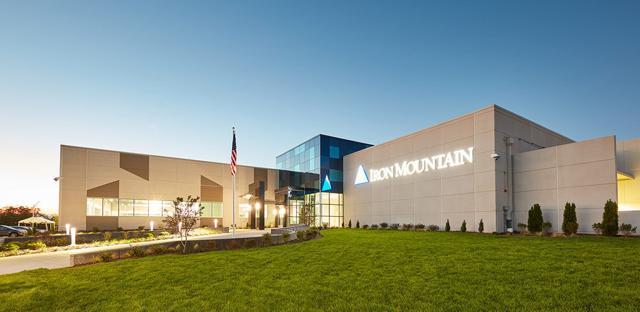 As such, any decline from the paper storage business is expected to be more than compensated by the growth of its data center business and its offering of different services. This is what makes IRM so durable in our opinion. The relationships along with the valuable brand name allow IRM to cross-sell to drive growth, regardless of the ultimate outcome of paper storage in the long run.
The management expects this transition to result in a higher long-term growth rate and not a secular decline as the market fears:

Past 2020, the "growth portfolio" is expected to account 30% of the total revenue - boosting the internal revenue growth to over 5% per year. Even until then, IRM expects 3-5% growth, so clearly the business is striving even in today's highly digitalized environment.
Deep, Deep, Deep Valuation
IRM is a very unique REIT with no direct peer. We make the argument that the closest peers are self-storage REITs and data center REITs.
Self Storage REITs trade at 18.1x FFO on average:

Data Center REITs trade at 19.2x FFO on average:

In comparison, IRM is today offered at just 11.4x FFO; or up to an 8-notch discount relative to closest peers. We believe that some discount is justified here, but the magnitude of it is currently overblown because it ignores that:
IRM is still a growing and striving business, despite the general consensus that paper storage is going away.
The transition of digital storage is expected to be beneficial to IRM with an accelerated growth rate past 2020.
Paper storage is significantly more resilient than the market seems to understand. Historically IRM has proven to be highly durable with little cash flow fluctuation even during the great financial crisis.
The brand value and existing relationships with 95% of Fortune 1000 companies are extremely valuable to build the data center business. The market seems to ignore this today.
Finally, the company has issued a very positive guidance with continued growth in revenue, EBITDA, and even the dividend in the coming years, making the 11.4x Funds From Operations ('FFO') multiple appear even more underpriced.
A Winning 7.2% Dividend Yield with 4% Hikes
With another 4% dividend increase announced last quarter, the dividend yield stands at a hefty 7.2%. The dividend is well covered by the cash flow of the underlying business with an 85% payout ratio.
It leaves another 15% of cash flow to the management to reinvest in its future growth and at present, IRM is expecting to grow the dividend by a "minimum" of 4% per year:

It is hard for us to not be bullish when a durable business is able to pay out such a high dividend yield while consistently growing it by up to 4%. Even without accounting for any appreciation coming from multiple expansion, we would target a double-digit return here from the dividend and its growth alone. But we believe that there is even more to the story.
Slow and Steady… Or Fast and Furious… Either Way, We Win
In addition to the 7.2% yield and the 4% dividend growth which in itself results in an 11.5% expected annual total return, we expect a repricing of the shares to an FFO multiple of 15x FFO - unlocking an additional 30% upside.
We see two catalysts of how this could happen:
Slow and steady: progressively as the company transitions more and more of its revenue towards data centers, the market rewards the company with a higher multiple. 2020 is not far away and already by then, the business will have become much more "attractive" in the eyes of the investors with 30% of the revenue generated from higher growth industries, including digital storage and services.
Fast and furious: a large cybersecurity breach suddenly hits the news and increases concerns over digital data security - leading to a push back towards more traditional storage methods. IRM gains as the market sees it as an increasingly durable business in such an environment and rewards it with a higher valuation multiple.
The "slow and steady" case is the baseline scenario that we expect, but we would not underestimate the risk of a wide-scale cybersecurity blowout. It would not be the first, neither the last time.
In either case, IRM is set to gain in the long run as the business transitions towards higher growth and is rewarded with a higher valuation. At present our expected annual total return is the following:
7.2% (yield) + 4% (growth) + 5% (our conservative estimate of for the annual multiple appreciation) = 16.2% total returns PER YEAR for the next 3 years.
Risks
Heading into 2019, we identify three main risks to our thesis:
The leverage remains higher than average and is often argued to be excessive in today's environment. We agree with bears on this point, but do not see it as a deal breaker because (1) IRM is a highly durable business that can support higher leverage, and (2) the management is working towards reducing leverage:

Accelerated transition towards digital data cuts growth forecast to zero. It is a possibility, but a relatively small one in our opinion when you consider the management's bullish guidance, their track record, and the historically sticky customer base.
Fears over interest rate hikes keep the share price low, making it difficult for IRM to issue equity at a reasonable cost. IRM is relying on share issuances to grow the portfolio towards higher growth sectors, and so, a lower share price is making it more challenging for them to grow.
No investment is risk-free; but most importantly, these risks are more than priced in here. IRM has done a good job at mitigating each risk and as the company continues to diversify its revenue base in the coming years, we expect the risk profile to significantly improve by 2020.
Bottom Line
IRM is one of our Top Picks in the REIT space today because:
The business durability is widely underestimated, and it opens an opportunity to buy shares on the cheap.
The valuation multiple of just 11.4x is ignoring the high value of IRM's brand, its relationships, and the opportunity to upsell clients as they transition towards digital data.
The management is bullish on its growth prospects with 4% minimum dividend hikes until 2020; and an accelerated growth rate thereafter.
The shares are currently yielding a hefty 7.2% with 85% payout ratio - making the total return proposition very attractive in today's environment.
Even ignoring the potential appreciation from FFO multiple expansion, we are happy to hold a growing 7.2% yield. When you add to that a realistic shot at earning 30% upside, IRM becomes a screaming STRONG BUY.
Going into 2019, we rate IRM as a very Strong Buy. IRM is currently part of our "High Quality REIT Portfolio".
A note about diversification: To achieve an overall yield of 9%-10% and optimal level of diversification, at High Dividend Opportunities we recommend a maximum allocation of 2%-3% of the portfolio to individual high-yield stocks like IRM and a maximum of 5% allocation to high-yield exchange-traded products (such as ETFs, ETNs, and CEFs). For investors who depend on the income, diversification usually results in more stable dividends, mitigates downside risk, and reduces the overall volatility of your portfolio.
If you enjoyed this article and wish to receive our latest research in high-yield space, please click "Follow" next to my name at the top of this article.
About High Dividend Opportunities: We are the largest community of income investors and retirees with over 1600 members. We provide a comprehensive service, ranked #1, dedicated to high-yield securities trading at attractive valuations: Overall target yield of 9-10%. Subscription includes:
A managed portfolio of stocks currently yielding 10.5%.
A "Dividend Tracker" to know when to expect your next dividend.
A "Portfolio Tracker" to track your holdings, income, and sector allocations. For video, click here.
If you are looking for the most profitable high-dividend ideas, you have come to the right place. For more info, please click HERE.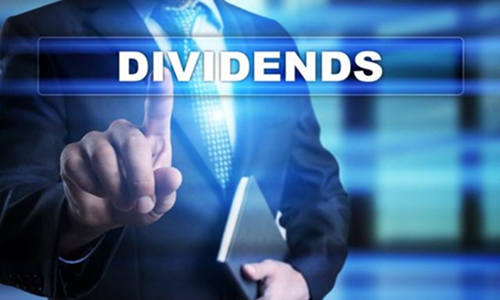 Disclosure: I am/we are long IRM.
I wrote this article myself, and it expresses my own opinions. I am not receiving compensation for it (other than from Seeking Alpha). I have no business relationship with any company whose stock is mentioned in this article.