AutoZone (NYSE:AZO) is a name that is a reliable trade, though as an investment it tends to peak and then pull back. Over at BAD BEAT Investing, we put out a buy alert a few months ago on this stock and said plainly there was a major opportunity in the name under $600. The stock has now rallied well over 40%. However, the name is once again pulling back, and this compels us to revisit the name. With the company having just reported earnings, which suggests the future is bright, we think a potential entry point to get back into the name could be approaching during this volatile time in the stock market. Our sentiment is bullish, but let the name pull back for a better price.
In the present column, we will discuss several aspects of the company that we believe suggests there is value in this name once again following the sell-off the stock is experiencing. While the competition has been gaining some market share in the retail space according to IBIS data (subscription required to see full data), AutoZone still has an opportunity to control the commercial markets in our opinion and potential investors should focus here. Further, the company continues its tremendous buyback which ensures additional earnings per share growth. We believe that as the stock retraces toward $800, investors should closely follow the name, and consider acquiring shares of this quality company at a fair price.
Our thoughts on fiscal Q1 performance
In our opinion this sell-off is being driven by the macro environment and the fact that the DOW is down 1500 points in two sessions. Let folks take profits here and be prepared to start stepping in around $800. The company is crushing sales expectations and even exceeding our bullish margin expectations on the back of killer comparable sales figures and effective pricing on the part of the company. In Q1, AutoZone registered sales of $2.64 billion, which was a 1.9% year-over-year increase, and was a slight beat versus consensus analyst estimates by $10 million. Sales continue to reliable grow each year, slowly and steadily: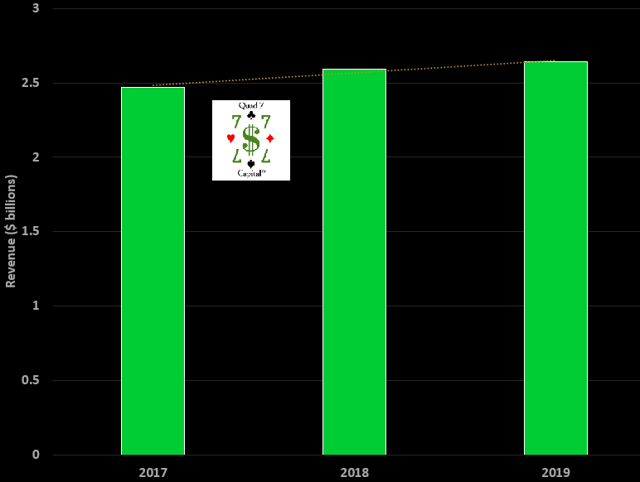 Source: SEC filings, graphics by BAD BEAT Investing
Sales continue to grow but we need to of course have a handle on what is driving these sales. As such we turn to comparable sales which have been on the mend since bottoming out in 2017. This is a critical metric. We had previously projected a 1.1% positive comparable sales figure for 2018 and thought they would grow into fiscal 2019. So far, that is the case, as comp sales were stellar. Here is the most recent comparable sales figures for the last few fiscal Q1 periods: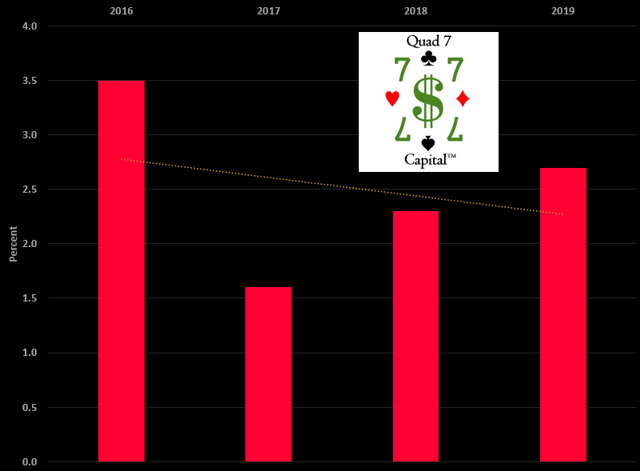 Source: SEC filings, graphics by BAD BEAT Investing
This comparable sales beat was ahead of our bullish expectation for 2.5%. That said, this was a nice rise from last year's Q1 which saw an increase of 2.3% in same store sales. After these results, we are projecting for the entire year comparable sales of 2.3-2.6%. It is lofty but we think the company is trending in this direction. We think this is a bullish but realistic range and will be attained.
Comparable sales are improving. Keep in mind last year's first quarter saw a big sales benefit from three major hurricanes which led to more repairs needed and as such high sales. Comps still rose 2.7% despite the strength of last year. In addition, the company also continues to strategically open new shops to fuel future growth. The company opened 13 net new stores in the U.S. and added another 3 internationally. With these new store openings, and those opened in the last three quarters, sales should see continued 2-3% growth overall, driven by solid comps. Continued sales growth is bullish as the company is reliable on this metric. While the pace of increases are lower than levels in year's past, it is critical to understand the pace of store openings has slowed to be more manageable, contributing a bit to the overall.
Margins were interesting here, because they expanded once again and were higher than our expectation for 53.0%. We saw gross margins rise 90 basis points thanks to higher merchandise margins, as well as the positive impact of selling of lower margin business units. While AutoZone's gross margins are pretty stable it has worked hard to cut costs. Gross margins are improving of late but overall operating costs have weighed slightly. Higher occupancy costs and administrative expenditures led to operating expenses as a percentage of sales to rise a touch to 35.2%. Still, the positive gross margins are the story here. Margins came in at 53.7%, up from 52.8% last year and really demonstrates the strength of the company. These are stellar margins over the last few first quarters: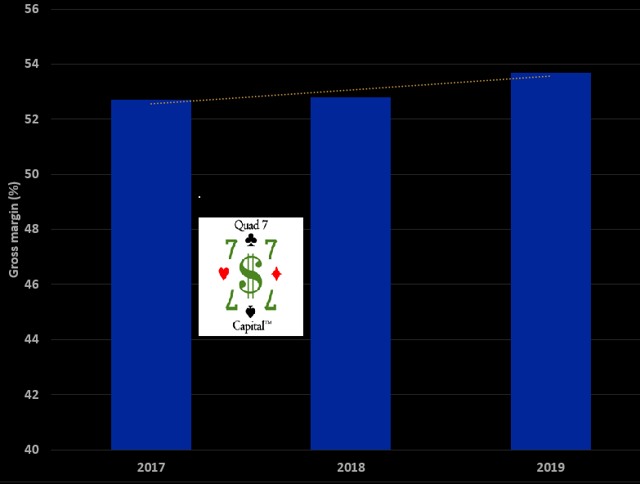 Source: SEC filings, graphics by BAD BEAT Investing
Looking ahead, we still want to see the company continue to focus on increasing sales while controlling expenses, particularly those impacting operating margin. If it can do this, earnings will rise even more, though with a stellar buyback and expanding margins, earnings per share continue to grow nicely. Speaking of earnings, this is why one invests in a growth company like AutoZone.
We saw higher sales. We saw better gross margins. Operating margin remains solid. And, a stellar buyback program continues to help earnings per share. AutoZone is known for having an ongoing buyback. AutoZone provides its cash return to shareholders in the form of heavy share repurchases, investing most of its excess cash into the buyback program. In Q1 AutoZone invested another $497 million into new purchases at an average price of $760 per share. We were pleased to see that net income per share rose double-digits once again. Adjusted net income for the quarter increased 25% over the same period last year to $351.4 million, while adjusted diluted earnings per share increased 34.7% to $13.47 per share from $10.00 per share in the year-ago quarter. Although sales were only up 2%, thanks to much better gross margins, and decent operating margin, as well as the share repurchases, earnings per share rose dramatically and this is bullish.
Rudimentary valuation
So we see earnings grew another 34%. We are projecting $60-$64 per share in earnings this year. Based on the present share price of $854, the stock is at just 13.4 times forward earnings on the high end. Factoring in the buyback and continued strength, 2019 earnings could be as high as $65 per share (or more) if there is another buyback authorization above the $0.99 billion remaining. This would value the stock at 13.1 times forward earnings. This continues to be extremely cheap relatively speaking. We think based on comparable names in the sector, when we look at retail, and when we look at the trading history of AutoZone, the name is still a value buy. But let the market pull it down.
When we factor in revenue growth that is likely to continue to come in at the mid single-digit level with stable margins, and bring in the impact of the buybacks, we think earnings will continue to grow reliably. If we are able to get in under $800, we are acquiring shares for 12.3 times forward earnings. That is stellar, and indicates you'd be buying a quality company at a fair price in our experience. We remain confident that AutoZone will continue to repurchase shares for many years. Therefore, we continue to be encouraged by future growth prospects.
Commercial business still the future
Although retail sales continue to be very strong we still believe the growth in commercial markets will continue to boost sales and earnings, on top of the other initiatives of the company (i.e. the buyback). Retail is tough. Consumers are always looking for the best deals. Given the competitive advantage AutoZone enjoys over many in the sector and the geographic footprint, we still see the best growth opportunities in commercial sales looking forward. Here in Q1, the commercial side of the business saw another 11.3% versus last year's Q1. Double-digit growth is incredible here. In addition we are off to a much colder start nationally to fiscal Q2 2019 than usual.
We believe that the cold start to the quarter is going to benefit sales. As we know, cold weather leads to auto problems. As such we are anticipating acceleration in maintenance category sales. Some top performing categories like wiper blades and anti-freeze should do well. So should batteries. This was noted by CEO Bill Rhodes on the conference call:
...the last week of our quarter was particularly strong as much of the country experienced the first major cold weather, which accelerated our sales. Overtime, in certain weeks, it can have a meaningful impact on our sales.
The weather is a legitimate issue which has hurt sales in other quarters, but we believe this cold start is a benefit. Of course, it benefits competition too, so as we progress into 2019, we are really looking to see how the company takes on the retail competition. We certainly see growth in commercial sales. We also see opportunity with international growth. On the retail end, we think the opportunity exists in making continued investments into its online presence and boost mobile sales. The company has been aggressive here to step up its online promotion and sales and we think this will continue.
Take home
As the stock looks to fall back toward $800, AutoZone is on our radar. Earnings per share growth is phenomenal. We continue to project low single-digit sales increases, mid 2% comp growth, controlled store openings, investments in mobile/online, increasing commercial market share, and of course the killer buyback program. Let the stock fall. Then consider coming in and acquiring shares of this quality company at a more than fair price of 13 times forward earnings. We will continue discussing the name over at BAD BEAT Investing.
Quad 7 Capital has been a leading contributor with Seeking Alpha since early 2012. If you like the material and want to see more, scroll to the top of the article and hit "follow." Quad 7 Capital also writes a lot of "breaking" articles, which are time-sensitive, actionable investing ideas. If you would like to be among the first to be updated, be sure to check the box for "Get email alerts" under "Follow."