Broadcom (AVGO) reported better than expected quarterly results on Dec. 6 after the close. But more important the company saw better than expected wireless business growth. It should be a positive read through to Apple (AAPL) and suggests that perhaps things at Apple aren't as dire as some have feared.
Apple stock has fallen 26.5% from its high at the start of October over fears of slowing iPhone growth. Broadcom's results and conference call revealed that its wireless business was strong.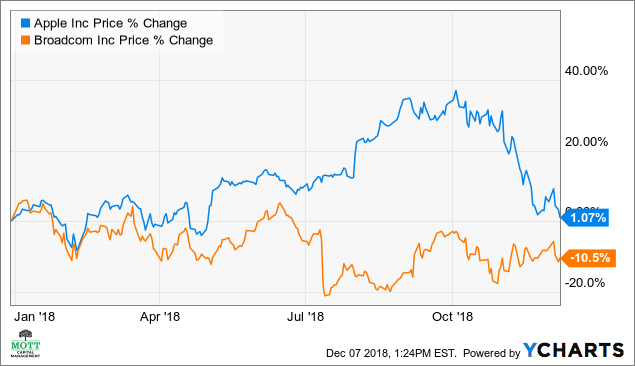 Strong Wireless
Broadcom reported fourth quarter revenue growth of 8% sequentially and 12% year over year. But more importantly, the company saw sequential wireless growth of 32% in the fourth quarter and a year-over-year decline of 5%. Broadcom had noted in its third quarter conference call it was looking for wireless growth of 25% sequentially driven by a ramp-up of its North American OEM. It puts the current wireless results ahead of expectations.
The company noted on its fourth quarter call that the better than expected wireless revenue was driven by upside volumes and legacy phone generation and also its North America OEM.
Broadcom is a significant supplier to Apple, and the commentary would suggest that the slightly lighter year-over-year revenue at down 5%, was a not a train wreck. It also suggests that perhaps iPhones are selling at a somewhat slower pace as compared to last year. Broadcom saw robust growth last year with revenue rising 40% sequentially and 33% year-over-year.
As previously noted in a prior article, Dialog Semiconductor (DLGNY) had said that it had not seen any production cuts from Apple.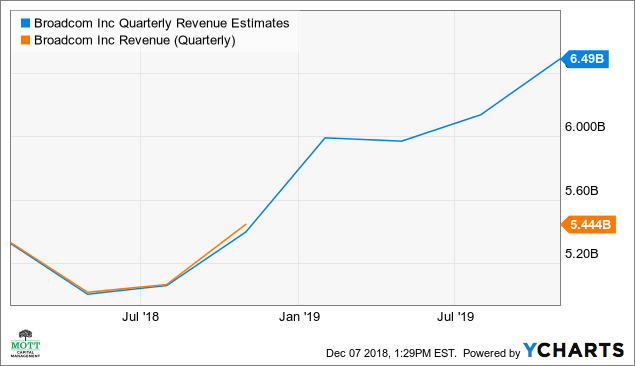 Red Flags Blow
But still, there are plenty of red flags that suggest Apple's iPhones are not selling nearly as well as some had hoped for, which is potentially why the stock had such a big run-up going into October. On Dec. 6 Digitimes reported that touch panel maker General Interface Solutions revenue declined 12% in November sequentially and is down nearly 6% for the year. It would strengthen the thesis that the iPhone XR may not be seeing the strong sales many had expected.
According to Apple Insider even Morgan Stanley has cut Apple's price target to $236 from $253 sighting an elongation of upgrade cycle now also taking hold in China.
Moving Away from iPhones
The fears for the iPhone ramped up after the company said it would no longer provide iPhone sales units. But that may also be because the company is trying to refocus investors to the view the company as something more than just a handset maker. The company is now making a strong push into original streaming content. It was reported yesterday Apple is currently in negotiations to adapt an Isreali TV show and have it star Richard Gere.
Not a Disaster
Based on the latest results out of Broadcom one can confirm that perhaps iPhone sales may be weak, but far from a disastrous. Meanwhile, even the news out of General Interface Solutions again suggests weakness but doesn't seem to point to a collapse in demand as the freefalling stock price may indicate.
Additionally, the company appears to be searching for new sources of services revenue, and the addition of streaming content may help them do just that.
Analysts Estimates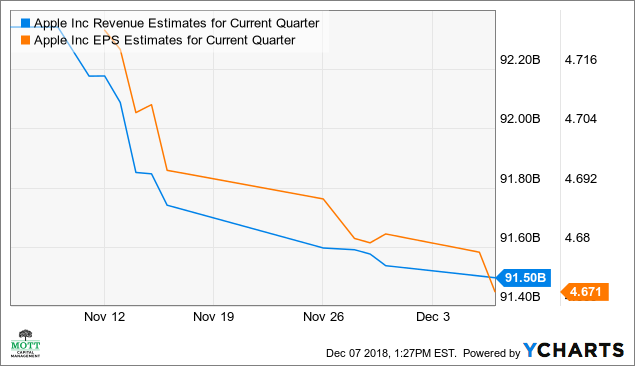 According to data from Ycharts analysts, consensus revenue estimates have fallen just 1.5% to $91.54 billion which is around Apple's guidance. Additionally, earnings estimates have dropped 1% to $4.68 per share. Again, despite all the fears of iPhone weakness revenue and earnings estimates have remained relatively unchanged.
All of this would suggest that Apple's stock is likely oversold on fears that may be greater than reality.
Mott Capital Management, LLC is a registered investment adviser. Information presented is for educational purposes only and does not intend to make an offer or solicitation for the sale or purchase of any specific securities, investments, or investment strategies. Investments involve risk and unless otherwise stated, are not guaranteed. Be sure to first consult with a qualified financial adviser and/or tax professional before implementing any strategy discussed herein. Upon request, the advisor will provide a list of all recommendations made during the past twelve months. Past performance is not indicative of future results
Disclosure: I am/we are long AAPL.
I wrote this article myself, and it expresses my own opinions. I am not receiving compensation for it (other than from Seeking Alpha). I have no business relationship with any company whose stock is mentioned in this article.