Quick Take
Forrester (FORR) announced it has agreed to acquire SiriusDecisions for $245 million.
SiriusDecisions operates as a business-to-business research and advisory company focused on operational consulting.
FORR is acquiring the firm to complement its strategic focus with SiriusDecisions' operational consulting practice.
I view the deal as a positive, though investors will need to wait until well into 2019 before seeing the complementary benefits of the combination.
Target Company
Wilton, Connecticut-based SiriusDecisions was founded in 2001 to help company executives with sales, marketing, and product performance by delivering operational intelligence, frameworks, and guidance.
Management is headed by Co-Founder and CEO John Neeson, who was previously CEO at Skila.
Below is an overview video of SiriusDecisions Marketplace:
Source: SiriusDecisions
SiriusDecisions' primary offerings include:
Account-based Marketing
Brands and Communications
Channel Marketings
Channel Sales
Portfolio Marketing
The firm raised funding in 2014 and investors included JMI Equity. Source: Crunchbase
Market & Competition
According to a market research report by IBIS World, the US management consulting industry is projected to reach $241 billion by the end of 2018.
This represents a CAGR of 3.6% between 2013 and 2018.
The main drivers for this expected growth are growing corporate revenue and increasing business expenditure.
Major competitive vendors that provide management consulting services in the US include:
Accenture (ACN)
Deloitte
McKinsey & Company
Bain & Company
Booz Allen Hamilton (BAH)
IBM Global Service (IBM)
Acquisition Terms and Rationale
FORR disclosed the acquisition price as $245 million in cash ($175 million in debt and $70 million from cash on hand) and filed a form 8-K stating that it has entered into the following debt financing commitments to pay for the deal,
Pursuant to the Debt Commitment Letter, the Commitment Party has, subject to the terms and conditions set forth therein, committed to provide Forrester with: (1) a senior secured term loan facility in an aggregate principal amount of $125.0 million (the "Term Loan Facility") and (2) a senior secured revolving credit facility in an aggregate principal amount of $75.0 million (the "Revolving Credit Facility" and, together with the Term Loan Facility, the "Facilities"). The proceeds of the Term Loan Facility will be used, upon the consummation of the Merger, to (1) finance all or a portion of the cash consideration for the Merger and (2) pay the fees, costs, and expenses incurred in connection with the Merger (collectively, the "Acquisition Consideration"). The proceeds of the Revolving Credit Facility may be used to finance a portion of the Acquisition Consideration and for working capital and other general corporate purposes of Forrester and its subsidiaries; provided that no more than $50.0 million may be borrowed on the closing date of the Merger under the Revolving Credit Facility.
Per FORR's CFO, Michael Doyle, the deal is 'expected to add approximately $100 million to Forrester's revenue in 2019 on a pro forma basis and is expected to be $0.10 to $0.20 accretive to our 2019 pro forma EPS [Earnings Per Share].'
A review of the firm's most recent 10-Q filing indicates that as of September 30, 2018, it had $144.5 million in cash and marketable investments, and $181.7 million in total liabilities, of which $128.4 million was deferred revenue.
Free cash flow during the nine months ended September 30, 2018, was $34.3 million.
Given Forrester's balance sheet and cash flow, the transaction should provide no difficulty in closing and no undue financial hardship.
Forrester is acquiring SiriusDecisions, which has posted TTM (Trailing Twelve Month) revenue of $87 million, for a Price/Sales multiple of 2.81x.
In the past 12 months, FORR's stock price has risen 0.11% vs. the S&P 500 Index drop of(0.3%), as the chart below indicates: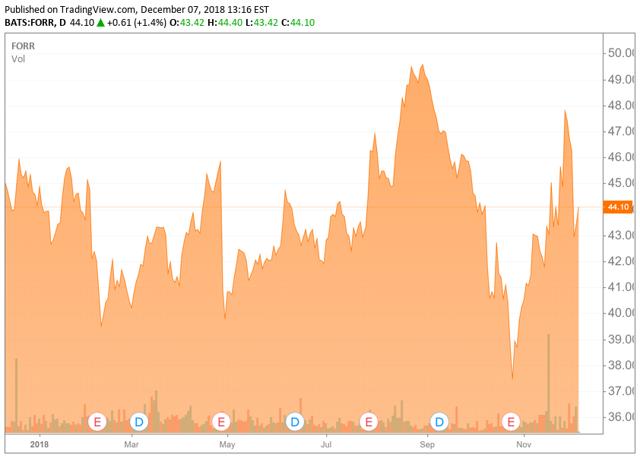 Source: Seeking Alpha
SiriusDecisions provides operational consulting, which promises to be highly complementary to Forrester's focus on strategic consulting.
Opportunities from the acquisition include cross-selling potential, expanded strategic selling footprint into the CIO function and customer experience heads, geographic expansion of SiriusDecisions into Europe and Asia, and expanding SiriusDecisions beyond its existing verticals.
The deal appears to make strong strategic sense as Forrester will now seek to help clients understand 'what to do [strategy] and how to do it [operations].'
While a significant acquisition size for Forrester, the deal presents little apparent financial downside as the target company will add EBITDA and be accretive to EPS in 2019.
I'm bullish on FORR and expect that once integration is complete, the combination will prove a potent competitor in enterprise consulting markets.
Thank you for reading. I write about IPOs and M&A deals, though I focus most of my time on IPOs. If you're interested in investing smarter in IPOs, you should check out IPO Edge.
Disclosure: I/we have no positions in any stocks mentioned, and no plans to initiate any positions within the next 72 hours. I wrote this article myself, and it expresses my own opinions. I am not receiving compensation for it (other than from Seeking Alpha). I have no business relationship with any company whose stock is mentioned in this article.