On Tuesday, the S&P 500 (SPY) fell 3.24%. This article looks at how frequent that type of daily return is for the U.S. stock market. We also examine the question of whether the frequency of sharply negative daily returns is a harbinger of a transition in the business cycle.
To answer this question on the frequency of -3% returns, I examined daily index returns dating back to 1928 for the S&P 500 and its predecessor indices.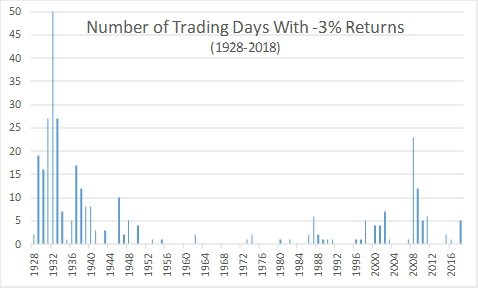 Over the full dataset, there have been 326 days with returns worse than -3%. Returns that negative happen on 1.42% of trading days, or roughly 3.5 times per year. Including Tuesday's negative performance, we have seen five such days in 2018 - slightly above average, but not materially so.
Of course, as you can see from the graph above, many of the -3% days occurred during the Great Depression. Over 40% of the -3% return days in this ninety year dataset happened between 1929 and 1933. Returns of -3% are not uniformly distributed, but rather clustered in transitioning economic environments.
Shortening the dataset to begin in 1957, when the S&P large cap benchmark expanded to its current 500 constituent form, paints a slightly different picture.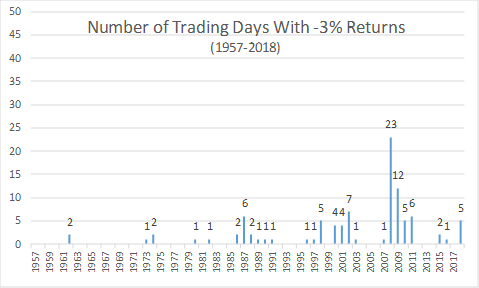 Since 1957, there have been just 98 trading sessions with -3% returns, a feat that has occurred roughly 1.5 times per year. Before 2018, we saw just three of these such sessions since late 2011. That is nothing compared to the two decade period between 1957 and 1977 that saw three of these -3% or worse trading sessions in total.
As you can see from these graphs, the negative returns tend to cluster in recessionary environments or early parts of the recovery. The two years with the most -3% returns in the second graph were 2008 (23) and 2009 (12).
Years with five or more -3% trading sessions are memorable ones in finance history. The year 1987, of course, featured Black Monday, a -21% one day drawdown that still marks the worst in the dataset. The year 1998 featured the Russian default, the collapse of hedge fund giant LTCM, and a sovereign debt crisis in Asia. Years 2000-2002 featured a series of -3% days through the collapse of the tech bubble, 9/11, and the 2001 recession. Years 2008-2011 featured many -3% days through the financial crisis, recession, and the stumbling global recovery.
We have seen more -3% returns in 2018 than the previous seven years combined. Note from the second graph that when we have had years with 5 or more days of -3% returns, we have seen more -3% returns the next year only one time (2011).
Interestingly, there were no -3% days from 2004-2006 and just one in 2007. Recessions in the mid-1970s and early 1980s did not feature a clustering of large single day negative returns. The frequency of -3% days appears to be more of a coincident indicator of financial market stress than a leading indicator. From these simple charts, it does not appear that we can link the concentration of -3% returns with subsequent negative returns. It does seem like 2018 will be remembered in the annals of finance (and not too fondly), but it is not necessarily a harbinger of a turn in the business cycle.
Disclaimer
My articles may contain statements and projections that are forward-looking in nature, and therefore inherently subject to numerous risks, uncertainties and assumptions. While my articles focus on generating long-term, risk-adjusted returns, investment decisions necessarily involve the risk of loss of principal. Individual investor circumstances vary significantly, and information gleaned from my articles should be applied to your own unique investment situation, objectives, risk tolerance and investment horizon.