AT&T (T) has updated a positive 2019 outlook recently. JPMorgan and Cowen upgraded AT&T after the recent update. AT&T expects $26 billion FCF and 2.5x net debt to EBITDA ratio by the end of 2019. If AT&T meets the target, the stock price would appreciate by more than 10% in 2019. AT&T's projection would be reasonable for the following reasons.
AT&T expects total synergy of $2.5 billion due to the WarnerMedia merger by 2021; $1.5 billion for cost synergy and $1 billion for revenue synergy. The total synergy will be $700 million for 2019, $2 billion for 2020, and $2.5 billion for 2021. The merger would enable AT&T to cut expenses by restructuring the newly merged company and reducing workforce that is currently comprised of about 270,000 full-time employees. For this reason, AT&T's SG&A expenses would decrease, and EBITDA would increase in future years. $1.5 billion cost reduction and additional $1 billion revenues are huge improvements for AT&T over the future years. Its EBITDA would increase by $2.5 billion per each year on and after 2021. AT&T would use the extra cash to pay off the debts.


(Source: AT&T 10-Ks, 10-Q, and calculations are mine)
AT&T closed a $100 million deal to give Netflix (NFLX) the right to stream the Friends which will be available only at Netflix in 2019. Previously, Netflix paid Time Warner $30 million for the same deal about a year ago. The price has increased by 233% over a year. The $100 million deal implies that AT&T has a great bargain power over streaming companies because AT&T is the sole owner of many popular movies and TV shows such as the Friends. AT&T is a sole provider of the Friends and there are multiple streaming companies such as Netflix, Amazon (NASDAQ:AMZN), and others that want to stream the Friends. Netflix had to pay the $100 million, which is the current market value, on the Friends deal. If Netflix did not pay it, AT&T would sell the Friends deal to Amazon. If it happens, Netflix subscribers would be upset and would switch their subscription to Amazon Prime. Netflix would not want Amazon streaming the Friends so that Netflix might have to pay premium on the deal. Also, Netflix would not want to upset AT&T because AT&T can provide other premium contents to Amazon. In addition, AT&T will have another option by the end of 2019; Netflix would not be able to stream the Friends in 2020 because AT&T will start the WarnerMedia streaming service by late 2019. Otherwise, AT&T would charge Netflix even higher premium on the Friends deal for 2020.
The deal incurred no cost while it generated $100 million in revenues. AT&T owns many popular movies and TV shows. For this reason, AT&T's overall cost of goods sold will decrease, revenues will increase, and profit margin will improve. The Friends deal shows the bargain power of premium content.
5G Leader
5G technology is a big change for the communication industry, which is highly saturated by carriers such as AT&T, Verizon (VZ), T-Mobile (TMUS), Sprint (S), and other smaller companies. In 2019, AT&T and Verizon will be only companies that will provide nationwide 5G services, therefore, most of the 5G market pie of 2019 will be divided between AT&T and Verizon; T-Mobile and Sprint will focus on the merger in 2019; other smaller companies lack capital and resources to develop nationwide 5G network. For this reason, AT&T's 2019 revenues and profit margin will increase. AT&T plans to start offering 5G services in multiple cities in America by late 2018, 5G mobile services by first half of 2019 and it plans to provide nationwide 5G coverage, making 5G services available to 200 million people by the middle of 2019.
AT&T's $183 billion debt caused the recent stock price decline in 2018. AT&T plans to lower its net debt to EBITDA ratio to 2.5 by 2019 and historic low level by 2022. Is AT&T's plan feasible? Yes. AT&T will reduce SG&A expenses and cost of goods sold due to the merger synergy. AT&T will increase revenues and EBITDA due to the merger synergy, launches of 5G mobile services, and WarnerMedia streaming services in 2019. I believe AT&T's debt would be amounted to $165~170 million and EBITDA would be $63~65 million by the end of 2019. I believe AT&T's net debt to EBITDA ratio would be around 2.5~2.7x by the end of 2019. Dividend payout ratio would be around 56~58% in 2019. I expect AT&T will pay $0.51 quarterly dividend per share four times in 2019. Currently, AT&T's dividend yield is about 6.5%.
Valuation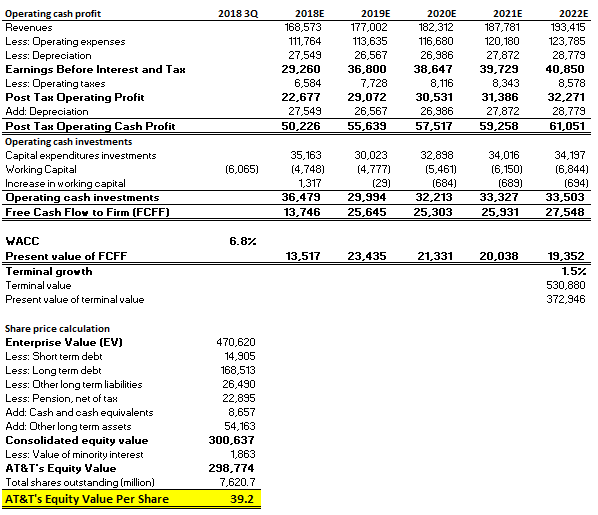 (Source: AT&T 10-K, 10-Q, estimates, and calculations are mine)
I have carefully analyzed AT&T's 10 years of financial data. Also, I have carefully reviewed AT&T's business, financial risks, and strategy. I estimate AT&T's equity value per share would be about $39 per share as of December 5, 2018.
This article is for informative use only. This article represents my personal opinion. Each investor's buy, sell, or hold decision is based on one's risk tolerance, time horizon, and investment strategy. My personal opinion will not fit each reader's current investment strategy.
Disclosure: I/we have no positions in any stocks mentioned, and no plans to initiate any positions within the next 72 hours. I wrote this article myself, and it expresses my own opinions. I am not receiving compensation for it (other than from Seeking Alpha). I have no business relationship with any company whose stock is mentioned in this article.