Weekly Review: Preferred Stock CEFs - Lagging Fund At A 8.08% Discount And 8.52% Yield
Summary
Review of how preferred funds finished the week.
Comparison of closed-end funds in the group.
Recap of news related to them, if any.
This idea was discussed in more depth with members of my private investing community, Trade With Beta. Start your free trial today »
Introduction
Over the last few months, most of you have noticed our increased activity in closed-end funds as the inflow of volatility finally shook them up and created various arbitrage and directional opportunities for active traders such as us. Now that these products have our attention, we are continuously monitoring most funds by sector and will reinstate our Weekly Review, publishing a recap of the groups of interest.
The News

Source: Author's Software
Over the past week, there were no important news that could affect the sector's performance.
The Benchmark
The leading benchmark of the preferred stock sector (PFF) finished the week at a new low. The index went down to $35.12 per share, but luckily closed higher in the last trading hours. For a third straight week, the ETF closed at negative territory. Since it reached its high point of $38.08 per share in early July, the fund has dropped with $2.90 per share or 5.26%.

Source: Barchart.com - PFF Daily Chart (6 months)
On a weekly basis, the fund lost $0.19 per share or 0.53%.
On the other side, the iShares 20+ Year Treasury Bond ETF (TLT) finished the week positive at a price of $115.33 per share. By the end of October, TLT had broken through all its support levels, and in early November, it bottomed at a price of $111.90 per share. Since then, the bond ETF has gained $3.43 per share or 2.7%. On a weekly basis, the index has added $0.19 per share or 0.16%.

Source: Barchart.com - TLT Daily Chart (6 months)
Treasury yields continue to slide during the past trading week. On Friday, the 10-year treasuries went below 3.00%.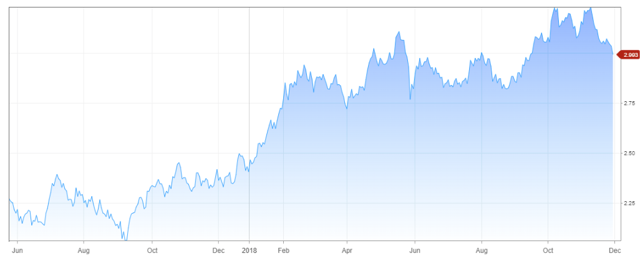 Source: cnbc.com - U.S. 10-Year Treasury
1. Sorted by Z-Score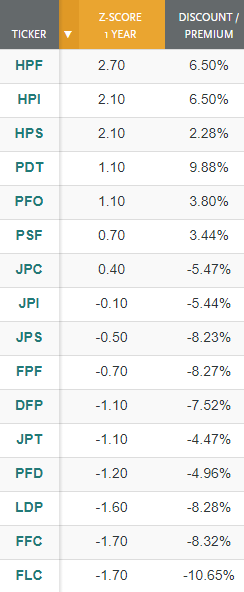 Source: Cefconnect.com
Today, the Z-scores are a lot higher than our previous review of the preferred closed-end funds. We can clearly see from the above chart that there are a lot of CEF which are statistically overvalued. The better news is that there are a lot of undervalued funds as well. First, let us take a brief look at the most overvalued funds.
I will start with our new leader of the week, which has a positive Z-score of 2.70. The John Hancock Preferred Income Fund II (HPF) is the most undervalued fund among all. Of course, that is only from a statistical perspective we are currently talking about.
Next in line is HPF's brother, the John Hancock Preferred Income Fund (HPI) which with a Z-score of 2.10. Both of the funds have equal high premiums. Below, we can see how much HPI has deviated from its peers:

Source: cefdata.com
Of course, we will discuss these high premiums a little bit later.
Continuing with the potential "Buy" opportunities now.
First in line is the Flaherty & Crumrine Total Return Fund (FLC) with a negative Z-score of -1.70%. Excluding its brother - the Flaherty & Crumrine Preferred Securities Fund (FFC) which has the same result - there is not a lower score in the group, hence these to CEFs are the most undervalued funds.
The Cohen & Steers Limited Duration Preferred and Income Fund (LDP) is another closed-end fund which requires our attention. For me, this fund is lagging a little bit as some of its peers started climbing: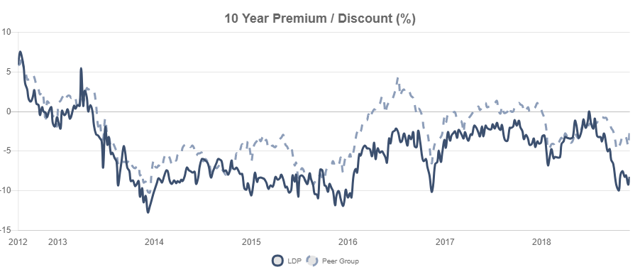 Source: cefdata.com
For example, the First Trust Intermediate Duration Preferred & Income Fund (FPF) has quite a performance during the past week. If you remember, we have discussed it in our previous article as a dividend capture. So far, so well: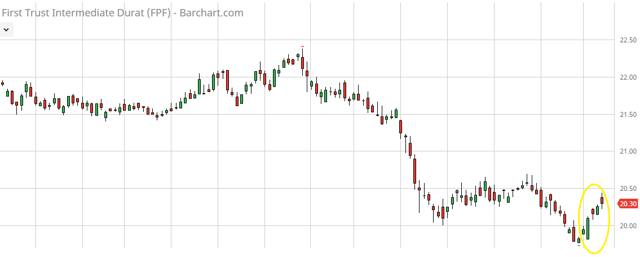 Source: barchart.com - FPF Daily Chart (6 months)
These two closed-end funds have over 94% correlation:

Source: cefanalyzer.com
2. Baseline Expense

Source: Cefconnect.com
From the above table, we could get information on how much the different funds charge us for managing our portfolio. As we can see, the average charge in percent is 1.20%. Anything over 1% is a little bit high for me, but 1.20% is still acceptable, especially when we keep in mind the delightful performance of the sector.
3. 5-Year Return On NAV
Source: Cefconnect.com
The aim of the above ranking is to show us the closed-end funds with the higher yields based on the net asset value. Combination of the return with the other metrics that we have is a foundation of our research for potential "Long" candidates.
4. Discount/Premium
Source: Cefconnect.com
We are starting to see the table more variegated now. We high premiums and wide discounts. Let us take a brief look at the top premiums and top discounts.
At the frames of this metric, the John Hancock Premium Dividend Fund (PDT) is still our leader second week in a row. The CEF is currently trading at a 9.88% premium, and it is statistically overvalued with a positive Z-score of 1.10.
We continue with the high premiums of the two John Hancock 'brothers'. Both of them are trading at a 6.50% premium. Both HPI and HPF made new 52-week highs over the past week:

Source: Cefconnect.com - HPF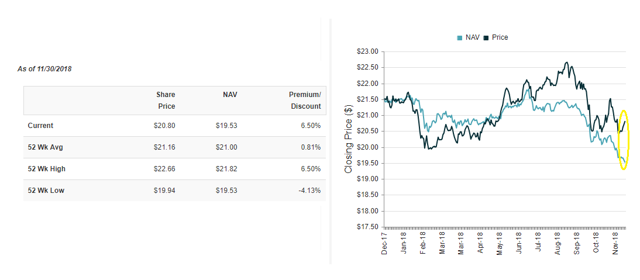 Source: Cefconnect.com - HPI
On the other side of the table are waiting with wide discounts the Flaherty 'brothers' - FLC and FFC. I have been watching these two for a while now, and I think that they quite depressed currently. The Flaherty & Crumrine Preferred Securities Fund (FFC) is currently trading at an 8.32% discount: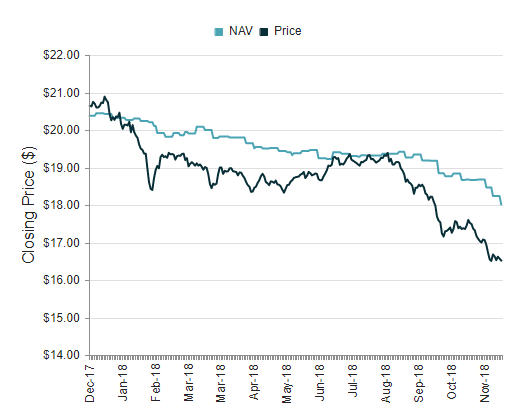 Source: Cefconnect.com
The chart translated in numbers: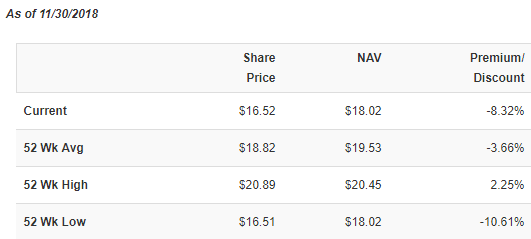 Source: Cefconnect.com
The widest discount in the sector belongs to FLC - -10.65%. The face of the fund looks like this:

Source: barchart.com - FLC Daily Chart (6 months)

Source: Cefconnect.com
Here is how much the fund's net asset value changed during the past trading week:

Source: Cefconnect.com
5. Effective Leverage

Source: Cefconnect.com
Leverage magnifies returns, both positively and negatively. And we look at the effective leverage percentage, and we can understand these high-return results that the funds provide us with. This indicator is also quite important when we do our homework on the closed-end funds. Basically, what we have concluded is that the average leverage percent in the group is 31.65%.
6. Distribution Rate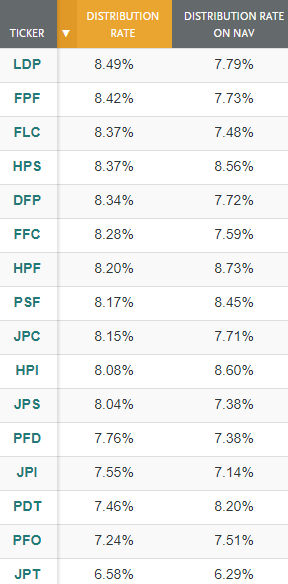 Source: Cefconnect.com
Above, we saw what was the historical performance of the funds, but probably most of you are interested in the current return which could be achieved, and that is the reason why I sorted the funds by the highest distribution rate.
The current leader in the frames of this metric is the Cohen & Steers Limited Duration Preferred& Income Fund (LDP) with a yield on price of 8.49%. Its yield on net asset value is 7.79%.
The average yield on price for the sector is 7.96% and the average yield on net asset value is 7.79%.
Note: This article was originally published on Dec. 2, 2018, and some figures and charts might not be entirely up to date.
Trade With Beta
At Trade With Beta we also pay close attention to closed-end funds and are always keeping an eye on them for directional and arbitrage opportunities created by market price deviations. As you can guess, timing is crucial in these kinds of trades; therefore, you are welcome to join us for early access and the discussions accompanying these kinds of trades.
This article was written by
Income arbitrage ideas along with managed portfolios and pair trades
Day trader whose strategy is based on arbitrages in preferred stocks and closed-end funds. I have been trading the markets since I started my education in Finance. My professional trading career started right before the big financial crisis of 2008-2009 and I clearly understand what are the risks the average investor faces. Being a very competitive trader I have always worked hard on improving my research and knowledge. All my bets are heavily leveraged(up to 25 times) so there is very little room for mistakes. Through the years my approach has been constantly changing. I started as a pure day trader. Later I added pair trades. At the moment most of my profits come from leveraging my fixed income picks. I find myself somewhere in between a trader and an investor. I am always invested in the markets but constantly replace my normally valued constituents with undervalued ones. This approach is similar to rebalancing your portfolio and I just do this any time there is some better value in the markets. I separate my trading results from my trading/investment results. I target 40% ROE on my investment account and since inception in 2015, I am very close to this target.
My main activity is running a group of traders. Currently, I have around 40 traders on my team. We share our research and make sure not to miss anything. If there is something going on in the markets it is impossible not to participate somehow. Some of my traders are involved in writing the articles in SA. As such Ilia Iliev is writing all fixed-income IPO articles. This is part of their development as successful traders.
My thoughts about the market in general:
*If it is on the exchange it is overvalued and our job is to find the least overvalued.
*Never trust gurus - they are clueless.
*Work hard - this is the only way to convince yourself you deserve success.
*If you take the risk it is you who has to do the research.
*High yield is always too expensive.
We are running a service here on SA. It is a great community with very knowledgable people inside. Even though we are not in the spotlight as often as we would like to our articles' results are among the strongest on SA. You can always contact me to share some of our articles and best picks so far.

Analyst's Disclosure: I/we have no positions in any stocks mentioned, but may initiate a long position in LDP over the next 72 hours. I wrote this article myself, and it expresses my own opinions. I am not receiving compensation for it (other than from Seeking Alpha). I have no business relationship with any company whose stock is mentioned in this article.
Seeking Alpha's Disclosure: Past performance is no guarantee of future results. No recommendation or advice is being given as to whether any investment is suitable for a particular investor. Any views or opinions expressed above may not reflect those of Seeking Alpha as a whole. Seeking Alpha is not a licensed securities dealer, broker or US investment adviser or investment bank. Our analysts are third party authors that include both professional investors and individual investors who may not be licensed or certified by any institute or regulatory body.