Agios Pharmaceuticals (AGIO) had been one of the bright spots in the small-cap pharmaceutical or biotechnology space earlier in 2018. On December 4, 2018, it closed at $54.05, down 46% from its 52-week high of $99.82. With its first two drugs approval occurring during the past year, you would think the stock price would be up. In this article, I will examine possible causes for the fall and whether that makes the stock a good investment for short- and long-term biotech investors at the current price.
Stock Price and Market Capitalization
A year earlier, on December 5, 2017, Agios closed at $61.33, so it is down 12% y/y as well as being off the 52-week high.
Current market capitalization is $3.3 billion. I find it helpful to think about how much net income would be necessary, typically, to support a given market cap. I use a rule-of-thumb P/E of 20. Using that, Agios would need an annual net income of $165 million to justify its market cap. As a barely commercial-stage biotech, that would be a goal, to be justified if revenue ramps and the pipeline develops further. As a reality check, in Q3 2018, net loss was $95 million.
My thesis is that in addition to falling with the rest of the stock market and other biotech stocks, the stock price has been hurt by the Adverse Event Warning and lower-than-estimated drug sales. The following chart compares AGIO and one of the biotech stock ETFs, the XBI, which has AGIO as a component: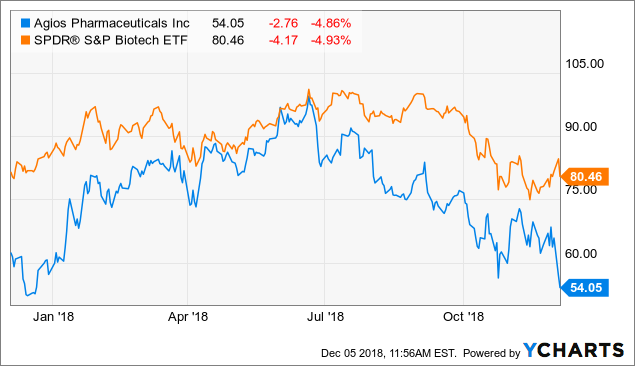 Adverse Event Warning
On November 29, 2018, the FDA issued a warning that Idhifa patients need better monitoring for differentiation syndrome. The stock price had been $68.41 at the close on the 28th. It has been heading essentially down ever since.
The warning sounded worse as a headline, or to an automated trading program than it would to anyone knowledgeable. The prescribing information for Idhifa already has a warning about differentiation syndrome. The problem was that not all doctors were monitoring for it, or in some cases, treating it when it occurred. So, the warning was for doctors, other medical personnel, and patients, and perhaps a reminder to Celgene (NASDAQ:CELG) salespeople that more emphasis was needed on the specific issue. The warning should not affect sales of the drug, so it should not have affected the stock price.
The one place that I would criticize Agios management is in how they handled the news. They did not issue a press release at all (see Agios Press Release page). For that matter neither did Celgene. Maybe they understood that this was not a warning of a new type of adverse event, but investors apparently did not.
This did occur a few days before new data presentations were made for Idhifa and Tibsovo at the 2018 ASH meeting, which would be a major focus for the companies.
Royalties and Product Revenue
Q3 2018 Tibsovo net sales were $4.5 million. $2.0 million of revenue in the quarter was from royalties for Idhifa from Celgene, up sequentially from $1.6 million. $8.7 million was from collaborations.
Idhifa revenue at Celgene in Q3 2018 was $19 million, up 12% sequentially from $17 million and up 171% from $7 million in Q3 2017. It is still ramping, but it has been on the market for over a year now and does not look like it can justify very much market cap. Idhifa (enasidenib) targets specific mutations of the IDH2 gene and is approved for treating AML (acute myeloid leukemia) when it has those mutations.
Even if the $2 million in Q3 royalty revenue from Idhifa doubles sometime in 2019, we are still talking about an annual run rate of $16 million per year, which in itself does not come near justifying a $3.3 billion market cap.
Agios could do better with Tibsovo, which was approved by the FDA for IDH1-positive AML just last July. Q3 revenue of $4.5 million only covered two months of the quarter, so Q4 should be better. However, running a commercial operation means sales and marketing expense needs to be taken into account.
AML is not the only indication that involves IDH1 mutations. Tibsovo is already in trials for cholangiocarcinoma (bile duct cancer) and glioma. There may be other indications where it works. In that case, even it might become one of those drugs whose initial ramp may eventually lead to much more significant revenue. It is too early to be sure.
In 2019, the revenue ramp will likely be the most significant factor for Agios stock price movements.
Pipeline
Here is a current overview of the Agios clinical-stage pipeline: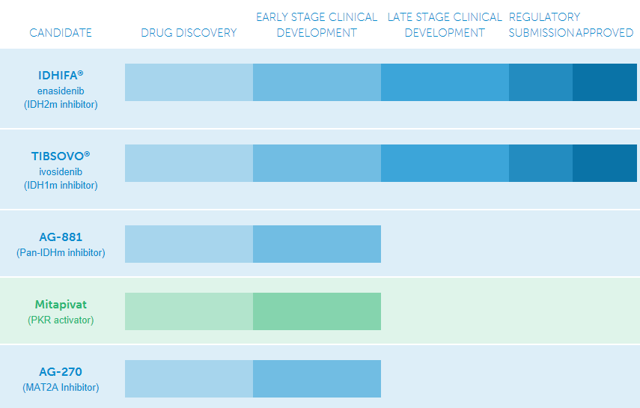 Source: Agios pipeline page
AG-881 is a Pan-IDHm inhibitor, that is, it might be effective for both IDH1 and IDH2 mutations. It can penetrate the blood-brain barrier. It is in Phase 1 studies for gliomas (brain cancers) and other solid tumors. Given the long string of drugs failing to work for brain cancer, it would be brilliant if it works, but I would consider it a long shot unless data comes in proving otherwise.
Mitapivat (formerly AG-348) in the pyruvate kinase activator class, but it activates the R type. It is in Phase 2 and Phase 3 trials for pyruvate kinase deficiency, which is rare. It looks to me like Agios should have updated the pipeline graphic shown above to put this in the Late Stage Clinical Development category. It has been granted Orphan Drug and Fast Track status by the FDA.
AG-270 is a MAT2A inhibitor. About 15% of tumors are MTAP-deleted, which makes them susceptible to MAT2A inhibitors. It is being developed in collaboration with Celgene which is conducting a Phase 1 trial on subjects with MTAP-deleted tumors.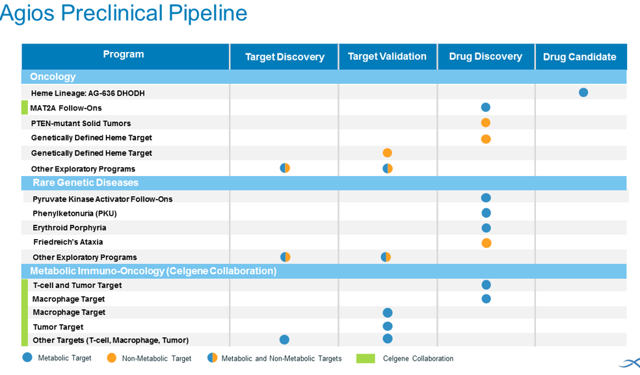 There is only one take away from the preclinical pipeline at this point: it is broad and ambitious.
While preclinical therapies are often years to decades away from being revenue producers, it is possible that Agios will partner more of these; some are already partnered with Celgene. Milestone payments could provide cash to fund further development.
R&D spend in Q3 2018 was $82.6 million. Revenue from Idhifa and Tibsovo will not be paying for that any time soon, and collaboration milestone payments are speculative at this point.
Cash
At the end of Q3, cash and equivalents totaled $878 million. At the end of Q2, they were at $937 million, so the burn in the quarter was $59 million. Cash seems adequate for 12 or more quarters. The hope would be that Tibsovo revenue will ramp enough over time to at least reduce the burn.
Conclusion
When it comes to the big picture, the main positive for Agios is that it has two FDA approved drugs, one licensed to Celgene and one to be self-marketed. It is not just about the revenue these two drugs might generate during their patent lives. More importantly, it shows that the Agios team knows how to pick a target and a therapeutic approach and get a therapy through preclinical and clinical trials successfully. That does not mean that everything in the Agios pipeline is guaranteed approval, but it could mean that the batting average will be good.
Paying $3.3 billion to buy 100% of Agios at today's price, with years of cash burn still ahead, would be an act of optimism. Done as an acquisition by a larger company it would not be the most outrageous acquisition of late, but it would be interesting to see what in the pipeline would be used to justify it. I am not implying that any company is actually looking to acquire Agios at this time.
For individual investors, I think it comes down to event horizons. I started accumulating AGIO in late 2015, and I sold about 40% of my tiny stake in June this year at $93.20. I am happy keeping the rest and seeing what happens in the long run. I would accumulate more if revenue starts ramping more quickly or some positive data comes out of the pipeline. In the short term, the only source I see for gains would be a general rise in biotech stock prices. The stock could continue to fall off under present circumstances until the relationship of future earnings to market capitalization.
Disclosure: I am/we are long AGIO, CELG. I wrote this article myself, and it expresses my own opinions. I am not receiving compensation for it (other than from Seeking Alpha). I have no business relationship with any company whose stock is mentioned in this article.
Additional disclosure: AGIO currently represents 0.9% of my stock portfolio.