Background
Allow us to step into a time machine, back to the early days of December 2015. This was in the depths of the oil bear market, with crude oil falling to the nigh-unthinkable level of $40/barrel. The stock of Kinder Morgan (KMI), along with its cohort in the MLP index (AMLP), had fallen precipitously, with KMI declining some 60+% from its price at the beginning of the year.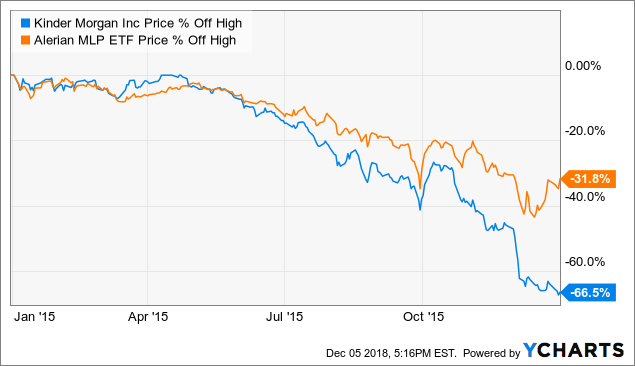 Meanwhile, sentiment around the entire energy sector, from producers to pipeline operators, was absolutely atrocious. Companies were experiencing the dual pinch of declining cash flows with ever increasing debt costs. Debt was becoming harder to renegotiate, and multiple companies were forced to face the specter of bankruptcy. Dividends were being slashed left and right, particularly among pipeline companies, which paid out substantially all free (or distributable) cash flow as dividends, with little regard to what may happen if either debt or equity markets closed to fund future growth.
Kinder Morgan was no different. Relying on approximately a 50:50 split of debt and equity issuance to fund operations, Kinder Morgan was in a disastrous position: falling stock prices made the dilution of equity issuance unacceptable, while funding entirely with debt would blow Kinder Morgan's already tenuous investment-grade debt into junk territory. So, despite having just promised in 2014 a future dividend greater than $3 a share during the merger of the multiple parts of the Kinder Morgan empire, management decided to engage in what investors would eventually call "being Kindered": the dividend was cut from $2 per share to $0.50 per share. Investors relying on this dividend income were furious (rightfully), and the stock plunged even further into January of 2016.
What has happened since?
In short, Kinder Morgan has executed much better than most could possibly have imagined. With the ability to rely on internally generated cash for both growth projects and paying down the debt, Kinder Morgan has been able to substantially clean up the balance sheet without sacrificing any of the growth or sustainability of earnings. For instance, I've shown below what are probably the three most important metrics for the company: distributable cash flow (NYSE:DCF), Net Debt, and shares outstanding.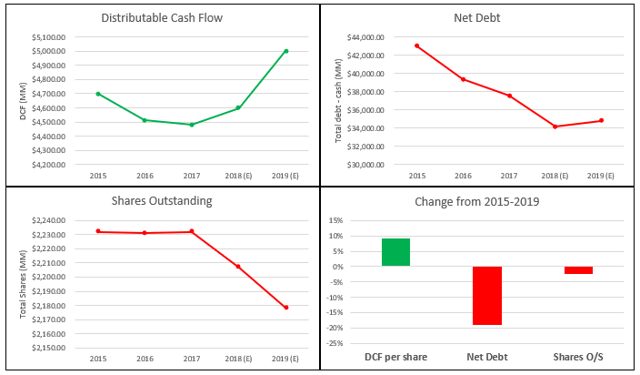 With Kinder Morgan recently announcing the 2019 budget, we can see the effects of four full years of turnaround since the dividend cut. As you can see, the company has increased distributable cash flow (the most reliable measure of earnings for a pipeline company) by 6% since 2015, while cutting debt by almost 20% and buying back more than 2% of total shares outstanding. Let me put it another way: without sacrificing any earnings power, in one of the most vicious oil and gas bear markets in decades, Kinder Morgan will be able to have cut the debt by some $8B+, buy back around $800M worth of stock, and continue to pay a dividend yielding 6% today.
Is Kinder Morgan suitable for investment today?
So, how has Kinder Morgan been rewarded for its solid performance since 2015?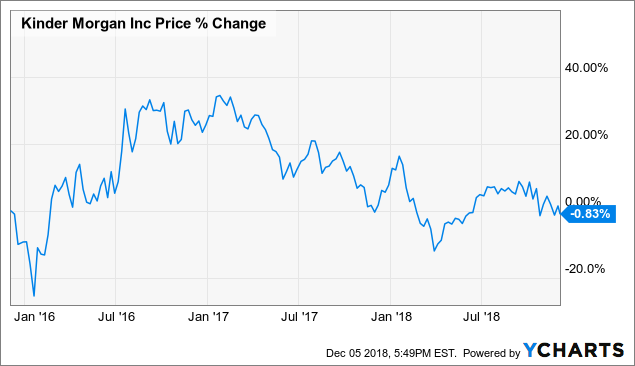 With a completely flat stock price. So far, shareholders have only been rewarded with the paltry yield that the $0.50 dividend implies, with no stock price appreciation. This is, in my opinion, hard to reconcile with the underlying performance of the business.
Indeed, Kinder Morgan is actually a better value today than it was in 2015! For example, one way of looking at valuation is to compare the enterprise value to DCF. Along with sporting one of the lowest EV/DCF values in the industry, Kinder Morgan actually has the lowest EV/DCF multiple in its existence as a public company (since its 2011 IPO). I've shown below this valuation metric since the dividend cut.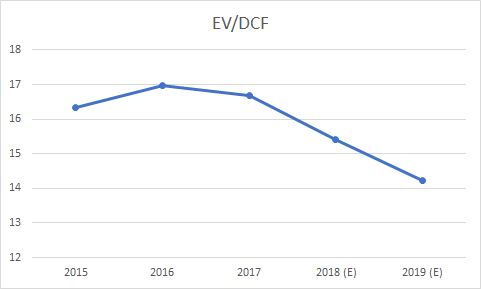 I've shown above the expected EV/DCF at the end of this year (in one month) and the end of next year; KMI is already trading at a much cheaper valuation than it was even during the rampant and indiscriminate selling in 2015; this is only set to improve in the coming year. Additionally, KMI is trading at a cheaper valuation than most of its peers; for instance Magellan (MMP) trades at around 16x EV/DCF.
Are there any catalysts to bring KMI up to a more reasonable valuation?
I think a few things could do the trick here. First, Kinder Morgan will continue to buy back stock, allowing at least some support for shares at their current levels. Management has seemed increasingly upset at the stock price during recent quarterly calls, so I wouldn't be surprised to see that repurchase program increased. If this happens, I expect the stock to start slowly grinding higher.
Second, Kinder Morgan has committed to increasing the dividend to $1/share in 2019, and in 25% increments for the next few years after that. Eventually, I believe that this dividend yield will become too great to ignore; a 5% yield will start to become too attractive to ignore for income investors. Furthermore, we can be reasonably sure that this time, the increase in the dividend is unassailable. The reason for this is the clear improvement in the balance sheet for Kinder Morgan; without tapping either the equity or debt markets, the company will be able to fund the dividend and ongoing operations, regardless of broader market conditions.
Conclusion
Three years after being "Kindered", investors in Kinder Morgan are on solid footing. The company is successfully executing on its plans for turnaround, and is seeing substantial improvements in the balance sheet without sacrificing earnings. Although painful at the time, the dividend cut of 2015 was necessary, and is now beginning to bear fruit. Although still likely to be subject to the woes of a volatile market, I believe that Kinder Morgan is suitable for investment today.
Disclosure: I am/we are long KMI. I wrote this article myself, and it expresses my own opinions. I am not receiving compensation for it (other than from Seeking Alpha). I have no business relationship with any company whose stock is mentioned in this article.