This research report was produced by The REIT Forum with assistance from Big Dog Investments.
There are two major risks for the New York Mortgage Trust (NYMT) preferred shares.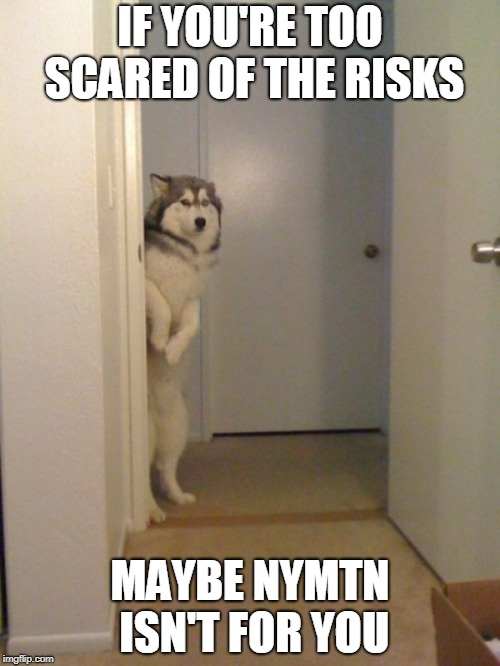 One is that NYMT goes into a bankruptcy or goes so close they would be suspending their preferred dividend. This is an unlikely event, but it is possible since they take a very significant amount of credit risk.
The other risk is that we get a recession scare and the preferred prices plunge without going into a bankruptcy (or near it). For all the best intentions, some people end up selling on the lower prices. Panic selling is a real risk factor for many investors.
That being said, NYMT has a preferred share well into our buy range.
Note on NYMT common stock
The following section will only be a quick note on the company. This is so investors have an idea of the underlying portfolio for the preferred shares. We do cover mortgage REIT valuations extensively on The REIT Forum and have also published numerous articles on mortgage REIT common stocks. We believe the mortgage REIT common stocks carry too much risk for conservative investors. We do cover most of the preferred shares in the sector and believe many of them to be a great fit for buy-and-hold investors. Some preferred shares carry a high-risk rating, but they still carry less risk than the common stocks. We cover 50+ preferred shares on The REIT Forum with comparable pricing, buy ratings, and risk ratings.
NYMT is internally managed which is normally a good thing. However, NYMT still has higher than average operating expenses. Operating expense ratios are important in evaluating how much a mortgage REIT can earn for shareholders.NYMT also carries a significant amount of credit risk. That credit risk is a major source of their returns. However, if we were to see property values falling significantly, we would expect the credit risk to backfire. If property values are declining rapidly, it gives the property owner an incentive to default on the loan.Because of NYMT's position, they would be exposed to substantial losses if that occurs. If it doesn't occur, then the REIT performs quite well. The problem today is that shares are priced for near perfection. Investors don't have much room left to win from things going right. They lose if the company loses, but they only perform mediocrely if the company wins.
Despite liking one of the preferred shares, we are bearish on common shares of NYMT.
NYMT preferred shares
For investors interested in The REIT Forum's preferred share ratings, see my guide to preferred shares. I also have a guide for preferred share dividend captures.
Let's take a look at NYMT's 3 preferred shares: (NYMTP), (NYMTO), and (NYMTN):

Source: The REIT Forum (subscription required)
NYMTN has the call protection and carries a stripped yield of nearly 9%. The other two preferred shares carry a stripped yield of 8.37% and 8.59%.
What we would suggest for investors who want to continue holding the preferred shares from NYMT is to look at switching over to NYMTN if they are invested in NYMTP or NYMTO.
We believe a call on NYMTP and NYMTO is quite unlikely since they carry coupon rates of 7.75% and 7.88% (rounded). Shares of NYMTN carry a higher coupon rate at 8% and a lower price. The result is a much higher stripped yield, so an investor swapping out of either NYMTP or NYMTO and replacing it with shares of NYMTN would see a significant increase in the total income from their position. For instance, a $10k position in NYMTN at $22.67 (Friday's close) would pay out $882 compared to $846 on NYMTO ($23.28) or $824 on NYMTP ($23.50).
In the event of a call on NYMTP or NYMTO, shares of NYMTN would almost certainly be trading above $25.00 per share because they offer call protection and a higher coupon rate. If shares of NYMTN were not trading above $25.00, then NYMT would be much better off just repurchasing shares of NYMTN in the open market rather than calling NYMTO or NYMTP.
In this call scenario, the investor in NYMTN can choose either to sell their shares into the market (probably at a price over $25.00), or they can continue holding the shares of NYMTN if they choose. Shares of NYMTN also carry a floating rate after call protection ends. If we entered a macroeconomic scenario where Treasury rates were over 5% (unlikely in our view, but many things can change in 9 years), the floating rate would cause NYMTN's dividend rate to increase significantly. If interest rates plunge, the floating aspect could be negative. However, we see that as a much smaller concern when evaluating shares that begin floating 9 years in the future.
If you enjoyed reading this article and want to receive updates on our latest research, click "Follow" next to my name at the top of this article or scroll down and click "Follow this author" on the app.
About "The REIT Forum"
The REIT Forum is the #1 rated service on Seeking Alpha. We focus primarily on defensive investments with high growth potential. It is our objective to find quality investments at a discount, along with trading opportunities for the more active investors. Most of our research is on companies that are excellent investments over the long term.
Disclosure: I am/we are long NYMTN.
I wrote this article myself, and it expresses my own opinions. I am not receiving compensation for it (other than from Seeking Alpha). I have no business relationship with any company whose stock is mentioned in this article.